With the Frederick Keys wearing Rugrats jerseys, here are five other '90s jerseys we'd like to see
The Frederick Keys are wearing Rugrats jerseys
When we normally think of an apocalyptic wasteland, we tend to think that it will be the result of some supervillain war or all of the nuclear weapons being unleashed. But that's not true. We all know that it's going to be because we've run out of '90s nostalgia to mine for our Minor League uniforms.
Fortunately, we've got quite some time to go before that. And the Frederick Keys, the Class A Advanced affiliate of the Orioles, are just the latest to unveil their latest as on July 31 when they take on the Myrtle Beach, they'll be wearing Rugrats uniforms. Not just that, but they're going obscure with a Chuckie-specific outfit complete with pants.
90s Nickelodeon Night- July 31st! Players will wear Rugrats jerseys & pants @NickelodeonTV @NickBreaks @bensbiz pic.twitter.com/4DnwW8dL3u

- Frederick Keys (@FrederickKeys) July 17, 2015
With the Rugrats gang joining Teenage Mutant Ninja Turtles and Saved by the Bell as some of the '90s pop culture highlights that have been turned into jerseys, we think it's time to start really digging into the true depths of that wonderful decade. Here are the next five that we hope we'll see soon:
The Magic School Bus
Just think: The teams could show up not in their usual team bus, but in a retrofitted school bus complete with an actress and/or coach wearing a wig taking on the role of Ms. Frizzle.
Plus, as Ant-Man taught us: We can shrink human beings down. Once the teams finish playing baseball, they can ride through our bodies and teach us about science and health.
Are You Afraid of the Dark
This one is not for young children. The game will begin at the stroke of midnight with the only lights on the field coming from the large bonfire that has been lit on the pitcher's mound. And when every batter comes to the plate, rather than having anything displayed on the JumboTron, this will just be played on repeat: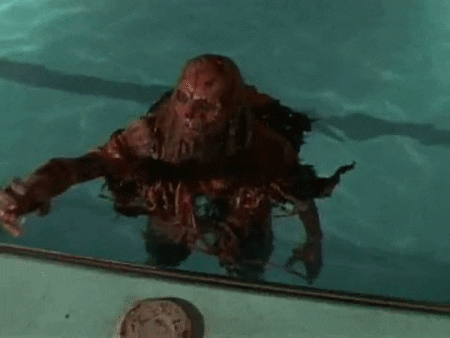 Duck Tales
Just imagine: Instead of diving headfirst into home plate to beat the throw, you dive headfirst into a giant mountain of golden coins. Instead of ballcaps, there are tophats. And every player swings a wildly expensive cane at the plate rather than a baseball bat. It all makes perfect sense.
Though there will need to be some liberties taken with the uniform as I'm pretty sure it's illegal for ballplayers to play without pants.
Double Dare
This one makes a lot of sense as the Double Dare logo is already primed for inclusion on a baseball cap:
Not only that, just imagine how great and/or insane this game will be as players will have to crawl through an obstacle course and find a flag before moving on to the next base.
Hammerman
That's right, the greatest of the '90s cartoons, following the superheroic exploits of MC Hammer thanks to his magical dancing shoes and even more magical parachute pants. Not only will the players be expected to outfit themselves like Hammer himself, but they'll also need to do a complete 360 dance move when getting to the plate.
Oh yeah, and instead of walk-up music, everyone will have to listen to this song. In full.