MLB spelling bee! Watch players, fans and George Lopez try (and fail) to spell player names
Fans have trouble spelling MLB names
We, like pretty much everyone else, were spellbound by the Scripps National Spelling Bee this week. In case you're somehow unaware, the big bee is nationally televised each year and features the top young spellers from around the country vying for the top prize.
It's riveting television: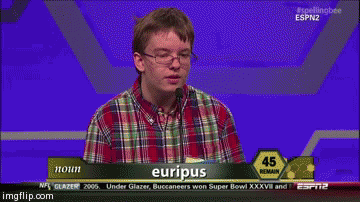 .
This year's competition included some great performances and some heartbreaking ones. For the first time since 1962, the National Spelling Bee ended in a tie, with Sriram Hathwar and Ansun Sujoe exhausting the prepared list of championship words
(The final two words, if you're curious: stichomythia and feuilleton. Child's play, right?)
In honor of the bee, we asked fans, players and even comedian George Lopez to spell six surnames of current Major Leaguers. Check out the list of names below, then watch the video up top to see how our contestants fared.
Paul Goldschmidt
Pronunciation: GOLD-shmit
Language of origin: German
Use in a sentence: Diamondbacks first baseman Paul Goldschmidt tied for the NL lead with 36 homers in 2013.

A.J. Pierzynski
Pronunciation: peer-ZIN-skee
Language of origin: Polish
Use in a sentence: Red Sox catcher A.J. Pierzynksi caught two no-hitters while playing for the White Sox.

Jedd Gyorko
Pronunciation: JER-koh
Language of origin: Hungarian
Use in a sentence: Padres second baseman Jedd Gyorko finished sixth in last year's NL Rookie of the Year voting.

Jeff Samardzija
Pronunciation: suh-MAR-juh
Language of origin: Serbian
Use in a sentence: Cubs starter Jeff Samardzija also played wide receiver at Notre Dame.

Jarrod Saltalamacchia
Pronunciation: sal-tuh-la-MAH-kee-yuh
Language of origin: Italian
Use in a sentence: Marlins catcher Jarrod Saltalamacchia won a World Series ring with the Red Sox last year.

Marc Rzepczynski
Pronunciation: zep-CHIN-skee
Nation of origin: Polish
Use in a sentence: Indians reliever Marc Rzepczynski earned the nickname "Scrabble" because of his unusual last name.