Brett Phillips' dry erase board hitting tips
One simple tip that Moms HATE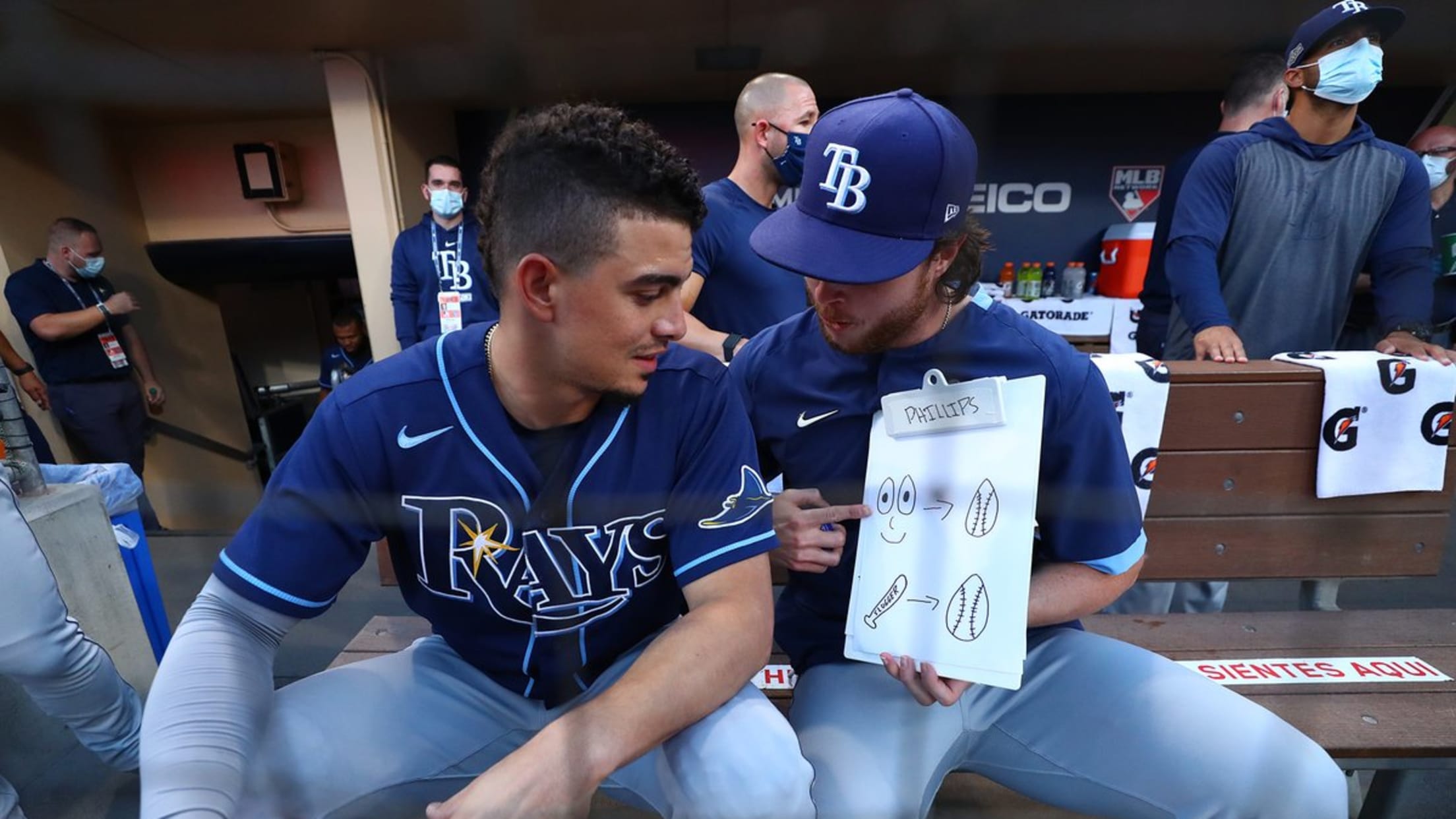 Look into an average MLB dugout and, were it not for the baseball uniforms, you might think you were watching a bizarre subterranean open office. There are binders and notebooks and guys taking notes the whole time. Rays outfielder Brett Phillips decided to take part in that, but with his
Look into an average MLB dugout and, were it not for the baseball uniforms, you might think you were watching a bizarre subterranean open office. There are binders and notebooks and guys taking notes the whole time. Rays outfielder Brett Phillips decided to take part in that, but with his own unique twist.
Known as one of the game's premier jokesters -- and with the most unique laugh you're ever going to hear -- Phillips took control of the the dry erase board and put it to some very important work.
Namely, Pictionary-based hitting lessons. Phillips was spotted sharing some tips with Rays infielder Willy Adames during Game 3 of the ALCS against the Astros on Tuesday night:
This evening's advice pic.twitter.com/EqBlTI2ENs

— Tampa Bay Rays (@RaysBaseball) October 14, 2020
Now, I'm no Will Shortz-esque puzzle master, but I'm pretty sure this means "See ball, hit ball." Good advice.
Phillips also had the board in Game 2, when he wanted to make sure everyone (at least, everyone who could see his white board) knew that postseason breakout star Randy Arozarena was a "good player."
October 12, 2020
Baseball and drawing aren't Phillips' only skills, though. He's also tied (1-1) with Arozarena in the Rays' celebratory dance offs:
Randy Arozarena posts the dance battle against Brett Phillips on his Instagram. He said: "Today I took home the crown. I won my rematch."

Phillips and Arozarena are now tied. pic.twitter.com/OvteU49zQd

— Juan Toribio (@juanctoribio) October 10, 2020
Michael Clair writes for MLB.com. He spends a lot of time thinking about walk-up music and believes stirrup socks are an integral part of every formal outfit.