The 13 coolest MLB teams of all-time
These teams are cooler than being cool. They're ice cold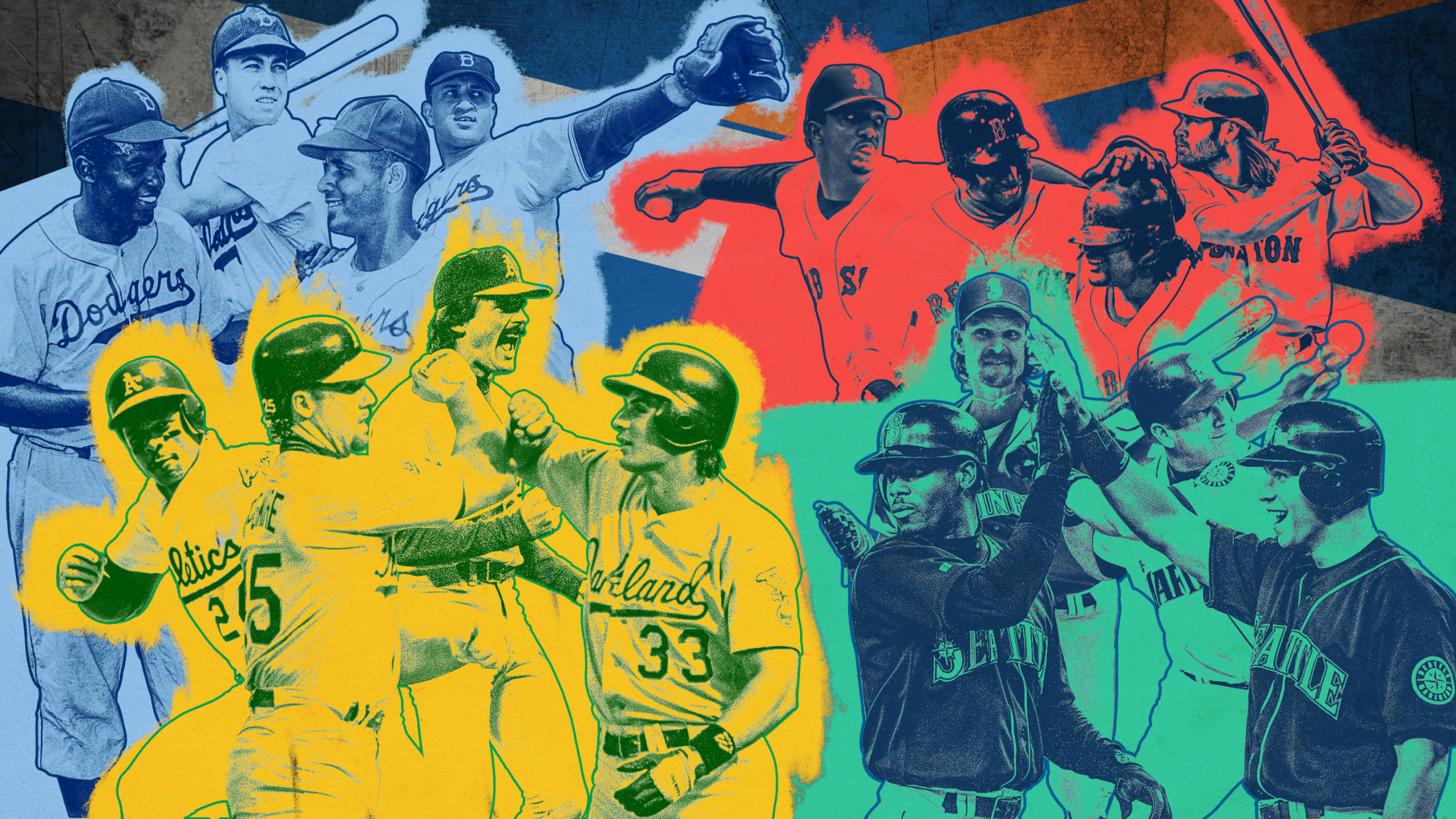 (Tom Forget / MLB.com)
There are good teams, great teams, teams that should have won a World Series and didn't -- and then there are the coolest teams. Chances are that many of these overlap, but how a team finishes has nothing to do with how cool they are. No, cool teams have that
There are good teams, great teams, teams that should have won a World Series and didn't -- and then there are the coolest teams. Chances are that many of these overlap, but how a team finishes has nothing to do with how cool they are.
No, cool teams have that special something that sets them apart. These teams are loaded with stars who have James Dean swagger, who could come out on stage at Coachella and would, without even picking up an instrument, not look out of place.
So, which teams have it? Let's go in chronological order:
1920s Yankees
OK, I'll be upfront with you: This is the only time you're going to see the Yankees on the list. Why's that? Because the 1920s Yankees were so successful that they turned the team into the absolute juggernaut they are today. And being cool usually involves being a dangerous underdog. The Yankees? Yeah, they haven't been an underdog in over a century.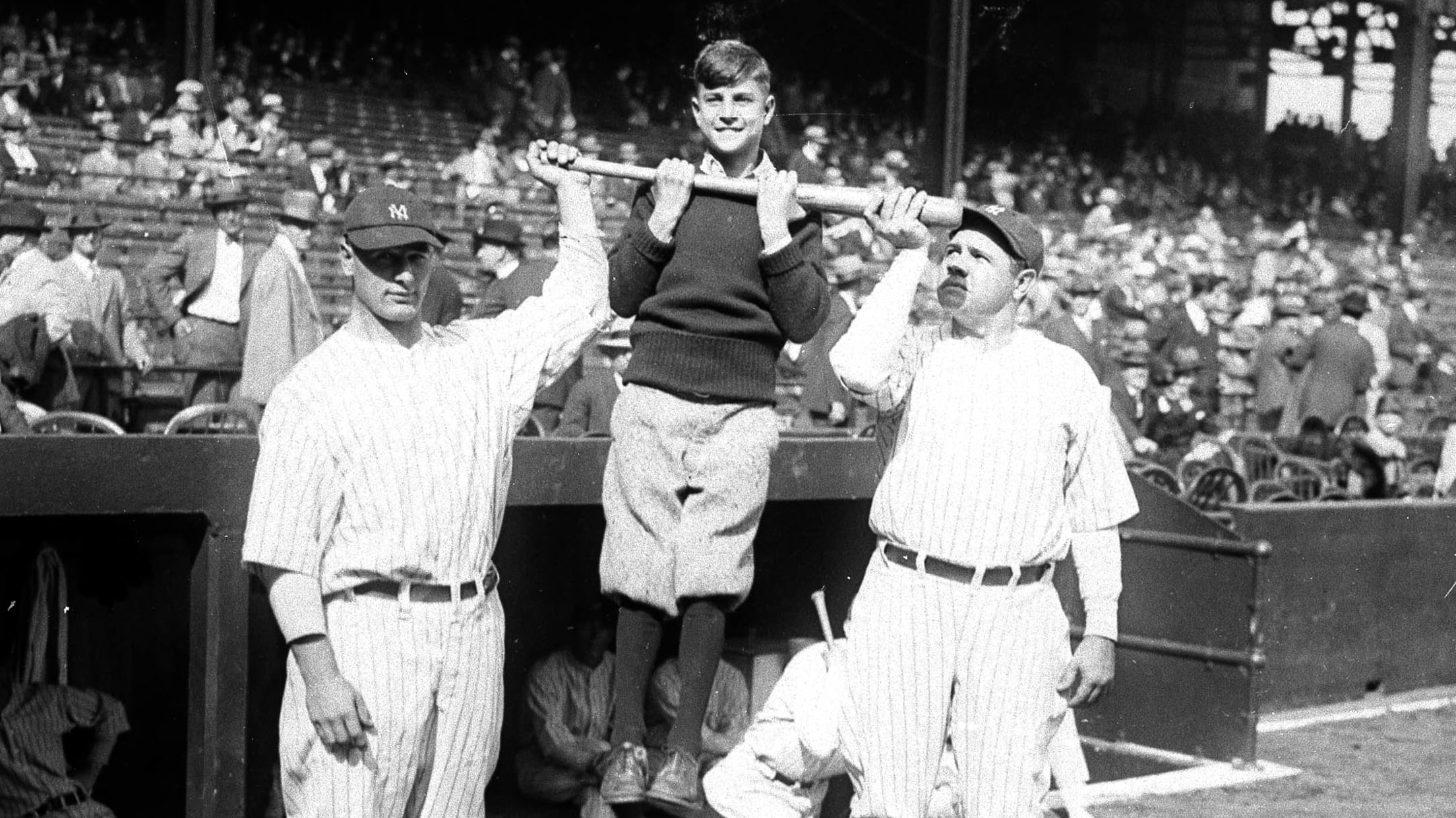 This is the team that practically invented the home run as we know it today. And nothing, literally nothing, in any sport is cooler than hitting a home run, watching it soar and slowly, casually running the bases.
Babe Ruth's trot might look silly now, but he inspired so many people that the sports sections were often devoted more to his eating habits than whatever was going on in the other leagues.
The Ruthian diet, according to the Jan 8, 1931 Sporting News: pic.twitter.com/n7dTto3xlx

— Aidan Jackson-Evans (@ajacksonevans) April 17, 2020
The team was so good, so stacked, the lineup was nicknamed Murderers' Row -- which has to be the best team nickname ever handed out.
There was also Lou Gehrig, who already was becoming a mythical figure. Honestly, just those two players alone would be enough to make this list, so we'll just throw in the oddity that is Herb Pennock.
The pitcher collected antique furniture and built chrysanthemum greenhouses, which may not seem strange, but The Squire of Kennett Square clearly did whatever he felt like -- and as every parent has ever told their children, being yourself is the coolest thing of all.
1950s Dodgers
Jackie Robinson is the most iconic player in history for good reason. Blessed with speed, power and a strong glove, Robinson was pure electricity on the field. There's a reason that his straight steal of home -- the gutsiest play in sports -- is lodged in our collective conscience.
The Dodgers also had Duke Snider -- nicknamed by his father because of his self-assured swagger. Don Newcombe simply intimidated batters from the mound, which made him a great battery mate for the jovial three-time MVP Roy Campanella behind the plate.
If ever you were to make an ensemble movie about a baseball team, this is the one you'd choose.
1960s Giants
Because of their location, the '60s Dodgers may have had more airtime -- just watch Sandy Koufax on "Mr. Ed" for proof of that -- but the Giants get the West Coast edge.
Donned in crisp orange and black, the Giants featured the Say Hey Kid, with Willie Mays stealing hits and hearts in center field. He also managed to snap a lot of really great pics: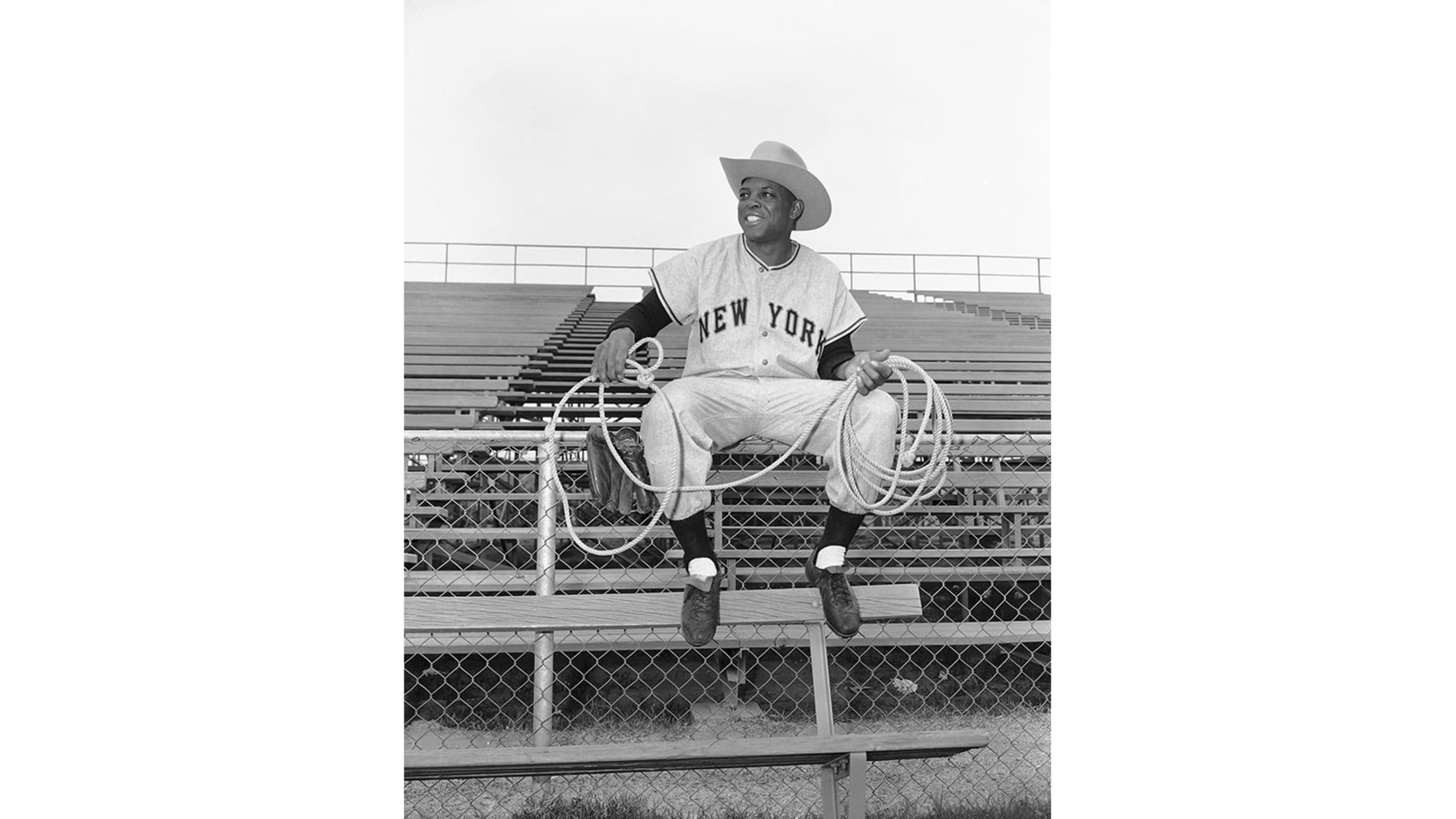 Juan Marichal's high leg kick has become synonymous with pitching ever since -- even if no one has ever done it quite as he did.
Willie McCovey launched so many dingers, the Giants named the cove after him when the team moved into its new digs.
Then there was Orlando Cepeda, who, when he wasn't hitting homers, was out embracing what makes San Francisco so special.
"On Thursdays, I would always go to the Copacabana to hear the Latin music," Cepeda said. "On Sundays, after games, I'd go to the Jazz Workshop for the jam sessions. At the Blackhawk, I'd hear Miles Davis, John Coltrane. … I roomed then with Felipe Alou and Ruben Gomez, but I was the only one who liked to go out at night. Felipe was very religious and quiet, and Ruben just liked to play golf, so he wasn't a night person. But I was single, and I just loved that town."
1970s A's
The Big Red Machine may be the best team of the '70s, but they were also total squares. The players wore black cleats, kept their hair neatly trimmed and would never dream of growing out their facial hair.
The A's were the exact opposite. Owner Charlie Finley knew what he was doing when he persuaded the players to grow out mustaches for a promotional game, but the players were wise enough to keep them afterward. With staches and beards, long hair, crisp white cleats, and bright gold-and-green uniforms, this was the counter-culture team.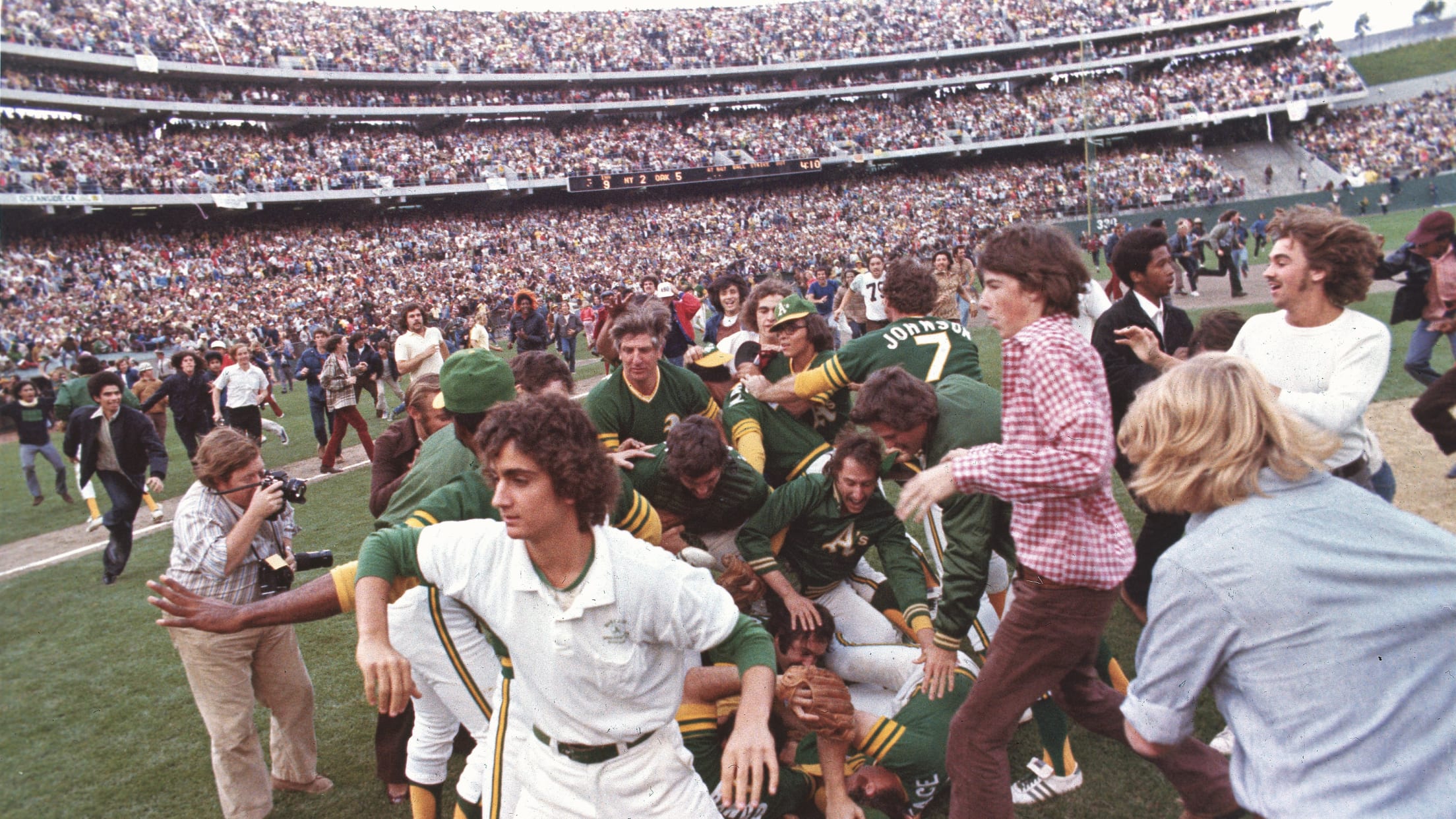 It helped that the players were electrifying, too. A young Reggie Jackson took mighty cuts at the plate that launched balls into the stratosphere, while Catfish Hunter, Vida Blue and Blue Moon Odom ran the rotation.
1970s Pirates
The decade began with Roberto Clemente's smooth swing and loping stride, and it ended with Willie Stargell handing out stars as Team Dad while "We Are Family" played behind him.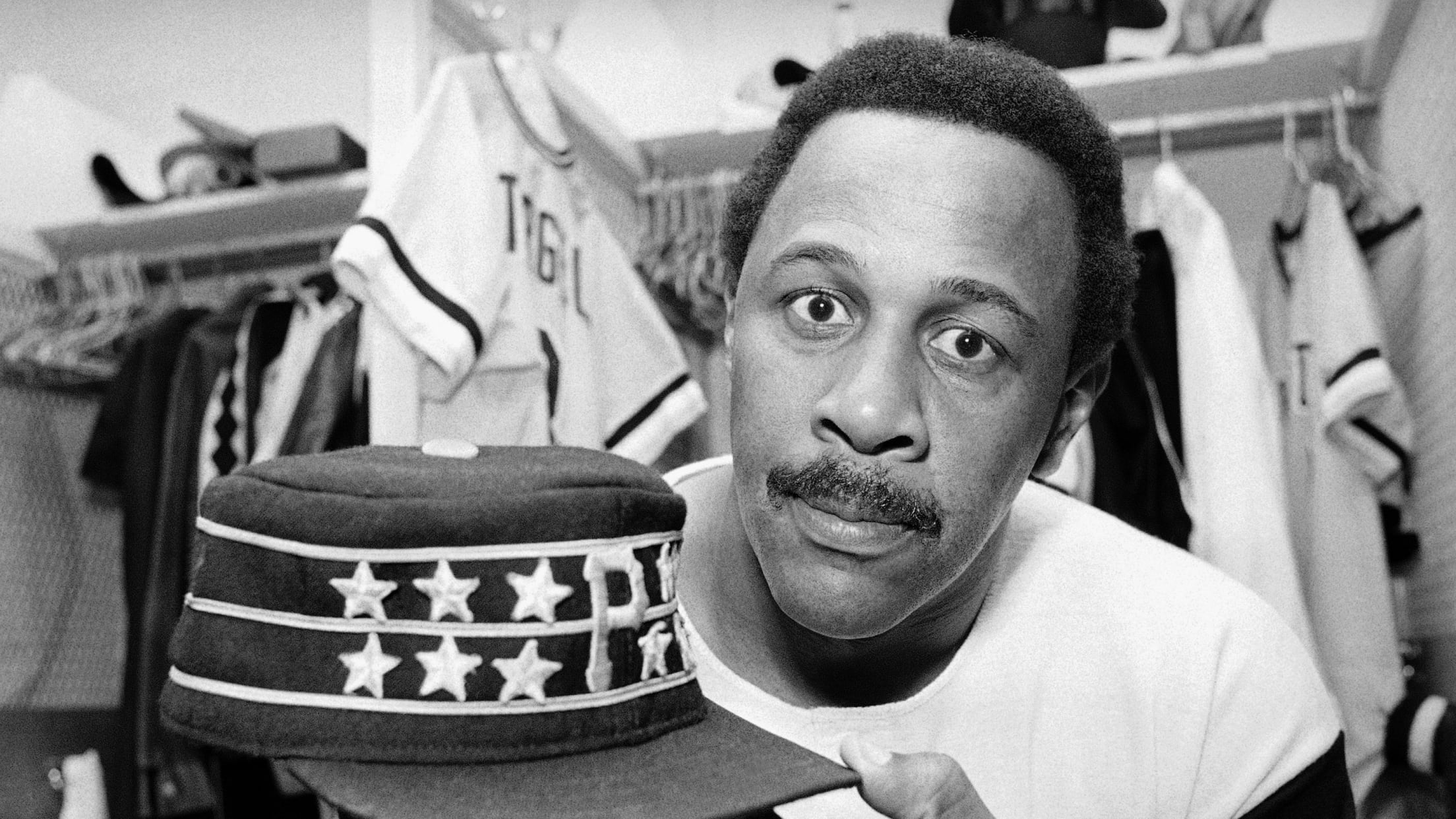 The string-bean sidearming Kent Tekulve was on hand to close out games. This is what Joey Ramone would look like if he were a pitcher:
And then there was Dave Parker, who may just be the king of cool. No one could hit the ball farther, throw the ball harder, or come up with better quotes. "When the leaves turn brown, I'll be wearing the batting crown," the Cobra said in 1978, en route to his second consecutive batting title and the NL MVP Award.
Oh yeah, and then there's this shirt. If that's not cool, I don't know what is: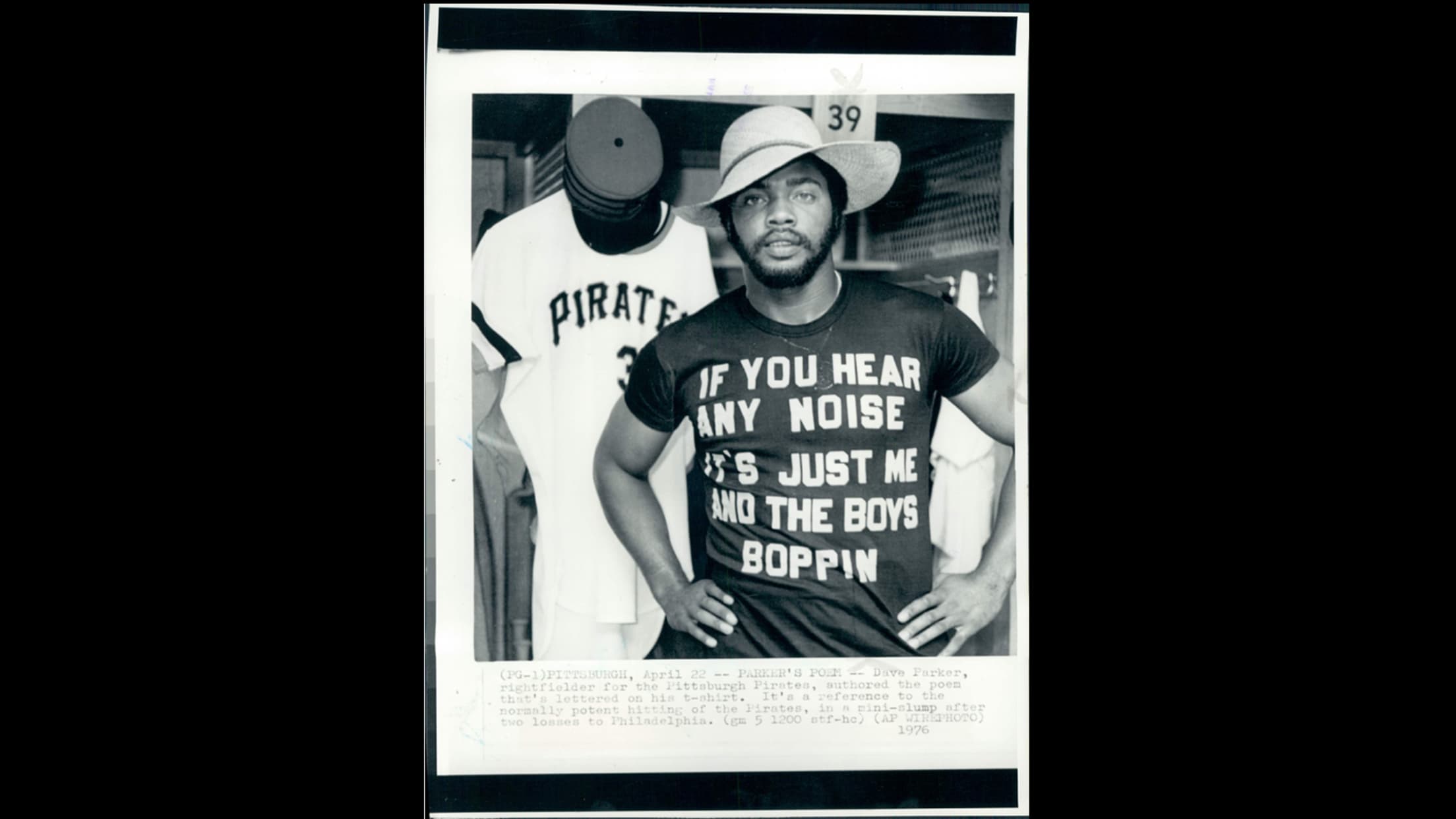 1980s Mets
Sure, plenty of teams recorded songs during the height of the novelty-song '80s, but only the Mets recorded two.
There was "Let's Go Mets," featuring Gary Carter looking like he just came from his audition for "Miami Vice."
And there was "Get Metsmerized," which featured about half the team proving they really shouldn't quit their day jobs.
Darryl Strawberry may have had one of the smoothest swings, but he lacks all flow behind the mic:
The team wasn't just out there cutting novelty albums. Dwight Gooden is still considered the most exciting young pitcher to ever debut, Mookie Wilson came through when it mattered most and Keith Hernandez became a team icon with his '80s-appropriate mustache.
They even managed to trash a jet. I don't even know of many hair metal bands that pulled that off.
1980-90s A's
The Bash Brothers were bigger than baseball. There's a reason why 30 years later The Lonely Island released a film about Mark McGwire and Jose Canseco's awe-inspiring power.
The number of garages and dorm rooms that featured this bad boy is likely in the trillions:
Bash Brothers was the poster you wanted in the mid 80's as a kid. The Jordan and Lawrence Taylor posters were awesome too. All the flashbacks is coming to a coffee table near you (if people even buy books anymore). https://t.co/3VQOYkkfNt pic.twitter.com/WjHaCSrvIR

— Mike Cherry (@MikeCherryWMUR) October 31, 2018
Dave Stewart and mustachioed Dennis Eckersley were on the mound, giving the team a little bit of heat and edge to go with all that power at the plate, too.
Things got even better when Rickey Henderson returned to the team in 1989. Frankly, the A's were more like an Olympic Dream Team than an actual baseball team.
1990s Mariners
With apologies to every other club on this list, this is the coolest team in history. With Ken Griffey Jr. at the center of pop culture, how could they be anything else? With a sly grin, backward hat, and the sweetest swing in baseball history, he inspired an entire generation to race to the TV every time he stepped to the plate.
Griffey was so popular, he was the villain in "Little Big League," and kids still wanted his Mariners to beat Billy Heywood's Twins!
But Griffey wasn't alone. At some point, goatees were only worn by tough dudes and not just guys in cargo shorts at the hardware store, and Jay Buhner's scruff and shaved head were at the center of this development.
Randy Johnson was the most terrifying player to ever step on the mound -- armed with a killer fastball, biting slider, and the angriest mullet in history, batters literally cowered in fear when facing him. And Edgar Martinez's swing saved the team.
Before we forget: There was also a young Alex Rodriguez, oozing the kind of precocious skill as a teenager that foretold his 696 career home runs.
1997 Marlins
The other teams all got an era. The Marlins? Yeah, they had one spectacular year -- like a band that broke up after a killer debut album.
Dressed in the extremely '90s colors of teal and black, the '97 Marlins loaded up with guys that you wanted on your fantasy team.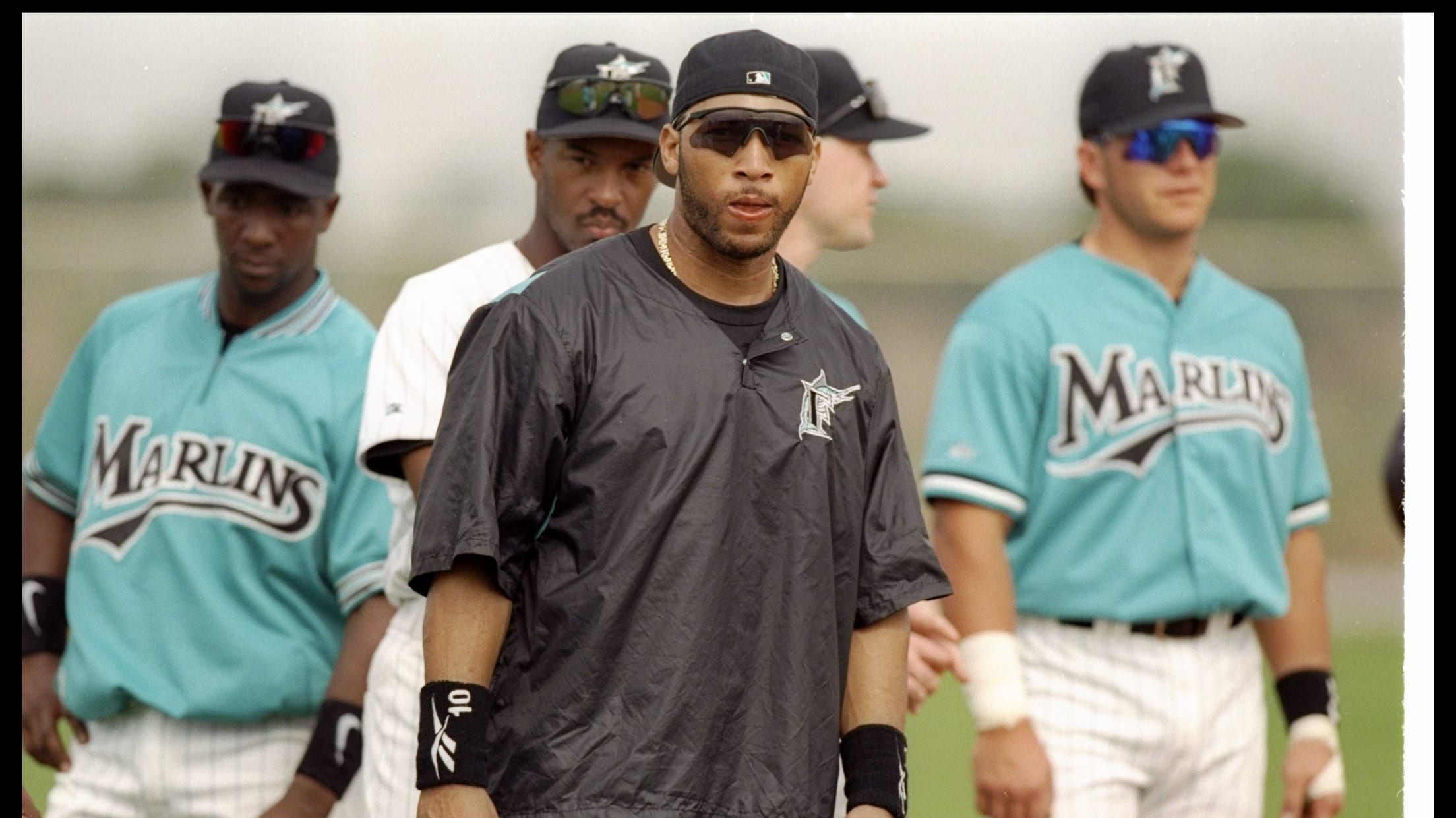 Kevin Brown was the nastiest sinkerballer out there, Bobby Bonilla manned third base, a 20-year-old Edgar Renteria showed endless promise at short, and then there was Gary Sheffield.
Watching Sheff wiggle at the plate, his bat tearing through the air with unmatched ferocity, you knew that he was going to send the ball into the next county when he swung:
2000s Mariners
Has there ever been a team with so much cultural cache and so little to show for it in the trophy case?
Once Griffey and Co. left, the Mariners promptly signed Ichiro, a bonafide international superstar, who made every single motion on the field look graceful and full of frightening potential. Even the way he squatted before stepping to the plate was worth mimicking: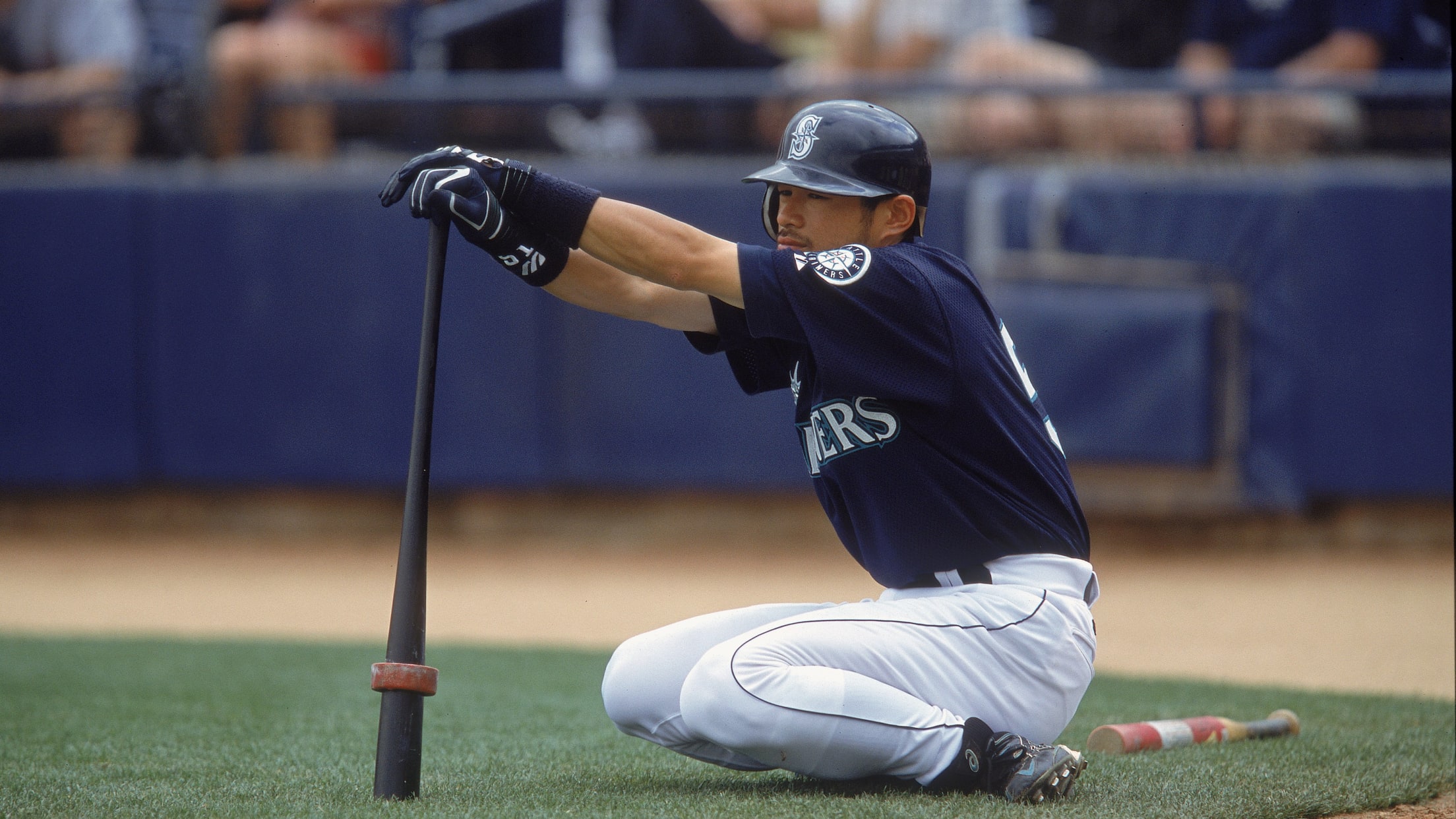 Felix Hernandez quickly became a strikeout king, earning his own cheering section complete with cosplaying turkey-leg eating fans.
John Olerud and Jamie Moyer helped tie it all together, too, with a kind of old-man-on-his-porch charm.
Bret Boone's frosted tips takes a few points off, though: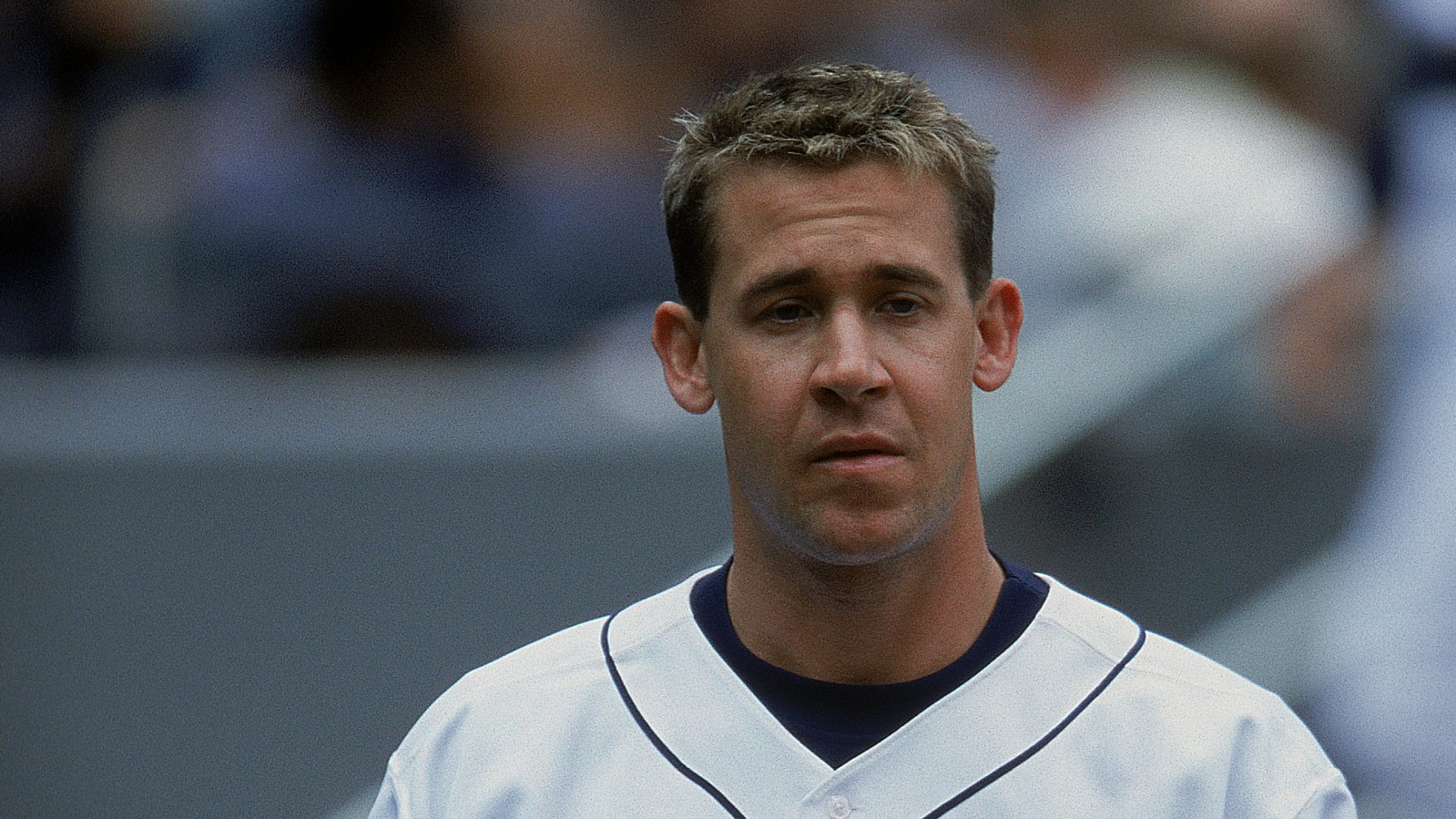 2000s Red Sox
This being the Red Sox team that finally broke the curse and won a World Series certainly helped, but this was still a team that had Pedro Martinez putting up numbers we will never truly understand. Plus, the only thing better than his unhittable changeup were his postgame quotes.
"Wake up the damn Bambino and have me face him. Maybe I'll drill him in the ass, pardon the word," Martinez said in 2001, just a few short years before ending the Bambino's curse.
David Ortiz became the literal embodiment of New England, and the always enigmatic Manny Ramirez did things that defied belief -- whether that was hitting an iconic home run and staring from home plate, or going to the bathroom mid-game.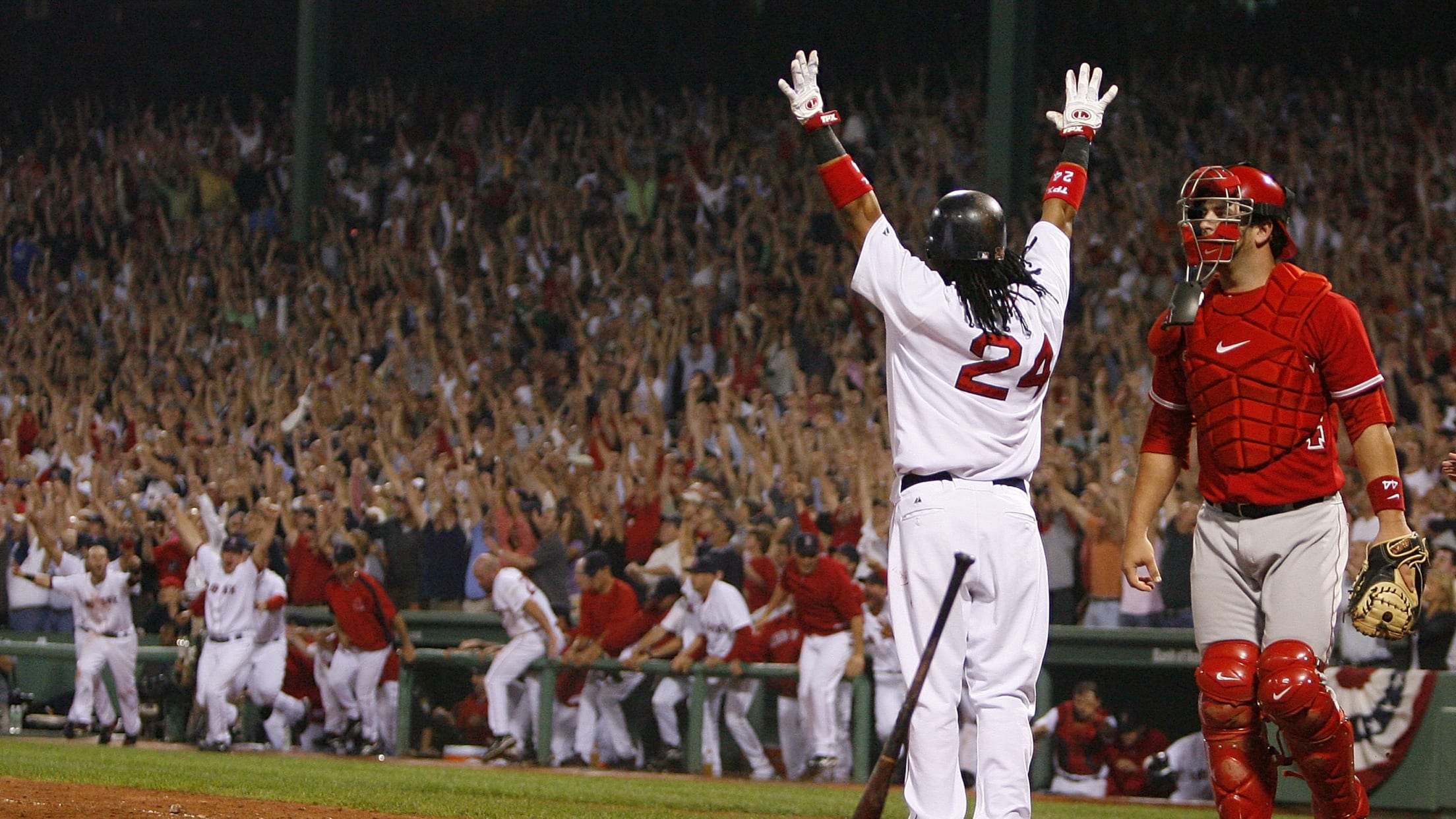 2010s Giants
Maybe you got tired of them by the time they won their third World Series in 2014, but I promise you: Before that, this team owned America's heart. How could they not when they were led by the back-breaking Tim Lincecum?
Everything about him made him seem like your dirtbag best friend from high school, only instead of working at the car wash, he was winning Cy Young Awards.
Pablo Sandoval, the Kung Fu Panda, made diving stops and blasted dingers with the type of frame that you rarely saw on the diamond.
Brian Wilson brought jet black beards and bizarre humor to the masses, and even Sergio Romo showed off an unhittable slider while wearing burnsides.
This team was weird -- and that's without even mentioning Hunter Pence.
Hunter Pence addresses the #SFGiants fans for the last time pic.twitter.com/mIAAZebB66

— SF Giants on NBCS (@NBCSGiants) September 30, 2018
2019 Nationals?
We need a little more distance from last year to say for sure, but the Nats felt cinematic, whether you were judging them by the endless angry grunts from Max Scherzer on the mound, or the calm, almost-kids-movie villain look Juan Soto had in the box while waiting for the next pitch, practically daring the pitcher to throw:
juan soto is truly a character in the batter's box pic.twitter.com/pxALrQ637q

— joon (@joonlee) October 31, 2019
Howie Kendrick, who was usually out showing off his photography skills when not hitting pivotal World Series home runs, became a team legend, but most important, the team knew how to have fun.
With everything on the line, they were celebrating with dugout dance parties. As Kevin Bacon proved, dance parties are extremely cool.
Michael Clair writes for MLB.com. He spends a lot of time thinking about walk-up music and believes stirrup socks are an integral part of every formal outfit.