With the A's unveiling a new season-ticket plan, here are seven of the team's greatest promotions ever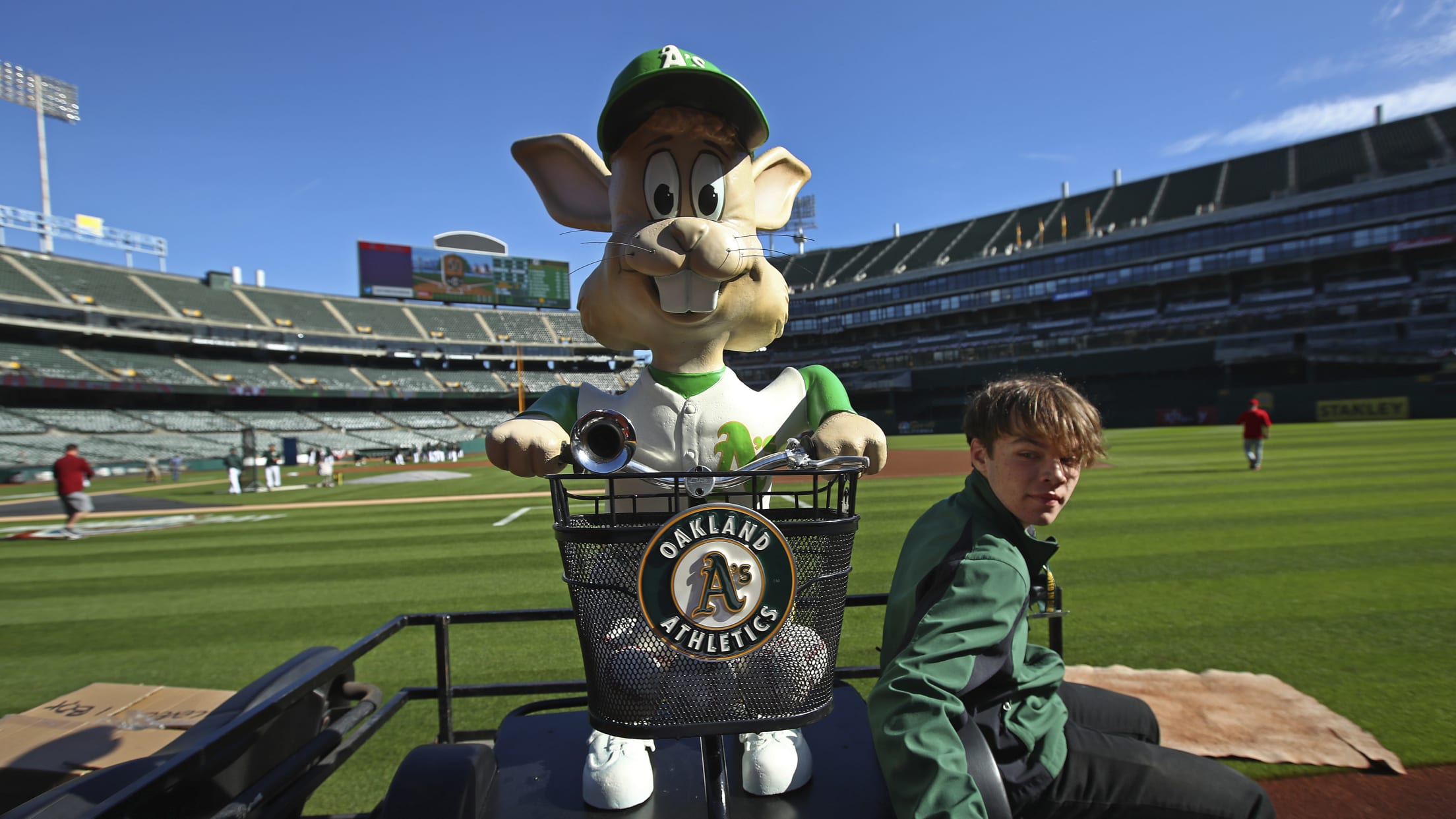 The Athletics have gone outright bonkers this year with their promotions. They've brought back Harvey the Rabbit. They've donned the kelly green unis. They've let all fans in for free. And on Tuesday, the team unveiled a great initiative for next year: An incredibly affordable and unique approach to season tickets known as A's Access.
Introducing A's Access, a new approach to membership. A's Access provides all members general admission access to every 2019 regular season home game, a reserved seat plan, & significant member benefits. Become a member beginning this Friday. Learn more at https://t.co/CVMhJTmZwy pic.twitter.com/GDAuDoRed1

— Oakland A's (@Athletics) July 30, 2018
But this isn't a new development. It's actually the latest in a long line of outrageous promotions the A's have been responsible for.
Here are seven of their other best giveaways:
The Mule
If you're Charlie Finley, the wholly unique owner of the then-Kansas City A's, and you want to make an impact, what do you do? You buy a mule to parade around the field. Naturally, you also name it after yourself. Meet Charlie-O. the mule: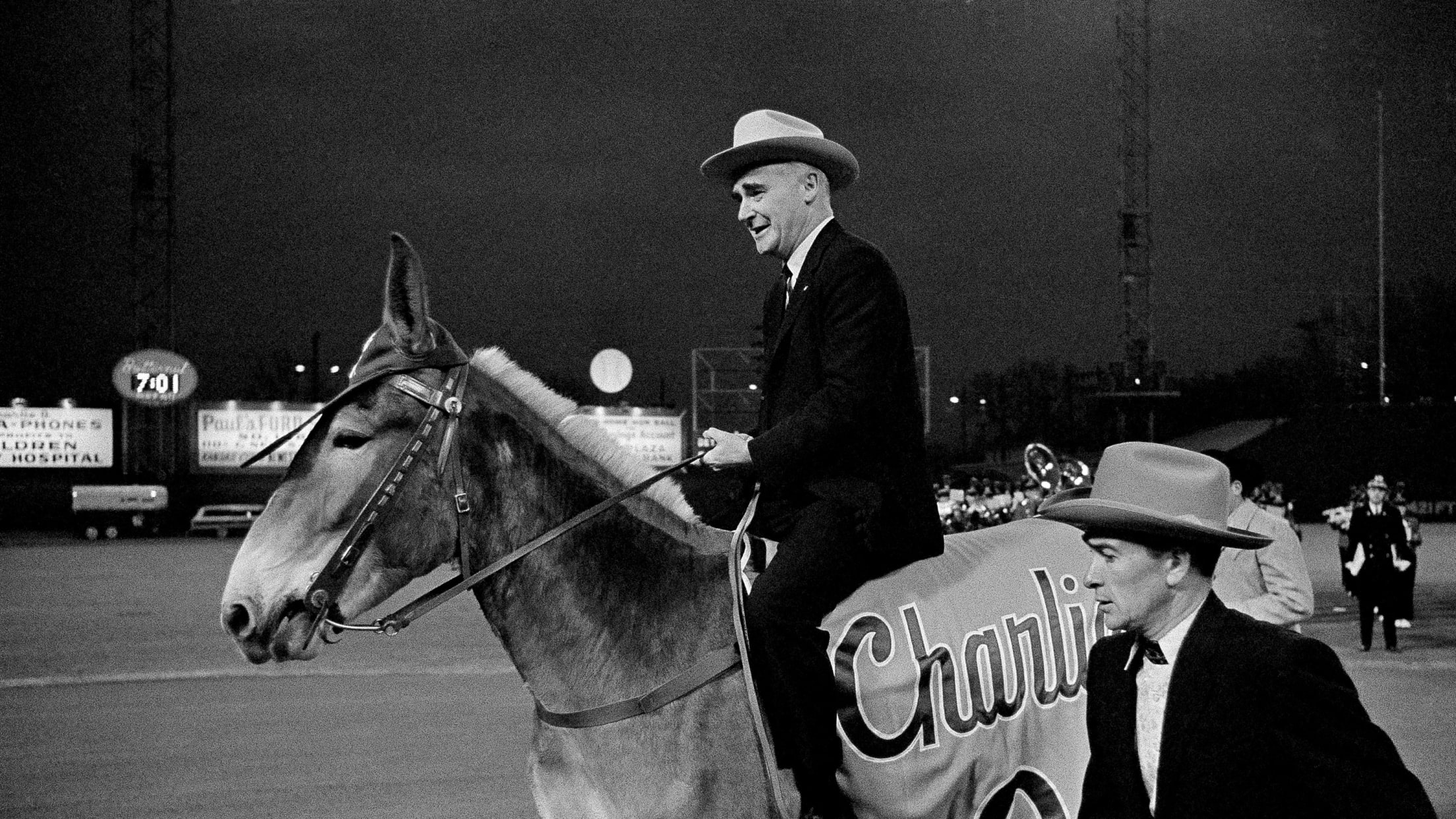 Finley got the idea after reading an article that said, "Missouri mules helped the Allies win World War I by lugging ammunition and supplies through the mud and snow of France faster than the Germans could." So, Finley made sure he could get one of those Missouri mules to transport players to the field for Opening Day in 1965.
The players complained the mule got better treatment than they did -- riding to the park in an air-conditioned trailer, with mule-appropriate songs like "Mule Train" playing on the phonograph.
He even got his own song:
Automotive Industry Night
This was Finley at his finest: He brought in two-time Indianapolis 500 winner Rodger Ward and bought junk cars off the lot that he would paint and "dress up" and then give away as prizes to fans, according to Jim Schaaf, who ran the A's promotion department.
The best part was that the A's owner simply made sure that the car would run … and that's it. Often, they would break down again as soon as the car was off the lot. But, given that it was a free car, the fans still loved it.
Of course, Finley already had some experience with the role: He had given away livestock, chickens and dogs for Farm Night.
The Beatles
OK, so the A's were off the day the Beatles came to Kansas City on Sept. 17, 1964, but we're going to count this as a promotion. Why? Because it was through Finley's sheer force of will that he enticed the Beatles to give up an off-day to play in Kansas City, and he promoted the concert by saying: "Today's Beatles Fans Are Tomorrow's Baseball Fans."
So, just how did Finley do it? Through sheer persistence and willingness to spend anything.
He started by offering the Beatles $50,000 -- a massive sum considering they usually played for $20,000-$40,000.
They said no. He offered $100,000. They said no. He offered $150,000 -- about 15 times what Frank Sinatra was earning for shows those days -- with an additional $25,000 going to the local children's hospital. Finally, the Beatles said yes.
Of course, Finley being Finley, he wanted more than the usual 30-minute set the band typically played. John Lennon said, "Chuck, we only do 11. That's it."
Mustache Day
In the days of Finley's A's stewardship, the Reds were the paragons of virtue, wearing black cleats and keeping their hair short and shorn.
But with the team now in Oakland, Finley suspected there was a type of fan who bristled at the lack of outrageous hair in the league -- and he wanted that fan to feel welcome.
Oh, and there was also the fact that Reggie Jackson reported to camp in 1972 with a mustache and refused to shave it.
Rather than fight Jackson's mustache, Finley embraced it. He offered a $300 bonus to every player who grew a mustache in time for Mustache Day, which would be held on Father's Day. And that, my friends, is how the very image of the hairy and mustachioed Swingin' '70s A's came to be -- with players opting to keep the fuzzy-lip look long after the game.
MC Hammer Bobblehead
Finley gets a little bit of credit for this one, too -- even if the giveaway happened on June 17, 2011, 15 years after the owner's death. That's because MC Hammer -- real name Stanley Burrell -- was a batboy-turned-A's-teenage-executive under Finley.
You read that right: Originally hired as a batboy at the age of 9, Hammer worked his way up to vice president of the almost-barren A's front office at 16, wearing a ballcap that said "VP" on it.
His moniker even came from the Athletics, as the players called the youngster "Little Hammer" because he looked like a young Hank Aaron.
Chip and Chili Plate
When Chili Davis and Chip Hale were together on the A's coaching staff, there was only one choice: Come out with a Chip and Chili dish.
There's never been a dish quite like this one.
Get your Chip & Chili Dip Platter on June 1. Yes, this is really happening. #GreenCollar pic.twitter.com/Gpk9DYiwh0

— Oakland A's (@Athletics) March 21, 2014
Green Day fireworks
The A's famously wear green. In recent years, they've branded their particular take on the sport as "Green Collar." So, it only makes sense that the team hosted Green Day in concert.
Beyond being one of the coolest acts to grace a ballfield, the fact that Green Day hails from the Bay made this an ode to the local music scene, too.
It started on July 31, 2013, with the band coming out to throw the first pitch before the game and oversee postgame fireworks set to the band's music. Five days later, the band took the field to play their own concert.