When baseball's biggest stars need a haircut, they come to José 'Jordan' López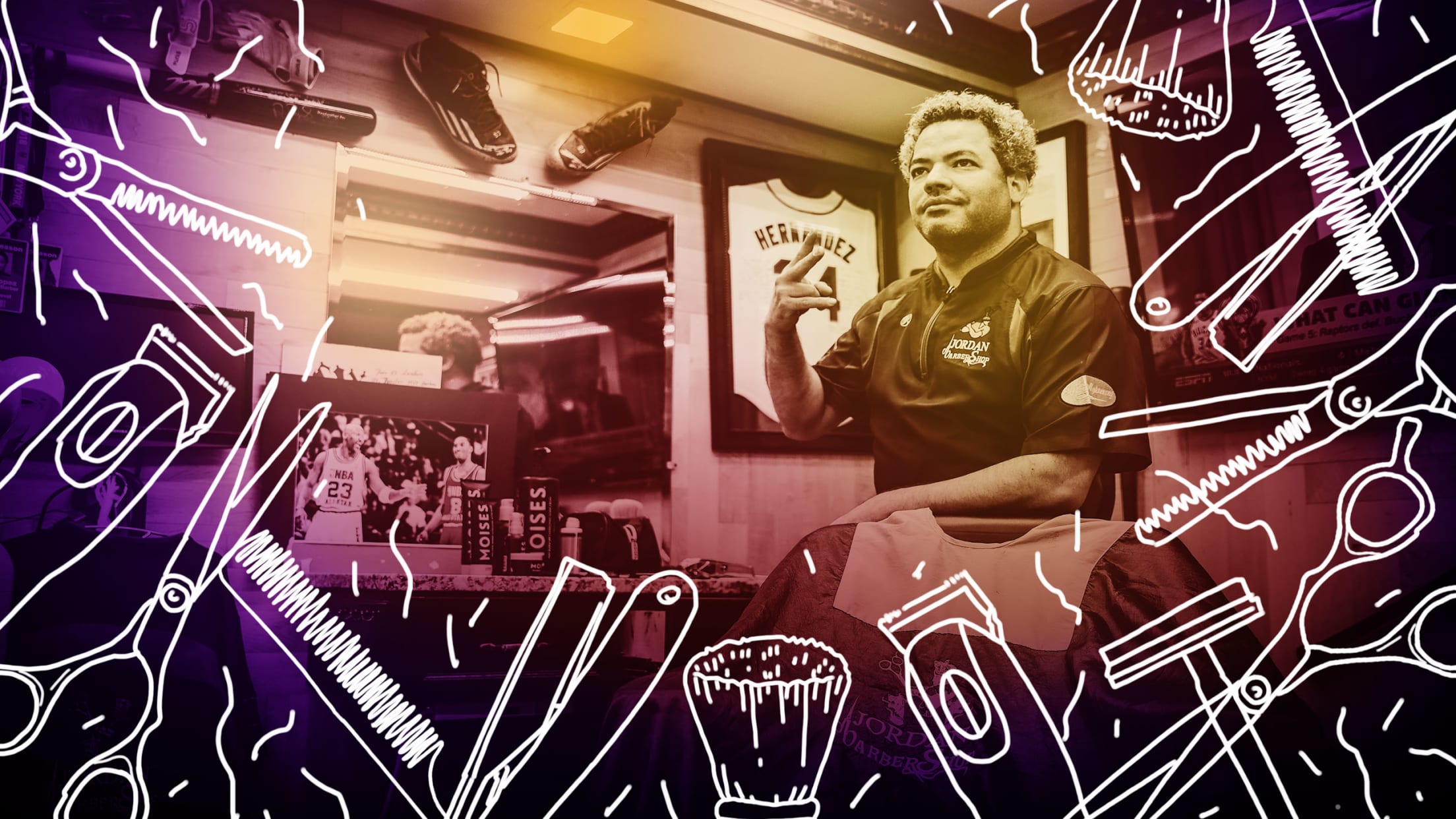 (Photos by Lucas Stevenson, art via Tom Forget)
There's a phone in front of me.
On it, in a FaceTime call, is former baseball legend and future Hall of Famer Carlos Beltran. The guy who once blasted eight home runs in one playoff run and made MLB parks his personal jungle gym for 20 some-odd years.
The man sitting next to me says to me, "Hey Papi, ask him where all his hair went."
I'd never met Beltran – I'd never really met anybody who'd met him – and now I'm supposed to ask him why he's bald?
"Um, hi, Carlos," I start, "Jordan wanted me to ask you why you don't have any more hair?"
There's a long pause.
Finally, Beltran yells, "He cut it all off!"
José "Jordan" López, the man who gave me the phone and cut Carlos' hair for decades, lets out an infectious laugh. Carlos smiles. Finally reassured, I smile, too.
This, I'd learned, is just who Jordan is.
-------------------------------------------------------------------
I probably should've been prepared for this back-and-forth with Beltran after spending the entire day with Jordan.
I meet him at 11:30 a.m. outside his smoothie store on 190th and Broadway in upper Manhattan. He's busy lifting boxes out of his car -- he's always busy -- but stops to give me a warm hello and a pat on the back.
"Give me 15 minutes."
I pass the time by ordering a few tacos and a celery smoothie (they say it's good for you) as Jordan walks in and out the front door – chatting with customers and checking on his kitchen staff. He seems genuinely happy to see everyone and everyone seems just as happy to see him.
I first learned about Jordan through the arena where all great stories begin: Instagram. He's developed a large following giving haircuts and generally just goofing around with some of baseball's biggest current and former stars. It's an absolutely ridiculous list of heads he's touched: Albert Pujols, CC Sabathia, Felix Hernandez, Mike Trout, Robinson Cano, David Ortiz, Aaron Judge, Pedro Martinez, Vladimir Guerrero (he once cut a young Vladdy Jr.'s hair), Bartolo Colon, Tom Glavine, Andrew McCutchen, Ronald Acuña Jr. and on and on … and on.
Here he is with Yogi Berra.
And Miguel Cabrera.
Here's a shoe filled with Ronald Acuña Jr.'s hair.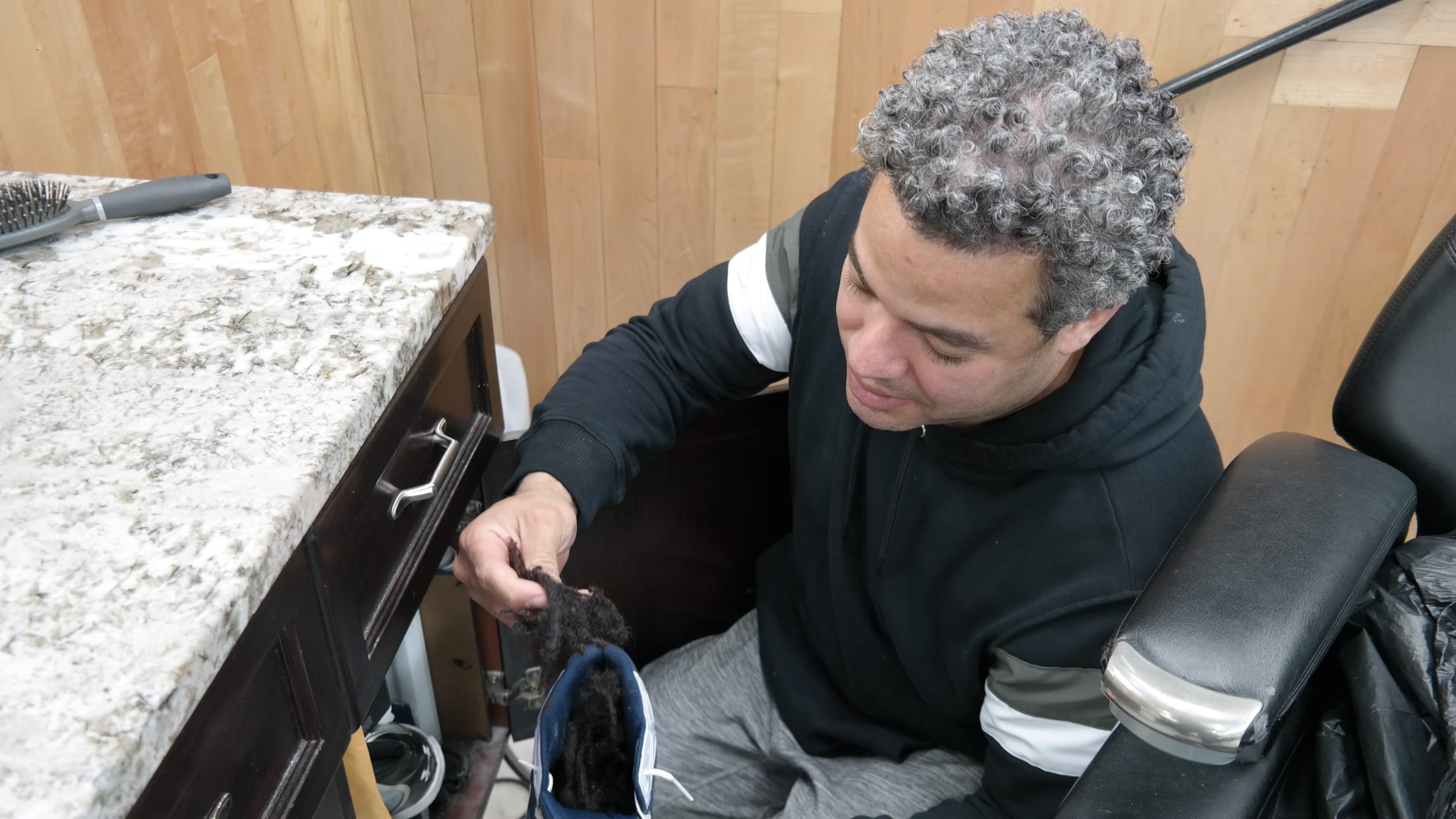 Then I learned he had this smoothie store that ballplayers also frequented.
And a burger shop.
And a soon-to-be bar.
And all of them were located within a two-block radius of each other in Washington Heights.
The biggest, most popular stars in Major League Baseball were just walking around this tiny neighborhood almost 10 miles from midtown Manhattan. It's funny to think about. But how the hell did it all happen?
"OK, you ready to talk?" Jordan says, as he swings back toward me and sits down across from my seat at the high table.
"Yup."
Jordan was born José Moisés López in Santiago de los Caballeros in the Dominican Republic – one of the largest cities in all of the Caribbean, just west of the capital Santo Domingo. His obsession with the late-80s Chicago Bulls teams made him adopt the nickname "Jordan." Everyone calls him that. Two of his four kids are named "Michael" and "Jordan."
At the age of 17, in the late 1990s, he came to New York City with his mom, Paula (he proudly reaches his phone across the table to show me "Paula Mami" in his address book), his dad, Jose, and three siblings, looking for more life opportunities.
Growing up in the D.R., an island obsessed with baseball, Jordan played and loved it. He was a big Cleveland Indians fan, infatuated with Latin-American players like Manny Ramirez, Omar Vizquel, Roberto Alomar and Jose Mesa. But once his family moved to the Bronx, it was all Yankees.
"They were too good! 1998, '99, 2000 …" he begins listing off all of their World Series wins.
Jordan's dad worked in New York City construction for 10 years. Jordan did it for a couple years but hated it. His real passion aligned with his mom's interests: Hair care.
Paula opened a salon just a three-minute drive from Yankee Stadium and, after a six-month course at barber school in the city (paid for by his mom), Jordan began working side-by-side with her. In 2001, he opened his own barbershop right next door.
"I learned the business from my mom," he remembers. "She was so happy I chose to do it."
But how did he go from regular customers to, you know, Reggie Jackson?
"Claudio Vargas," he says.
Jordan grew up with the former big league pitcher in the Dominican Republic and stayed in touch with him while he was in the Marlins' Minor League system in the early-2000's. In '01, when Vargas was in Spring Training in Viera, Fla., he asked his old friend and now-professional barber to come down to give some haircuts to him and his teammates.
"Everyone wanted a haircut. They all loved it."
The first player to come into his Bronx shop later that season? Former Marlins All-Star second baseman Luis Castillo.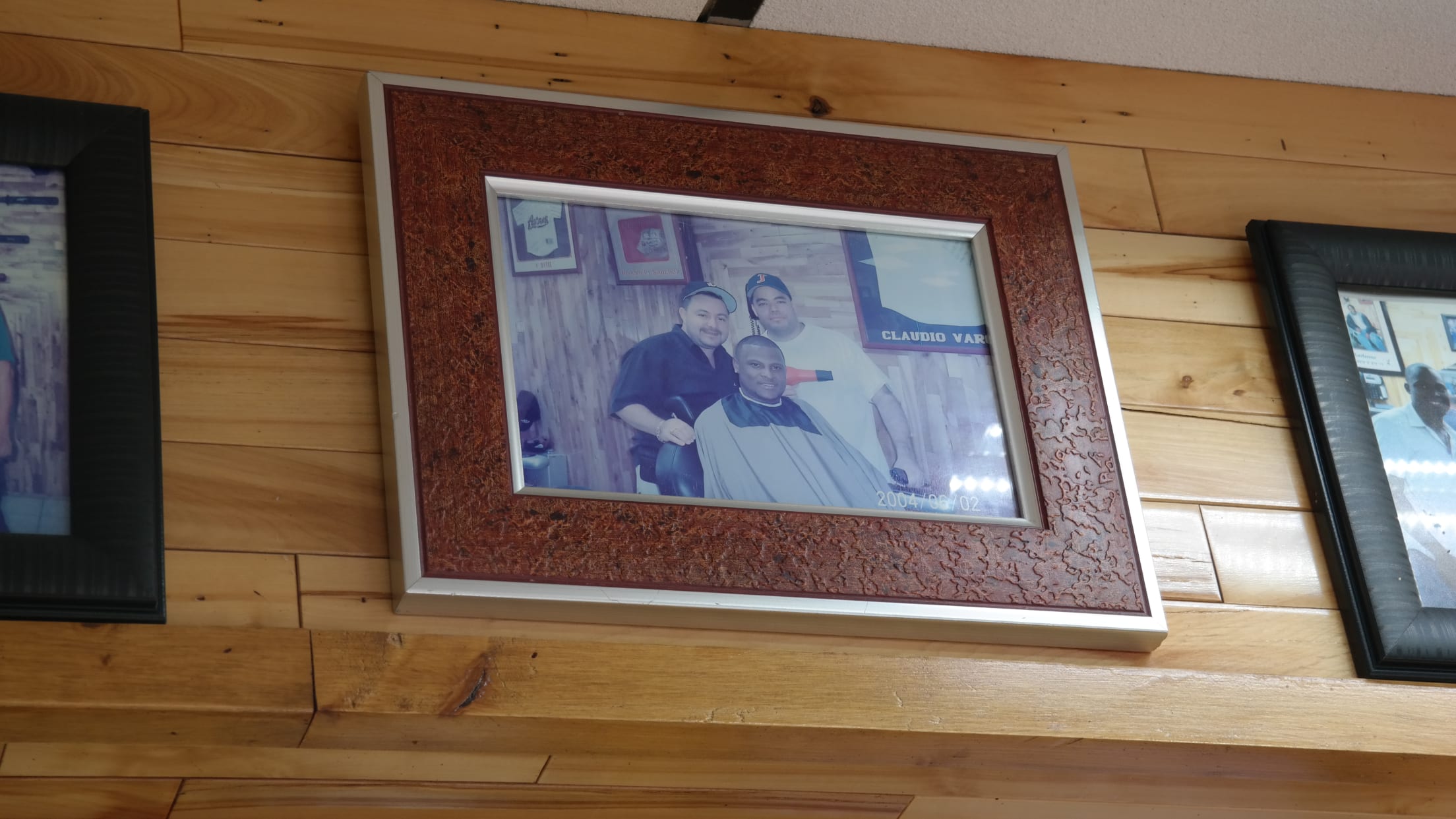 Jordan says he "would lay out plates of food and drinks for him" every time he came in during the '01 regular season. Castillo led to other Marlins stars like shortstop Edgar Renteria. Eventually, word of his shop (and its proximity to both Shea and Yankee Stadium) spread everywhere – particularly among Spanish-speaking players.
Pujols was one of his original customers in '01 and has become almost a part of his family. Cano had his hair cut by Jordan way back in the Minor Leagues and continues to this day. Now that he's back in New York on the Mets, he gets it cut by Jordan almost two times per week.
"Gotta look good," the eight-time All-Star says.
Some players, like Felix Hernandez, fly Jordan out for an emergency cut in Seattle or wherever he might be on the road. In fact, the night before I met up with Jordan for this story, he was in the Emerald City doing King Felix's do (he strictly refers to him as King Felix).
Jordan flew back the next morning. Twelve hours on an airplane, back and forth, for one 30-minute haircut.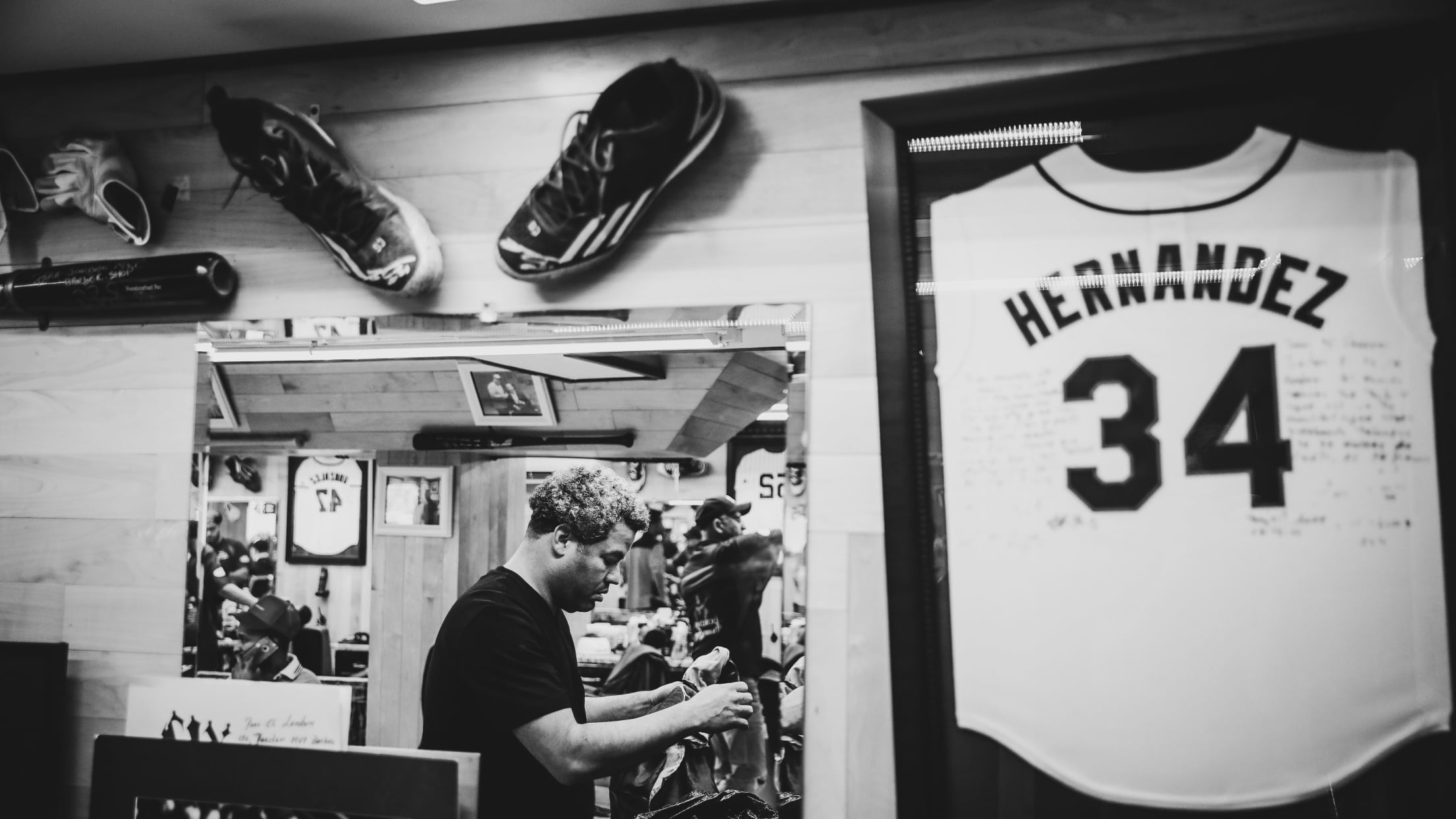 Adrian Beltre, a man who lets nobody touch his head, lets Jordan touch it.
Yankees star pitcher Luis Severino gets his hair done once a week by Jordan -- and always, well almost always, before every start.
"One time I was mad at him for some reason and went to another barber," Severino said. "I gave up 10 runs in that start. So, I decided I should go back to him."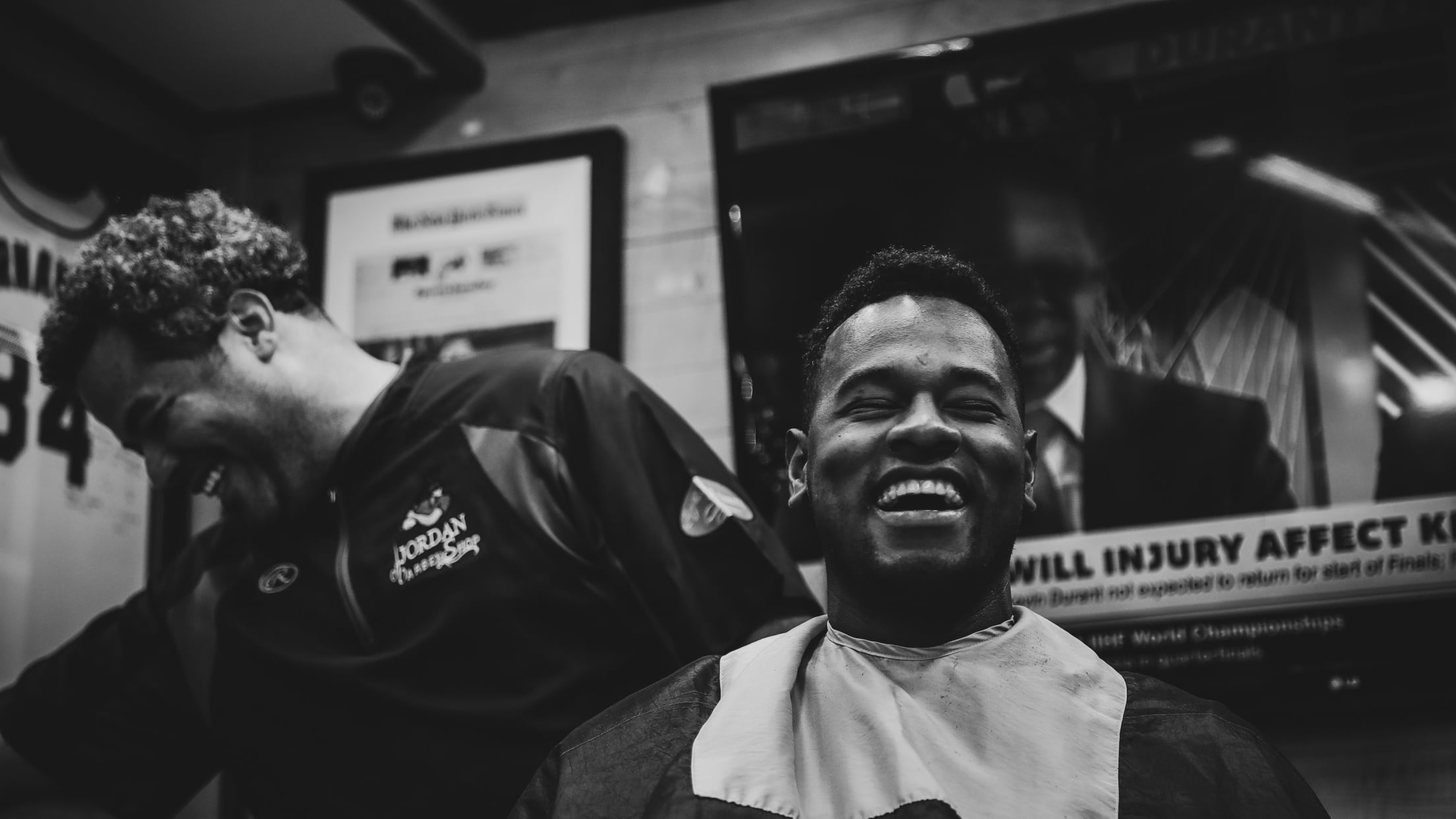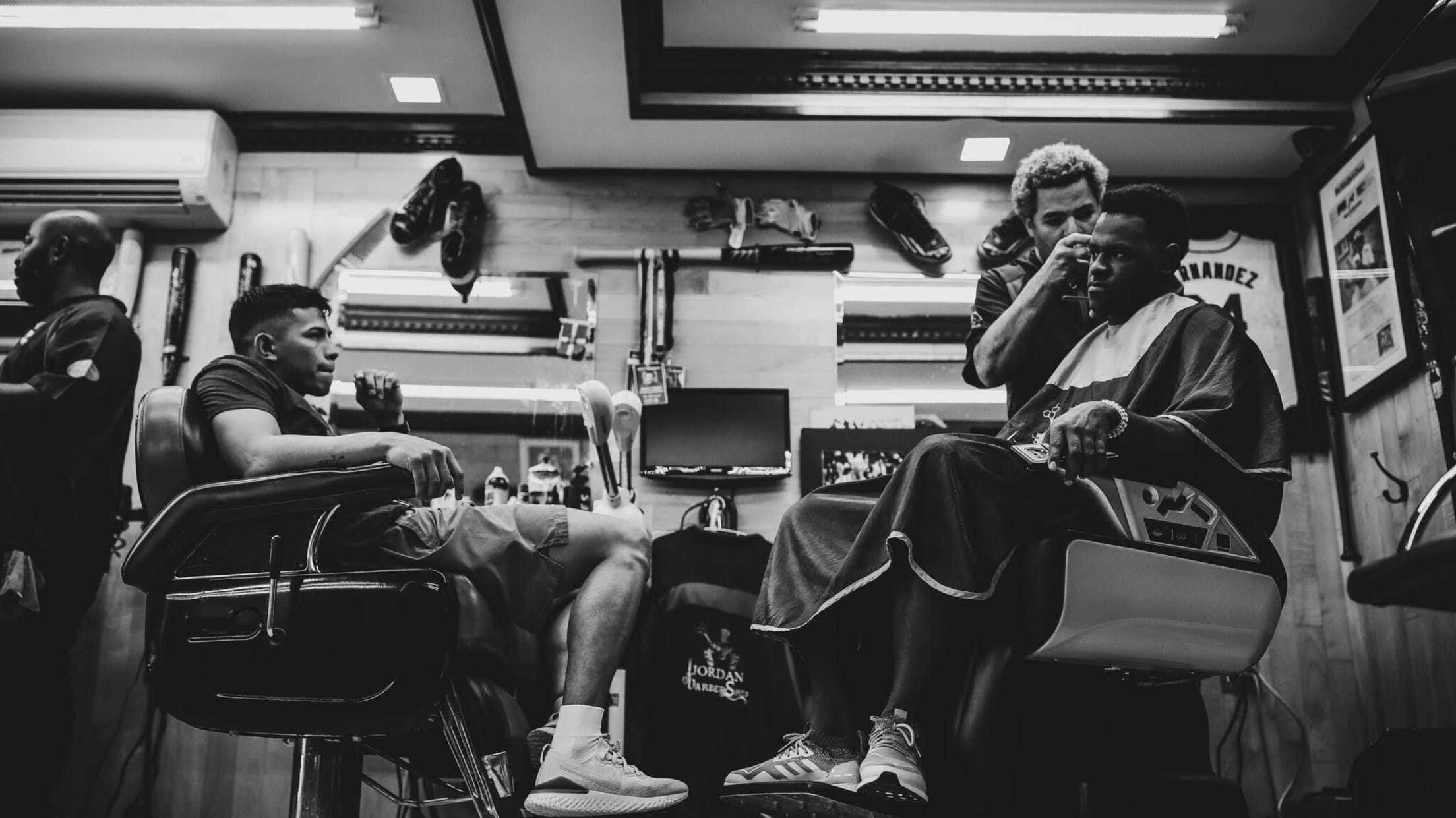 Bartolo Colon, a 21-year Major Leaguer, had called Jordan to his house in New Jersey that night to make Big Sexy's curls that much bigger, and that much sexier, before a family vacation in Mexico.
The player Jordan was most starstruck by?
"Ken Griffey, Jr." he excitedly says, still shuddering at the moment that happened 10 years before. "I was like, wow. Everyone knew about him in the Dominican Republic growing up and now he was in my barbershop."
10 years later, Jordan opened the second barbershop location in Washington Heights. Five years after that, the burger shop and, in 2017, the smoothie bar. Players still went to his Bronx location, but mostly flocked to this new spot to get a bite to eat and experience a much more neighborly feel – boosted greatly by Jordan's wildly warm personality.
I follow Jordan out of the smoothie shop and up a block further into his mini-business empire. He says hi to literally everyone who walks past, greeting each with a smile and quick pat on the shoulder. He calls out the name of a friend's bodega as we pass by and gives me a sneak peek into the building that, in four months, will become his new bar "Legacy."
We open the door of Jordan's Snack Bar and Burger and the cashier smiles as I walk in.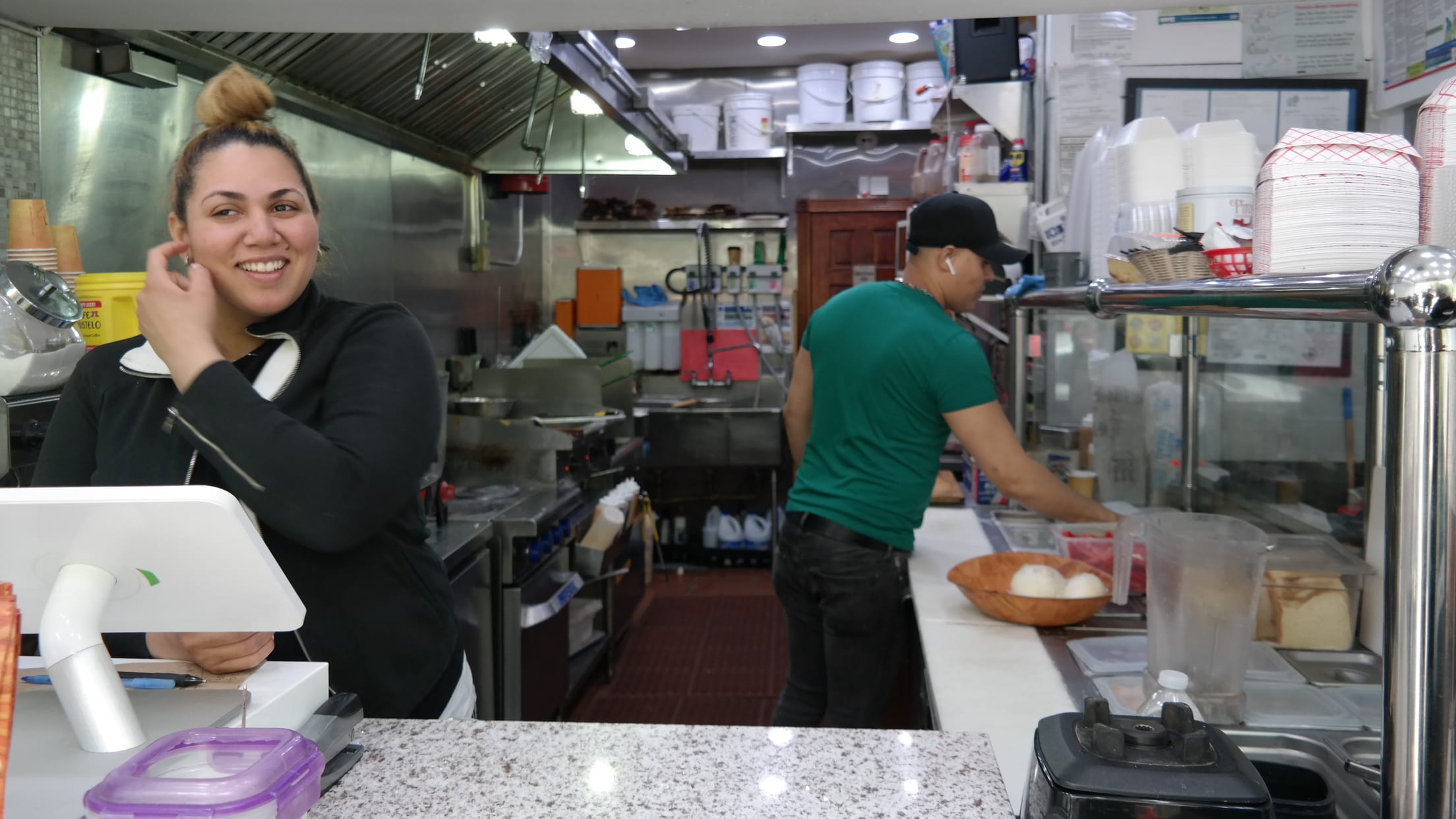 "Beltran comes in here and cooks. He really likes to cook," Jordan tells me.
Imagine stumbling into this little deli in a small corner of New York and one of the best baseball players of the last 20 years is in the kitchen flipping burgers. Would you believe it?
We head up toward his barbershop at the end of the street. His cousin comes out to greet us and shake my hand. Inside is a scene straight out of baseball barbershop heaven.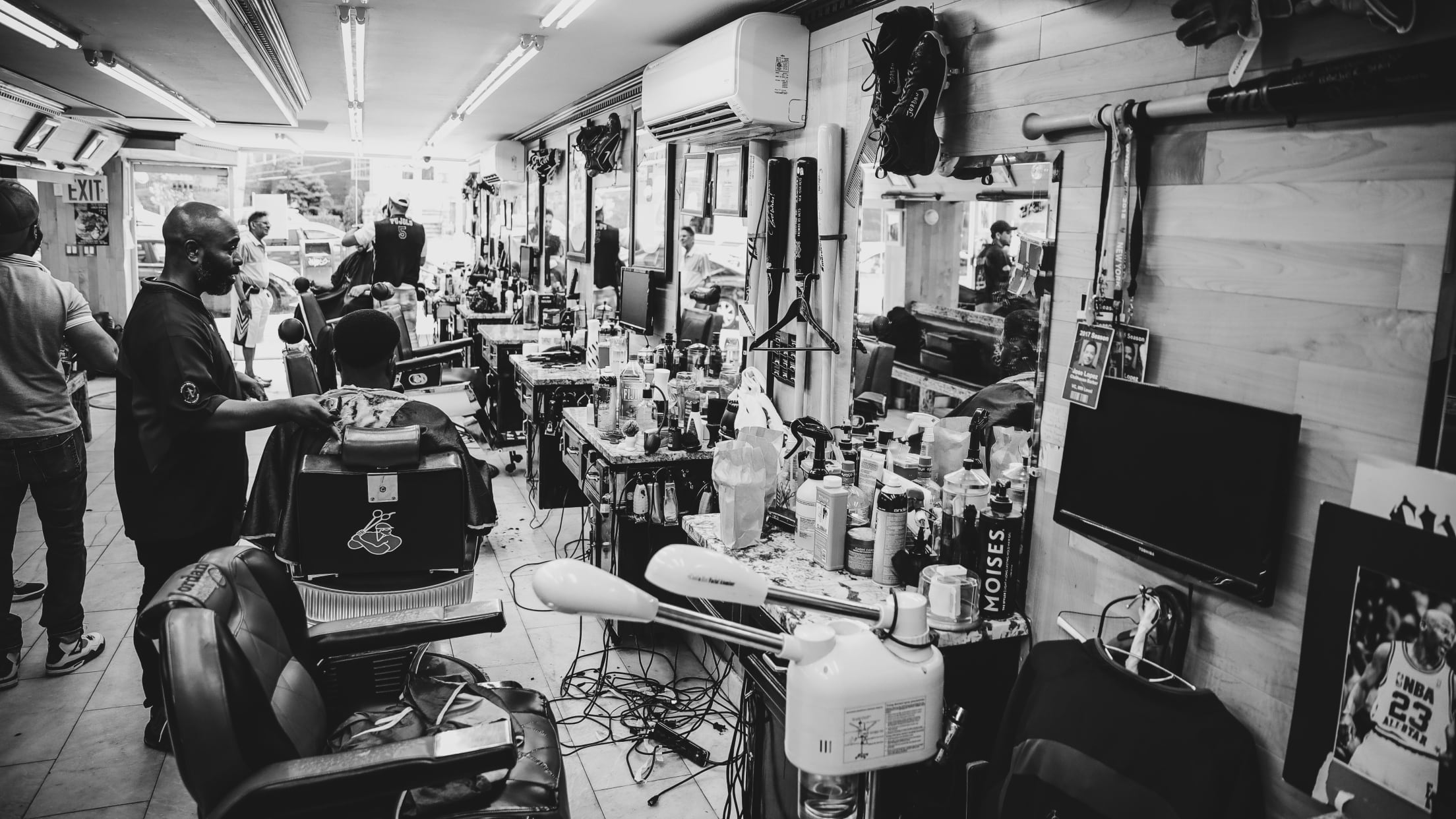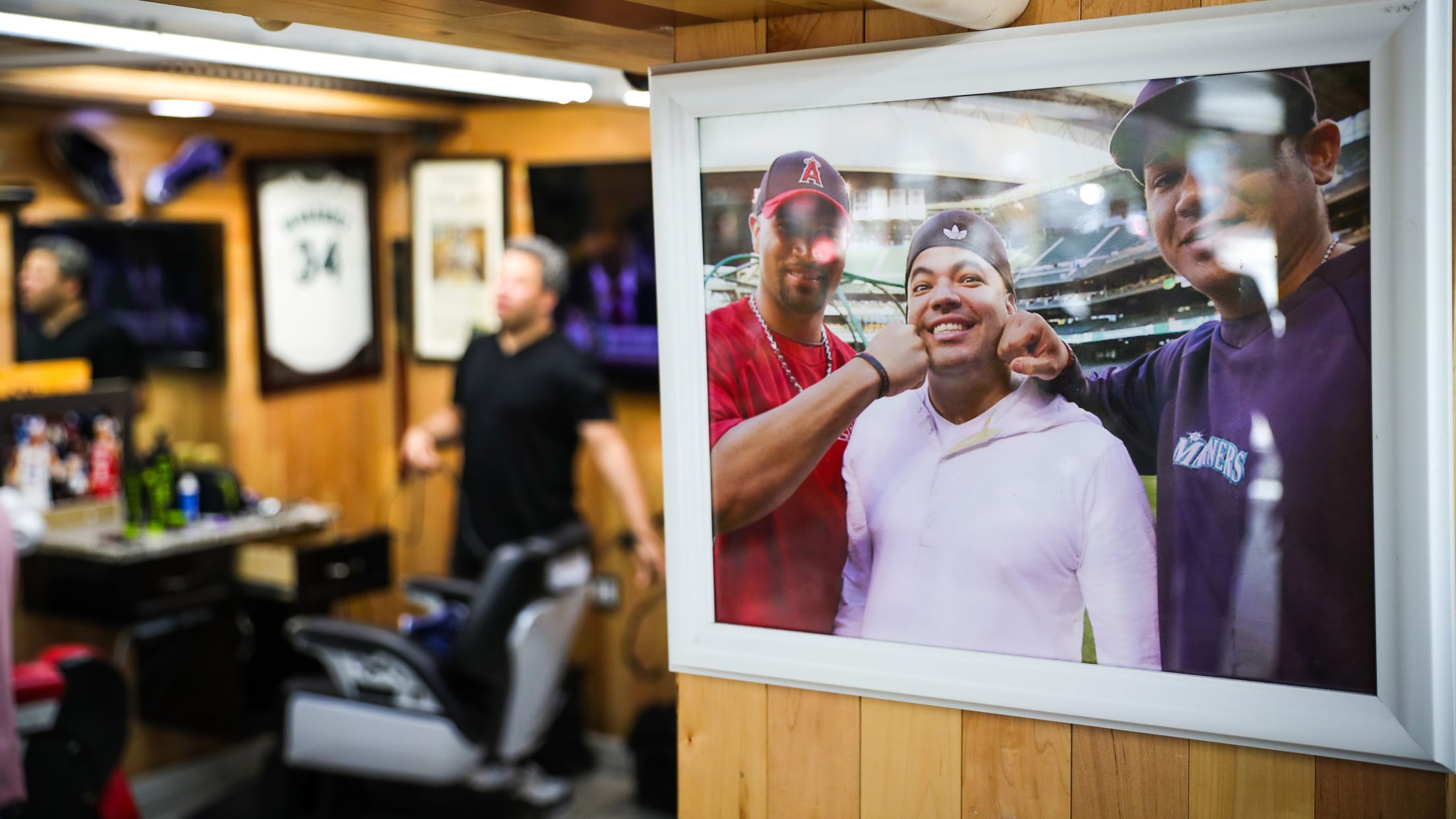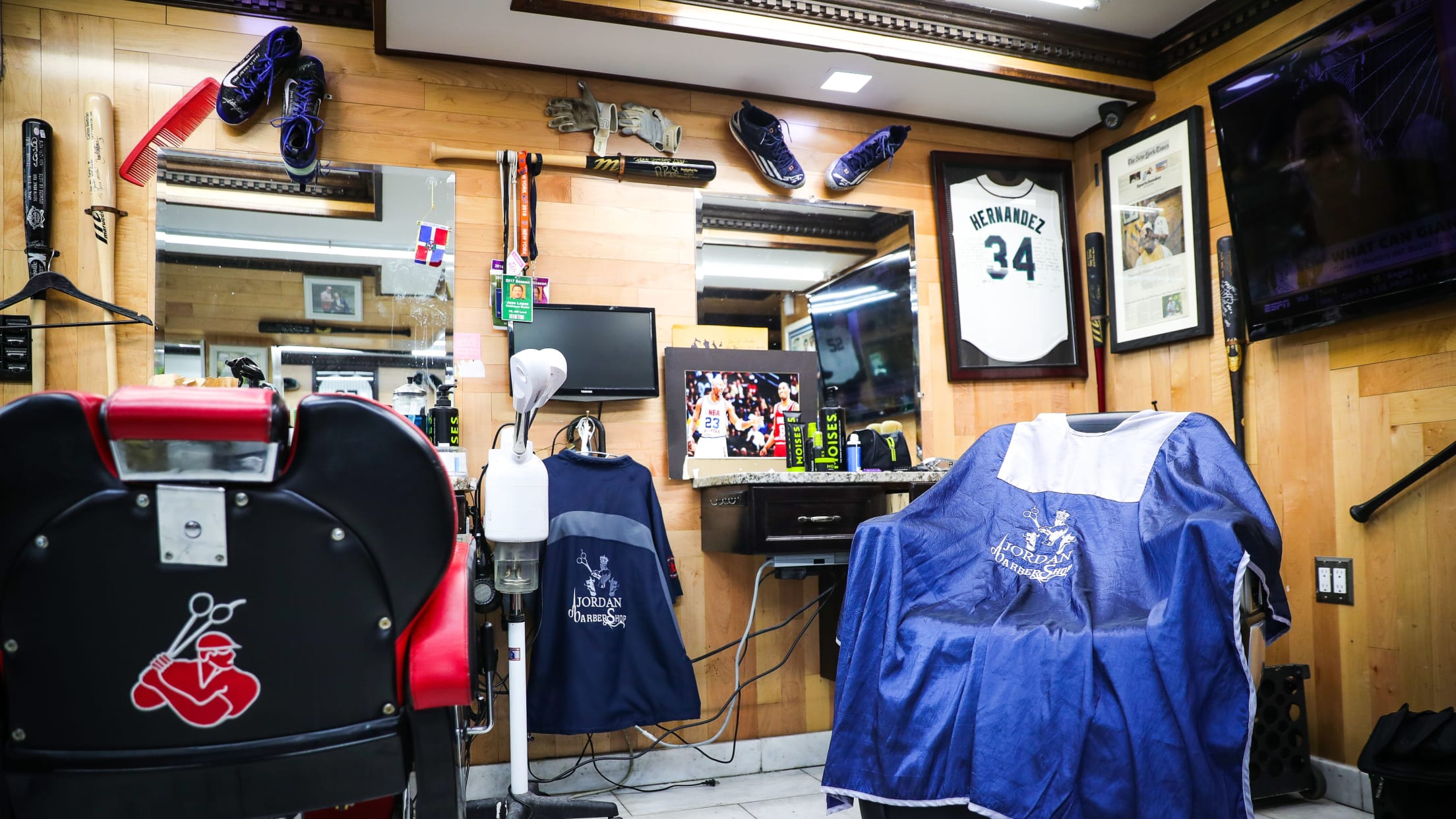 "Aaron Boone has been here, Cano introduced me to Alex Rodriguez …" Jordan says.
"Have you met J-Lo?" I ask.
"Yeah," he says.
"Do you cut her hair?" I ask.
"No way," he laughs.
After giving me a guided tour – batting gloves from Manny Machado, a jersey from Ichiro, signed photos from Jose Reyes – he gets in the chair to get a little bit off the top. His employees surround him and he jokes around in Spanish – playfully shoving them off to the side and breaking out into a laugh every other sentence. All the while, he's watching me explore the rest of the magic that makes up his shop.
He gives a little wink when I look back his way.
Once he's done, we hop in his van to head to his original shop in the Bronx about 10 minutes away. He's on the phone much of the time, speaking in Spanish (who knows who it could be this time), but breaks his conversation to tell me, "This is Washington Heights. It's very busy."
"Who's the biggest star that comes to the shops nowadays?" I ask.
"Oh, Aaron Judge for sure," he says, his eyes opening wide. "He's so big and when he's walking around here everyone looks." He motions turning his head.
We get to the Bronx and pull up beside Jordan's Sport Barbershop, a little more than a Vlad Guerrero throw away from Yankee Stadium. His mom's old salon is now a Dominican food deli. Although smaller, the Bronx shop is another slice of baseball memorabilia paradise: Photos of Jordan with Gary Sheffield, Bernie Williams and, of course, the OG Luis Castillo adorn the walls.
"Vlad Guerrero and Pedro [Martinez] got their haircut here before going to the Hall of Fame," he said.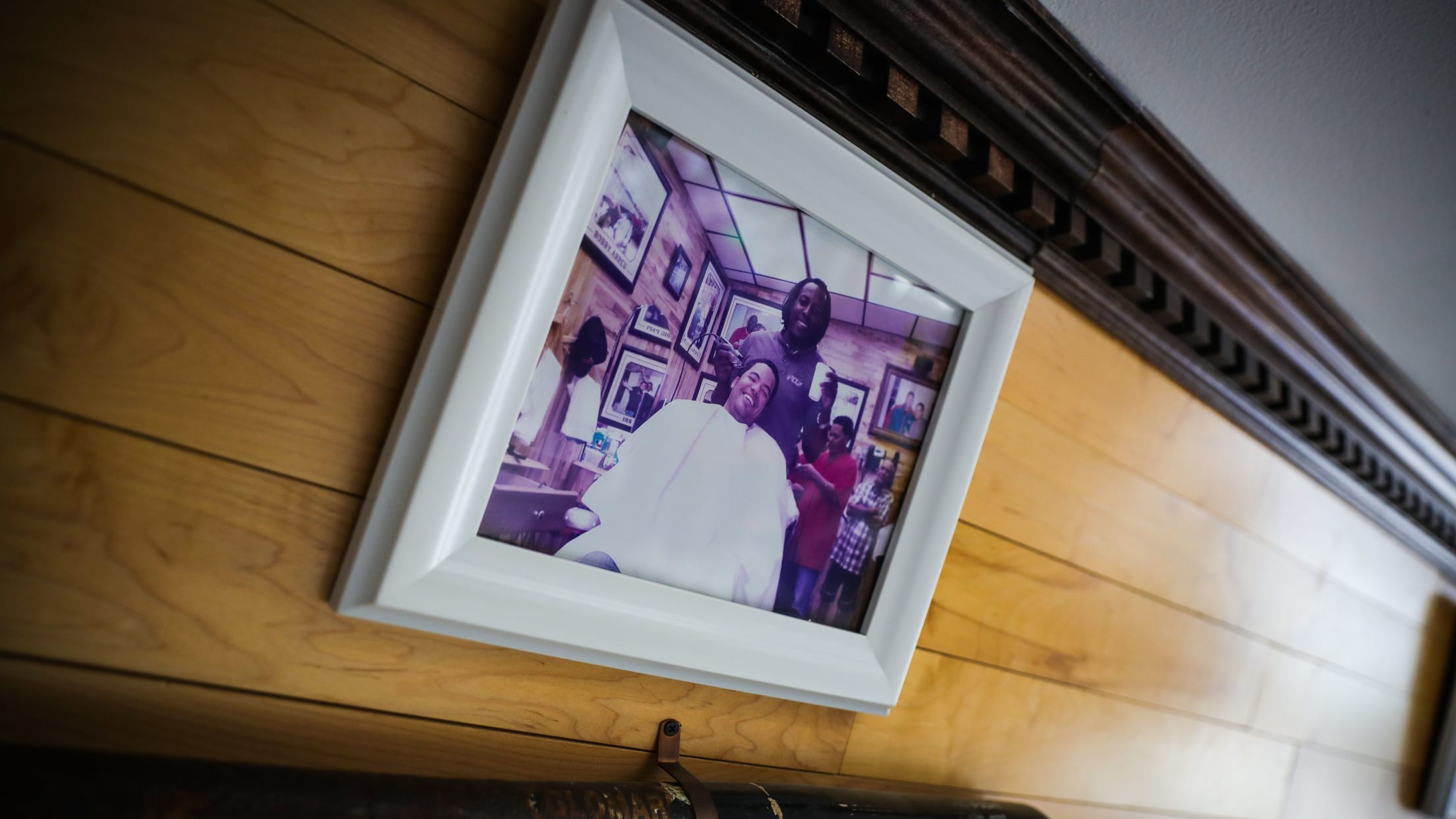 The best story, though, was about Mike Trout.
The Angels superstar apparently came into the Bronx shop last year during a series against the Yankees and nobody realized who he was.
"Nobody knew – they thought he was a cop," Jordan tells me, smiling.
Eventually, one of the barbers recognized that it was, you know, Mike Trout. Jordan, who does all the player hair, was called in to give him his cut. I laugh and think how it could be difficult to recognize some of sports biggest stars when they're not wearing the costumes we see them put on every single night.
It's nearly 2 p.m. and time to head over to Citi Field to cut some hair before a Reds-Mets game. We make the short, 20-minute drive to the land of giant apples and endless Shake Shack lines. Jordan gives a slight hand wave to security and they let his car pass right through into the media lot.
Everybody knows him.
He parks the car and pops the trunk to get his tools – towels, scissors, buzzers, razors, hair product (he has his very own line) – and we head toward the media entrance. Jordan gives a warm "Hey, Papi" and hand-slap to the security guard as he passes through. I try to do the same, but totally screw up the high-five and hurry by awkwardly.
We head to the Mets' family visit room, where there's a little makeshift barbershop set up: A mirror, a table and a black leather chair.
A security guard comes in and yells to Jordan, "Hey! McNeil wants a haircut!"
Jordan nods and, as soon as he sets everything up, we wait for Mets infielder Jeff McNeil to walk into the room.
Once he does, it's like we're back in his Washington Heights hood. McNeil tells him what he wants, Jordan asks him about his family and whether they're coming in for the game. Reds players start making their way into the room, checking to see what the line looks like.
"Veinte minutos," Jordan tells them.
20 minutes.
The Reds' Kyle Farmer and Tucker Barnhart join Derek Dietrich – who knew Jordan from his time playing for the Miami Marlins and coming up to New York – waiting in the room; talking shoes, vacations to the Dominican Republic and baseball. This once insignificant, mostly blank room has turned into a full-fledged barbershop. It's lively and inviting. The only thing missing is some old guy telling stories about how it was back in the day.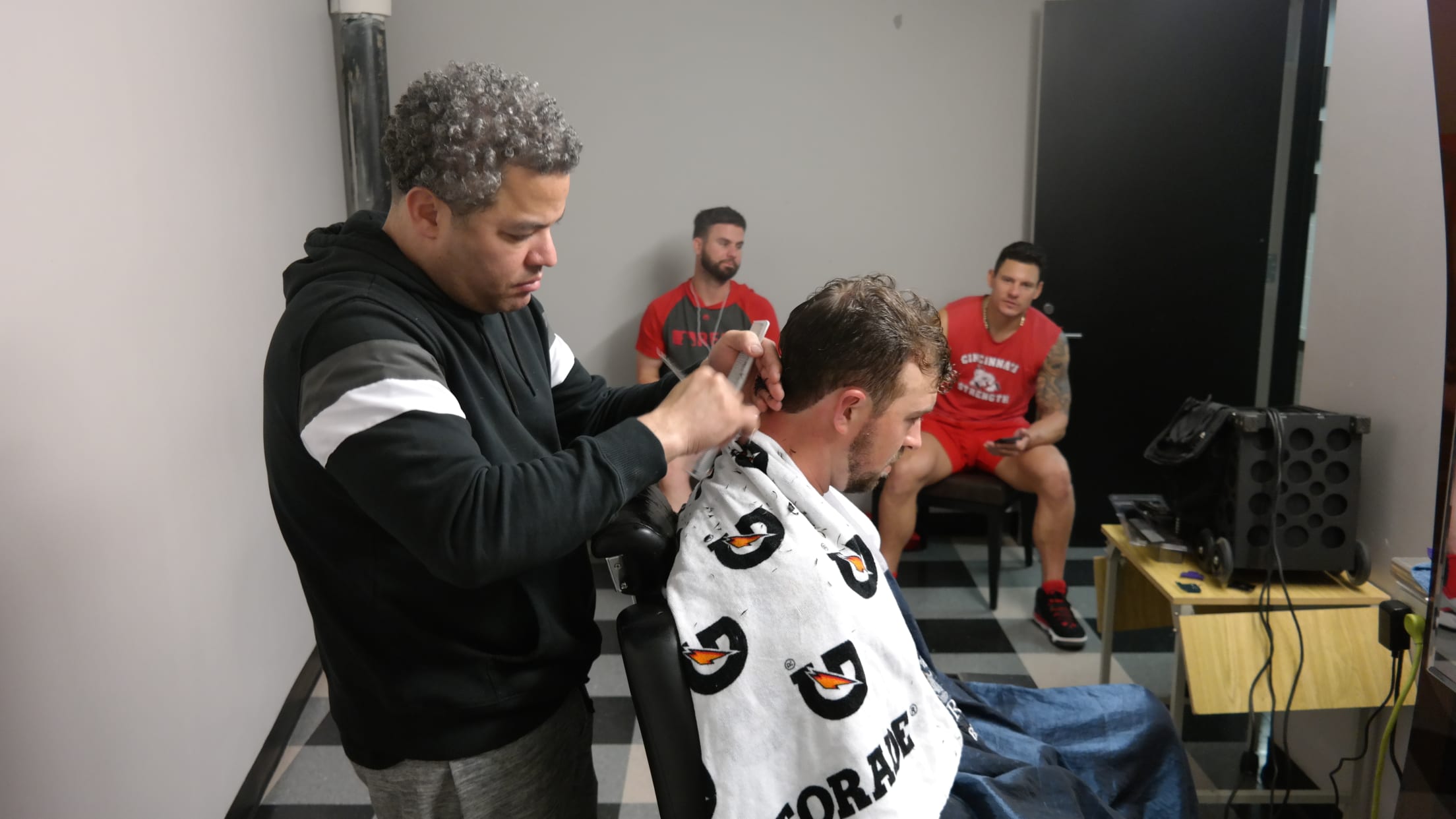 And everything is tempered and measured and led by the man holding the silver scissors.
It's the first time all day I'd seen Jordan actually cut someone's hair. He's careful, he's concise, he's a clear perfectionist. Whenever he leaves the room to take a call, players say to each other in hushed voices "he's the best."
But his hair-cutting ability is probably dwarfed by his affable demeanor with each and every player. He knows when they don't want to talk, he's respectful, he's funny and he engages when he sees an opening.
Cano, Jordan's final customer for the day, tells me about his long history with baseball's most famous barber.
"It's hard to get to the level he has. [Jordan] worked for everything he's got."
Pujols, whom Jordan surprise FaceTimed with me after Beltran, says, "he's not just the best barber in the world, he's the best person in the world."
----------------------------------------------------------
Looking back, it's clear that Jordan provides a social service, a haven from life on the road, a home for these players constantly away from theirs. He creates it in a Seattle hotel room for King Felix, or down in the bowels of Citi Field.
Sometimes he invites them into his home, on 189th Street and Broadway in Washington Heights.
And of course they come. Why wouldn't they?
Teams in this article:
Players in this article:
Topics in this article: