Here are some of the Bucs' funniest moments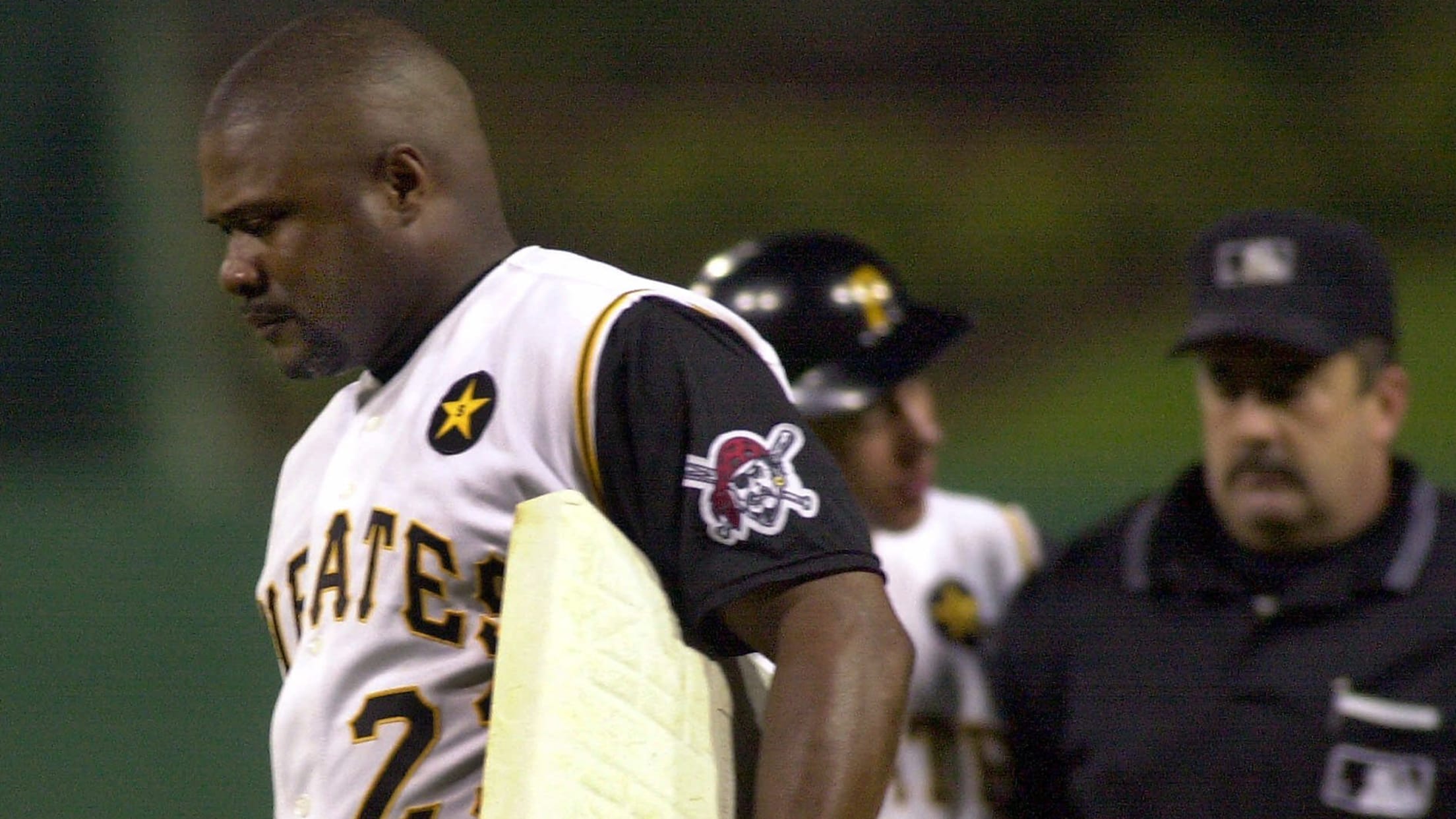 PITTSBURGH -- Like beauty, comedy is in the eye of the beholder. And there are different kinds of comedy, especially in baseball. Everybody loves a good blooper. A fly ball bounces off an outfielder and over the fence for a home run? Easy laugh. An infielder tracks a popup and
PITTSBURGH -- Like beauty, comedy is in the eye of the beholder. And there are different kinds of comedy, especially in baseball.
Everybody loves a good blooper. A fly ball bounces off an outfielder and over the fence for a home run? Easy laugh. An infielder tracks a popup and tumbles into the stands? Timeless. A hard-hopping grounder bounces somewhere it's not supposed to bounce? To quote the film critic Homer Simpson, "The ball! His groin! It works on so many levels!"
Then there are the moments that might not be all that amusing at the time -- they might even seem downright bizarre or frustrating -- but like a fine wine, they get better with age. You look back in two, 10 or 20 years and say, "Hey, remember that??" And you laugh, if only because it's better to laugh than cry.
Here we'll be looking at a few cases of both with eight of the most comical moments in recent (since 2000) Pirates history.
1. McClendon steals first base
June 26, 2001
A classic of the "managerial meltdown" genre. The 2001 Pirates were in the middle of a 100-loss season and their first campaign playing home games at beautiful PNC Park, and still a dozen years away from ending their 20-season losing streak. On this late June evening, Jason Kendall led off the seventh inning with a grounder up the middle. After an excellent play by Brewers shortstop Jose Hernandez, Kendall was ruled out by first-base umpire Rick Reed.
Kendall and first-base coach Tommy Sandt weren't having it; Lloyd McClendon pleaded his case but got ejected. McClendon first fired his cap toward second base, then came the moment that will live forever -- McClendon kicking the dirt and forcibly removing first base from its spot in the dirt. Rather than chucking it elsewhere on the field, like Lou Piniella, McClendon carried the bag back into the dugout and heaved it down the stairs, where it was quickly topped with a black Pirates cap.
A member of the grounds crew replaced the first-base bag.
2. "Operation Shutdown"
March 17-30, 2002
Spring Training is usually an easygoing time of year. Sure, players are competing for jobs and getting back into game shape, but they're in the Florida and Arizona sunshine, and there's far less pressure than there is during the regular season. But from that typically tranquil setting emerged the infamous, unforgettable and wonderfully named saga known as "Operation Shutdown."
After being signed to a two-year contract worth nearly $10 million, veteran outfielder Derek Bell hit just .173 in 46 games in 2001, his first season with the Pirates. He reported to Spring Training in a competition for the starting right-field job, but he clearly didn't know manager Lloyd McClendon and general manager Dave Littlefield considered it as such.
When asked by the Pittsburgh Post-Gazette about where he stood, Bell responded, "Nobody told me I was in competition. If there is competition, somebody better let me know." He later added: "If it is [a competition], then I'm going into Operation Shutdown. Tell them exactly what I said. I haven't competed for a job since 1991. If I don't [start], then I guess I'll be out of here."
Bell did not play a game after making those comments and spent the rest of the spring on his yacht before the Pirates released him. Before he was cut loose and paid the remainder of his salary, Bell declined to make a statement, saying only, "Just tell them I got in my yacht and rode out into the sunset."
3. Simon and the sausage race
July 9, 2003
Everybody loves the Brewers' famous racing sausages, right? Maybe not. During one fateful race at Miller Park, Randall Simon took to the top step of the Pirates' dugout and whacked the top of the Italian sausage with a bat. The woman inside the top-heavy getup tumbled, taking down the woman dressed as the hot dog with her. Fortunately, both sustained only scraped-up knees as a result of the fall that has been replayed thousands upon thousands of times.
Then-Brewers manager Ned Yost described the incident as only he could, telling reporters, "I didn't see what happened. I looked and saw the weenies in a wad over there."
It wasn't as funny at the time for Simon. He was arrested by Milwaukee County sheriff's deputies after the Pirates' 2-1 loss, booked and fined $432 for disorderly conduct before being released. The Pirates suspended him for three games.
The story had a happy ending, at least. The young women inside the costumes decided not to press charges and, in fact, asked only for a signed bat from Simon after he apologized to everyone involved. And when Simon returned to Milwaukee in 2003 as a member of the Cubs, he reportedly bought Italian sausages for an entire section of fans.
4. Can we get the man a functional rosin bag?
April 1 and July 7, 2013
The first three stories on this list might be more of the "easier to appreciate in hindsight" type. This one is borderline slapstick, and it might not be quite as funny had it happened to anyone other than the occasionally surly veteran A.J. Burnett. And it definitely wouldn't have been as funny had it not happened first on April Fools' Day then again -- in almost identical fashion -- three months later. And it probably still wouldn't have made the list had Burnett's initial reaction been anything other than immediately turning to the Pirates' dugout with two fingers raised.
If it happens once, it's an accident or a joke. Twice? It's a pattern.
5. J-Hay's Houdini routine
June 27 and July 27, 2014
Josh Harrison transformed in 2014 from a little-known utility man into a legitimate National League MVP Award candidate, and the spark plug's absurd escapes on the basepaths that year delighted teammates and fans alike. Come on, just look at Russell Martin's reactions after Harrison evaded the Mets, and then again when he circumvented the Rockies' entire infield.
The spin move/Matrix-like dodge in a 3-2 win over the Mets was one thing.
But take a moment to appreciate Harrison's elusiveness at second base and his fancy footwork during the Pirates' 7-5 win over the Rockies at Coors Field, not to mention how out of breath (and possibly dehydrated) he was at third base when it was all over. Even the umpiring crew was laughing and smiling during the replay review.
As play-by-play man Tim Neverett said the second time around, "Absolutely wild baserunning for Josh Harrison!"
6. Revenge of the Tarp Monster
July 7, 2015
Rain delays at PNC Park are common. It's the summer; storms happen. But what transpired during the Pirates' 3-2 win over the Padres on this night was unusual.
• Tarp Diem: Bucs seize the way to help crew, grab W
The rain came, and the wind started whipping, quickly spurring the grounds crew into action. They rolled out the tarp as players ran off the field, but one groundskeeper -- field maintenance supervisor Matt Gerhardt -- got caught up. The heavy winds picked up, trapping him inside the out-of-control tarp.
The grounds crew needed all the help they could get, so a bunch of players did their part to help. Onto the scene came Andrew McCutchen, Gregory Polanco, Jared Hughes (seemingly having the time of his life), Tony Watson and super-utility man Sean Rodriguez, who later quipped, "They call me a jack-of-all-trades, right?" They held down the parts of the tarp, allowing Gerhardt to escape and giving the rest of the crew time to nail it down.
The next afternoon the grounds crew wrote "RIP" with a body outline in the infield dirt, right around the spot where the tarp nearly swallowed Gerhardt. Meanwhile, the Pirates sold a select number of "I Survived the Tarp Monster" T-shirts.
7. Perhaps he would have preferred water
Oct. 7, 2015
This memory is far more bitter than sweet for Pirates fans, because it took place during the 98-win Bucs' devastating loss to the Cubs in their third straight NL Wild Card Game appearance. Had Pittsburgh advanced beyond that, who knows what that talented team might have accomplished?
But the rest of the baseball world could immediately appreciate the scene that unfolded after Sean Rodriguez was ejected (from a game he was already taken out of) following the benches-clearing incident in the seventh inning, the result of Tony Watson plunking pitcher Jake Arrieta.
Rodriguez, no stranger to on-field brawls and certainly not one to back down from a fight, had every reason to be upset. Bad blood boiled between these two teams all season, and Rodriguez said he was set off by David Ross grabbing him by the throat during the scuffle. Rather than punch back, Rodriguez took out his frustration on an unsuspecting Gatorade cooler, pummeling the poor thing into submission before taking his leave.
• Sean Rodriguez stays loose in Pirates dugout by boxing the Gatorade cooler
Rodriguez, at least, found the humor in it after the fact. When asked during a holiday question-and-answer session that winter what kind of gift he would get for his coaches and teammates, the quick-witted veteran replied, "I would get the Pirates a new Gatorade cooler!"
8. Walk takes a tumble
June 29, 2016
We've all been here. You lean back in your chair to relax, trying to get comfortable during a game ... and all of a sudden, you're on the floor, socked feet flying above you. That happened to Pirates broadcaster Bob Walk while he was in the radio booth with play-by-play man Greg Brown.
Brown was initially frightened, but Walk started laughing and flashed a thumbs-up while play-by-play broadcaster Joe Block dubbed Walk "the Chevy Chase of broadcasters, master of physical comedy."
The Pirates didn't let this one go, either, giving away a "Bob Walk Bobblechair" in 2017.