These veterans are owning the postseason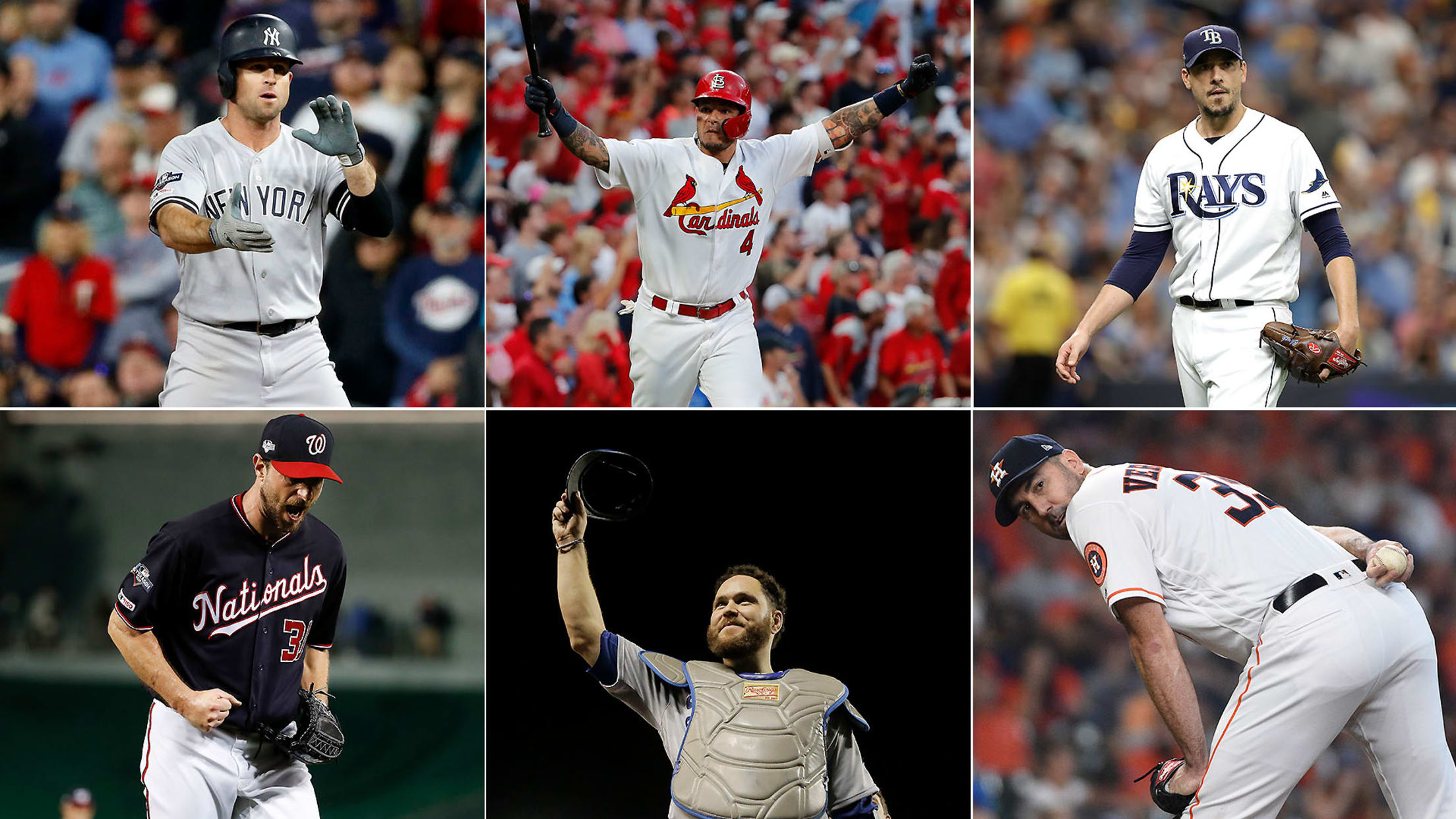 It is difficult to argue that times haven't been tough for veteran players over the last few years. They're having a tougher time in free agency as teams place more faith in youngsters, and in an age of velocity obsession, your crafty junkballer getting by with guile and his wits
It is difficult to argue that times haven't been tough for veteran players over the last few years. They're having a tougher time in free agency as teams place more faith in youngsters, and in an age of velocity obsession, your crafty junkballer getting by with guile and his wits has trouble finding a place in today's game. Baseball today -- like Instagram and thirsty marketers -- is obsessed with youth.
Which is why you'll have to forgive this 40-something for embracing a somewhat underappreciated thread running through this baseball postseason: The old guys are having a moment.
Sure, Ronald Acuña Jr. and Yordan Alvarez and a gaggle of other whippersnappers are still launching baseballs deep into the October night. But a surprisingly high number of the key players in these Division Series have been veteran -- or downright elderly by baseball standards -- players. They've been a reminder that playoff experience really does matter. Sometimes you want someone who has been there before.
Here are your thirty-something standouts from the postseason so far. And remember: CC Sabathia (age 39) could be back for the ALCS.
Brett Gardner, OF, Yankees (age 36)
It remains sort of absurd that Gardner, an unassuming and underappreciated player whose personality is the precise opposite of what the years have taught us Yankees are supposed to be like, has remained with this franchise for 12 years, outlasting everyone except Brian Cashman. Against all odds, he had the best season of his career -- if you would have told someone in 2011 that Gardner would not only still be around in '19, he'd be hitting 28 home runs and batting third in a playoff game, you would have assumed that we play baseball on the moon now. He has kept it up in the postseason, playing great defense, getting on base and bashing a big Game 1 homer. Gardner is somehow improving every year and at this rate will be putting up a 40-40 season in 2028 at the age of 45.
Russell Martin, C, Dodgers (age 36)
Martin finished ninth in NL Rookie of the Year Award voting back in 2006, behind Matt Cain, Dan Uggla, Andre Ethier and Prince Fielder. Every person but one (one who we'll get to later on this list) who finished ahead of him is out of baseball. But he's now back with the Dodgers, smashing homers and serving as Hyun-Jin Ryu's perfect catcher. This is the 10th postseason for Martin; he has three times as many postseason at-bats as his teammate Gavin Lux has regular season at-bats.
Yadier Molina, C, Cardinals (age 37)
Molina is going to be up for a Hall of Fame vote in the next decade (probably?) and while every person who has ever played with or against him considers him a slam dunk, there will be analytically minded humans who will wonder whether he has the lifetime numbers to merit inclusion. It might be an ugly fight and no one I know is looking forward to it. If voters are looking for a tiebreaker, you can't go wrong with Monday afternoon, when Yadi single-handedly saved the Cardinals' season, singling home the tying run in the eighth inning and knocking home the winning one with a sacrifice fly in the bottom of the 10th. They certainly will be playing the clip of Molina throwing his bat into the outfield for years to come. And everyone's still afraid to run on him. In his 21st postseason series, Molina is as much the heart and soul of the Cardinals as he has ever been.
Charlie Morton, RHP, Rays (age 35)
The Rays have won two of their four games this postseason … and they're the two that Morton has pitched. With the AL Wild Card Game and the Rays' Game 3 ALDS win, Morton has thrown 10 innings, struck out 13, given up just one earned run and notched two wins. If the Rays are somehow able to force a Game 5, you should probably expect to see him in that one, too.
Max Scherzer, RHP, Nationals (age 35)
We've reached the "Sure, they're old, but they're so dominant that they don't seem old" portion of our list. Scherzer was masterful for the Nationals when they needed him most desperately to be in Game 4, striking out 10 and giving up just one run in eight innings, keeping the Nats alive and sending the series back to Dodger Stadium. He wouldn't pitch in relief in a decisive Game 5 … would he?
Justin Verlander, RHP, Astros (age 36)
And here's the other so-dominant-there's-no-way-he's-that-old guy. Verlander finally got his World Series ring two years ago, and he's even better now than he was then -- likely to win his second Cy Young Award and the Game 1 starter who threw seven shutout innings. He'll be back out there in Game 4 trying to clinch the ALDS.
Adam Wainwright, RHP, Cardinals (age 38)
Now here's your rarest of birds: The veteran junkballer. Wainwright, who now throws his curveball more than any other pitch -- essentially unheard of in 2019 -- is a character out of For Love of the Game at this point, bobbing and weaving his way through 7 2/3 shutout innings in the Cardinals' Game 3 loss to the Braves. Wainwright nearly retired last season and only came back on a heavily incentive-laden contract. He ended up hitting every incentive. Whether you like the Cardinals or not, it is nearly impossible not to cheer for Wainwright.
Ryan Zimmerman, 1B, Nationals (age 35)
The original Nat -- the guy who has been there from the beginning, the first-ever Draft pick, the guy who once took a job from Vinny Castilla -- just had himself the greatest Nationals playoff moment of them all.
Zimmerman, like his team, is 0-5 in playoff series for his career. They've got one more night to finally get him a win. They, like so many others, will be relying on their veteran to get them there.