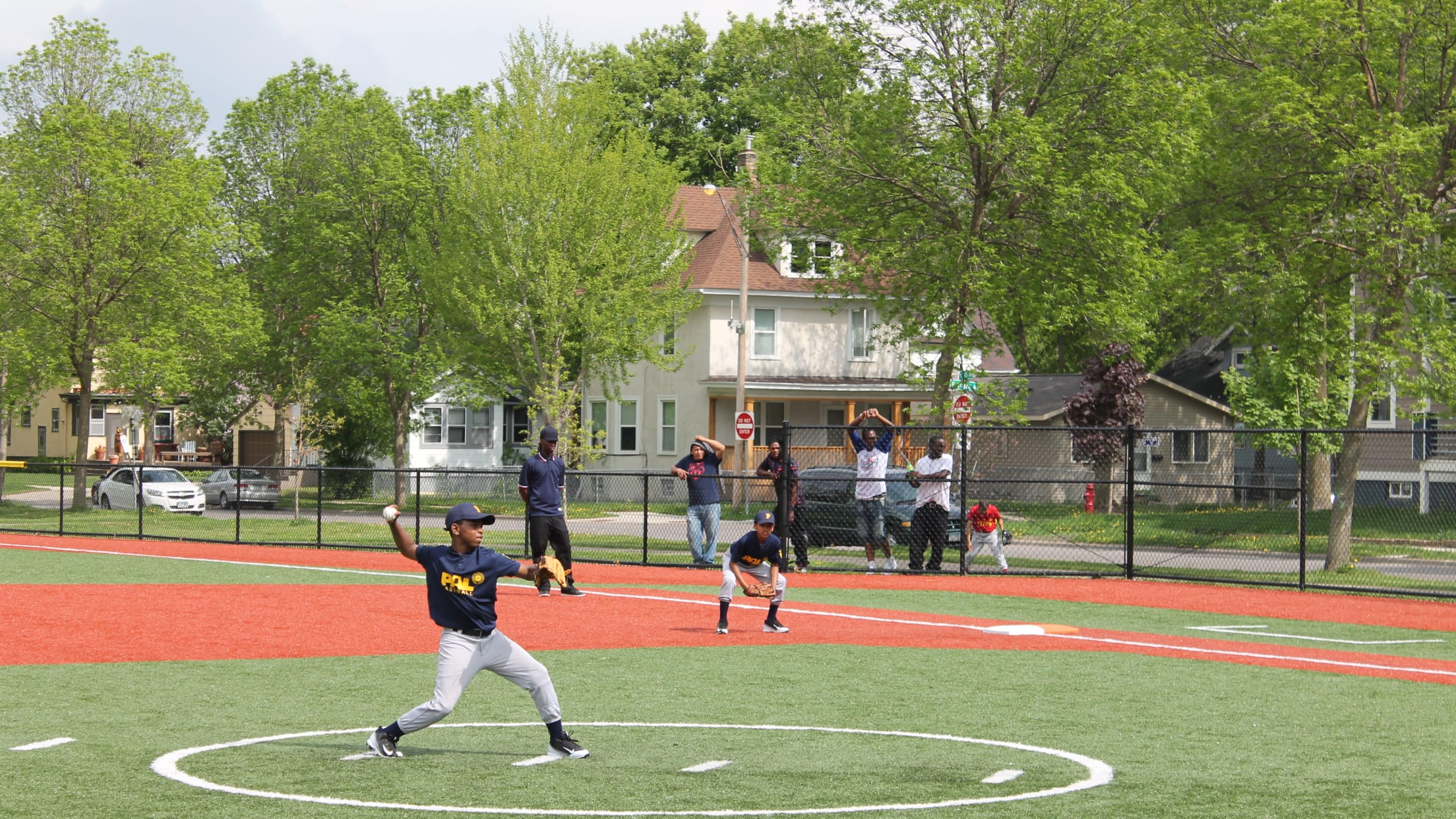 Resources and Training
Twins RBI provides resources for players, coaches, volunteers and umpires to improve their skills. Check back here often for new resources to help you better your skills through Twins RBI.
---
2020 Twins RBI Holiday Baseball Camp
The Minnesota Twins RBI Winter Baseball Camp provides players an opportunity to continue developing their skills as well as prepare for the start of the new season!
The camp is open to Twins RBI players, ages 9 to 13, and features 10 total hours of instruction. The camp will take place on January 2-3, 2020 at Oxford Community Center in St. Paul, located at 270 Lexington Parkway N, St. Paul, MN 55104. The camp registration fee is $20, and scholarship opportunities are available.
The instructional staff is very experienced and dedicated to helping youth develop their skills. A large and experienced staff ensures a low player-to-coach ratio, so players receive the attention they need to develop. Our camp is staffed with high level instructors.
Parents know that when you find a great teacher, you try to keep them for as long as you can! Great teachers can be game changers in our kids' lives, and great baseball and softball coaches are the same. Our coaches will keep the camp fun and exciting for your kids. Every instructor will have passed a background check.
Camps address general baseball skills including hitting, fielding, and throwing. Space is limited so register today!
---
Skill Training
Hitting
Throwing
Pitching
Catching and Fielding
Camp Highlights
10 hours of professional instruction
Four complimentary tickets to a select 2020 Twins home game
Baseball development and fun
Camp Details
PARTICIPANT AGES
Camps are open to boys and girls ages 9 to 13.
REGISTRATION FEE
The registration fee is $20.
It is important to the Twins RBI program that all RBI players have access to special opportunities like this, so scholarships are available for families who might otherwise not be able participate. Click this Camp Scholarship Program link to apply. If you are applying for a scholarship, please wait to register until the scholarship has been approved.
CAMP TIMES
10 a.m. to 3 p.m. on both days.
LUNCH
Campers should bring their own lunch and drinks. Please make sure to affix your player's name to these items.
GOT A FLEXIBLE SPENDING ACCOUNT AT WORK?
Many parents use their employer's FSA benefit to save even more. Check with your employer to see if the camp fee qualifies as Dependent Care.
CANCELLATIONS AND REFUNDS
You must notify camp staff in writing to cancel your registration. If you cancel your registration at least 15 days prior to the first day of camp, you will receive a refund equal to the registration fee you paid. No refunds will be given for cancellations made less than 15 days prior to the first day of camp. Any amounts refunded are subject to deduction of processing fees.
FURTHER COMMUNICATIONS
Once you have registered we will communicate additional important camp information via e-mail. Please enter your e-mail address accurately on the registration form. Also, be sure you are entering the parent or guardian e-mail address, NOT the camper's.
COMPLIMENTARY TWINS TICKETS
Participants will receive four tickets to one 2020 Twins home game. You will be able to select a date from a list of approved dates. Location of game tickets to be determined, subject to availability. ADA accessible game tickets available upon request. You will receive a special ticket email in March 2020 that will guide you through the redemption process.