Injuries force Marlins to flaunt pitching depth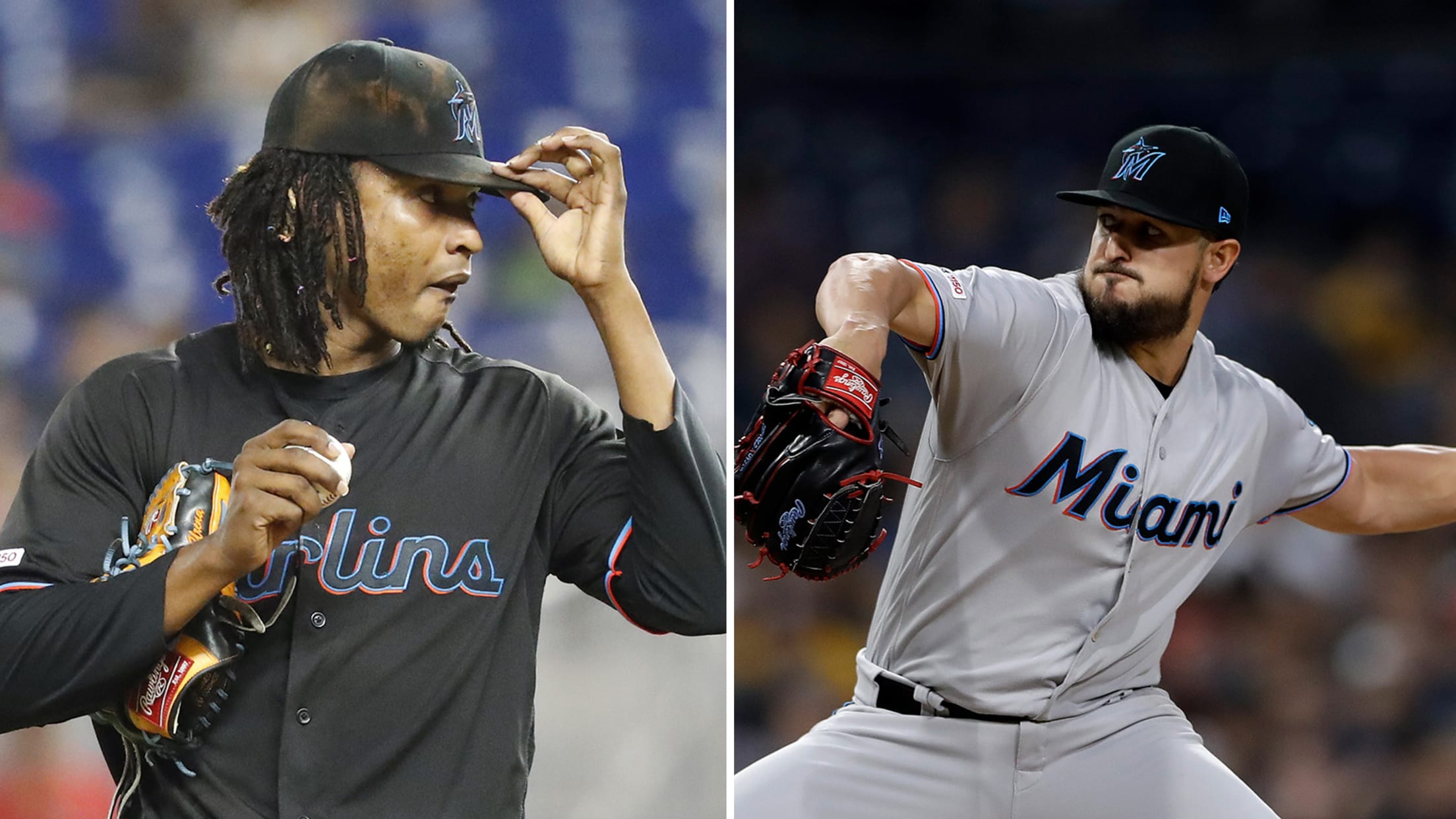 MIAMI -- A couple of injuries have suddenly forced the Marlins to tap into their organizational rotation depth. Starting pitching, the strength of the franchise, had been solidly intact from Opening Day through game No. 64, before Elieser Hernandez was called up from Triple-A New Orleans to face the Cardinals
MIAMI -- A couple of injuries have suddenly forced the Marlins to tap into their organizational rotation depth.
Starting pitching, the strength of the franchise, had been solidly intact from Opening Day through game No. 64, before Elieser Hernandez was called up from Triple-A New Orleans to face the Cardinals on Tuesday in a 7-1 loss. And on Wednesday, Double-A Jacksonville right-hander Jordan Yamamoto was promoted to start the series finale with St. Louis.
The two roster moves were made because left-hander Caleb Smith (left hip inflammation) and right-hander José Ureña (lower back strain) went on the injured list.
Until those injuries, the Marlins went with the same starting five for more consecutive games to open the season than any other big league club.
It's also been a productive staff, entering Wednesday ranked eighth in MLB in starters' ERA (3.89), and 12th in starters' innings pitched (365 1/3).
Over a long season, injuries occur. This year, the Marlins feel they are well stocked to cover starts due to the depth in their system.
Behind Hernandez and Yamamoto, right-hander Zac Gallen has been a standout at New Orleans, posting an 8-1 record with a 1.57 ERA. Not yet on the 40-man roster, Gallen's likely going to get promoted in the near future. But that may depend on how long Smith and Urena are out.
Also, Gallen wasn't a realistic option to replace Urena because he last started on Sunday, and he would have needed until Friday to get five days' rest.
"I think we're ok," manager Don Mattingly said. "We don't feel like Caleb is going to be long. I feel fine about it. Gallen is still in Triple-A, and not on the roster at this point. But he's a guy who has to be added next year."
Urena felt some discomfort while throwing his bullpen session. He had an appointment with the doctor on Wednesday.
"We've got to see the doctor to see where that came from," Urena said. "I felt it when I threw my bullpen. It was a little tight."
From top to bottom, the Marlins have promising starting pitching candidates. Sixto Sanchez, their No. 1 prospect, is at Double-A, as are hard-throwing right-handers Jorge Guzman and Robert Dugger.
Class A Advanced Jupiter features right-handers Edward Cabrera and Jordan Holloway and left-handers Trevor Rogers, Braxton Garrett and Will Stewart. None of them are projected to be big league ready this year.
On their big league roster, left-hander Wei-Yin Chen is a starter possibility, as is right-hander Jeff Brigham. Both are throwing in relief.
"I think you see the layers of pitching all the way through," Mattingly said. "I think pitching, right now, is not an area of depth [to worry about]. You feel like you have some. You feel pretty good about that depth."
Gallen has been knocking on the door with his performance, but for now, he's playing the waiting game.
"Timing is everything for guys," Mattingly said. "I think Zac is doing what he has to do to pitch well. He's what, [23] years old? He's going to have his time.
"As a player, you don't really control anything but your own destiny, as far as your performance. For guys, that's the main thing. Taking care of what you can control. Don't worry about decisions being made, for all different reasons. When his time is here, be ready to go."