Blooper is one of the Braves' breakout stars 
The most meme-loving mascot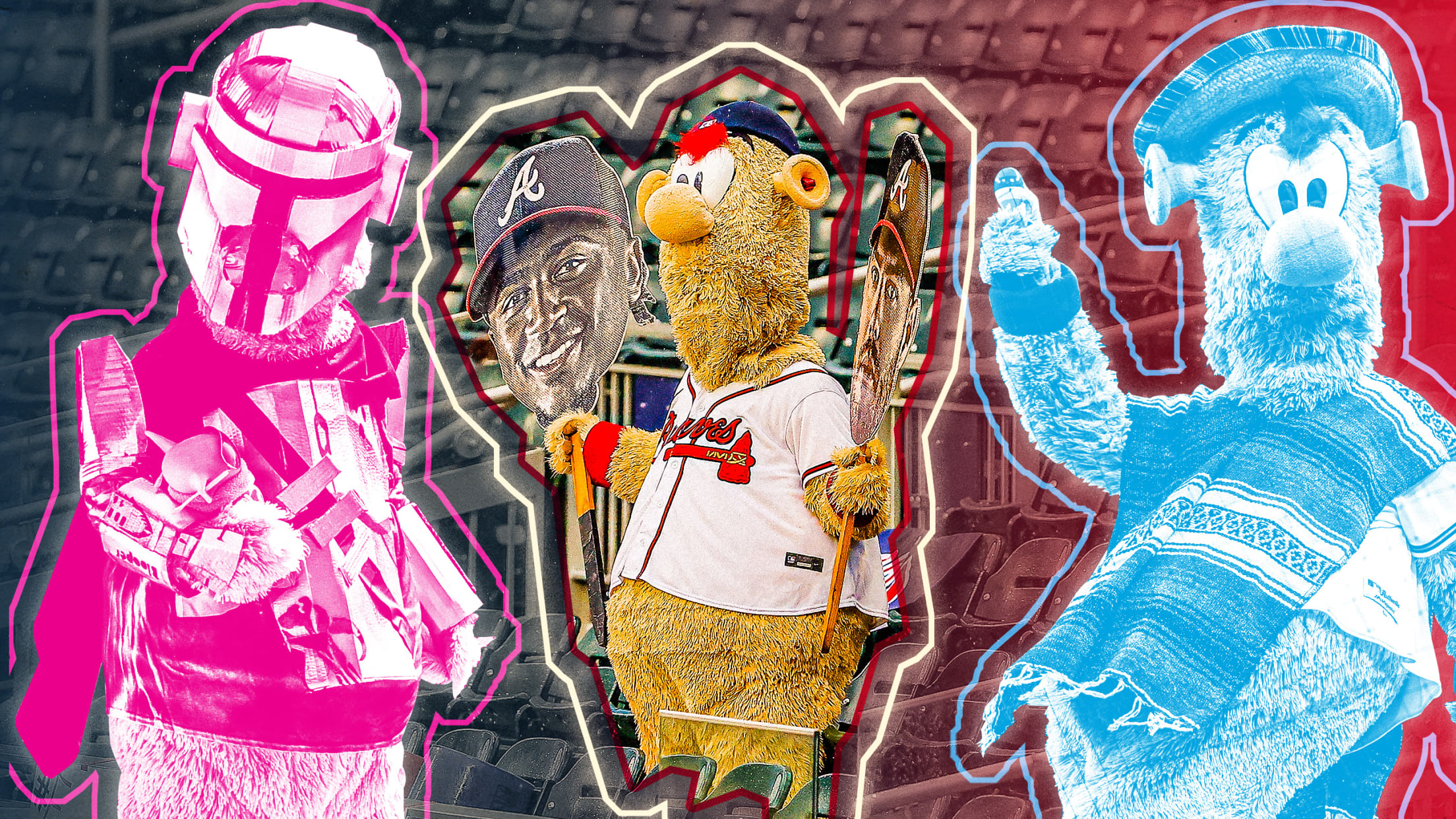 (Tom Forget / MLB.com)
In a season without fans, what is a mascot to do? After all, these large, fuzzy, baseball-loving alien weirdos are there to pump up the crowd and get them into the game. But when the seats are empty? That's a different challenge. Early in the summer, the most notable thing
In a season without fans, what is a mascot to do? After all, these large, fuzzy, baseball-loving alien weirdos are there to pump up the crowd and get them into the game. But when the seats are empty? That's a different challenge.
Early in the summer, the most notable thing for many fans was witnessing what appeared to be depressed mascots, wandering around the stadium, desperately searching for a purpose:
Lonely mascots are my new aesthetic pic.twitter.com/Sb5YJvTfw5

— Angelina Martin (@angieeesunshine) July 25, 2020
Blooper, the Braves mascot, saw this as his opportunity and came into his own.
He stood behind home plate and made appearances as a Minion, Macho Man Randy Savage or everyone's favorite sunglasses-on-the-back-of-the-head, burger-lovin' chef, Guy Fieri.
live footage of me showing up to work on a Monday pic.twitter.com/SEldJ3MDbO

— Blooper (@BlooperBraves) October 5, 2020
With the Braves heading to their first NLCS since 2001, it was time to learn a little bit more about the team's big fuzzy weirdo.
Blooper is a product of science run amok. In 2018, Atlanta put everything that makes a Braves superfan into a machine and this nearly 7-foot-tall, 5XL-shirt wearing beast is what emerged.
"He's like Shrek, but like, all of his pores have ramen coming out," Jacob Mosella, the Braves' mascot coordinator and Blooper's very close friend, told MLB.com. "He loves everything to do with the Braves. He loves standard ballpark fare, and that's why he's a five XL dude. He never chills when it comes to the input of food. He doesn't have a mouth, which is strange. I'm a man of science, but I haven't figured that out yet."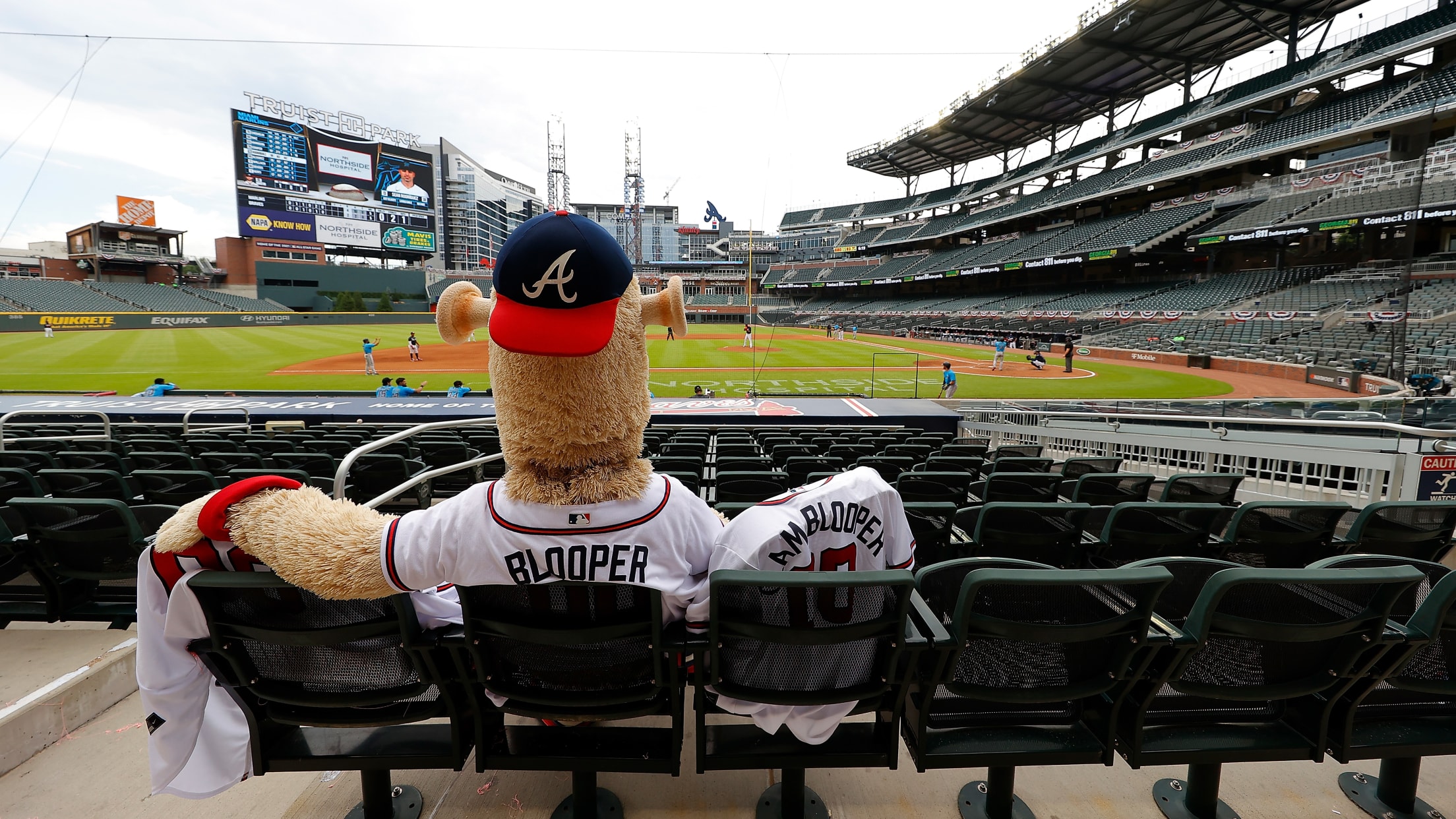 So, that explains what Blooper's whole deal is, but what does a mascot coordinator do?
"You're kind of like a jack-of-all-trades," Mosella said. "You're your own social media coordinator, you're a choreographer, you're a creative mind. I do a little bit of video and photo editing, a little bit of engineering."
That's what it takes to be support for someone like Blooper, who is "a paid idiot, a paid court jester, basically."
Mosella is in his first year with the team, having previously worked with the mascots at the University of Alabama, the Gwinnett Braves, and in Japan with the Hiroshima Toyo Carp. It was a pretty big left turn for Mosella, who was a former electrical engineer major before getting his masters in sports management.
That training came in handy when the season was delayed because of the coronavirus. With no games to be played and kids doing schoolwork at home, Blooper was happy to help out -- even if home runs instead of homework is more in Blooper's wheelhouse.
"I just teach Blooper how to do the math," Mosella said. "And then I give him all the solved problems, and he just writes it out on the live stream. So, if your kids are having problems with Algebra 1, Blooper can take care of it. If your kid's having problems with electromagnetics, we got you, too."
But when the season started, it was time to get to work coming up with ideas for Blooper to use at the stadium. Though the two admit to being inspired by the greats like the Phillie Phanatic or the NBA's Benny the Bull, Blooper goes in a whole new direction.
That's because talking to Mosella is like getting a Ph.D. in pop culture and internet trends. Frankly, some of what Blooper does probably won't make sense unless you've been ingesting some of the dankest memes the internet can offer for at least a few hours every day.
Like, say, when Blooper emerged as Doug Dimmadome, a character from the cartoon, "The Fairly OddParents."
is that doug dimmadome, owner of the dimmsdale dimmadome? pic.twitter.com/qzLS7z8aXd

— Cut4 (@Cut4) September 26, 2020
Now, there is a costume with an incredibly niche fanbase.
"I knew that a lot of people are gonna be like, 'Oh my gosh, that's Colonel Sanders.' 'That's Boss Hogg,'" Mosella said. "Yeah, they didn't get it, but they saw the costume and made some connection. And as long as they make a connection, that's a win."
But there were also plenty of people who did get it, and Blooper's social media feed was filled with fans making references "over and over again."
That costume could also only be done in a year without fans in a stadium.
"It's just like, 'Hey, we can make whatever we want for Blooper,'" Mosella said. "He can go up there and do whatever he wants because no one's gonna ask for a photo. No one's gonna get in the way. I'm not gonna have Blooper blocking a shot of something."
So, the two of them -- along with another Blooper assistant, Katie McGuire -- went all in and got weird.
"When Blooper and I sit down for our little oral sessions, it's really just like -- this word, not in the correct context -- but I'm thinking like, 'What is offensive for your eyes to see?'" Mosella said. "I just want [TV viewers] to look behind that home plate and question everything."
Mascots are usually chaotic, frenzied creatures who never stop until the game is over. Instead, Mosella had Blooper stand silently in a homemade ghillie suit that took nearly 30 hours to make.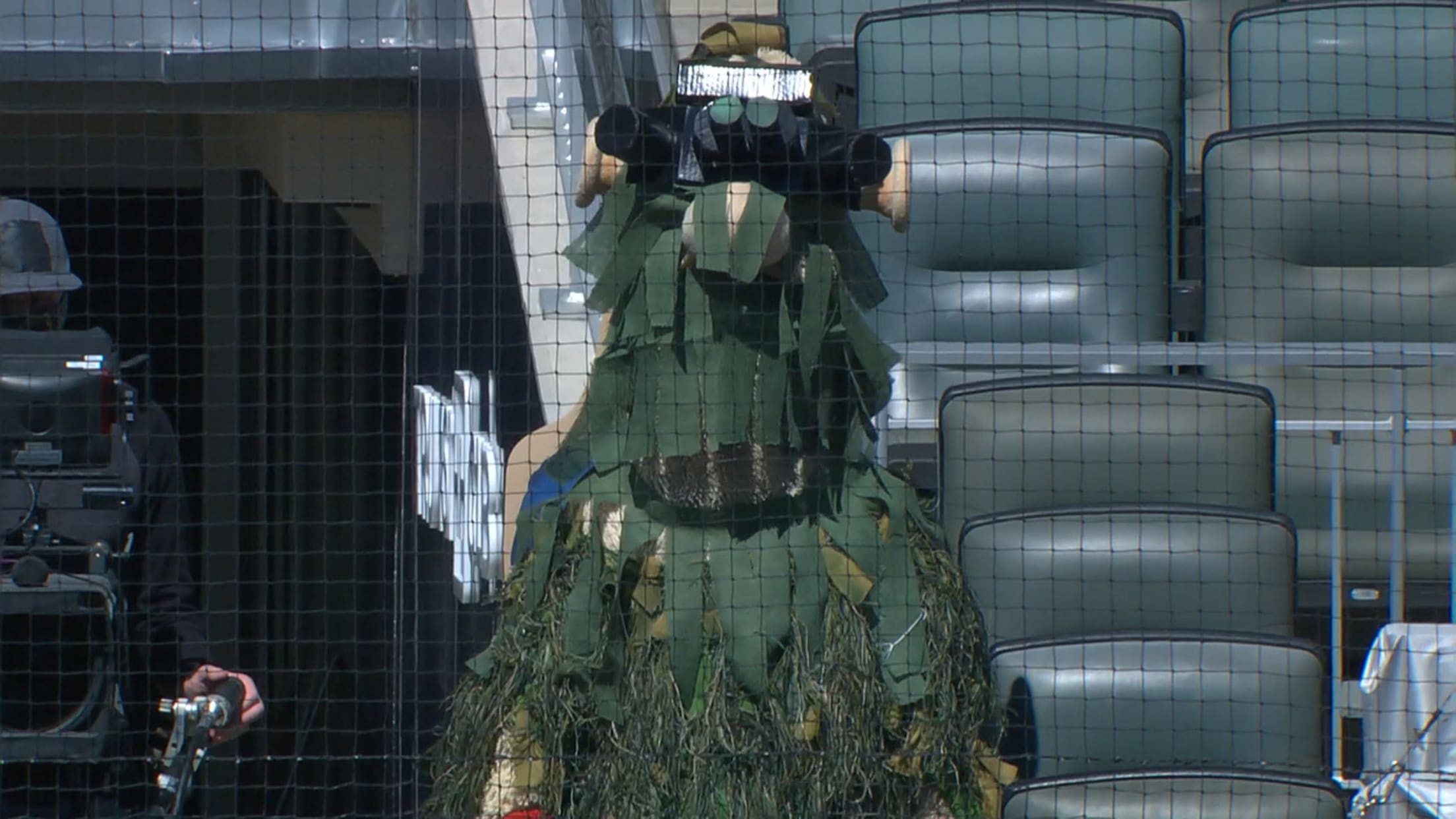 When Blooper appeared as Bob Ross, he didn't do anything but paint throughout multiple innings (throwing in a few booty shakes along the way). You had to pay attention to what was going on behind the scenes to get the full story.
When he appeared as the Mandalorian -- with Baby Yoda in tow -- he didn't do anything other than walk out, hold the child, and walk back down the tunnel.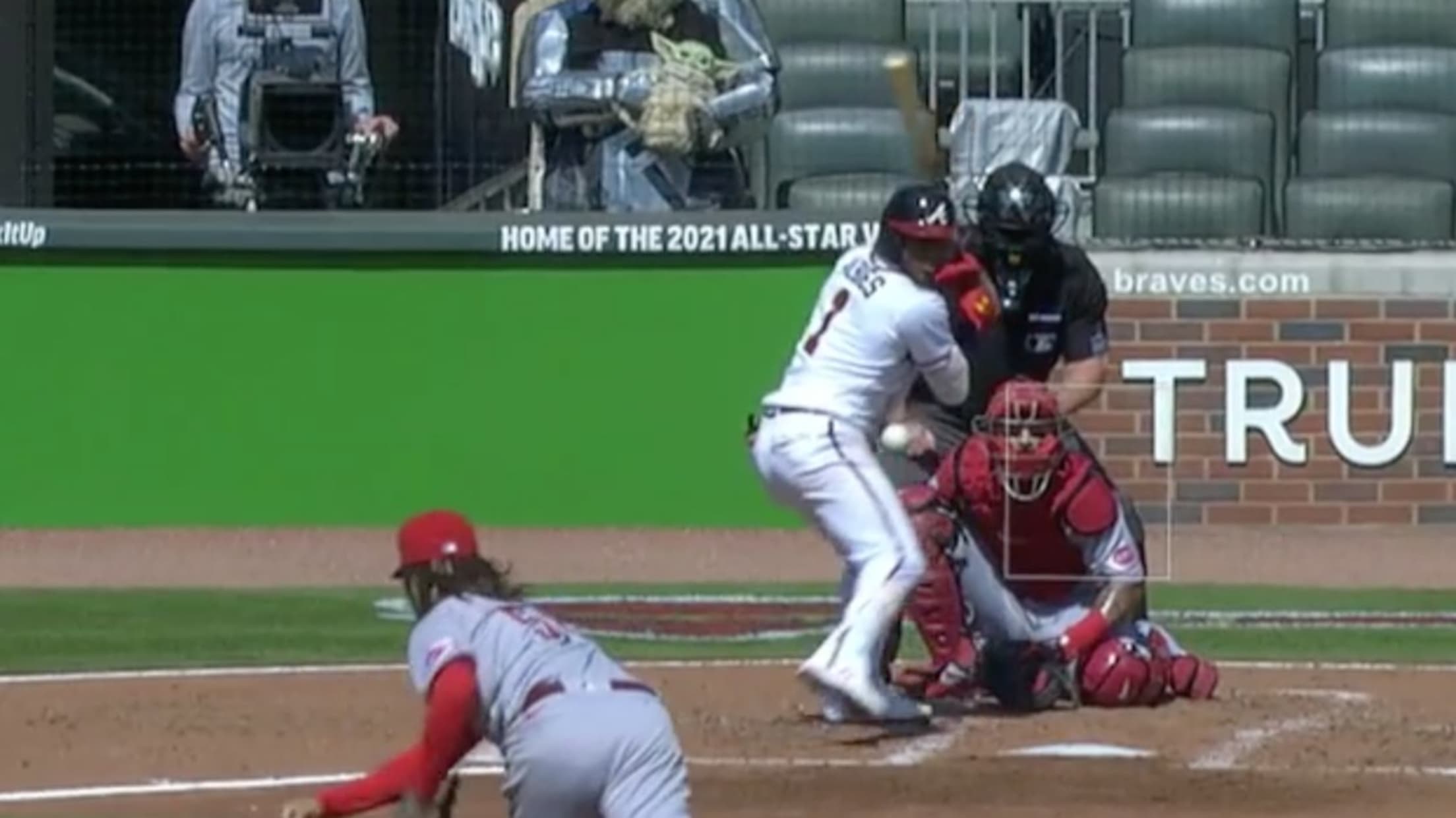 Despite these being the kinds of things that you see in momentary flashes between pitches or in the background of shots, they take a lot of planning and hours of work.
His cardboard lunar lander took about 20 hours. It was about 16 for Blooper to become The Doof Warrior from "Mad Max: Fury Road."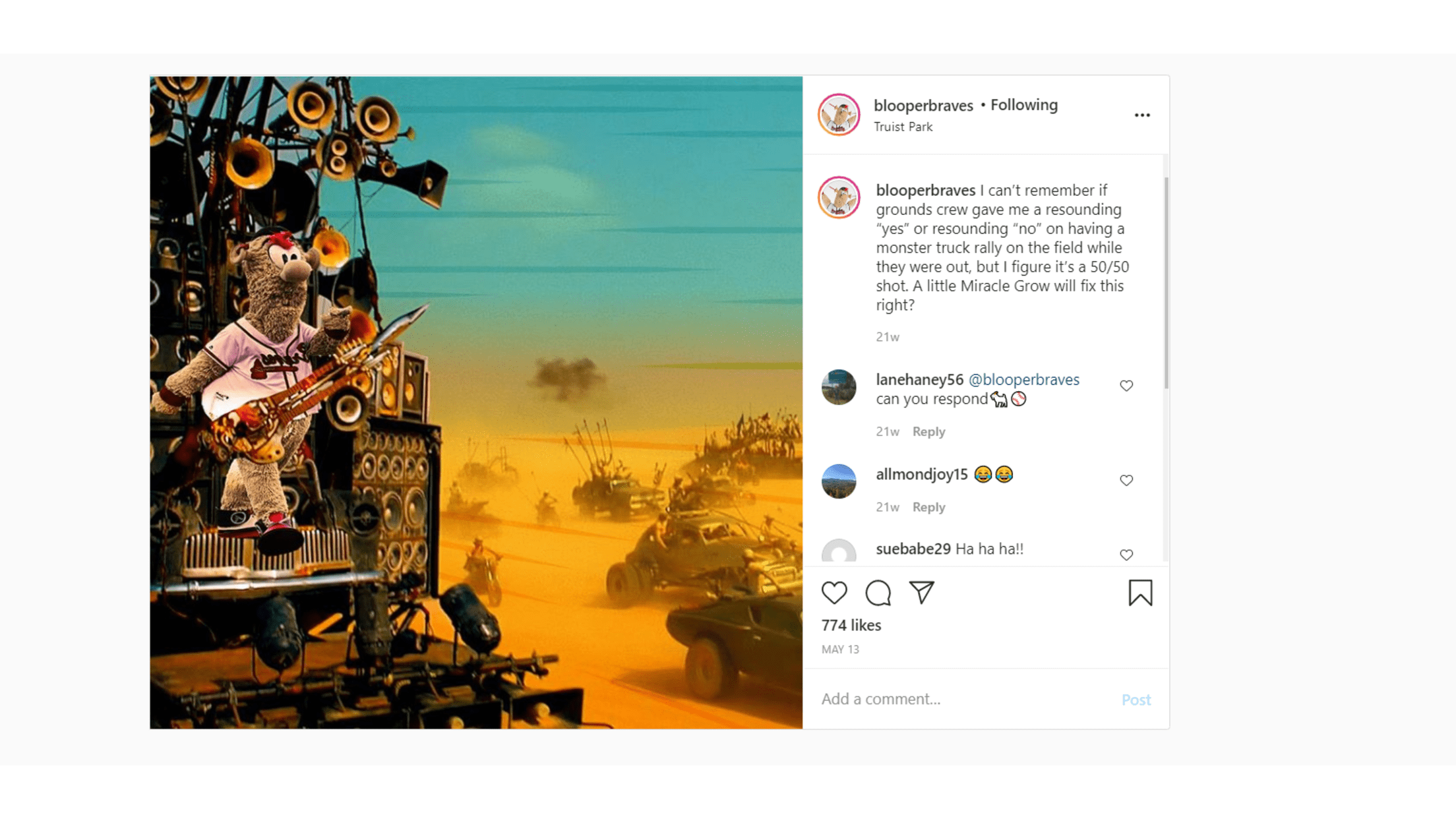 "I'd rather everyone have an opinion about it. Because, at the end of the day, apathy is death," Mosella said about their approach. "My mindset and mentality for this kind of stuff is don't go far one way, don't go far the other way, don't meet in the middle and be lukewarm."
While Blooper's received some attention from the Braves players -- most notably Marcell Ozuna, Ronald Acuña Jr. and Freddie Freeman -- he knows Blooper's job is also to needle the opposition. That's when he knows Blooper's really got it going on -- when his antics on top of the visitor's dugout draw their attention away from the game.
Stole the bread 🍞 and the W pic.twitter.com/BpwcM77XqA

— Blooper (@BlooperBraves) August 23, 2020
"The whole point of being on the opposing dugout is so that opposing players yell at Blooper and want him to leave, which is just fuel to the fire," Mosella said. "Blooper just stands behind whichever player yells at him longer. I think it was [Eugenio] Suárez of the Reds, who was not a fan of Blooper behind him, and Blooper just stood behind him for a long time."
Unfortunately for Braves fans -- and perhaps the Braves' players given how well Blooper can distract the opposition --Blooper isn't in Houston with the team. Instead, Blooper is hanging out at Truist Park back in Atlanta, entertaining the fans who have arrived for their viewing parties.
But don't worry, he's getting ready for next season already:
"I think Blooper's gonna go back to the lab," Mosella said. "He's gonna really study. I had him watch all seven hours of footage that we got from this year just in one fell swoop. Blooper doesn't blink, so he watched all seven hours of it straight. And he's learning, he's adapting, improvising, overcoming. You know, the Bear Grylls meme."
Michael Clair writes for MLB.com. He spends a lot of time thinking about walk-up music and believes stirrup socks are an integral part of every formal outfit.