Inbox: How long until the Pirates name a GM?
Beat reporter Adam Berry answers questions from fans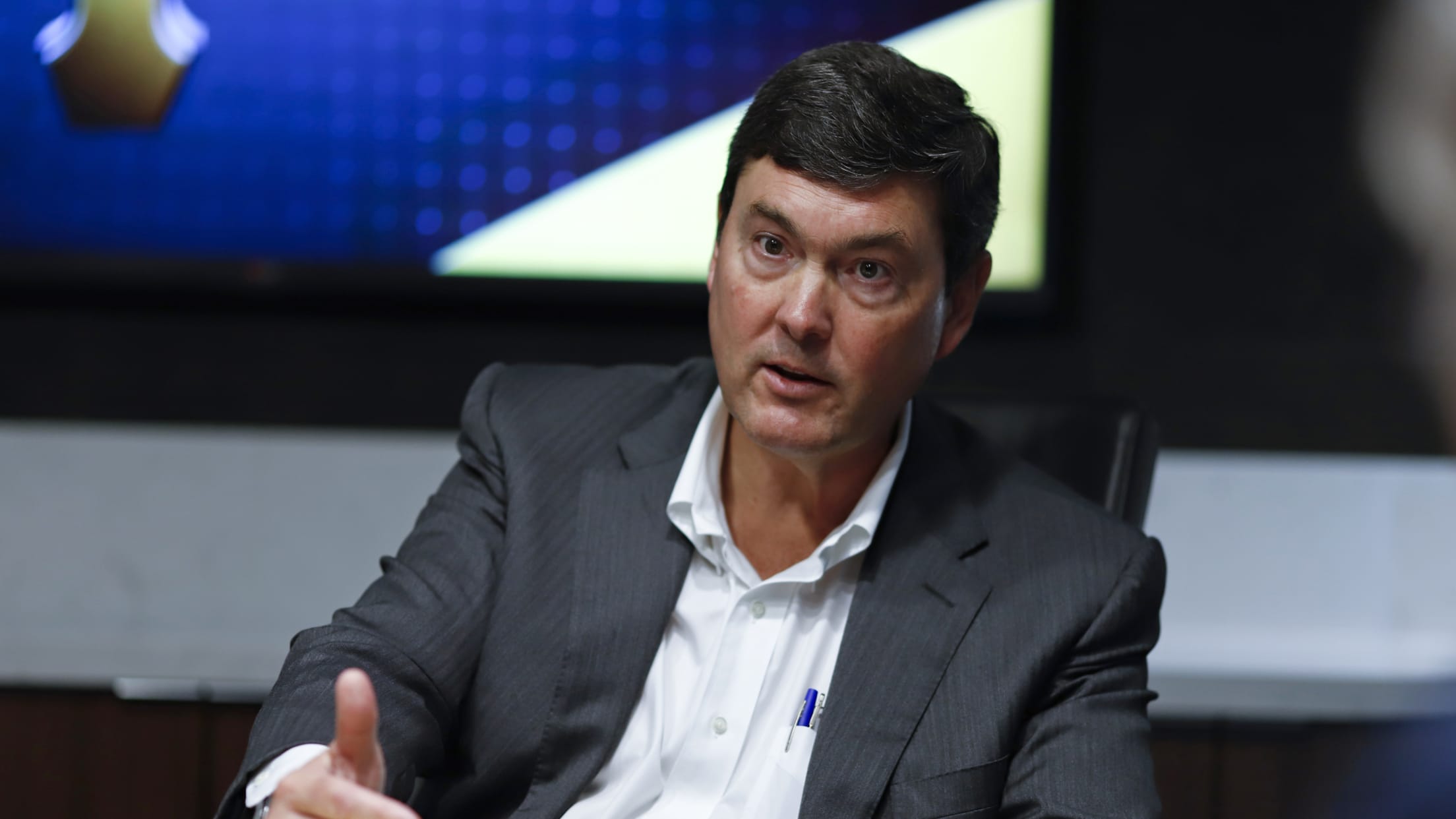 PITTSBURGH -- The offseason is officially underway, and the Pirates Inbox rolls on. While the club looks for a new general manager to start its Hot Stove season, we'll take your questions on all sorts of topics. Let's get into it.
PITTSBURGH -- The offseason is officially underway, and the Pirates Inbox rolls on. While the club looks for a new general manager to start its Hot Stove season, we'll take your questions on all sorts of topics. Let's get into it.
What are they waiting for?
The longer this goes and people get hired elsewhere is it inevitable that we end up with an internal candidate?
If we end up with an internal isn't there less chance of any actual change taking place in terms of the way the team is managed?

— Geoff Mosebey (@GeoffMosebey) November 5, 2019
Travis Williams, the Pirates' new president, is learning how to run a baseball team on the fly while also facing the incredibly important task of hiring a general manager in his first days on the job. The worst thing he could do is rush through this process.
I heard last week that the Pirates would likely lean on MLB and a search firm as they seek to replace Neal Huntington. Sure enough, as MLB Network insider Ken Rosenthal reported on Tuesday, Pittsburgh has hired the consulting firm Korn Ferry to conduct the club's search for its next GM.
The good news? Korn Ferry led the Twins to Derek Falvey and the Brewers to David Stearns, and those hires are working out just fine. The bad news is, yes, the GM Meetings are next week and the Pirates only have interim GM Kevan Graves in place.
I expect Graves -- a future GM, whether it's here or elsewhere -- will at least get an interview, but I don't think it's reasonable to assume that the Pirates will have to fall back on an internal hire. For one, chairman Bob Nutting made it quite clear with his actions over the past month that he wants to see real change within their baseball operations department.
Also, there are only 30 of these jobs and at least twice that many qualified candidates. They'll find someone, and that person will have to hit the ground running.
Now that there is a fresh start in management, why should there not be a fresh start on the field (i.e. a complete rebuild)?

— bucs2829 (@bucs2829) November 5, 2019
Personally, I agree that there does need to be some kind of rebuilding process at the Major League level. That's one reason why I asked Nutting if he'd consider it this offseason. For what it's worth, he more or less deferred the decision to the incoming general manager.
It would be tough for any GM to come in and honestly say, "I will take your 69-win roster, your middle-of-the-pack farm system and your small-market budget, and I will immediately deliver you the legitimate, sustainable contender you've said you want." That's setting an impossible standard.
But the problem they're facing on that front is the same one that's held them back on the field: They don't have a ton of elite talent in the Majors. They could get nice prospects in return for players like Starling Marte, Keone Kela and Josh Bell, and surely someone would buy low on Chris Archer. It's hard to imagine any sort of return that would significantly change the direction of the franchise, though.
But what if you push back the window three or four years? The front office would have time to identify and draft lower-level prospects, institute a new development system and still retain rookies/upper-level prospects like Bryan Reynolds, Kevin Newman, Mitch Keller, Cole Tucker, Ke'Bryan Hayes, Oneil Cruz and Jared Oliva. Maybe the Pirates could build a contender around that group if they opportunistically deal players from their current roster and use the payroll they clear and save in the process to acquire the right veterans when it's time to contend.
The big picture: It's not doing them any good to live in this middle ground they've occupied since 2016. They haven't been good enough to legitimately contend, and they haven't been bad enough to reap the benefits in the Draft. It's best to go all-in when your window's open and recognize when it closes.
It was very interesting to see the Red Sox hire Chaim Bloom. I think he is going to be amazing. I like the thought of a younger guy with a vision (Matt Arnold) more than someone with a ton of experience and an older view of the sport. I really believe they should be going after either Matt Arnold or Tony LaCava (not that he's all that young) and really no one in between. If you can hire the GM, who would it be?
-- Max B.
First, I want to agree with you about Bloom. From my time around the Rays earlier this decade until now, I don't think I've ever heard anyone say a negative word about the man. To the extent that we can evaluate these things this early on, it's a great hire for Boston.
I think you mentioned two interesting and qualified candidates in Arnold and LaCava, who made my initial list of names to know. With his experience in Tampa Bay and Milwaukee, Arnold would come with an understanding of working in smaller markets. LaCava would come with decades of experience and a unique understanding of this city.
I'm not going to try to pick a GM -- there's an interview process (and a consulting firm) for a reason -- but I'll highlight three more candidates from that list who stand out to me:
• D-backs assistant GM Amiel Sawdaye, who previously served as VP of amateur and international scouting for the Red Sox. The Pirates must thrive in amateur talent acquisition, domestically and internationally, and he has the relevant experience.
• A's assistant GM Billy Owens, a small-market veteran who is highly regarded as a top talent evaluator. Ultimately, evaluating players, especially your own players, is what it's all about, right?
• Tyrone Brooks, the former Pirates director of player personnel who interviewed with the Brewers and Orioles in recent years. He's a forward-thinking baseball mind with a ton of experience, including time in this market, and he has so many connections in the industry that he could surround himself with a top-notch staff.
Has anyone heard from NH since the firing?

— BW🏴‍☠️ (@BWhaler23) November 5, 2019
Yes. But I don't think former GM Neal Huntington, former manager Clint Hurdle or former president Frank Coonelly has spoken on the record for an interview since leaving the team, if that's what you mean.
Mr. Nutting, upon firing the GM, said, "It became clear to me as the season progressed that significant change was necessary in order to refresh our entire operations." Does this mean he will change himself and actually spend the revenue money and improve the team?
-- Bethann G.
Have you heard anything about increasing payroll to about $100 million so they're more competitive?

— Andy Grosh (@AGrosh16) November 5, 2019
Grouping these together since they're similar questions. Nutting alluded to the possibility of reallocating money spent within their baseball operations department, potentially cutting back on their player development budget and spending those dollars elsewhere, but he certainly did not sound as if he was ready to suddenly and significantly increase their Major League payroll.
This is going to keep coming up, especially since payroll has declined since reaching franchise-record levels on Opening Day in 2016, so I am curious to see how Nutting plans to "communicate more clearly and more directly what those economic challenges that we face are," as he said last week.