Curve Ball Gala
The entire Blue Jays roster joined over 1,200 guests on the field at Rogers Centre to raise more than $1.5 million for Unstoppable Kids in Jays Care programs from coast to coast to coast.
Unstoppable Kids Speeches
Three Unstoppable Kids speakers took the stage at the 2019 Curve Ball Gala to share how Jays Care programs have helped to change their lives and their communities.
Challenger Baseball In The Schools Jamboree proudly supported by Sobeys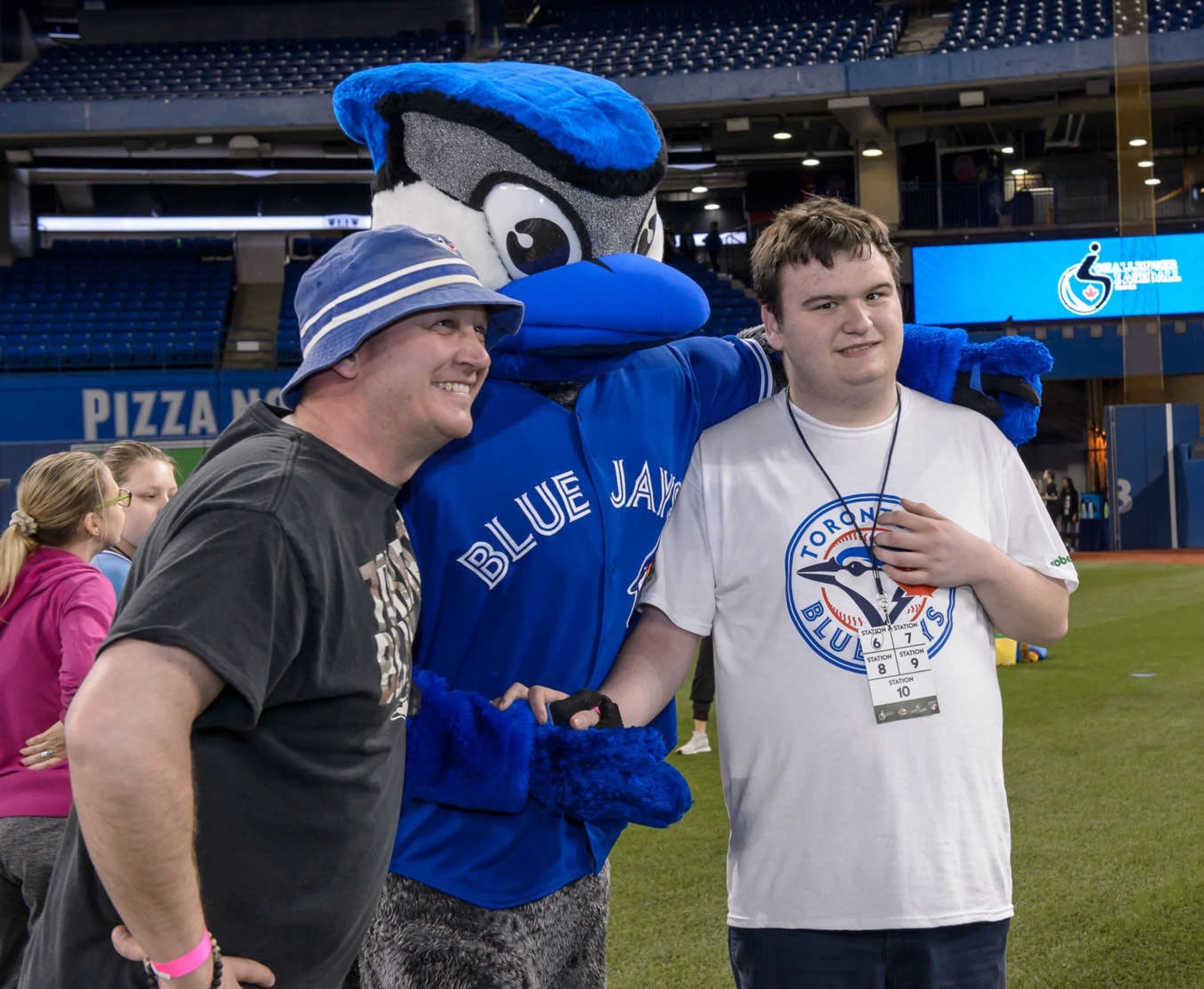 Hundreds of Challenger Baseball athletes took to the field at Rogers Centre for the 2nd annual Challenger Baseball In The Schools Jamboree proudly supported by Sobeys, and received a surprise visit from ACE.
Field Of Dreams Announcement
As part of the Field Of Dreams program, Jays Care announced over $1.3 million baseball infrastructure investments to 15 organizations in five provinces and one territory. Communities across Canada joined together at watch parties and tuned into the live announcement on Sportsnet's Blue Jays Central to find out that their community was receiving funding.
Largest 50/50 jackpot in MLB history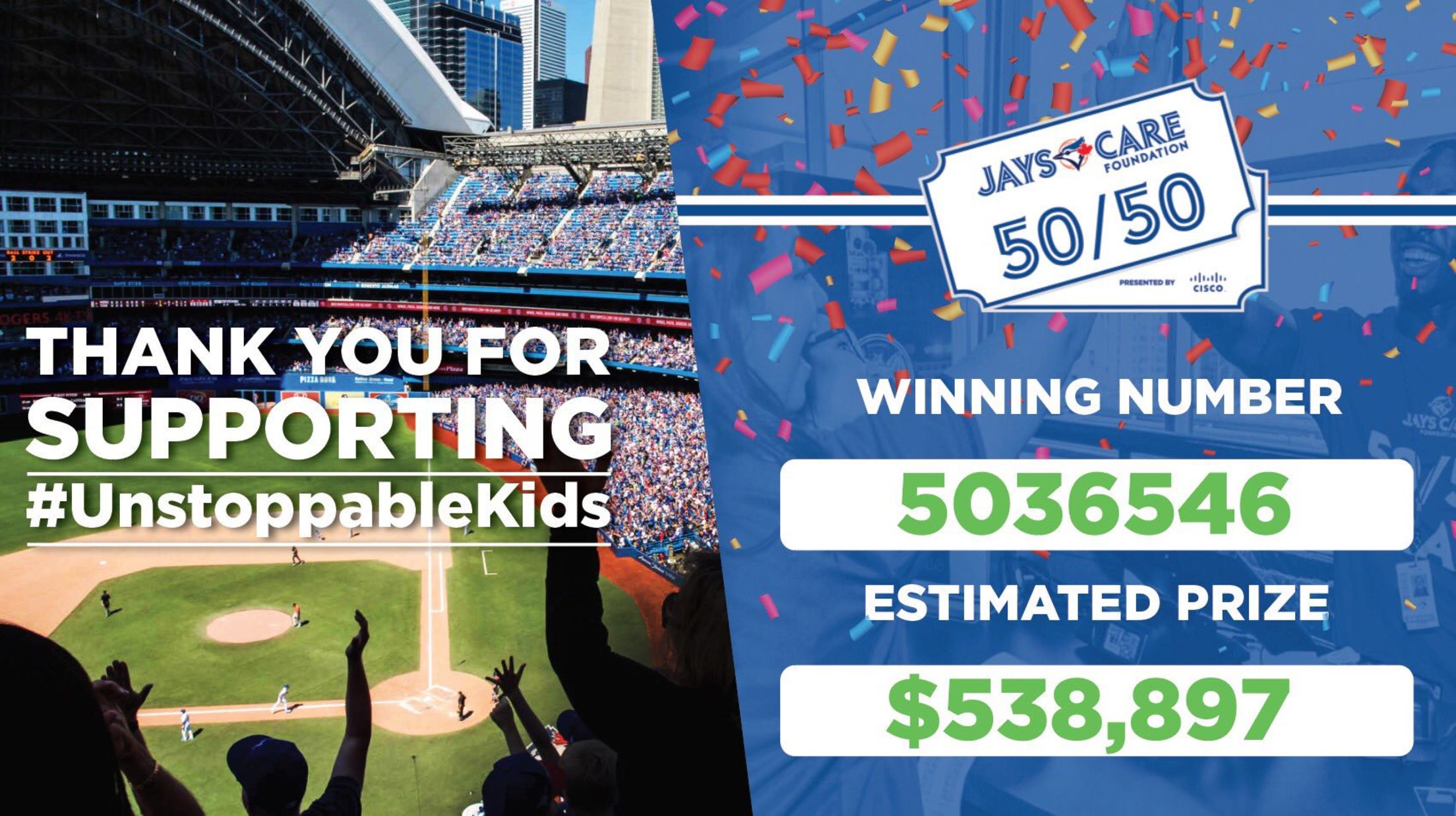 On March 31st the most philanthropic fans in baseball set a record at Rogers Centre for the largest 50/50 jackpot in MLB history. The winner of our cumulative four-game jackpot took home $538,897, with over a half million dollars raised in support of Jays Care programs.
MLB Play Ball Clinic in Montreal
In celebration of the centennial of Jackie Robinson's birth, Jays Care joined MLB at Montreal's Olympic Stadium to hold a Play Ball clinic for more than 600 young baseball players. Also in attendance for the event was Jackie Robinson's granddaughter Meta, members of the Canadian Women's National Team, and former Montreal Expos pitcher
Winter Tour presented by TD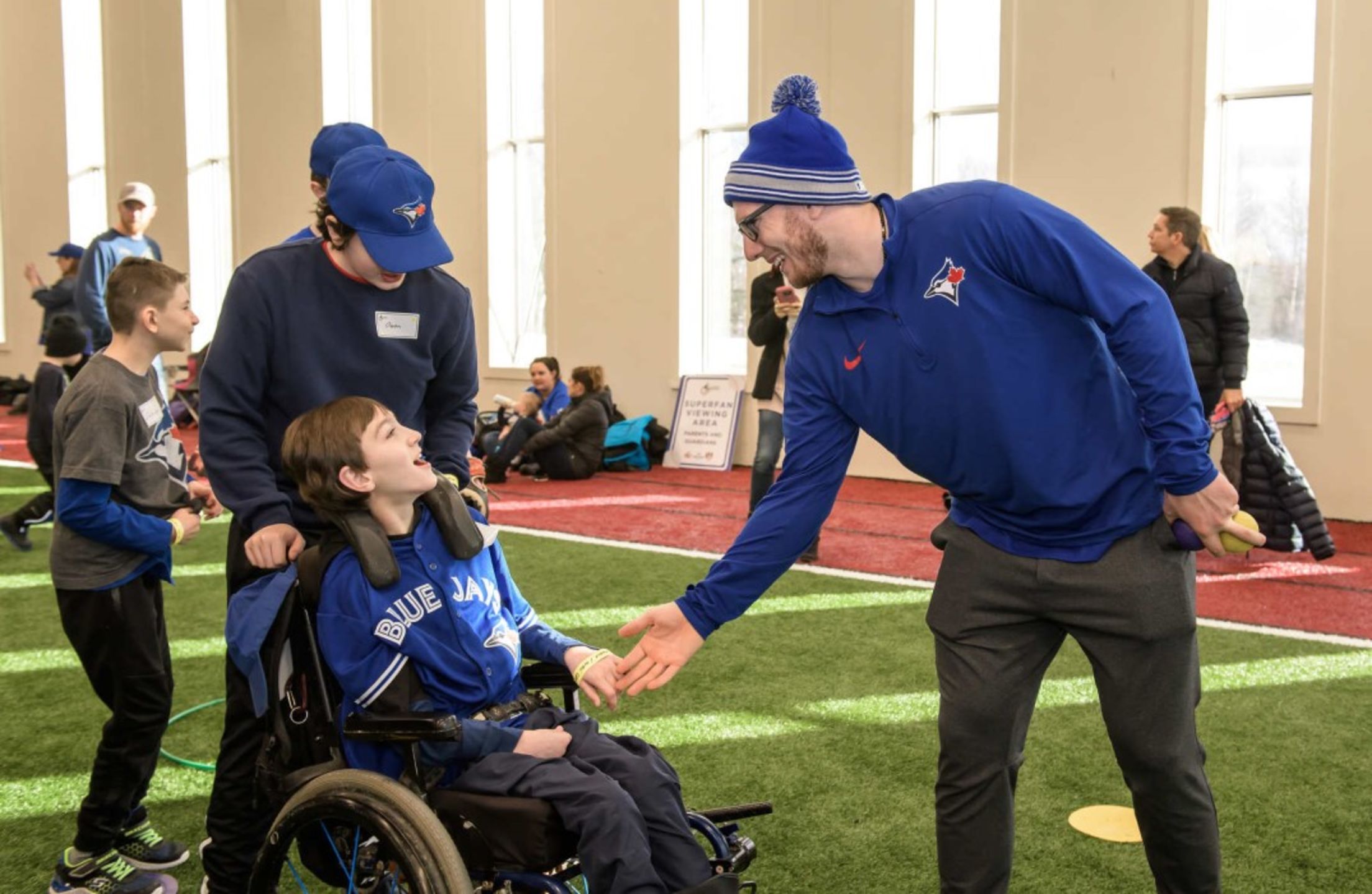 Jays Care ran an adaptive baseball clinic for Challenger Baseball athletes as part of the Blue Jays Winter Tour presented by TD in Halifax, NS.

2018 was an incredible season with lots to celebrate and we are proud to reflect on our most impactful year ever. Check out some highlights of the past season that would not have been possible without the incredible support of Canadians from coast to coast to coast.
If you build it, the girls will come
We held our first-ever Girls At Bat All-Star game at the Van Boekel family farm just outside Kitchener, Ontario which was modelled after the iconic diamond from the movie Field Of Dreams. The Girls At Bat program is currently reaching over 400 girls in 13 Canadian communities.
MLB Play Ball Clinic in Vancouver
Challenger Baseball athletes from the Vancouver area joined Jays Care, Baseball BC, Baseball Canada and MLB for an adaptive Play Ball clinic. This was the first-ever MLB Play Ball clinic specifically for kids living with disabilities and was held at Hillcrest Park -- the site of a 2016 Jays Care Field Of Dreams investment.
Celebrating baseball across British Columbia
We travelled across British Columbia ahead of this year's Blue Jays-Mariners series in Seattle and celebrated over $1 million invested in Field Of Dreams infrastructure across the province.
Bringing the Big Leagues to Bolton, Ontario
We brought the big league experience to Bolton, Ontario, for our first Blue Jays Game Takeover in front of 900 local fans who took in a Challenger Baseball game between Caledon and Brampton.
The Challenger Baseball National Jamboree
We hosted the Challenger Baseball National Jamboree at Rogers Centre with 150 athletes from across Canada. This is an annual celebration for the program which grew to reach 4,000 athletes across Canada this past season!
Rookie League with the Kenora Chiefs Advisory
We kicked off KCA Rookie League for the 2018 season as eight Treaty 3 First Nations were brought together through this inter-community baseball league.
National Indigenous People's Day
We travelled to Whitehorse, Yukon, to host a Field Of Dreams Opening and tournament for the recently-launched Yukon Rookie League program. In the spirit of reconciliation and unity, we exchanged dirt with Yukon Rookie Leaguers and four standout leaders in the program travelled to Toronto to sprinkle dirt at home plate during National Indigenous People's Day celebrations at Rogers Centre.
Unstoppable Kids at the Curve Ball
We hosted the 2018 Curve Ball Gala at Rogers Centre where 1,500 guests, the entire Blue Jays roster and 10 Unstoppable Kids joined together for a night of celebration raising over $1.5 million supporting Jays Care.
Capping off our first season of RBI at Christie Pits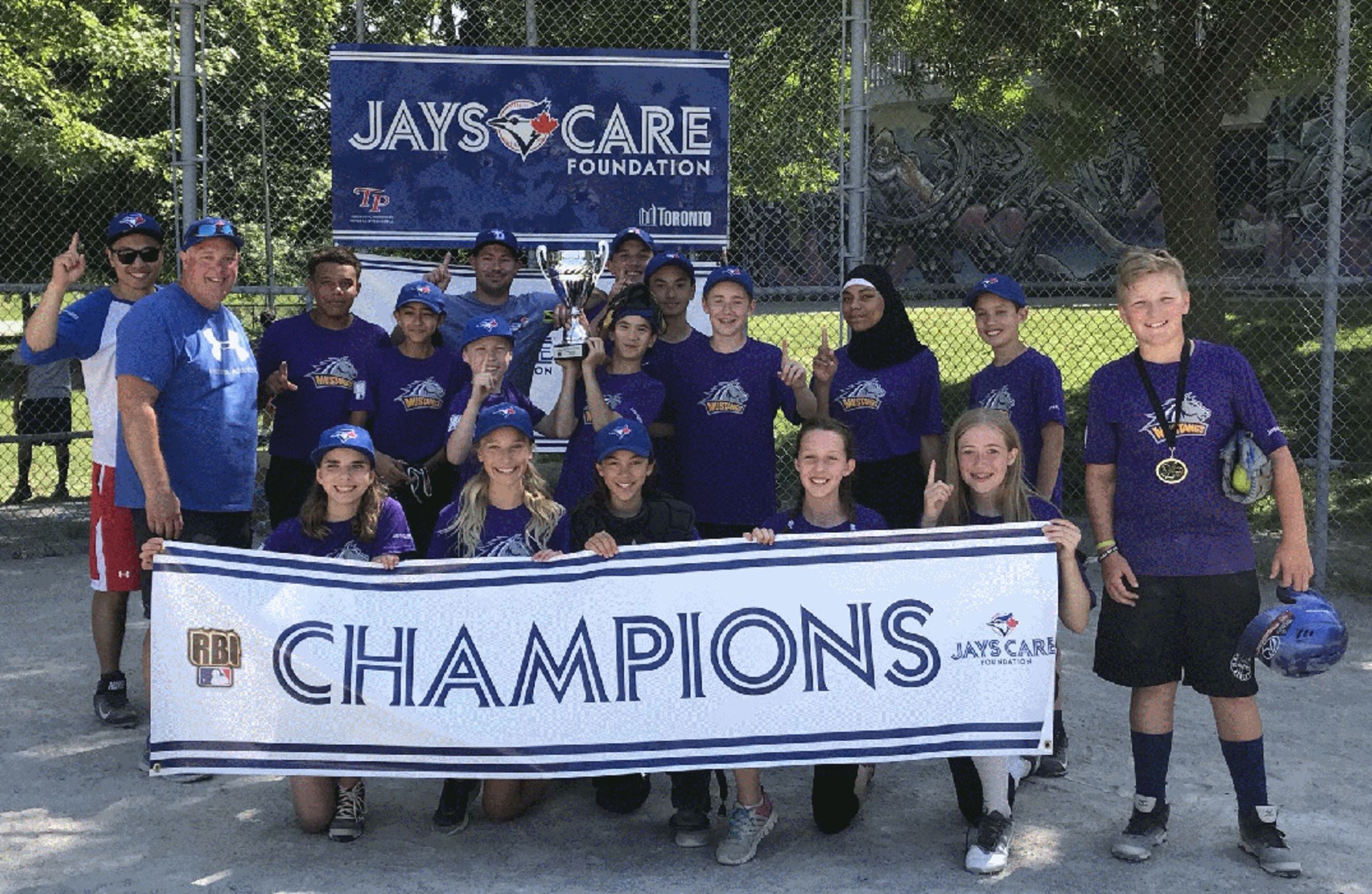 We launched our Jays Care RBI (Reviving Baseball In Inner Cities) program in partnership with MLB and celebrated a great first season with a seven-team tournament at Christie Pits.
Investing in Toronto's baseball history
We celebrated the opening of our Field Of Dreams investment in Christie Pits where $150,000 of funding supported the instillation of new lighting at one of Toronto's most historic parks.
Honouring Doc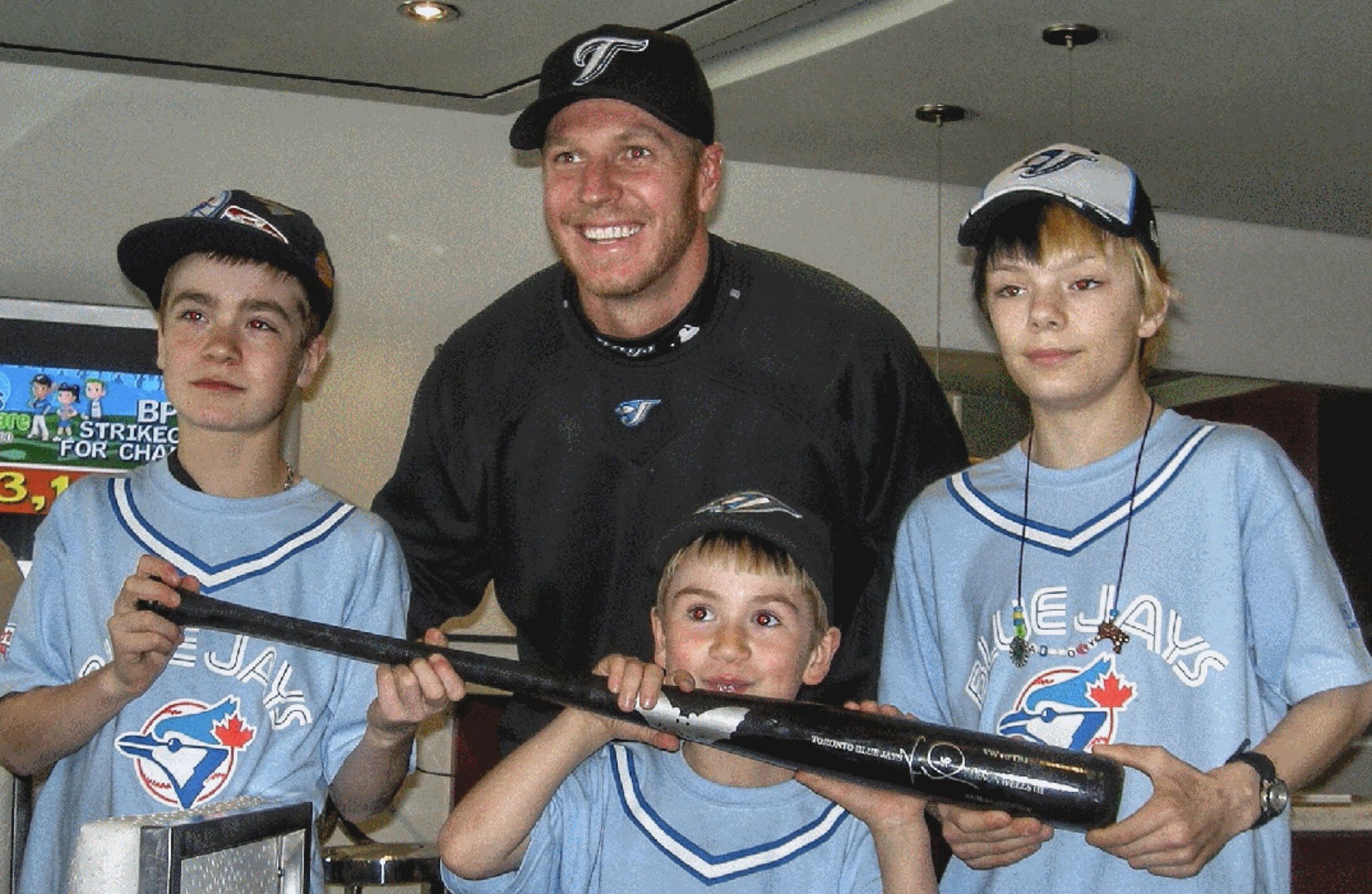 Roy Halladay touched the lives of countless Canadian children and youth during his time in Toronto. We honoured his legacy with a permanent tribute to his impact and philanthropic efforts in our Jays Care Community Clubhouse.
Launch of Unstoppable Kids