5 best Braves not in the Hall of Fame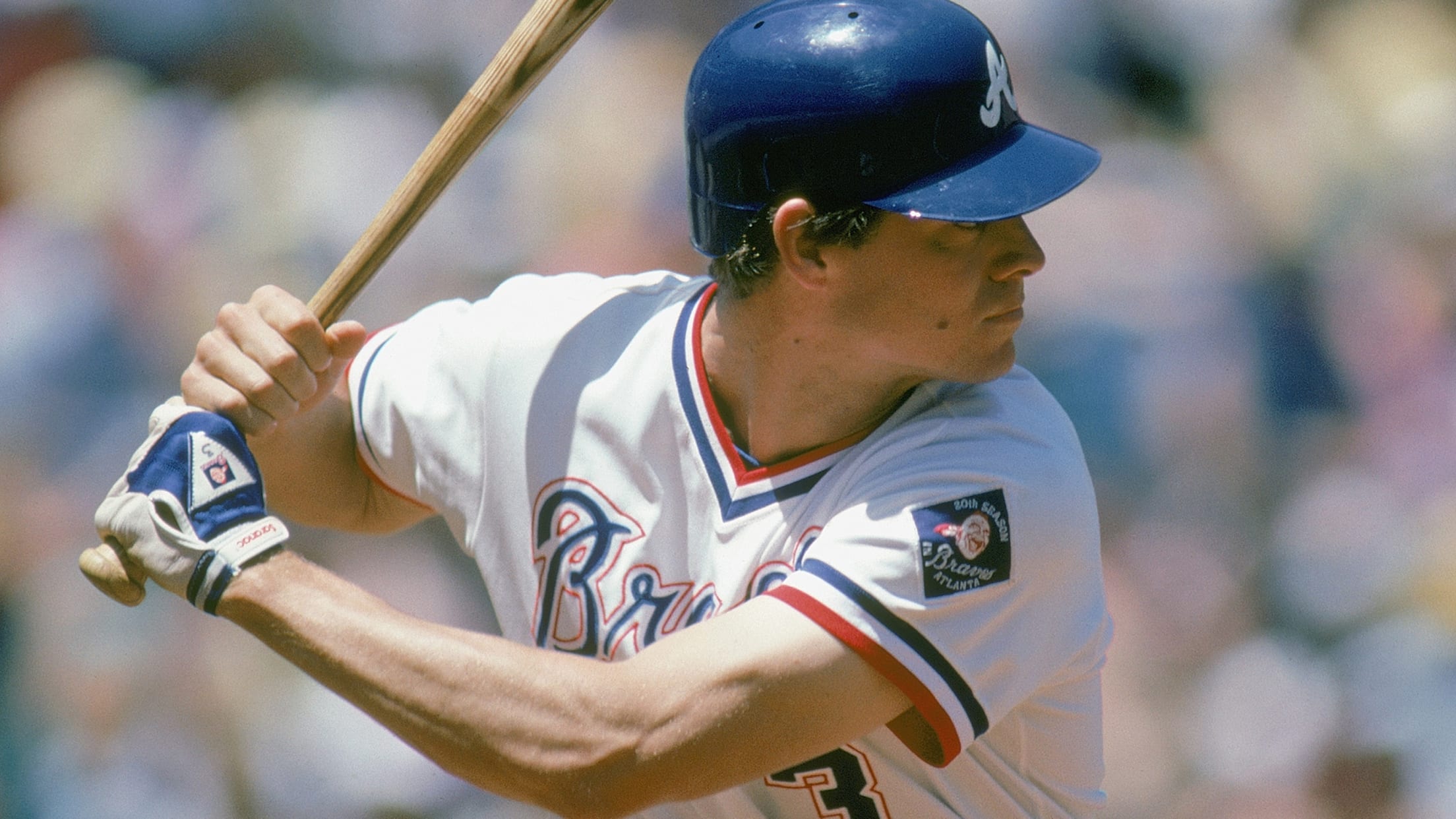 As Chipper Jones, Greg Maddux, Tom Glavine, John Smoltz, Bobby Cox and John Schuerholz were being inducted into the National Baseball Hall of Fame within a five-year span (2014-18), Wade Boggs playfully said it might be time for a Braves wing to be built in Cooperstown. With Hank Aaron, Warren
As Chipper Jones, Greg Maddux, Tom Glavine, John Smoltz, Bobby Cox and John Schuerholz were being inducted into the National Baseball Hall of Fame within a five-year span (2014-18), Wade Boggs playfully said it might be time for a Braves wing to be built in Cooperstown.
With Hank Aaron, Warren Spahn and the aforementioned legends showcased, this wing would honor an impressive array of talent. At the same time, it would be void of all of the great former Braves who have not been enshrined in Cooperstown.
Here are the top five former Braves still hoping to receive a call from the Hall:
Dale Murphy
Career: .265 average, .815 OPS, 398 home runs, 121 OPS+ (15 of 18 seasons with Atlanta)
Awards: Two-time National League MVP Award winner (1982 and '83), seven-time All-Star, four Silver Slugger Awards, five Gold Glove Awards
HOF results: Never received more than 23.2 percent of the votes during his 15 years (1999-2013) on the ballot. Has since not been elected by two different veterans committees.
Murphy stands with Roger Maris as the only players who have not been elected to the Hall of Fame after winning consecutive MVP Awards.
At the end of the 1987 season, a 31-year-old Murphy had compiled 310 homers and an .862 OPS over 6,383 plate appearances. Even when accounting for a steady decline, it was easy to project Murphy would easily surpass the 400-homer mark and keep his career OPS around .850. He averaged 36 homers from '82-87, but he never again hit more than 24 in a season.
All players who had hit 400 homers and produced a career OPS of at least .850 through 1991 are Hall of Famers. But as Murphy battled bad knees while struggling over his final six seasons, he finished his career with 398 homers and a 46.5 bWAR. The only Hall of Famer with at least 350 homers and a bWAR lower than 47 is Harold Baines, who was elected via the Today's Game Era committee in 2019.
Andruw Jones
Career: .254 average, 434 home runs, .823 OPS, 111 OPS+ (12 of 17 seasons with Atlanta)
Awards: 10-time Gold Glove Award winner, five-time All-Star, 2005 NL Hank Aaron Award winner, Silver Slugger Award winner
HOF results: On the ballot for the fourth time this year. Has not received more than 19.4 percent of the votes. Seventy-five percent is needed for election.
Jones seemed destined for the Hall of Fame when he ended his 12-season stint with Atlanta in 2007. Just 30 years old at the time, he had already hit 368 homers and produced 61.0 bWAR. Barry Bonds and Alex Rodriguez (not HOF eligible until '21) are the only other retired players who have not been elected to the Hall of Fame after producing a 61.0 bWAR or higher through age 30.
Unfortunately for Jones, he saw his strong resume weakened as he produced a below-average 95 OPS+ over the last five seasons of his career. But when focusing on his defense and his first decade, he still has a strong candidacy.
Jones led all Major Leaguers with 26.7 Defensive bWAR during his 11 full seasons (1997-2007) with the Braves. Ivan Rodriguez ranked second with 16.5. The 60.9 overall bWAR Jones produced during this same span ranked third in the Majors, behind only Rodriguez (85.7) and Bonds (79.2).
Gary Sheffield
Career: .292 average, 509 homers, .907 OPS, 140 OPS+, 60.5 bWAR (Two of 22 seasons with Atlanta)
Awards: Nine-time All-Star, five-time Silver Slugger Award winner, 1992 NL batting champion
HOF results: Seventh year on ballot. Highest percentage has been 30.5.
Sheffield, who played in Atlanta during the 2002 and '03 seasons, stands as one of 19 players to produce at least 500 homers and a .900 career OPS. The only other members of this group not yet elected to the Hall of Fame are Bonds, Rodriguez, Albert Pujols, Mark McGwire, Manny Ramirez and David Ortiz.
Pujols is still active, and Ortiz is not yet eligible to be placed on the ballot. Bonds, Rodriguez, McGwire, Ramirez and Sheffield were all linked to prohibited performance-enhancing drugs during their respective careers.
Sheffield, Bonds, Rodriguez, Ramirez, McGwire and Shoeless Joe Jackson are the only retired players who have not been elected after producing a 140 OPS+ and a bWAR of 60 or higher.
Fred McGriff
Career: .284 average, 493 homers, .886 OPS, 134 OPS+, 52.6 bWAR (Five of 19 seasons with Atlanta)
Awards: Five-time All-Star, three-time Silver Slugger Award winner, 1994 All-Star Game MVP
HOF results: Never received more than 39.8 percent of votes during his 10 years on ballot
From 1988-97, McGriff hit the third-most homers in the Majors (319, trailing only Bonds and McGwire) and ranked eighth with 43.2 fWAR. The seven players who ranked ahead of him within this 10-season span include six Hall of Famers: Griffey, Cal Ripken Jr., Barry Larkin, Frank Thomas, Rickey Henderson and Boggs -- and Bonds.
McGriff, Sheffield, Bonds, McGwire, Rafael Palmeiro and Ramirez are the only eligible candidates who have not been elected after producing 450-plus homers, a 130 OPS+ and a bWAR of 50 or higher.
While playing in Atlanta from 1993-97, McGriff hit .293 with 130 homers, an .885 OPS and a 128 OPS+.
Billy Wagner
Career: 853 appearances, 903 innings, 2.31 ERA, 422 saves, 1,196 strikeouts, 11.9 strikeouts per nine innings (One of 16 seasons with Atlanta)
Awards: Seven-time All-Star
HOF results: Hasn't received more than 31.7 percent of the votes through his first five years on the ballot
From 1995-2010 (rookie seasons for Wagner and Mariano Rivera, then Wagner's final season), Rivera led all relievers with 34.8 fWAR. Wagner ranked second with 24.0 and Trevor Hoffman third with 23.9.
The baseball world has wisely minimized the significance of pitching wins. Maintaining this same line of reasoning in relation to Wagner, who had 422 career regular-season saves (three in the playoffs), as opposed to 652 for Rivera (42 in the playoffs) and 601 for Hoffman (four in the postseason), there's reason to argue voters have placed too great of a significance on save totals when evaluating a reliever's qualifications.
Hoffman was elected to the Hall of Fame in 2018 and Rivera was unanimously elected in '19. While Hoffman totaled 179 more saves, Wagner had a better ERA (2.31 vs. 2.87), higher strikeout rate (33.2 vs. 25.8 percent) and lower OPS surrendered (.558 vs. .609).
Mark Bowman has covered the Braves for MLB.com since 2001.