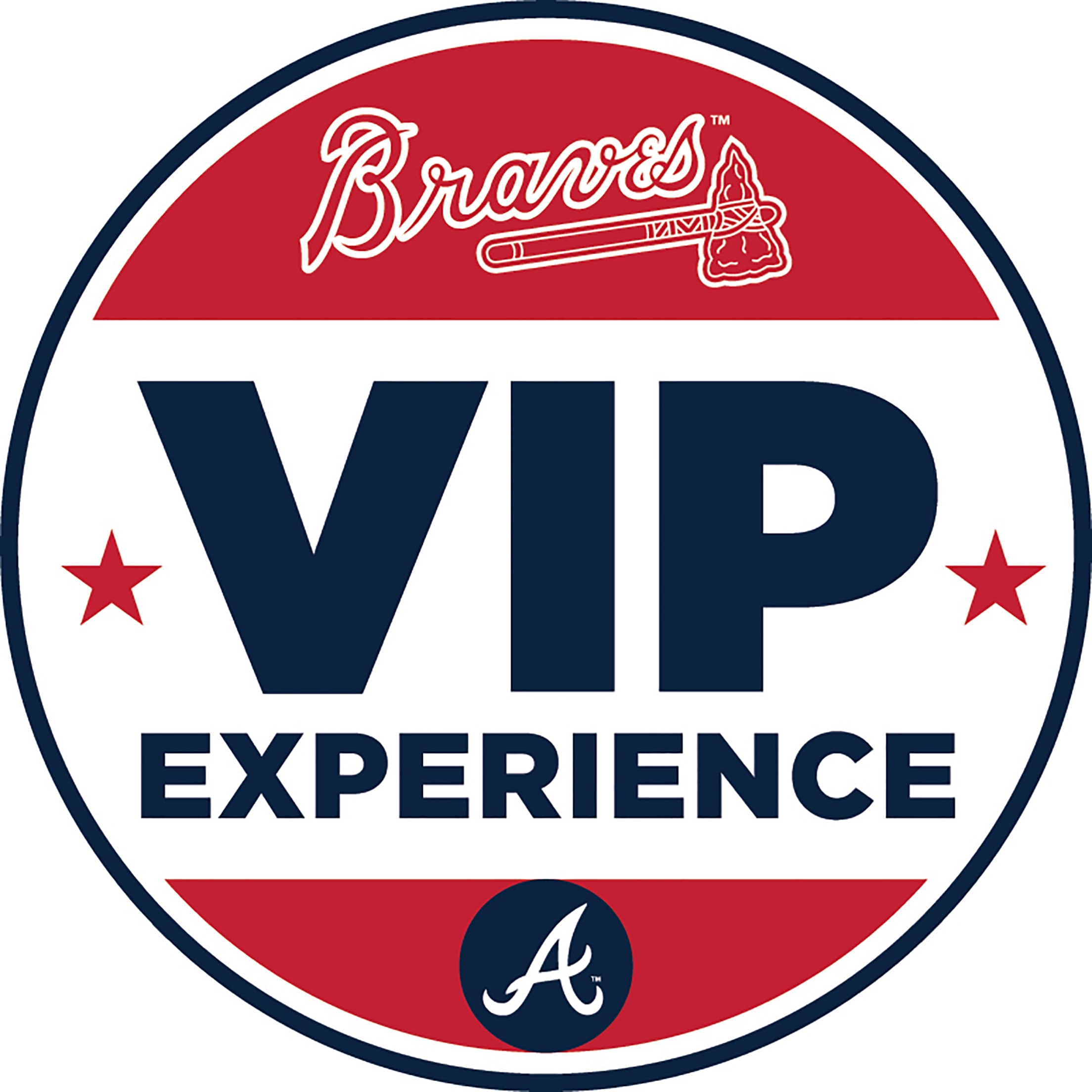 The Braves VIP Experience is Your Exclusive, One-of-A-Kind Trip to Truist Park!
You don't want to miss out on the VIP Experience or VIP Pregame Tour, which give you pregame behind-the-scenes access and the ultimate tour of Truist Park!
Package Options
VIP Packages do NOT include game tickets. Game tickets must be purchased separately.
A-List Members receive a $50 discount per Experience.
Call (404) 614-1341 for family discounts.
VIP Experience
Prices range from $225-$300
Includes:
Behind-the-Scenes Pregame Private Tour of Truist Park
Watch the Braves Take Batting Practice from behind home plate*
Surprise Gift
Personalized LED Scoreboard Message
Parking Pass
$10 added onto each ticket for use at concessions & retail in the ballpark
Upgrades are also available with the Ultimate VIP Experience which will include everything on the VIP experience as well as a personalized Replica Jersey and Autographed photo of a current player.
VIP Pregame Tour
$175
Includes:
Semi-Private Pregame Tour of Truist Park
Red Deck Parking Pass**
Personalized LED Scoreboard Message
Priority Access to Promotional Giveaways***
Priority Access to Kids Run the Bases on Sundays****
Free VIP Gift
Available only for 12:20 and Sunday home games.
* Batting practice for both teams is never guaranteed and always subject to cancellation without prior notification. Batting practice is not typically scheduled for day games.
** Red Deck Pass is a mobile ticket delivered to your Braves ticket account.
*** Only valid for promotional giveaways scheduled on the day of your VIP Experience or VIP Pregame Tour.
**** Kids Run the Bases is only available on Sundays (when planned).
FAQ
How early should I reserve my date?
It is best to book your Braves VIP Experience as early as possible. VIP Experience tickets must be purchased at least 48 hours in advance. Each date is subject to availability and some games fill up faster than others. Dates fill quickly and are sold on a first come, first served basis. Payment is required in full to secure your date. No refunds will be issued.
How much do VIP Experiences cost?
The Braves VIP Experience and ULTIMATE VIP Experience packages both bundle various independent experiences to create the best experience at Truist Park. The specific price will depend on the game date choice. You will notice that the VIP package prices coordinate with the Braves game schedule based on game type.
There is a $50 Discount for Braves A-List Members.
Please note that VIP prices do not reflect game tickets.You can purchase tickets separately from braves.com/tickets or you have the option to also purchase game tickets while purchasing your VIP Experience. Guests under the age of 3 do NOT need a VIP Experience package purchased for them.
When does the Braves VIP Experience begin?
The Braves VIP Experience begins roughly 4 hours prior to game time. This allows ample time for your behind-the-scenes tour and batting practice experience. You will receive a more detailed itinerary from the VIP Coordinator prior to your VIP Experience date.
What if I already have my game tickets?
Because it is an add-on experience, you can still purchase the VIP Experience even if you already have game tickets! During the checkout process, simply leave the "Game Tickets" section blank. You only need to add the VIP Experience tickets and parking pass in order to complete the checkout process.
What if I haven't purchased my game tickets yet?
We have VIP game tickets in preferred locations reserved for guests purchasing the VIP Experience. You can purchase game tickets here at braves.com/vipexperience while you are booking your VIP Experience. Be sure to select corresponding game dates for both your VIP Experience and Game Tickets. You will receive a $10 added value onto each game ticket purchased through braves.com/vipexperience for use on concessions and retail.
Is parking included?
Your VIP Experience package includes one complimentary Red Deck parking pass. It is free of charge, but required to be added at checkout in order to ensure each of our VIP Guests have access to an open parking deck. If you need more than one parking pass, please notify the VIP Coordinator once you've purchased your VIP Experience. For more information or to download a parking map, visit braves.com/parking.
How do I access my tickets and parking pass?
Your tickets and parking pass are mobile delivery and are accessible in your Braves ticket account. You may reach out to the VIP Coordinator or visit braves.com/myaccount if you are having difficulties.
Is the VIP Experience handicapped accessible?
The VIP Experience is completely handicapped accessible. If you need special assistance with game tickets or tour accommodations, please communicate beforehand with our VIP Coordinator when making your reservation. We have wheelchairs available for use.
Can my children do the VIP Experience by themselves?
No, each child 12-years-old and younger must be accompanied by at least one paid adult.
Where and when is the LED Scoreboard Message displayed?
All VIP Experience packages include a personalized LED Scoreboard Message. Your message has a limit of 100 characters, including spaces and punctuation. The Braves have the right to refuse inappropriate messages. Your message will be displayed during the game, in between innings, (not during play) on the scoreboard located in left field directly above the visiting team bullpen. Once you have booked the VIP Experience, the VIP Coordinator will reach out via email to collect your LED Scoreboard Message.
Will I get an autograph or photo with my favorite player?
Autographs & photos are at the discretion of each individual player; therefore, we cannot guarantee autographs nor photos with players during this experience. The ULTIMATE VIP Package does include one pre-signed autographed item per person.
What if batting practice is cancelled?
Batting practice for both teams is never guaranteed and always subject to cancellation without prior notification. You will be able to reschedule for another date or a pro-rated refund will be issued in the event batting practice is cancelled.
What if the game is rained out?
In the event that a rainout occurs, your VIP Coordinator will assist you with rescheduling your VIP Experience (pending availability).
How do I contact the VIP Coordinator?
Email [email protected] or call 404-614-1341 for assistance.
Thank you for your interest in the Braves VIP Experience. We are looking forward to making your experience at Truist Park unforgettable!