Acuña 'still sore'; Albies 'not 100 percent'
Tomlin ready to make first 2020 start; Adams activated from IL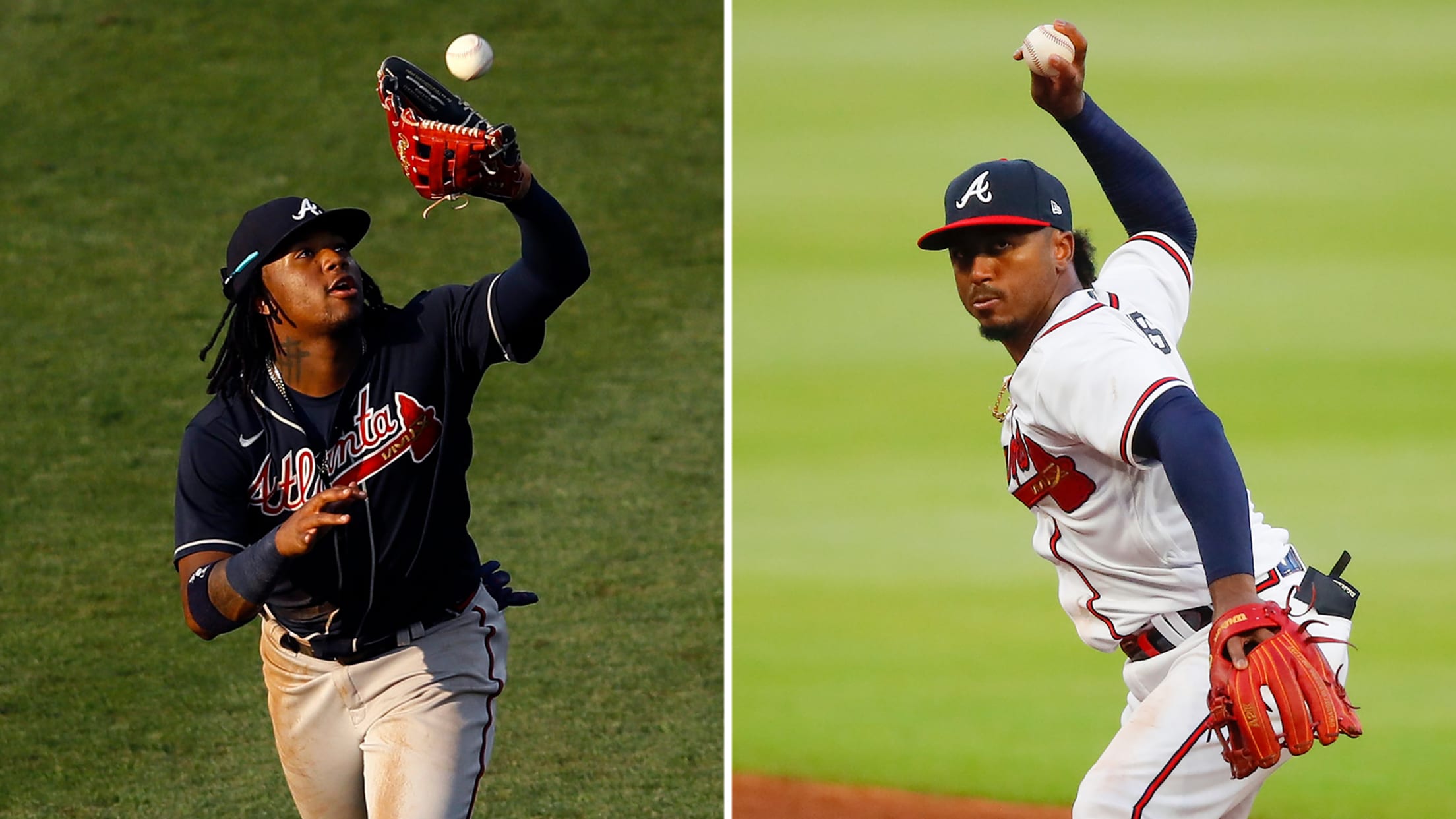 ATLANTA -- The likelihood of Ronald Acuña Jr. returning from the injured list this week has lessened, and the Braves may also give Ozzie Albies more time to recover from his wrist ailment. Braves manager Brian Snitker said Acuña "was still sore" when he arrived at Truist Park to have
ATLANTA -- The likelihood of Ronald Acuña Jr. returning from the injured list this week has lessened, and the Braves may also give Ozzie Albies more time to recover from his wrist ailment.
Braves manager Brian Snitker said Acuña "was still sore" when he arrived at Truist Park to have his left wrist evaluated on Monday afternoon. As for Albies, his right wrist is still limiting him when he takes swings from the right side of the plate.
"It's probably going to be a little while on [Acuña]," Snitker said of the outfielder, who has been sidelined since Aug. 11 with wrist inflammation.
This update comes just two days after the Braves placed Acuña on the 10-day injured list (retroactive to Wednesday) and said they hoped he would be ready when eligible to be activated on Friday. But the 22-year-old All-Star has not yet realized much improvement.
How about Albies?
"He's still not 100 percent [when batting] right-handed, and that's the thing we were worrying about," Snitker said. "He was swinging [on Monday afternoon]. It's better. But it's still not there yet."
Though the sense of urgency might be enhanced in this shortened season, the Braves aren't going to rush either of these young superstars.
Albies has been out since Aug. 5 with a right wrist bone contusion. Both he and Acuña believe their respective ailments are a result of diving into a base. But neither is sure exactly what aggravated the joint.
As Snitker watched on Monday, Albies took regular batting practice in pain-free fashion from the left side of the plate. But nearly two weeks after being placed on the IL, the second baseman still has not been cleared to do more than hit off a tee and take soft-toss swings from the right side.
Albies hit .159 with a .468 OPS over the 11 games he played before being shut down. The talented switch-hitter showed how much his wrist was bothering him on Aug. 4, when he batted from the left side of the plate against Blue Jays left-handed reliever Anthony Kay.
Whatever it takes
Asked how long he might be able to last while making his first start of the season on Tuesday night, Josh Tomlin provided the kind of answer you would expect from a seasoned veteran who has never been concerned about pitch counts.
"Whatever they want me to do, I'd be very capable of doing it," Tomlin said. "You're going to be feeling the same soreness after four innings as you would if you went seven [innings]."
The Braves won't ask Tomlin to complete seven innings. But at the same time, Snitker will provide some leeway to the 35-year-old right-hander, who threw a season-high 38 pitches on July 28.
Tomlin has produced a 1.59 ERA as he's limited opponents to a .394 OPS through 11 1/3 relief innings thus far. He completed four innings during at least one of the intrasquad games the Braves played just before the start of the regular season.
Adams returns
Matt Adams was activated from the IL and right-handed reliever Chad Sobotka was optioned to the team's alternate training site on Monday afternoon. Sobotka has now been recalled and optioned five times over this season's first 25 days.
But the more interesting element of this transaction is the return of Adams, who had been sidelined since straining his left hamstring on Aug. 4. Snitker had initially thought the left-handed slugger might miss at least three weeks.
Adams provides the Braves another left-handed power option. But now that Nick Markakis is around to fill one of the corner-outfield spots, Adams might not return to his role as the team's primary designated hitter against right-handed pitchers. He was on the bench as Marcell Ozuna served as the DH against Nationals righty Aníbal Sánchez on Monday, but he struck out in a seventh-inning pinch-hit appearance. Atlanta walked off, 7-6, on Dansby Swanson's homer.
Mark Bowman has covered the Braves for MLB.com since 2001.