Get weird with 10 of the best Minor League promotions from 2016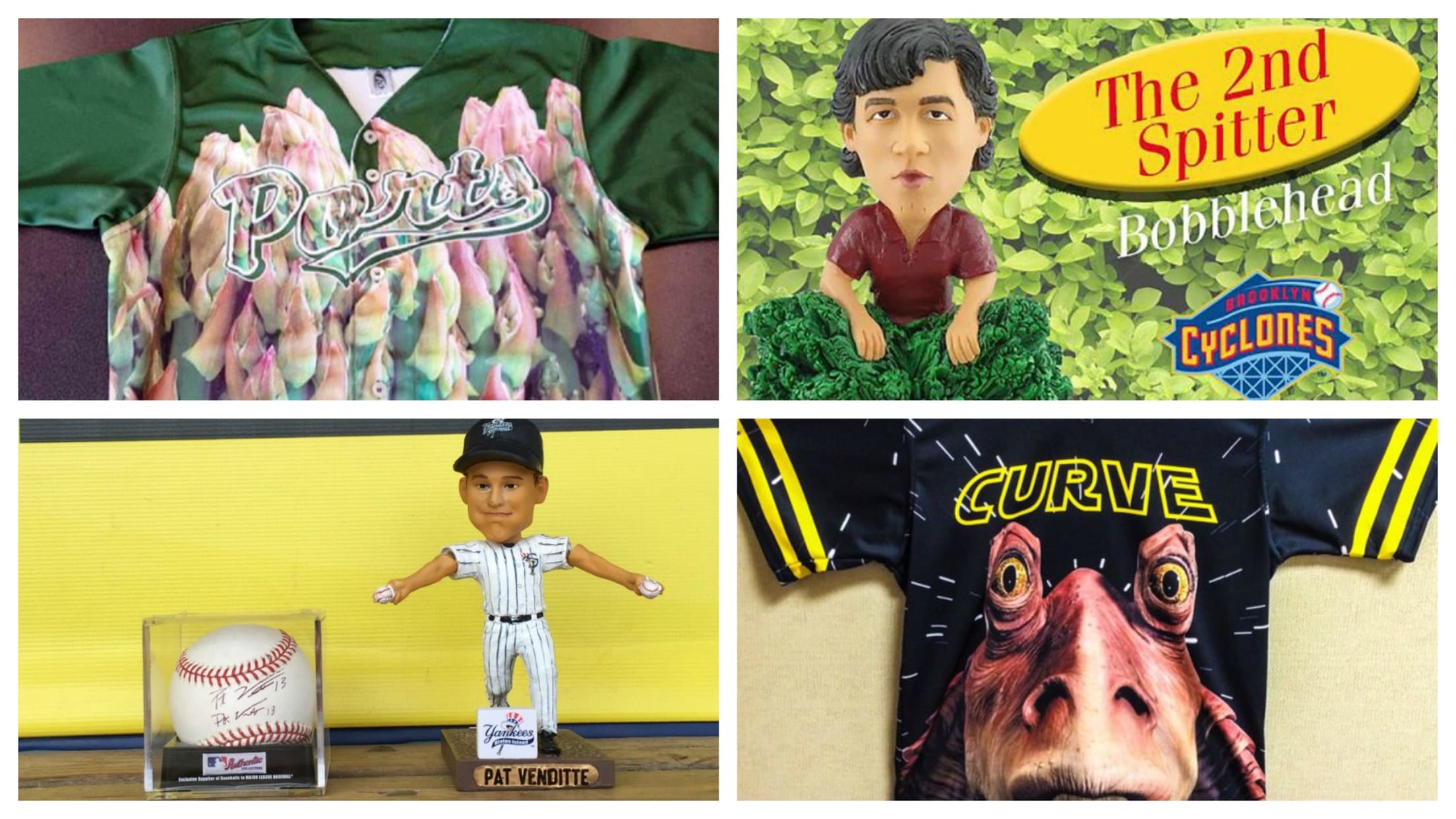 MLB promotions are always a joy, but the Minors are where the most unique promotions are going to be. Teams routinely honor '90s cartoons, give away weird bobbleheads and have the best and strangest between-innings contests.
But even in the world of zany promotions, we still must separate the wheat from the chaff. These were 10 of our favorite promotions from the last year:
10. Lake County Captains - Good Grief night
Considering that Charles Schulz's "Peanuts" still appears in newspapers almost 70 years after its debut and that Christmas celebrations are never complete without a viewing of "A Charlie Brown Christmas," it was a genius move by the Indians' Class A affiliate to wear Charlie Brown-style jerseys this August.
One problem? They won. Which is something Charlie Brown would never do.
That's a Captains Victory!!! pic.twitter.com/XxopvFZGS6

— Lake County Captains (@LCCaptains) August 27, 2016
9. Staten Island Yankees - Pat Venditte "Bobblearms"
For 50 years, humankind enjoyed witnessing the pleasant bobbling of a player's head. But in 2016, science finally found a way to go ever further. To celebrate the success of former Staten Island Yankee and ambidextrous Major League pitcher Venditte, the Yankees' Class A affiliate gave away a dual bobbling arm figurine.
1st 2,500 fans tonight to get a Pat Venditte Bobblearms! Also enter to win a Venditte switch-autographed baseball! pic.twitter.com/pZLEDSxNpo

— Staten Island Yankees (@SIYanks) August 19, 2016
8. Charlotte Knights - Space Jam night
"Space Jam" has something for everyone: cartoon characters, NBA stars and (somehow) Bill Murray. What more could you want? Thanks to the Charlotte Knights, the Triple-A affiliate of the White Sox, the team gave just that little bit more and brought Charlotte Hornets and "Space Jam" star Muggsy Bogues out to the park to celebrate the film.
So... a dragon & a monstar walk into BB&T Ballpark... pic.twitter.com/GwJDpR070i

— Charlotte Knights (@KnightsBaseball) August 21, 2016
7. Altoona Curve - Jar Jar Binks jerseys
Given that "Star Wars" might be the most successful and profitable film franchise of all-time (somehow more than Space Jam), it makes sense that plenty of teams at both the Minor and Major League level host nights devoted to the space opera. But only the Altoona Curve, the Double-A affiliate of the Pirates, were willing to look back at that cruelly overlooked and maligned character: Jar Jar Binks.
.@AltoonaCurve RHP Tyler "Jar Jar" Eppler retired the first 13 hitters he faced tonight before a bloop single to LF. pic.twitter.com/E5Bo7S0sby

— Sean McCool (@NotSoMcCool) June 4, 2016
The team would lose, 3-0, that night, though. Perhaps Jar Jar is fairly maligned.
6. Portland Sea Dogs - Field of Dreams Game
For the team's annual fan appreciation game, the Double-A affiliate of the Red Sox donned throwback 1926 Portland Eskimos jerseys, and the players entered the field from a makeshift cornfield. That's right, they're straight up ghosts. And that's pretty great. While the Sea Dogs lost this game, it did go 15 innings, which seems like the perfect length for a game devoted to "Field of Dreams."
A few behind the scenes photos of today's @PortlandSeaDogs Field of Dreams game. pic.twitter.com/3IFCmGLBlJ

— Chris Cameron (@ChrisRCameron) August 27, 2016
5. Frisco Roughriders - 8-bit and Arcade night
If there is a better way to spend time than watching baseball and playing video games, humans haven't found it yet. Thanks to the Roughridgers, the Double-A affiliate of the Texas Rangers, you could do both on one magical day. Not only were there a number of classic arcade games available to play on the concourse:
Thank you @nvmusa for lending us these classics for Salute to 8-Bit & Arcades Night TONIGHT! https://t.co/RJu8OlSAUu pic.twitter.com/sV9BNtJRi2

— Frisco RoughRiders (@RidersBaseball) July 8, 2016
But the players even took the field in classic Gameboy jerseys.
#Riders are wearing the Game Boy-inspired jerseys and @DallasPD caps tonight. #DallasStrong pic.twitter.com/MUOiXe0CiB

— Frisco RoughRiders (@RidersBaseball) July 8, 2016
4. Stockton Ports - Asparagus Night
Usually when we talk about food in the Minor Leagues, we're talking about things like a pancake wrapped around a hot dog that is deep fried and topped with a cheeseburger. But Stockton isn't just home to the Class A affiliate of the A's, it's also a major hub for asparagus growth in the United States, even including an annual asparagus festival. What better way to honor that than through a themed jersey?
Satisfy your appetite TONIGHT with #Asparagus Night and POST GAME FIREWORKS, first pitch 7:10 PM! pic.twitter.com/0ILvgohak0

— Stockton Ports (@stocktonports) May 21, 2016
3. Brooklyn Cyclones - Salute to Seinfeld night
The Cyclones may be the kings of ballpark promotions. They wear creative themed uniforms, honor fictional baseball stars and, yes, have managed to singlehandedly lay claim to "Seinfeld." After starting with the Keith Hernandez "Magic Loogie" bobblehead, 2016 saw the unveiling of the all-important "2nd spitter" Roger McDowell bobble.
It's Seinfeld Night 3. J Peterman will be here and the first 2,000 fans get this 2nd Spitter Bobblehead. pic.twitter.com/G2n0bMVcDf

— Brooklyn Cyclones (@BKCyclones) July 2, 2016
Did you ever think you could live in a world with not one, but two baseball-related Seinfeld bobbles? I thought not.
2. California and Carolina League All-Star Break - Midway Classic
Home runs are great. Therefore, we can posit that competitions devoted to the home run are even better. But when you put a home run derby on an aircraft carrier -- with players knocking out dingers into the actual ocean? Well, how could you ever top that?
While Mariners prospect Kyle Petty won the contest, everyone in attendance was the real winner.
1. Fresno Grizzlies - Taco Truck Throwdown
Another annual event that only seems to improve every year, the Fresno Grizzlies unveiled new poncho-inspired taco caps … and a whole other line of foods.
🌮😍🌮😍🌮😍🌮😍🌮😍🌮😍🌮😍🌮😍🌮😍🌮😍🌮😍🌮😍🌮😍🌮😍🌮😍🌮😍🌮😍🌮😍🌮😍🌮😍🌮😍🌮😍🌮😍🌮😍🌮😍🌮😍🌮😍🌮😍🌮😍🌮😍🌮😍🌮😍🌮😍🌮😍🌮😍🌮😍🌮😍🌮😍🌮😍🌮😍🌮😍🌮😍🌮😍🌮😍🌮😍🌮😍🌮😍🌮😍🌮😍🌮😍🌮😍🌮😍🌮😍🌮😍🌮😍🌮😍🌮😍🌮😎 pic.twitter.com/Id7kdqvJyO

— Fresno Grizzlies (@FresnoGrizzlies) August 18, 2016
That's right, this year saw the release of caps that let you show off your favorite taco filling with carne asada, carnitas, al pastor and even lengua available. Truly an event to cherish.
What's your fave 🌮? Vote and get the team tacos snapbacks at https://t.co/QoI5n9re6p.
#FresnoTacos #TTT6 pic.twitter.com/gOnhhmSpoM

— Fresno Grizzlies (@FresnoGrizzlies) August 17, 2016
Do you have a different favorite Minor League promotion? Let us know in the comments.