Who would win a World Series between the all-time best Dodgers and Astros rosters?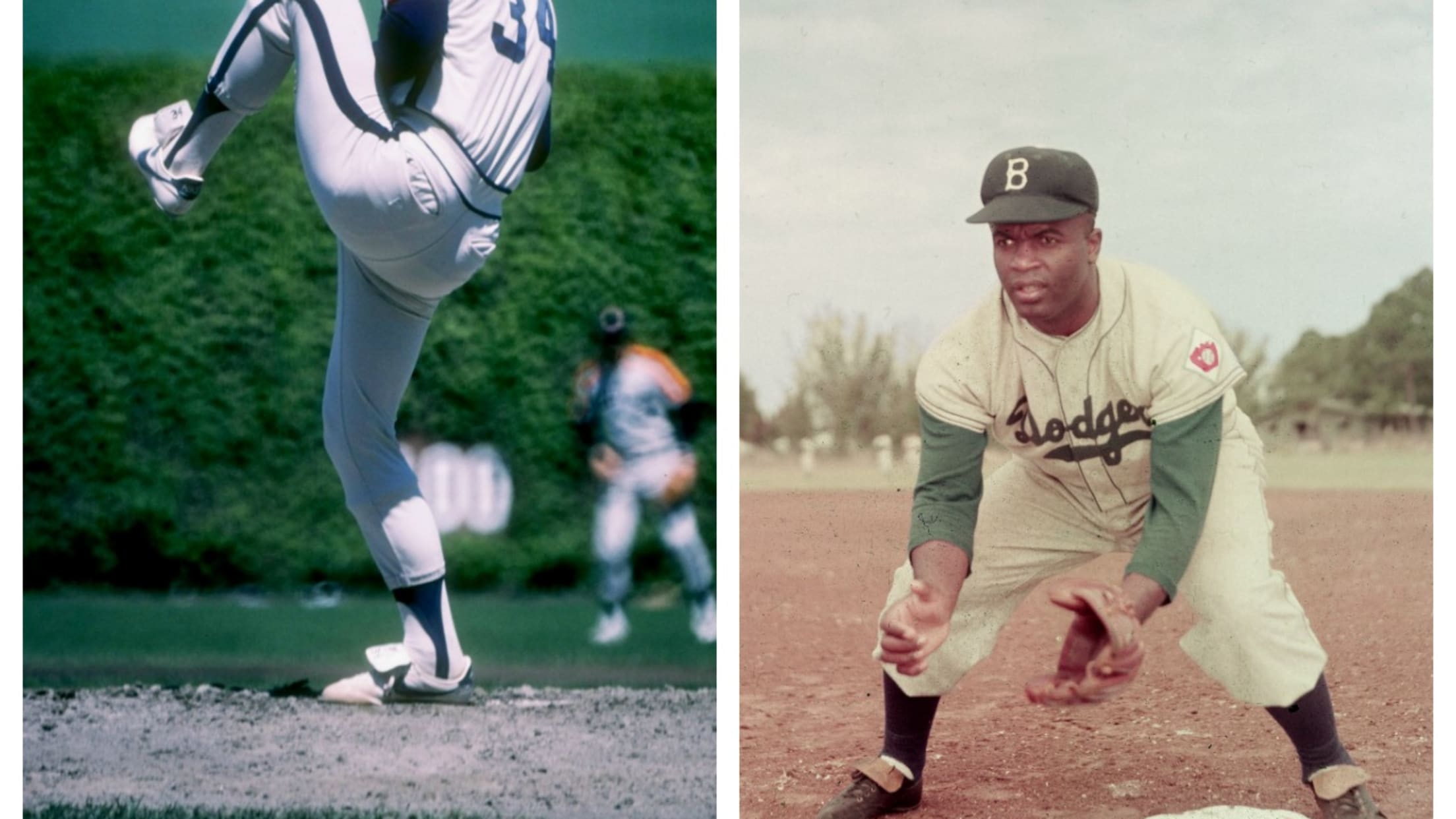 Game 3 of the World Series presented by YouTube TV between the Dodgers and Astros is set for Friday night at Minute Maid Park (8 p.m. ET/7 p.m. CT on FOX).
But, World Series aside, we have to settle a very important question: Who would win the all-time World Series -- a best-of-seven between the best players in the history of both the Astros and Dodgers? First, let's lay out a couple of ground rules:
- Any player who played for either team is eligible, but the amount of time spent with the organization is a factor. Randy Johnson put together arguably the best two months of pitching in Major League history for the 1998 Astros, but it was still just two months.
- Players will only be as good as they were during their time with the team, not their overall prime. As an example: The Astros can only benefit from Houston Joe Morgan, not Big Red Machine Joe Morgan. (The former was still pretty darn good, though.)
And now, without further ado, the lineups:
Astros
C: Craig Biggio
We know, we know, he's in the Hall of Fame as a second baseman. But Biggio came up and spent his first four Major League seasons behind the plate, and we really wanted to keep the keystone open. (We'll get to that.)
1B: Jeff Bagwell
Biggio's fellow Killer B and recent Hall of Fame inductee was a no-brainer here.
2B: José Altuve
From Biggio to Morgan to Bill Doran, Houston is stacked with second-base talent. But we had to give the nod to Altuve, who's been on fire in the postseason and might very well win AL MVP this year.
SS: Carlos Correa
It might seem strange that Houston's current middle-infield combo is the best in its 55-year history, but that's more a testament to just how good Correa and Altuve are. And besides, how could we split up this friendship?
3B: Morgan Ensberg
Ensberg spent more than six of his eight Major League seasons in Houston, but he gets the nod at the hot corner largely thanks to his role in the Astros' last World Series run: Ensberg hit a career-high 36 homers in 2005, to go along with a .945 OPS and his first All-Star nod.
LF: Lance Berkman
While he could scale Tal's Hill with the best of them, Berkman most commonly played left. No matter where he played, though, he raked: From 2000-09, Berkman's OPS never once dipped below .900.
CF: Cesar Cedeno
Cedeno broke in with Houston as a 19-year-old, and was so good so fast that he even inspired a new nickname for the Astrodome: "Cesar's Palace."
Over his age 20-21 seasons, Cedeno slashed .320/.380/.537 with an average of 24 homers and 56 steals per year. He spent 12 seasons with the Astros, earning four All-Star nods and five Gold Glove Awards -- and he even pulled off a straight steal of home:
RF: Jim Wynn
One of the most underrated players in baseball history, Wynn played 11 seasons with the Astros, where he put up 20 homers and 20 steals per year with solid outfield defense.
SP: Nolan Ryan, Roy Oswalt, Roger Clemens, J.R. Richard
Over nearly 6,000 innings in Houston, the four men above compiled eight All-Star appearances, an NL Cy Young Award and a no-hitter (from Ryan, of course). Good luck figuring out who starts Game 1.
Closer: Billy Wagner
RP: Brad Lidge, Ken Giles
No big deal, just a potential future Hall of Famer to lock things down in the ninth. And if Wagner finds himself in trouble for whatever reason, we can turn the ball over to Lidge -- the man with more postseason saves than anyone not named Mariano Rivera.
And now it's L.A.'s turn:
Dodgers
C: Mike Piazza
Piazza's in the Hall of Fame as a Met, but he became a superstar as a Dodger, hitting a preposterous .331/.394/.572 and making the All-Star Game in each of his six full seasons in L.A. And if you're wondering how his bat would play in a series at Dodger Stadium, here's a reminder that he once literally hit a ball out of the ballpark.
1B: Gil Hodges
The Dodgers won the NL pennant seven times from 1947 to 1959, and Hodges was a mainstay in the heart of their order for the entire run. He's still second in franchise history in both homers and RBIs.
2B: Jackie Robinson
What's there to say about Robinson that hasn't already been said? He broke baseball's color barrier, immediately became NL Rookie of the Year, won NL MVP two years later and was making history long after his 10-year career in Brooklyn ended.
SS: Pee Wee Reese
And it's only fitting that the man who stood next to Robinson would serve as his double-play partner. Plus, as a 10-time All-Star, Reese is more than deserving.
3B: Ron Cey
The last time the Dodgers and Astros met in the postseason was the 1981 NLDS, which L.A. won in five games after falling down, 2-0. Cey missed that series, but he more than made up for it later -- like, for example, in the World Series, when he nearly single-handedly won Game 3 with a three-run homer and some stellar defense:
LF: Zack Wheat
Wheat is probably one of the best players you've never heard of. He began his career in 1909, back when Brooklyn's baseball team was still called the Superbas (yes, really) and put up a 130 OPS+ over 18 years in left field.
CF: Duke Snider
For all of the Dodgers' star power, perhaps no player was more synonymous with baseball in Brooklyn than Snider -- there's a reason he was the Duke of Flatbush, after all. The sweet-swinging lefty spent 18 years with the franchise -- 11 in Brooklyn, five in L.A. -- and finished with an OPS+ of 130 11 different times.
RF: Reggie Smith
Smith only spent six of his 17 Major League seasons with the Dodgers, but they were four great seasons -- including consecutive top-4 finishes in NL MVP voting. And if that doesn't win you over, the mustache definitely will.
SP: Clayton Kershaw, Sandy Koufax, Don Drysdale, Orel Hershiser
Why have one of the best left-handed starters of all-time when you can have two of the best left-handed starters of all-time? Don Sutton also merited consideration here, but Hershiser's heroics the last time the Dodgers won it all put him over the top.
Closer: Eric Gagne
RP: Kenley Jansen, Mike Marshall
Jansen has been historically great for the Dodgers, while Marshall and his screwball won a Cy Young Award in 1974. So why does Gagne get the nod in the ninth? All these years later, his 2003 season is still mind-melting: 55 saves, a 1.20 ERA, 137 strikeouts (!) in 82 1/3 innings.
So, now that we've broken down both rosters, which team would win a best-of-seven series? That's where you come in. Vote in the poll below and make your voice heard (and if you would build your team differently, by all means, let us know in the comments.)