Prepare for the ALCS with this look at 7 players who played for both the Indians and Blue Jays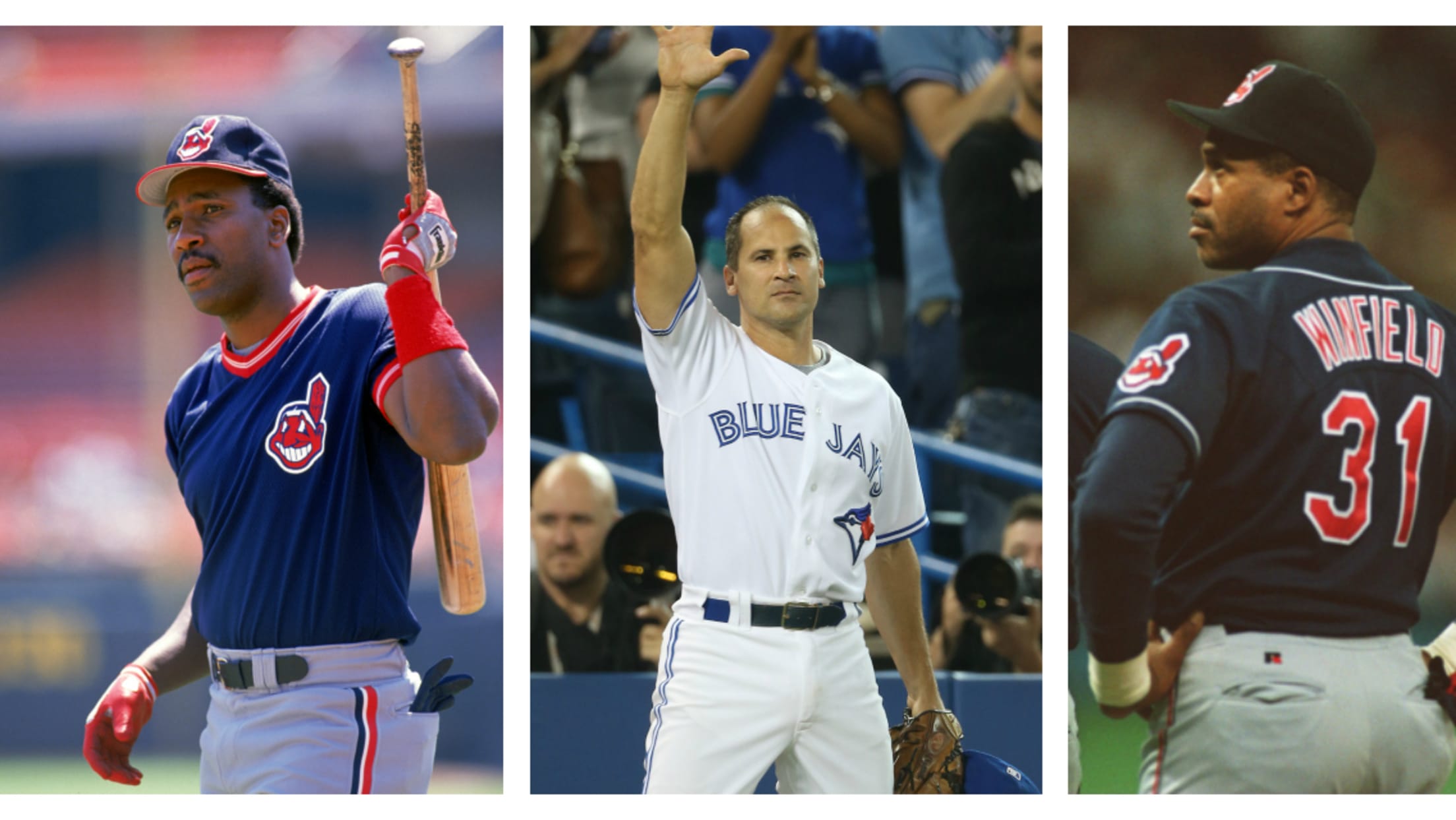 The Blue Jays and Indians are set to begin the American League Championship Series this Friday at Progressive Field (8 p.m. ET, TBS/Sportsnet), and their showdown is a matchup well worth the price of admission.
Both clubs slide into the ALCS on the strength of some seriously dominant sweeps, the Jays having dispatched the Rangers and Cleveland taking down the Red Sox in three games.
As you might imagine given how frequently players change teams in their respective careers, a number of big-name talents have taken the field for both Toronto and Cleveland over the years -- some of these names may surprise you, and others you may be well aware did time in both cities.
Here are some of the most notable ...
Roberto Alomar
In his 17-year career, Roberto Alomar manned second base for seven teams. During that span, he amassed 12 All-Star selections, won 10 Gold Gloves, and was a key contributor for both of Toronto's World Series titles in 1992 and '93 on the strength of moments like this:
After three seasons with the Orioles, Alomar began a stint with the Indians in '99, and he didn't stop hitting. In '01, he slashed .336/.415/.541, good enough to land fourth in AL MVP voting that season. He also backed up his Gold Glove Awards with near-daily displays of his defensive skills:
These days, Alomar is a special assistant for the Blue Jays, so he makes no bones about which club he's pulling for this time around ...
Looking forward 2 #ALCS Alomar @BlueJays vs Alomar @Indians . #beentheredonethat #OurMoment Bro!

— Roberto Alomar (@Robbiealomar) October 11, 2016
Joe Carter
Joe Carter may be responsible for one of baseball's most iconic moments ever. After all, a swing of his bat on a Mitch Williams offering delivered the Blue Jays their second consecutive World Series title in '93, a feat so exciting that he couldn't help but jump for joy:
Carter, who joined the Jays in a big '90 trade that sent himself and Alomar from the Padres to Toronto for Fred McGriff and Tony Fernandez, spent six seasons with the Indians from '84-'89. During his Cleveland era, Carter walloped 151 homers, drove in 530 runs and was quite an imposing presence: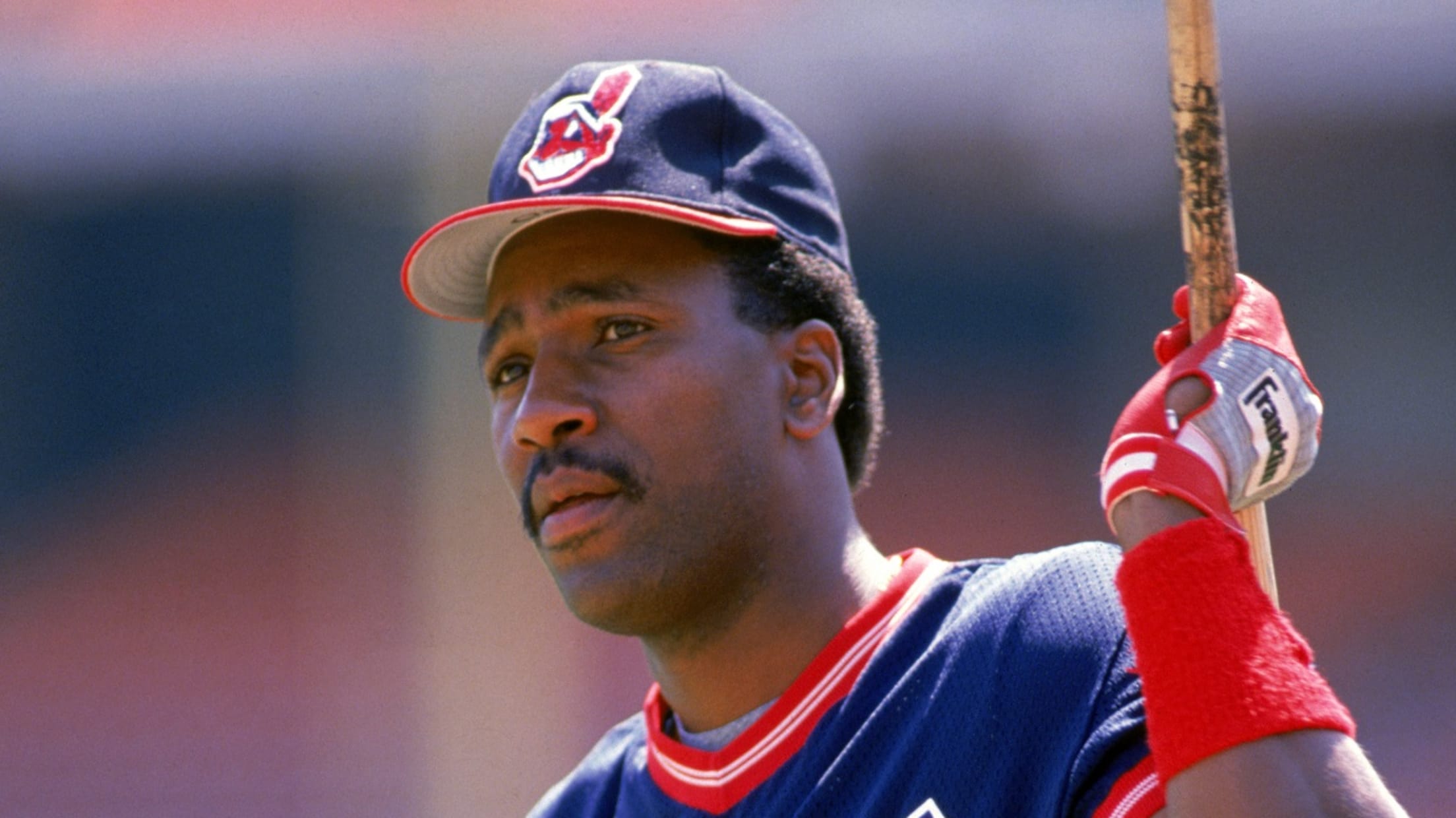 Omar Vizquel
You know Omar Vizquel. You love Omar Vizquel. For 24 seasons (!), Vizquel dazzled on the diamond with his soft hands, hustle, heart and 11 Gold Glove Awards. With the Indians in '99, Vizquel put together his strongest single season, slashing .333/.397/.436 and doing silly things like this:
His consistent defensive wizardry and offensive performance that year earned Vizquel a 6.0 WAR, easily the highest of any season of his career.
While most remember Vizquel for his exploits with the Indians (11 seasons) and perhaps the Mariners (five seasons), Vizquel's swan song came as a Blue Jay in '12, collecting a single in his final at-bat:
In case you were wondering, the man can still do it defensively to this day -- even as a first-base coach.
Ezequiel Carrera
Utility man Ezequiel Carrera is innately familiar with both organizations involved in this season's ALCS. The 29-year-old broke into the big leagues with Cleveland in '11, spending parts of two seasons there before moving on to the Phillies organization. While with the Tribe, Carrera proved his mettle with wall-smashing grabs like this one, robbing Mitch Moreland of extra bases:
Since '15, Carrera has been a role player for the Blue Jays, rotating around the outfield and being part of Toronto's homer barrage against Yu Darvish in the ALDS:
Jeff Kent
Before Jeff Kent joined Barry Bonds as a formidable power-hitting threat in the Giants' lineup, earning an NL MVP Award for his efforts in '00, he had short stints with both the Jays and Indians. In fact, Kent broke into the league in '92 with Toronto, crushing his first career homer against Lee Guetterman and the Yankees with a swing (and mustache) that would become quite familiar years later:
In '96, while with the Mets (to whom he was traded by Toronto for David Cone in '92), Kent was shipped over to the Indians in a trade involving Carlos Baerga and Alvaro Espinoza. Kent appeared in only 39 games for Cleveland down the stretch and was dealt to the Giants in the offseason, but was there long enough to be captured in this great action shot: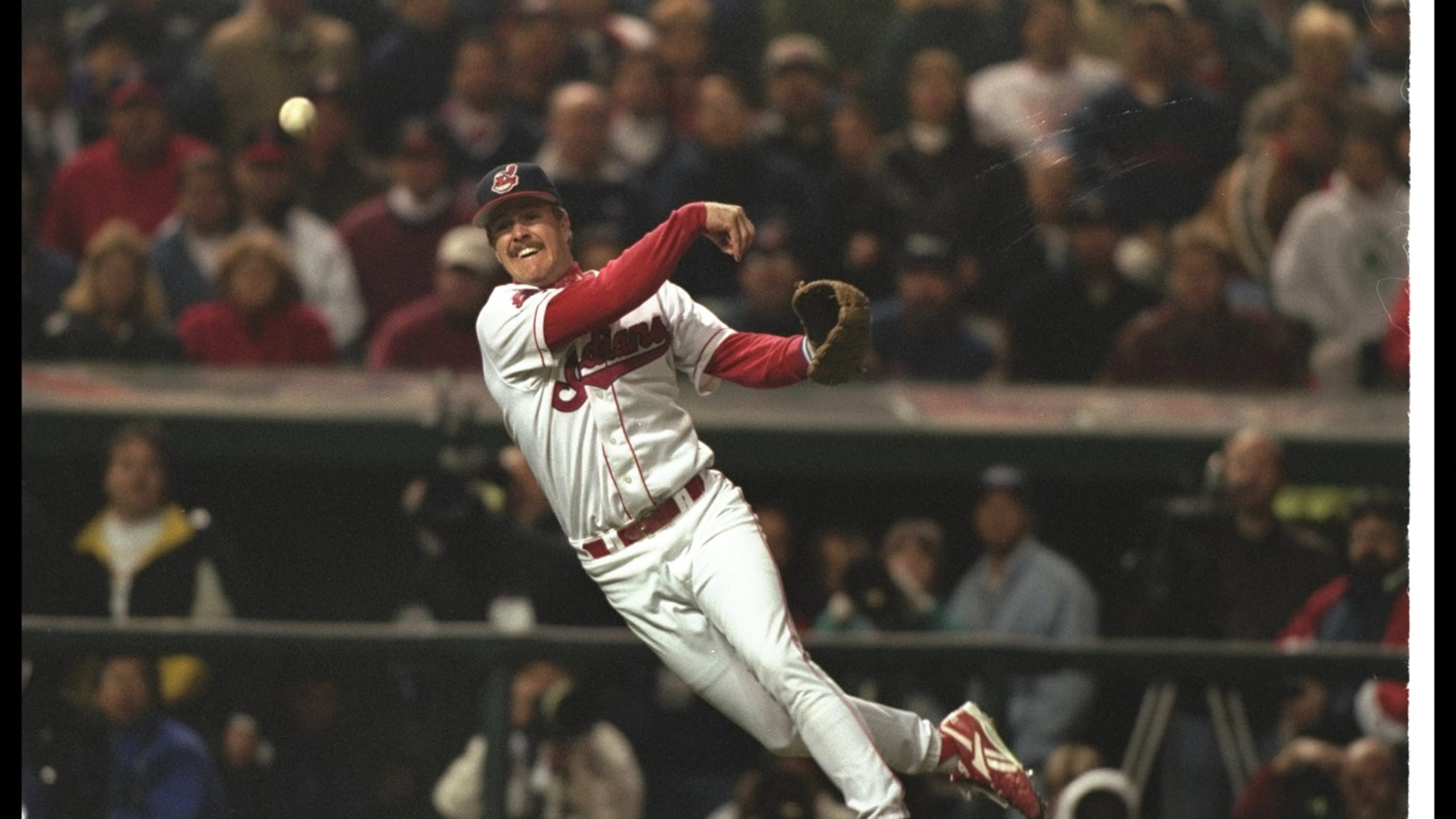 Dave Winfield
Dingers. Dave Winfield knew how to hit dingers. For 22 seasons, Winfield traveled around the league hitting dinger after dinger (totaling 465 by the time he was done). Toward the end of his career, then 40-year-old Winfield was a big offensive weapon for the World Series champion Jays in '92: clubbing 26 homers, driving in 108 runs and picking up a key two-run double in their decisive Game 6 victory:
During the labor strike in '94, Winfield was acquired by the Indians for cash considerations (but didn't play due to the work stoppage). After the season, he re-signed with Cleveland, appeared in 46 games, hit .191/.285/.287 and wasn't part of its postseason roster -- though he was on-hand for the Indians' ALCS victory over the Mariners: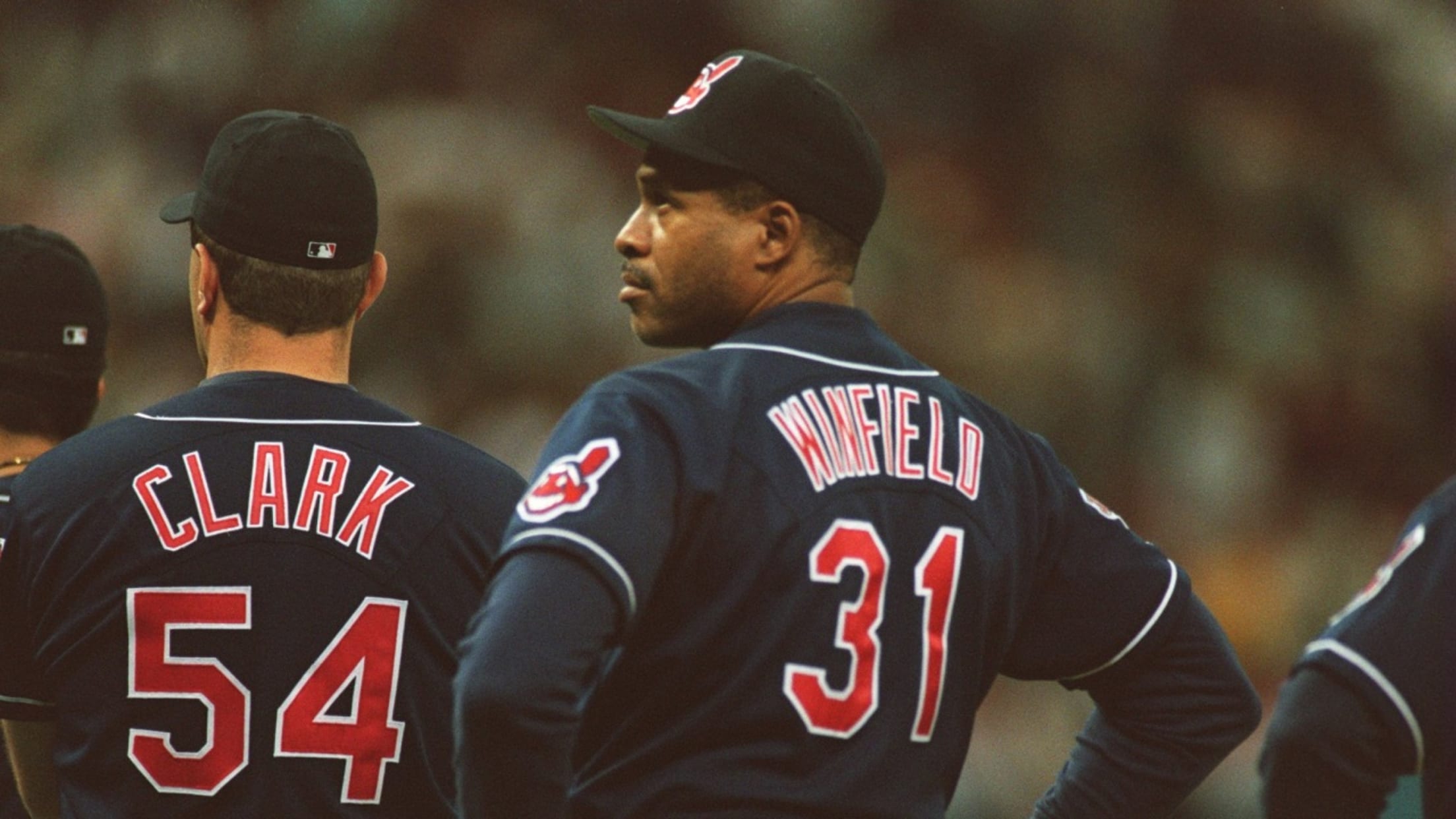 Mark Whiten
Hard-Hittin' Mark Whiten suited up for eight teams in his 11-year career, but he spent the most time in Cleveland. His first 79 games came with the Jays, however, before he was part of a trade to the Indians for knuckleballer Tom Candiotti.
Whiten stayed in Cleveland through '92 before returning in '98 and unleashing a titanic bat flip after homering off Andy Pettitte in the Indians' ALCS Game 3 victory:
Honorable mentions on this list include lefty Marc Rzepczynski, currently with the Nationals, who counts both Toronto and Cleveland on his resume, Rajai Davis (three seasons with Toronto, and this season in Cleveland), Yan Gomes (who began his career as a Jay before being traded to the Indians), Mike Aviles (traded with Gomes by Toronto to Cleveland in 2012), the aforementioned Candiotti (who spent seven seasons with the Indians), Phil Niekro (short stints with both in his final season in '87), and gritty third baseman Casey Blake.
So, which of the current Blue Jays and Indians will make their presences felt the loudest during the ALCS? Find out in Game 1 on Friday at 8:00 p.m. ET on TBS/Sportsnet.