Russell Martin has hit five postseason home runs … with four different teams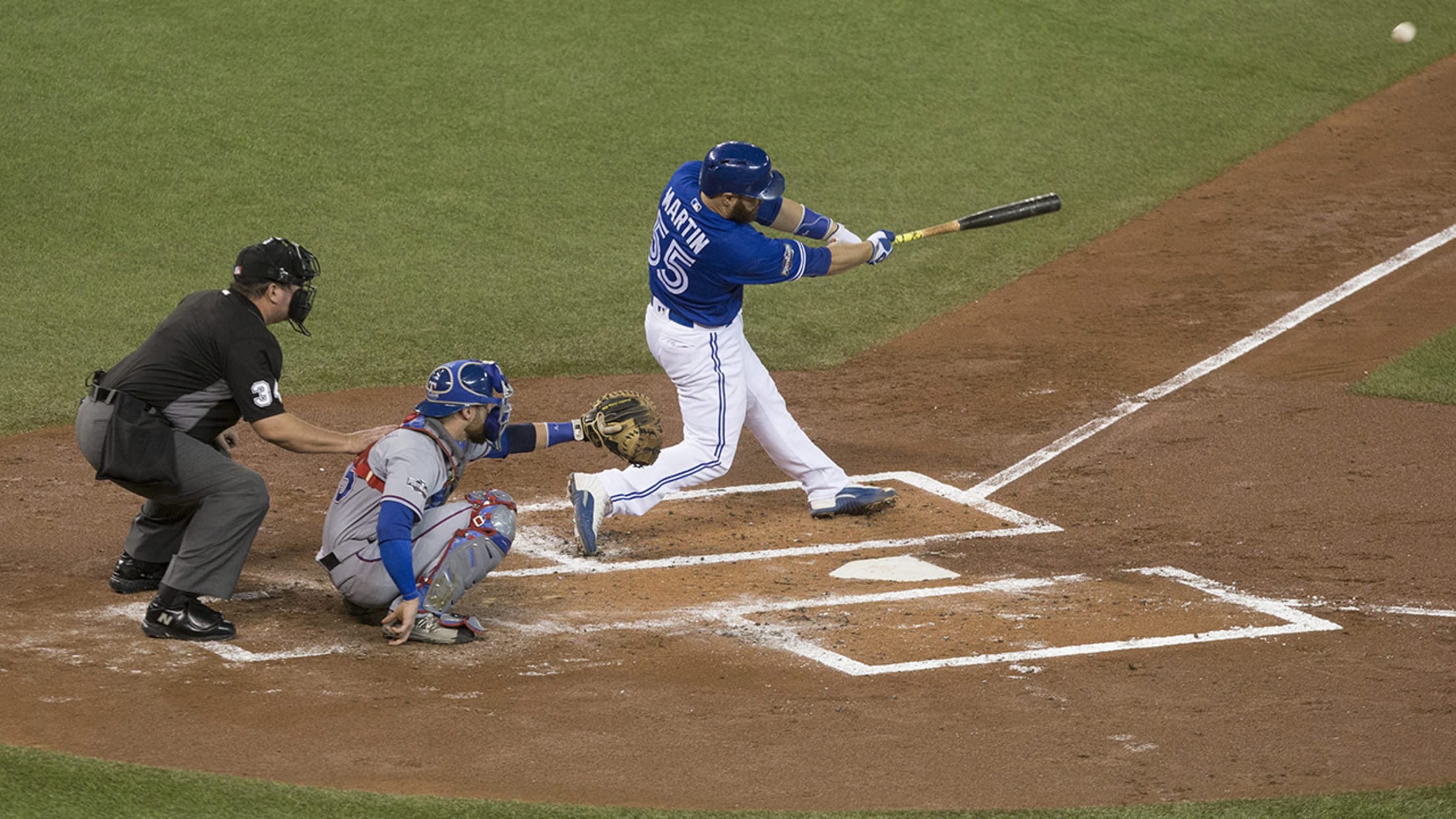 Toronto Blue Jays' Russell Martin hits a solo home run off Texas Rangers starting pitcher Colby Lewis as catcher catcher Jonathan Lucroy looks on during first inning American League Division Series baseball action in Toronto on Sunday, Oct. 9, 2016. (Chris Young/The Canadian Press via AP) (Chris Young/AP)
Let's all take a moment to appreciate Russell Martin. If you're a Blue Jays fan in the year 2016, it probably doesn't take much at all -- after all, his ALDS Game 3 home run is probably still pretty clear in your memory:
It was the catcher's fifth postseason home run, but though he's a native-born Canadian, it's his only one with the Jays. His first came all the way back in 2008, when he was an All-Star catcher with the Dodgers:
The homer came in Game 1 of the NLDS against the Cubs, padding the Dodgers' lead in their eventual 7-2 victory. The Dodgers swept the Cubs in that series before losing to the Phillies in the NLCS.
Martin's second postseason home run came in Game 1 of the 2012 ALDS, but this time, he was a Yankee. Yet again, his team defeated its opponent (the Orioles), 7-2. However, his was (cue dramatic-voice echo) The Dinger That Made the Difference.
The Yankees came into the top of the ninth inning, tied 2-2. That lasted for all of three pitches - Martin saw a Jim Johnson fastball and pounced on it, hitting a solo home run and kicking off a five-run inning for the Bronx Bombers:
Martin postseason homers three and four came in a combo pack. Both happened during the 2013 NL Wild Card Game, when Martin was wearing Pittsburgh's black and gold. He homered off Johnny Cueto in the second inning, perhaps thanks to a little help from the Bucs faithful:
Then he did it again in the seventh, because when you're winning a city's first postseason game since 1992, you might as well go all in..
The Pirates went on to defeat the Reds in that game, 6-2. If only Martin had hit a third homer - another 7-2 win would have been a pretty cool coincidence.
The Blue Jays will play Game 1 of the ALCS on Friday night in Boston or Cleveland (time TBD). The ALCS will be broadcast on TBS, as well as Sportsnet and RDS (in French) in Canada.
Teams in this article:
Players in this article: