Andrew McCutchen went airborne trying to avoid a tag, and while it didn't work, it looked amazing
The Pirates are sometimes the beneficiaries of some very inventive baserunning by some of their players, most notably Josh Harrison and his stop-and-start creativity. The Pirates beat the Marlins, 3-1, on Sunday afternoon at PNC Park, and they nearly had at least a fourth run thanks to Andrew McCutchen.
With Pittsburgh up, 3-0, in the bottom of the sixth and the bases loaded, John Jaso chopped a grounder to first. Tyler Moore stepped on first and then fired home to retire McCutchen, who was chugging homeward from third base, but then ... this happened:
That's a strong effort to avoid the tag, and even though catcher J.T. Realmuto tagged McCutchen out to complete the double play, it's worth a closer look since he caught so much air: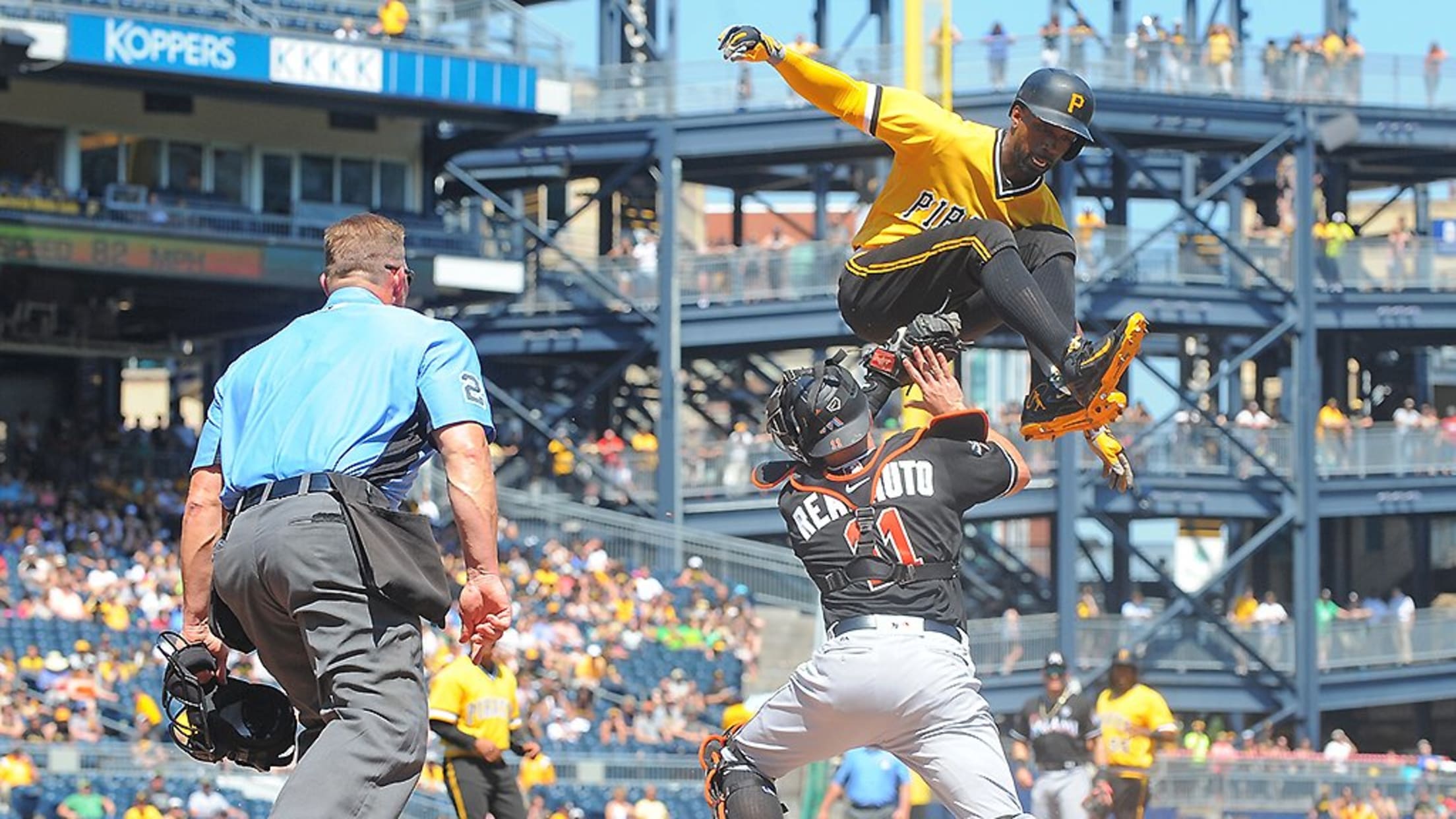 Wow. What was McCutchen's thought process behind that decision as it developed, you might ask? As he told MLB.com's Adam Berry after the game, it was more of a reactionary move than anything else:
"I don't know. Just lucky I didn't get hurt. Just lucky I didn't get hurt. I tried to process the play. Good throw, he's going to turn and be here, and I'll be over him. I don't know. I'm lucky I didn't hurt myself."
Pirates reliever Felipe Rivero, too, reached skyward for a play of his own in the ninth inning, springing up off the mound to retire Tomás Telis and lock down the four-out save:
After both McCutchen's attempt to hurdle Realmuto and Rivero's inspired hop, Pirates manager Clint Hurdle (pun not intended but definitely appreciated) was impressed with what he saw on the afternoon:
"That was kind of different. I wasn't expecting that. I saw two guys jump today higher than I'd ever seen them jump: Rivero and Andrew. Players continue to learn you things. Watch them. They're kids out there."
Somewhere, Stevie Wonder's proud of the Pirates and their attempts at reaching "Higher Ground."
Teams in this article:
Players in this article: