Are the 2018 Astros the best team in franchise history?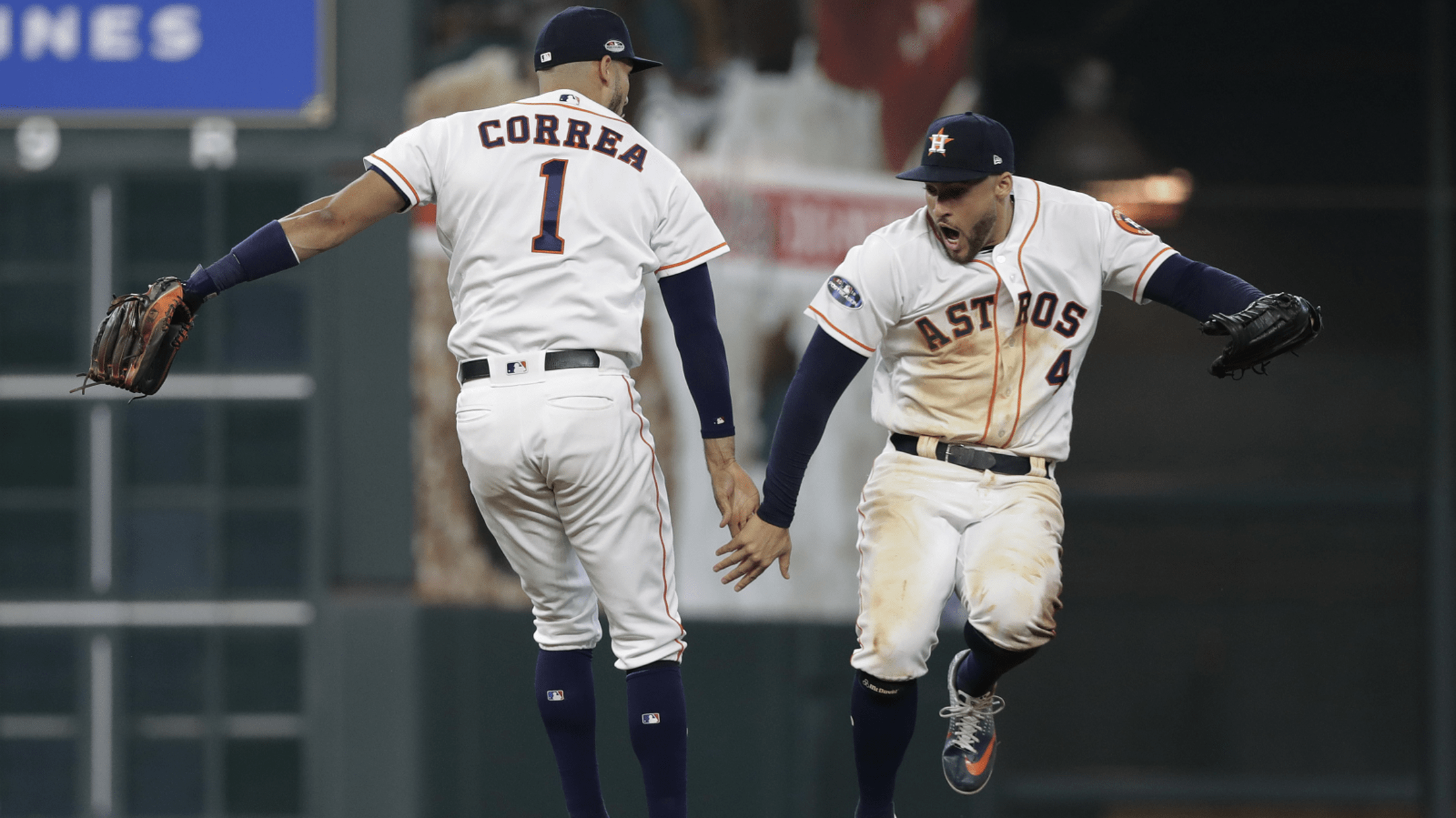 Baseball has been a thing in Houston since 1962 -- but now it's officially A Thing. The franchise, which started out as the Houston Colt .45's before changing its name three years into existence, is now among the deepest and most versatile and dangerous in MLB.
The Astros have made the postseason 12 times in their 57 seasons, including three of the past four ... and this current squad is an absurdly formidable opponent, as the entire AL (and, more recently, the Indians specifically) can attest.
But is the '18 club the best Astros team of all-time? Below, see how this current team stacks up to some other classic 'Stros squads and pick a definitive 'best' team once and for all.
2018: 103-59 (Outcome TBD)
Is this current Astros team the best in franchise history? The '18 club bested its own franchise record with 103 wins (more on that later), and made quick work of the Indians in the Division Series. You know all about the stars -- Jose Altuve, Carlos Correa, George Springer, Dallas Keuchel, Josh Reddick, Brian McCann, Justin Verlander -- and Alex Bregman has blossomed into a serious AL MVP candidate, Gerrit Cole is throwing darts atop the rotation and they're essentially a "super-team" of talent the league has had trouble handling all season.
Should they push through and win the World Series again, it'll be MLB's first instance of back-to-back champs since the 1998-2000 Yankees. It's been a while since that happened.
2017: 101-61 (Won World Series, 4-3)
This was it -- the season in which the Astros' multi-year orgazational overhaul would come to fruition for good. Managed by AJ Hinch, the club was filled to the brim with amazing hitters developed from the system (Altuve, Springer, Bregman and Correa among them), and a sprinkling of solid veterans (McCann, Reddick, Carlos Beltran) and a pitching staff anchored by Keuchel and sent to the next level with waiver-wire acquisition Verlander.
All the veteran right-hander did down the stretch in Houston was go 5-0 in five starts and be the team's co-ace throughout October. When it was all said and done, the Astros hoisted the World Series trophy for the first time in franchise history after a grueling and incredibly dramatic seven-game World Series victory over the Dodgers.
2005: 89-73 (Lost World Series, 4-0)
This Astros team was somewhat surprising, as far as its record would suggest. Despite finishing 2005 three games off the pace of the previous season (which ended in an NLCS loss to the Cardinals), Houston made the postseason as a Wild Card team and began its remarkable run by beating the Braves in the NLDS thanks to the dramatic 18th-inning, series-clinching homer from Chris Burke seen above.
They then took down the 102-game-winning Cardinals in a six-game NLCS -- overcoming Albert Pujols' memorable moonshot off closer Brad Lidge in Houston. The Cinderella year, paced by hitters including Craig Biggio, Lance Berkman and Morgan Ensberg and relying on a rotation boasting Roy Oswalt, Andy Pettitte and Roger Clemens, came to a halt when the White Sox swept them in four games in the World Series.
1998: 102-60 (Lost NLDS, 3-1)
Fans would wait more than a decade for another trip to October after the 1986 team's appearance. That next visit came in 1997, when the club finished 84-78, won the NL Central and lost to the Braves in a three-game Division Series. But it was the following year when everything clicked: The 1998 Astros won a franchise-high 102 games (a record that would stand until the '18 team eclipsed that by one game, as mentioned earlier).
How'd they do it? Well, their lineup was stacked. Jeff Bagwell hit 34 homers, picked up 111 RBIs and slashed .304/.424/.557 (good for a 6.3 WAR), Biggio finished fifth in MVP voting, hitting .325/.403/.503 (good for a WAR of 6.5), and Moises Alou led the team with 38 homers, slashing .312/.399/.582 and placing third in MVP voting himself (with a 6.2 WAR).
This was the year Randy Johnson was dealt to the Astros by the Mariners at the July 31 non-waiver deadline, and he dazzled with a 10-1 record and a 1.28 ERA in 11 starts down the stretch. That, plus the aforementioned offensive onslaught and a rotation rounded out by Shane Reynolds (19-8, 3.51 ERA) and Jose Lima (16-8, 3.70) made Houston a very dangerous bunch.
Their dream season ended with a Division Series defeat at the hands of the Padres, who would go on to win the National League pennant. Houston followed up this strong year with a 97-65 campaign in '99, eventually losing in the Division Series to the Braves in four games.
1980: 93-70 (lost NLCS, 3-2)
For the first time in franchise history, the Astros got a glimpse of the postseason in 1980. This was Nolan Ryan's first season in Houston, and he had a strong year (11-10, 3.35 ERA, 200 strikeouts), as did his rotation mate Joe Niekro, who went 20-12 with a 3.55 ERA.
Led by hitters Jose Cruz and Cesar Cedeno, manager Bill Virdon's team also included future managers and coaches in first baseman Art Howe, cacher Bruce Bochy and pitcher Vern Ruhle -- and this group of players beat the Dodgers in a tie-breaking Game 163 to take the West. They'd give the Phillies a good battle in the NLCS, but fell short, three games to two, bringing to a close the first exciting bit of postseason baseball the team had seen up to that point.
So, it's time to decide. Is the current 2018 Astros team the best in franchise history? Cast your vote below and be heard.