The A's brought back Rajai Davis, their last player to steal 50 bases since Rickey Henderson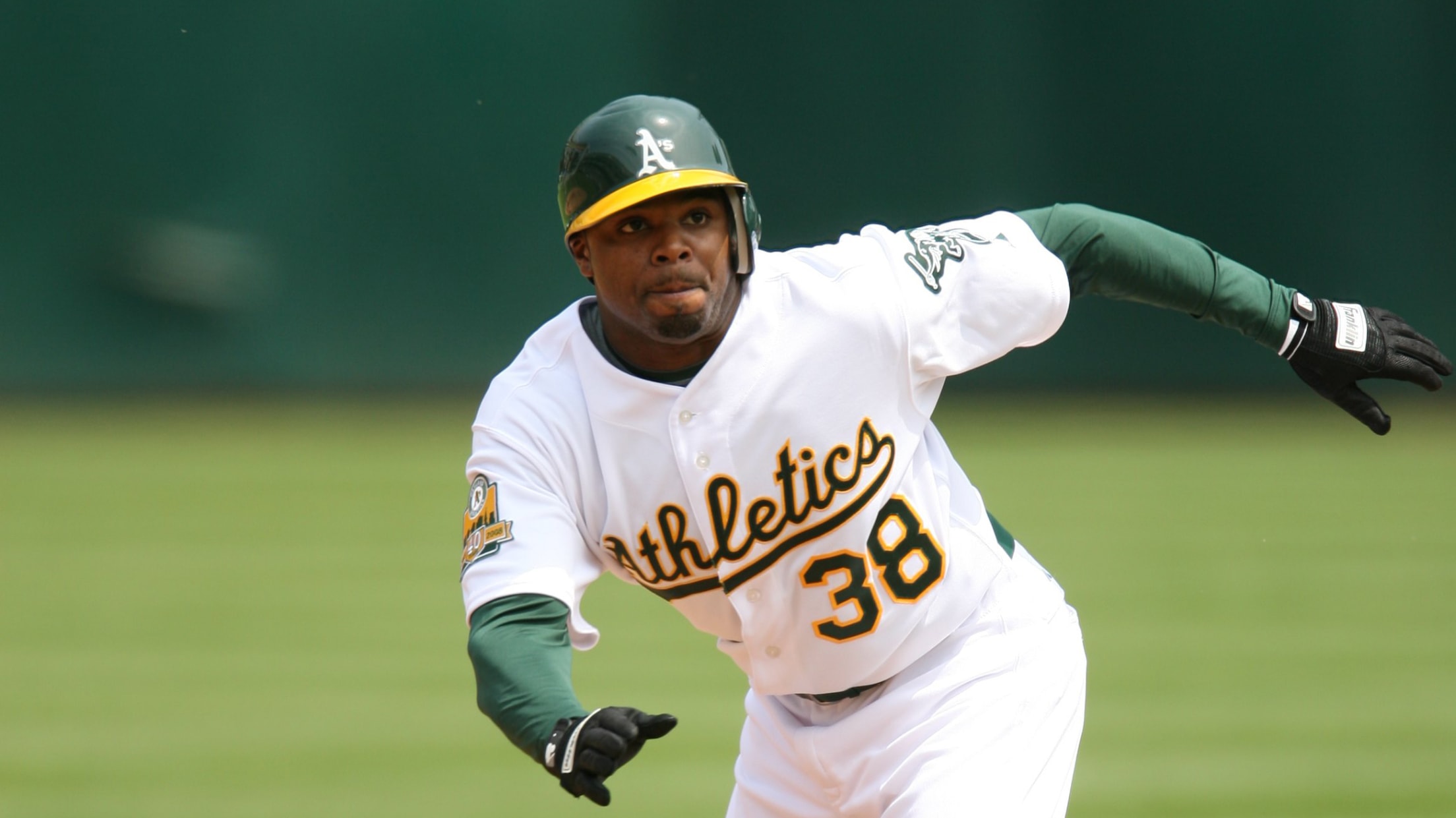 OAKLAND, CA - APRIL 24: Rajai Davis of the Oakland Athletics runs towards third base during the game against the Minnesota Twins at the McAfee Coliseum in Oakland, California on April 24, 2008. The Athletics defeated the Twins 11-2. (Photo by Brad Mangin/MLB Photos via Getty Images) (Brad Mangin/Getty Images)
The modern Athletics aren't exactly known for their speed -- those sparkling white cleats are more associated with walks and dingers after hulking sluggers like Jason Giambi and Jack Cust ruled the team in the early 2000s. But, Oakland still boasts one of the speediest teams in history.
From 1974-75, the team carried Herb Washington, who was strictly a pinch-hitter and stole 31 bases with the team.
In 1976, Don Baylor, Bert Campaneris and Bill North all swiped over 50 -- a feat matched only by the 1980 Padres.
And, of course, there's Rickey Henderson.
Since Henderson stole 58 bases in 1998, only one player has topped the half-century mark for Oakland. That man is Rajai Davis, who the Athletics brought back on a one-year deal on Wednesday.
When he first joined the club off waivers from the rival Giants in 2008, Davis got to running straight away. After stealing 25 bases in his partial first season in green-and-gold, Davis upped that total to 41 in '09. Then, in '10, he hit that magical 50 stolen-base mark.
He stole two-or-more bases in a game seven times, including this three-base thievery against the Orioles on May 26:
And when he stole his 50th of the season on Oct. 2, the A's broadcast pointed out that the last player to swipe 50 other than Henderson was Miguel Dilone in 1978.
Davis' speed was enough that he finished third in the Majors for stolen bases, behind Juan Pierre and Michael Bourn. While Pierre has since retired and Bourn hasn't topped 20 since 2013, Davis has continued speeding around the bases. That included a league-leading 43 this past season as well as this amazing steal he pulled off against the Athletics in 2014, when he swiped third on the throw back to the pitcher.
With 365 career steals, Davis is fifth among active Major Leaguers, but he has stolen a whopping 222 from 2010-16. That beats runner-up Coco Crisp by 50 steals for most in the Majors in that span. Now that he's strapping on the green stirrups instead of the blue-and-red he wore on the Indians, look for him to keep ratcheting that total up in 2016.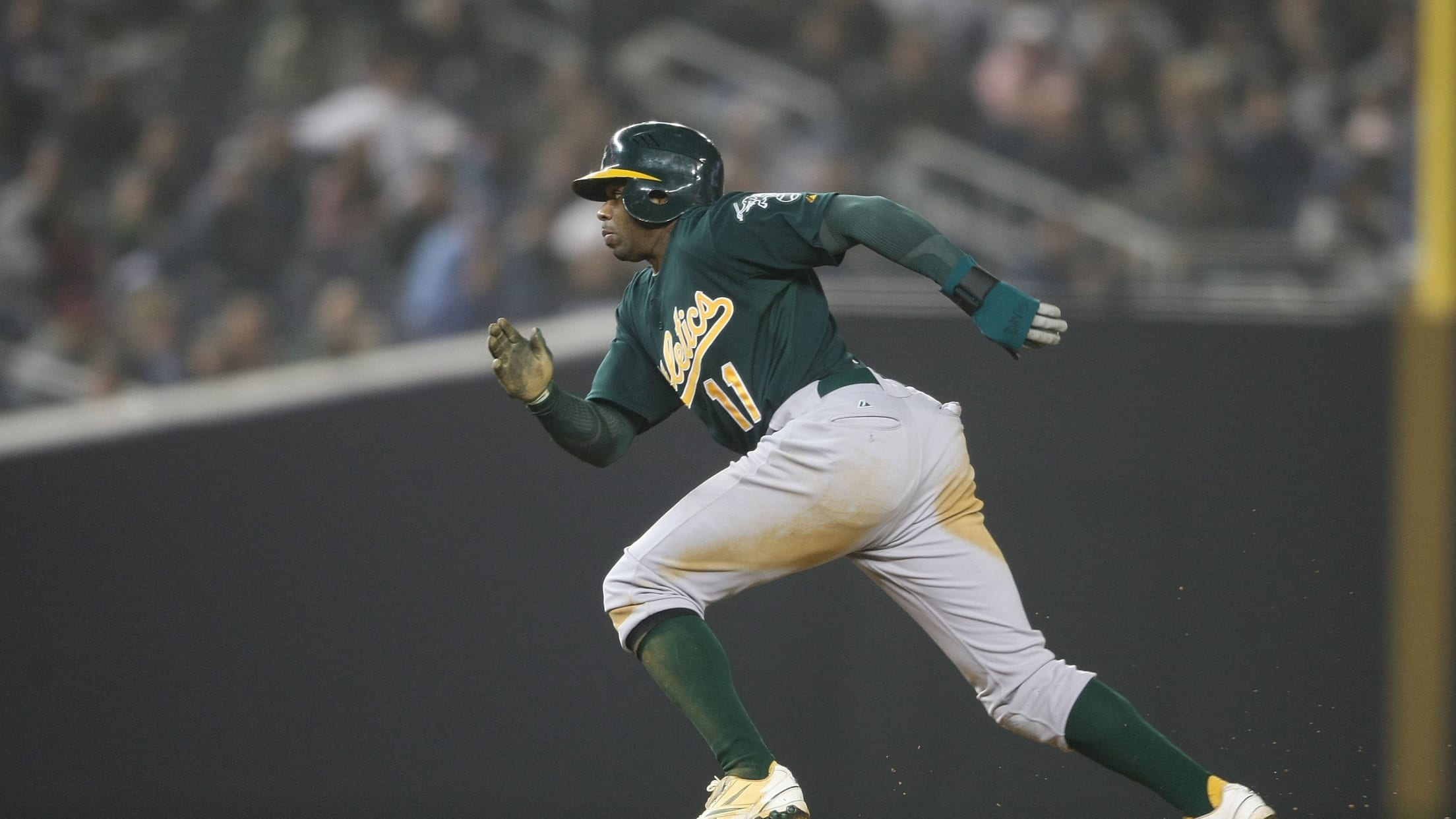 Even if his legs slow down a little, you can still count on the largely homer-less outfielder to come up with hits in big situations. Though A's fans may not want to watch this one:
Teams in this article:
Players in this article: