Barry Zito donated his World Series ring to the GRAMMY Museum's new baseball exhibit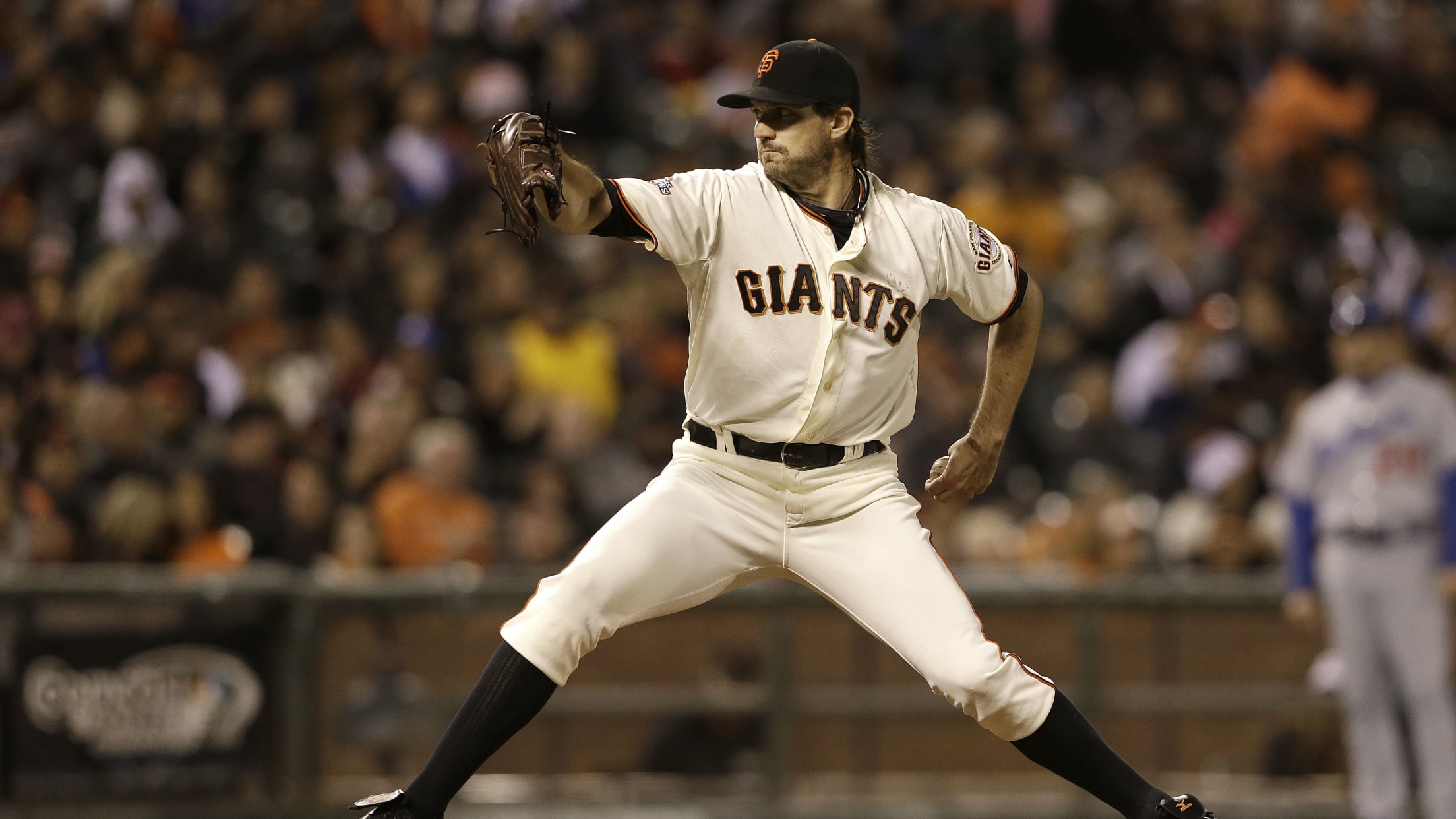 From the songs you specifically hear at the ballpark during a given game to the extracurricular activities of baseball players, there's a special connection between music and America's Pastime that inspired Take Me Out to the Ball Game: Popular Music & the National Pastime, a brand new exhibit at the GRAMMY Museum in Los Angeles that opened on March 14.
The exhibit will run through the upcoming 2019 regular season, giving fans in the area plenty of time to head down to L.A. Live and check it out ... which they absolutely should. There's a functional jukebox with 60 pre-loaded classic baseball songs, for starters.
There's a functional jukebox with "60 of Baseball's Greatest Songs" and I want this for my home. #GrammyMuseum pic.twitter.com/5HKh8CDCmC

— Adrian Garro (@adriangarro) March 15, 2019
After Barry Zito's 15-year pitching career came to an end, he fully embraced something he'd always dabbled in: Songwriting. He relocated to the music hub of Nashville, and Zito is now totally focused on his post-baseball career. Who better, then, to be involved in the new GRAMMY Museum exhibit than the former Cy Young Award winner himself?
Zito was on hand at the exhibit's unveiling and answered a few questions about it and his involvement, which included donating some of his old baseball memorabilia ... and one of his World Series rings.
Speaking of Barry Zito, his old @Athletics jersey and @SFGiants cap (and shiny ring), as well as music notebook, are all also here on display. And there's a room playing his music, too. pic.twitter.com/yU0zsPAiSb

— Adrian Garro (@adriangarro) March 15, 2019
How much of your personal memorabilia is part of the exhibit?
Barry Zito: I gave them a game-used A's jersey, a game-used glove, the spikes and hat I wore in the World Series, the ring, and a couple notebooks that I'd written songs with in Nashville.
When you were young and pitching for the A's, did you write lyrics and songs then? Or did that develop later in your career?
Barry Zito: Lyrics definitely came back then, but I didn't really know how to write a song. I didn't know structure or the format it should be in, so it was kind of a bunch of tidbits. But being raised in a musical family, I was always music-focused. I was always doing chord progressions, cool rhythms, things like that.
And here's a clip of Barry Zito playing his song "Home" at the #GrammyMuseum last Thursday night. pic.twitter.com/Cv0IU5kqDI

— Adrian Garro (@adriangarro) March 17, 2019
Regarding the focus aspect, how does the focus required to be a pitcher differ from the focus required to be a musician?
Barry Zito: It's definitely a discipline unto itself. The idea of constant repetition, if you're being creative every day you're flexing that muscle and it's easy to access those creative places. In one way, it's a lot more unpredictable since you never know what's going to happen that day, but in other ways you have to be just as dedicated.
Your final season with the A's in 2015, you spent a lot of time in Nashville with the A's Triple-A affiliate at the time, the Nashville Sounds. That must have been an enjoyable circumstance for you.
Barry Zito: It was, yeah. The A's had moved their Triple-A team that year that I came back. When I got sent down, they didn't expect me to be willing to accept the assignment, but I told them, "Yeah, I'm going to Nashville. Are you crazy? I'd love to!" We ended up leaving California and moving to Nashville, and we've been there ever since.
Is that how you developed the slight Southern twang in your voice?
Barry Zito: I've been told I had it before, so maybe I picked that up from ... I don't know what.
How's the songwriting going out there in Nashville?
Barry Zito: Great. I've been writing songs out there for two, two and a half years now, starting to dig into the production side more, figure out how I'm going to make music a little more unique.
When you were coming up as a player or dabbling in your music as a player, whether in the clubhouse or whatever, did you get positive feedback?
Barry Zito: I never really had written songs to present to anybody back then. I had some cool progressions. I could always play all the songs people wanted to hear but I never took the time to learn them, because I was always trying to create my own stuff.
Bob Santelli is the executive director of the GRAMMY Museum and is credited as the curator of this new baseball exhibit. A lifelong fan, Santelli brought his time in music with him to the Museum, having been a ranking executive at both the Rock and Roll Hall of Fame and Museum in Cleveland and Experience Music Project in Seattle.
How long did it take to accumulate the pieces in this exhibit?
Bob Santelli: It probably took a year and a half to put together. That's a pretty long time for us for an exhibit of this size, and the reason is because we started from scratch. We had no baseball objects in our collection at the GRAMMY Museum. If you check out the exhibit, you'll see a long list of thank-yous to those who lent us stuff, including Bob Dylan and Bruce Springsteen. It was a lot of work.
It's a great touch that this baseball exhibit will be open right now through the entire regular season. Anybody down here in Los Angeles who likes baseball doesn't really have an excuse not to go.
Bob Santelli: That's right. That was deliberate, of course. And the hope is that people who do come into town to see the Dodgers or Angels stops by. There's a big crossover among baseball and music fans, so we're expecting to see a lot of that.
I was talking with Barry Zito about that concept, and he has a unique perspective of being equally interested in both baseball and music, obviously.
Bob Santelli: There's a surprising number of ballplayers who have aspirations to become recording artists or songwriters. Bronson Arroyo, Bernie Williams -- who's really done a lot of great stuff, including getting a GRAMMY nomination -- Nick Swisher, and so many more. But Barry and Bernie are really in a class above all that. They really want to be taken seriously as artists, and Barry in particular, one of the reasons we chose him was after I listened to his EP.
There's a lot of potential for him to become a recording artist much like he was a pitcher -- pretty darn good.
Having seen Bernie play his jazz guitar at the NAMM Show a couple times, he's up there shredding and sounds great. But his demeanor is of the "no, don't look at me, look at the other guy," which in this case is guitarist Gil Parris.
Bob Santelli: He and Barry have a humility that is very admirable, considering they were superstars on superstar stages. And yet when it comes to music, they're humbled. When they meet a Springsteen or a Kenny Rogers or whomever, it's funny to see them become just fans like we are fans of baseball.
Baseball's obviously been a big part of your life.
Bob Santelli: When I was a kid growing up, Mickey Mantle was the guy who … I lived on the other side of the Hudson River in New Jersey, and I was able to go see Mickey play lots of times, sitting in the bleachers with my friends. I lost a connection with baseball in the '70s, just doing other things like starting a family and going to school, but when I got to Cleveland, I couldn't believe the passion the city had for the Indians. We walked down the street and eight out of 10 people had Indians gear.
My kids got into it too, because of all the kids at school in Indians gear, like, "Dad, we gotta get Indians caps," so we became big fans. I became good friends with Mark Shapiro too.
I go to Spring Training each year, I go to many games, 15, 20 games, no matter which teams. I'm a baseball fan, mostly, by and large.
What should fans take away from this exhibit?
Bob Santelli: When you put together an exhibit, the first thing you have to do is create a story line. So for this, it's the same thing that I was initially surprised about, how long and how deep the connection between baseball and music is and has been. I found some things dating back to the 1840s, and today of course music is a bigger part of the game than it's ever been.
You go to the ballpark, you might hear 30, 40 songs or clips of songs in the course of the game. So the idea that these are two uniquely American forms and cultural experiences, and the two are so prominent in our history, have intersected with each other over the past century and a half.
We're getting closer to @MLB Opening Day! Got baseball fever? Head down to the Museum and explore our brand new "Take Me Out To The Ball Game: Popular Music And The National Pastime" exhibit! pic.twitter.com/2rojwmiMde

— GRAMMY Museum (@GRAMMYMuseum) March 17, 2019
Adrian Garro joined MLB.com in 2016. Throughout his travels, both Bartolo Colon and Vin Scully have placed their hands on his shoulders. Not at the same time, though. That'd be amazing.
Teams in this article:
Players in this article:
Topics in this article: