All of the extremely Bill Murray moments from Bill Murray's trip to the Cubs and Braves booths
Over the years, one man has established himself as America's premier thought leader. A man who has cut right to the heart of the human experience. A man who is not, under any circumstances, afraid of no ghosts: Bill Murray. Whether blessing a random groom-to-be at his bachelor party to blessing a random couple's engagement photo shoot entirely uninvited, Murray has been dispensing wisdom on the people and extolling the virtues of Neil Diamond for decades.
And on Sunday, he brought his sage advice to Turner Field, where he not only watched his beloved Cubs beat the Braves but also appeared in both the Atlanta and Chicago broadcast booths. What follows is but a few of the most Murray moments of the day.
In the Braves booth
Atlanta play-by-play man Chip Caray revealed that, during the 1995 World Series between the Braves and Indians, Murray signed a napkin for Caray's son Gabe. His message? "Dear Gabe: Learn to drive a tractor. Bill Murray." Murray's response: "Some say it's a life's work."
- When given the question that he and all Cubs fans have been getting for over a century now -- Is this finally next year? -- Murray delivered a response befitting a team currently 25 games above .500: "This is the year. I think you know that. I think we all know that. The folks at home know that, the American people know that."
- On the importance of never setting the bar too high: "Don't expect anything and you'll be pleased."
- On his current acting projects: "I'm in this thing 'Jungle Book' that's out, you should go see that. People say it's the best 'Jungle Book' that's out this year."
In the Cubs booth
- We present, in full, the very first exchange of the segment.
Len Kasper: "How are you?"
Murray: "I'm warm. It's a wet heat here in Atlanta."
- On the importance of ballpark ambience: "It smells like hamburgers here, I've never been to a ballpark where it smelled like hamburgers."
- Ever the conscientious fan, Murray understands that even Kris Bryant has a mother somewhere: "You feel like the parents of these players are probably saying, 'That's all right, Timothy! That's all right! Keep your head in the game Tim ... othy!'"
- According to Murray, he's only missed a handful of games since the start of last season. And while he doesn't get to all of them live, he records them and watches later: "But that's all right, you get to skip the commercials."
- This bucket hat: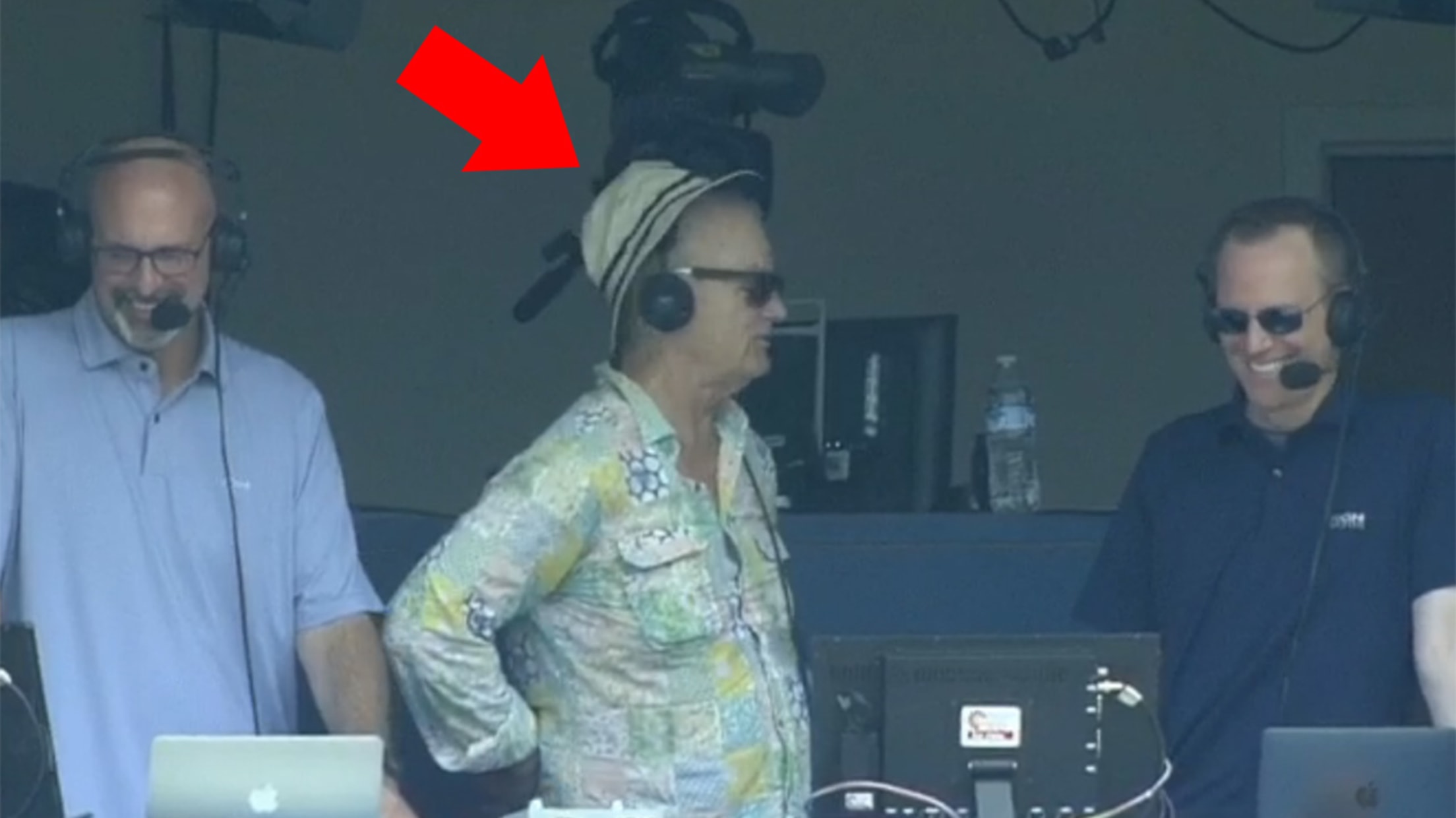 While walking the streets of Atlanta, Murray was approached by an adoring fan who wanted an autograph ... from actor and partner-in-ghostbusting Dan Aykroyd, who she apparently thought was Murray: "She never believed me for a second. She started to curse me, I said, 'No he's my friend, I know the guy you're speaking of! He's a good guy, I can kinda fake his signature, too, but I'm not that guy.'"
- Speaking of signatures: "The hard part is the spelling. The legibility? That's just a choice."
- And lastly, no Murray broadcast appearance would be complete without giving him the chance to call the action. Luckily, Ben Zobrist hit a deep drive to right field, affording the opportunity for an absolutely stellar call: "Go. Go. Keep going. Go. HIT THE WALL AND DROP IT. [The ball is caught] Ahhhhh, not today."