Bryce Harper's special eye black and more Father's Day tributes from around the league
Sunday was Father's Day, and players from all around the league spent the weekend paying tribute to Dad in a number of ways -- even some a day early, on Saturday.
For Astros second baseman José Altuve, who became a father in November, this is a huge deal. And a huge deal deserves a great tribute, which he wore on his cleats in Houston's 7-1 win over the Red Sox:
Other new dads experiencing their first Father's Day included Travis Shaw of the Brewers (whose daughter, Ryann, is in the hospital after recent heart surgery), and Rangers outfielder Ryan Rua (whose son, Rowan, was born just a few days before Opening Day).
Bryce Harper, meanwhile, paid tribute to his dad with some festively decorated eye black during the Nats' 7-4 win over the Mets: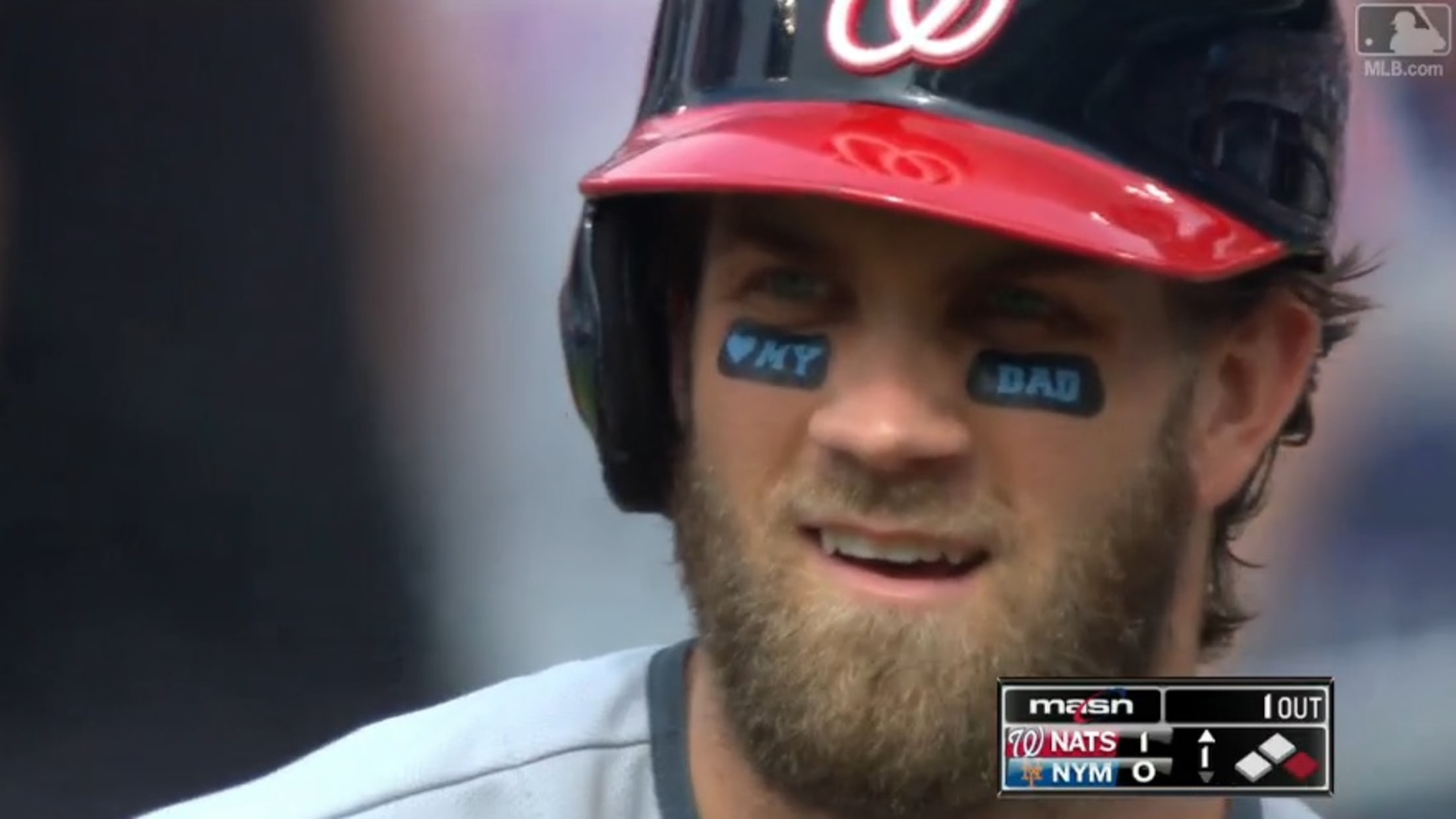 And for Harper, Father's Day comes just a few short days after Dad (whom he refers to as "Pops") celebrated his birthday:
Similar to Harper's on-field shout-out to his dad, Delino DeShields did the same with some fantastically adorned cleats paying homage to the longtime Major League infielder:
The Rockies' Carlos González shared this warm image on his Instagram page just in time for Father's Day:
Brewers right-hander Chase Anderson began his afternoon (and strong seven-inning start in Milwaukee's 7-5 loss to the Padres) by inscribing the initials of his late father, Robert, in the Miller Park mound:
In that same game, the Padres' Yangervis Solarte hit two home runs in front of his three young daughters, who were in attendance. They lost their mother, Yuliette, in the fall after a battle with cancer, so this is their first Father's Day without her.
After the game, Solarte spoke about that with MLB.com's Carson Mason:
"That's why I like to signal and point to the sky for God and for everything that's happened," Solarte said. "Everything I do is for them, so it was a good moment."
So far, 2017 has been the season of Cody Bellinger, thus far, and the Dodgers' young slugger was the topic of a conversation his dad, former Major Leaguer Clay Bellinger, had about his sons (including Cole, whom the Padres just selected in the Draft):
This comes after Cody shared a pretty fun throwback photo of himself with Clay for Father's Day 2016:
Dexter Fowler, meanwhile, recently shared some great shots of him and his young daughter (who tends to get very excited about his career) at Busch Stadium:
The D-backs beat the Phillies on Saturday, 5-1, in large part due to a great outing from Zack Godley, who shared this topical photo after the game:
Not every player has a Cy Young award winner for a father, but Cam Bedrosian -- son of Steve Bedrosian -- does and acknowledged his role in supporting his career.
Happy Father's Day everyone! There hasn't been a day in life my where my Dad hasn't been there for me. Love you Pops! #PitchersWhoRake pic.twitter.com/UjHj79DMWY

— Cam Bedrosian (@Cam_Bedrock) June 18, 2017
Blue Jays' pitcher Marcus Stroman shared an early contender for best Father's Day photo along with some reflections on his dad's influence:
Thank you for making me realize anything is possible. Impossible to show you how much I appreciate you, but I do. Daily. Happy Father's Day! pic.twitter.com/49jrtkBmsO

— Marcus Stroman (@MStrooo6) June 18, 2017
Jason Kipnis used the day to celebrate his number-one fan:
The A's showed rookie Matt Chapman with his dad while playing as an Athletic in Little League next to a photo in the Major League threads:
Multiple players took to Twitter to thank their dads for making them better men:
Happy Father's Day! Thankful for mine because I most definitely wouldn't be where I am without his guidance and wisdom.

— Dansby Swanson (@LieutenantDans7) June 18, 2017
Happy Fathers Day to all the great dads out there but especially to mine! Hope everyone has a great Sunday! @dawgswood

— Alex Wood (@Awood45) June 18, 2017
Dear Dad - Thanks for your love, support and guidance. I'm the man I am today because of you. Happy Father's Day. pic.twitter.com/2wt9BcQR8z

— Curtis Granderson (@cgrand3) June 18, 2017
Orioles pitcher Kevin Gausman used the occasion to issue an apology:
Happy Fathers Day!! Thank you pops for being an amazing Dad! I am sorry for all the balls I threw at your shins!!#BestBatteryMate #LoveYou

— Kevin Gausman (@KevinGausman) June 18, 2017
Angels outfielder Cameron Maybin reflected on his Father's influence both on his development as a baseball player and his qualities as a father:
Happy Father's Day, esp. to my dad Rudy. He taught me how to play the game of baseball; the true meaning of hard work & how to be a Father! pic.twitter.com/tJJInNSVh5

— Cameron Maybin (@CameronMaybin) June 18, 2017
Max Scherzer isn't a dad yet, but that's not stopping him from celebrating with a special gift for his future daughter:
Happy Father's Day to the best dad-to-be we could ask for! Baby girl Scherzer debuts this November!! 💕 pic.twitter.com/4JDOBh1Df6

— Erica Scherzer (@emaysway) June 18, 2017
Happy Father's Day to all the dads out there!