The story of Red Ames, perhaps baseball's unluckiest pitcher, and his magic necktie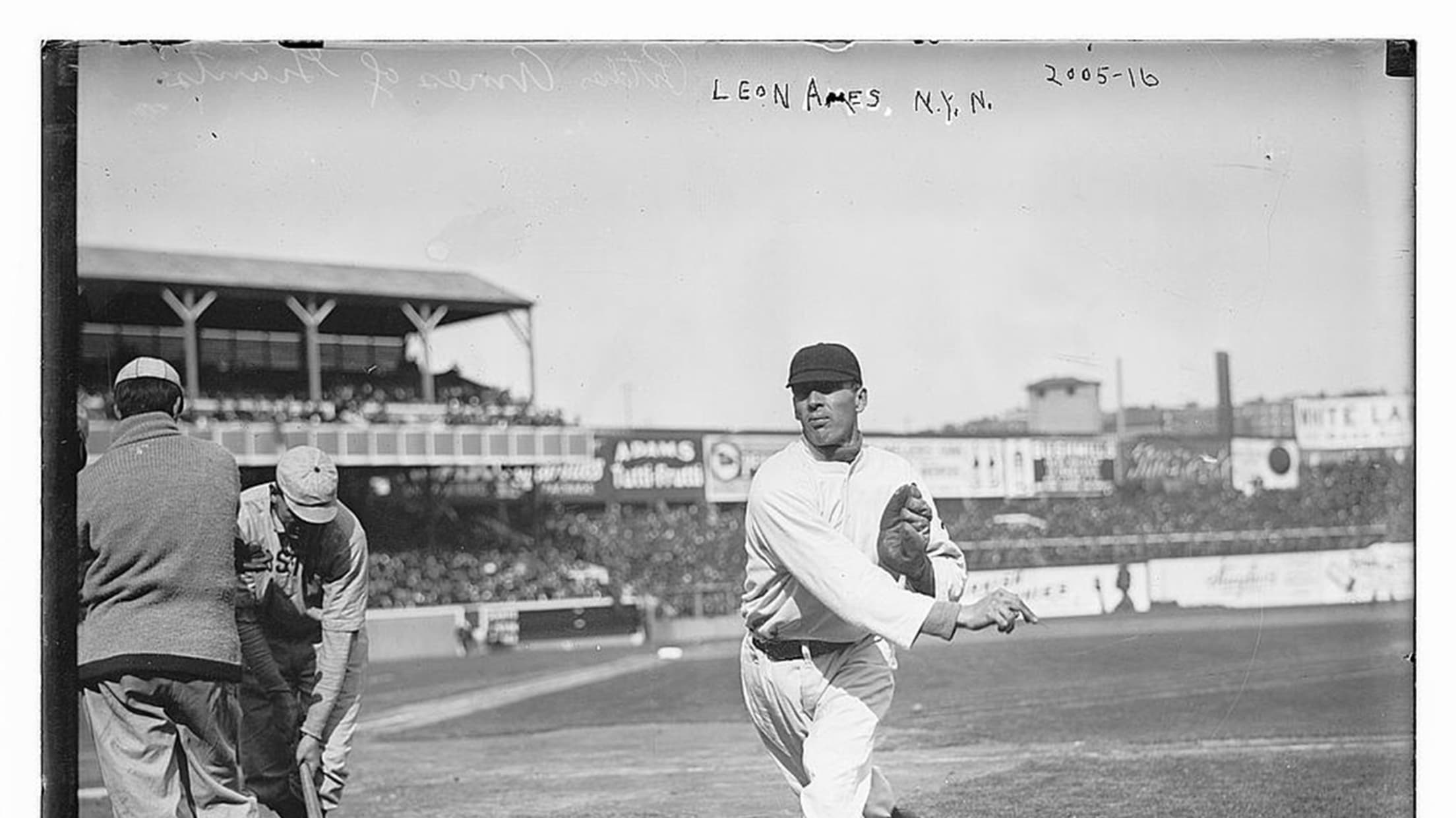 Think of who you imagine to hold the MLB record for most wild pitches in a single season. Unless you already the know the answer, you surely are imagining either a knuckleballer, uncorking one uncatchable ball after another, or a famous wild fireballer, like Ryne Duren or a young Randy Johnson. You would be wrong.
The record belongs to Leon "Red" Ames, who tossed 30 wild ones with the New York Giants in 1905. It's a bit strange. Though he led the league again with 20 in 1907, he averaged just 12 a year for his career -- but it may explain why his catcher, future Hall of Famer Roger Bresnahan, was one of the first to develop catcher's shinguards.


But, see, that's the other thing about Ames. He had such terrible luck he was given another nickname "Kalamity."
He was even referred to as the "unlucky Ohioan" in this Washington Herald column from 1911:


Armed with a strong curveball (which may explain some of those wild pitches), Ames had a solild Major League career. He won 22 games in that wild 1905 -- collecting a World Series ring that year, too -- and finished with a career 2.63 ERA in 3,198 innings. Though he pitched during a depressed offensive environment, his career ERA ranks just behind Tim Keefe, Cy Young and Vic Willis -- all Hall of Famers.
He's most known for his Harvey Haddix-like loss in a no-hitter. To make matters worse, it was on Opening Day, too.
On April 15, 1909, Ames held the Brooklyn Superbas (Which sounds like a terrible EDM duo) hitless through nine innings. Only problem? He was going up against Kaiser Wilhelm, who held the Giants to one hit. Ames would lose the no-no in the tenth before giving up three runs in the 13th to take the loss.


It became a bit of a pattern. Next season would open the same way, as Ames no-hit Boston into the seventh, holding a lead in the ninth. The Giants would lose in 11 innings.
It happened in 1911, too, when Ames no-hit Philadelphia for six innings and still took the 'L.'
Ame's teammate Christy Mathewson wrote that he may hold the "marathon record for being the most unlucky pitcher that ever lived."


It got so bad that Ames wanted to skip the final road trip with the Giants in 1911, assuming he would no good to the team. Instead, Ames traveled with the team and received a package from what Mathewson termed a "prominent actress." Inside was a four-leaf clover and a necktie, with directions instructing Ames that he must wear them with his uniform and in his street clothes if he wanted the charms to work.
"You've got a lot of work cut out for you, old boy," Ames reportedly said, "but I'd wear you if you were a horseshoe."
Sure enough, Ames would beat Boston that night, 4-1, and announced at dinner that he would not stop wearing the tie until he lost. The Giants went on a hot run -- going 19-4 on the road trip -- with Ames winning in each of his starts. Once was he removed in a game in the sixth inning, only for his team to bail him out and deliver him the 'W'.
Ames wore that necktie everywhere he went, the cloth growing more and more tattered over time. He lost only once more before the end of the season, though he exonerated the necktie by blaming the loss on manager John McGraw and a number of rookies that didn't help out.
Unfortunately for Ames, his -- and his team's -- luck eventually ran out. The Giants lost the World Series in six games to the Philadelphia A's, with Ames losing the final game of the series.
Mathewson wrote that Ames then took the necktie to his home in Warren, Ohio and put it in a cabinet for safekeeping, so he could "trot out the 'jinx' destroyer next season."
If he did, it worked. Ames went 11-5, and the Giants once again won the NL pennant. Unfortunately, the Giants again lost, dropping in eight games (Game 2 was called at a 6-6 tie after 11 innings), though Ames didn't take the 'L' this time around.
Maybe it really was a magic necktie.