The Cut4 Road Trip, Day 12: Fireworks, apple pie and 'The Sandlot'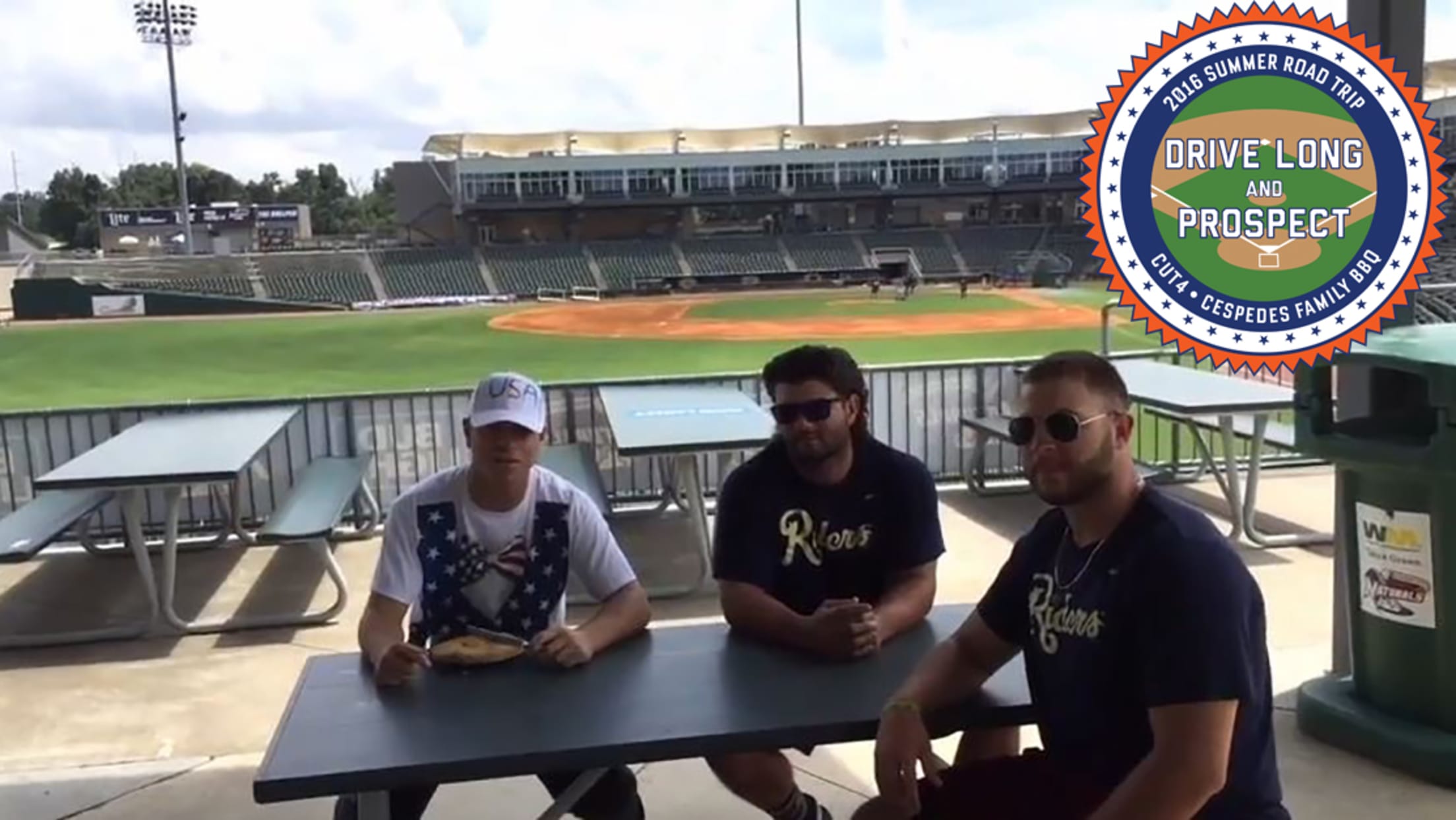 (Clair, Michael)
So far on this trip we've driven through Intercourse, Pa.; Virgilina, Va.; and Eclectic, Ala. Whenever we have time, we try to avoid the interstates in favor of smaller towns that most people wouldn't take the time to see. We've come across some pretty good names, but Monday set a new standard. Instead of taking the customary three-and-a-half hour route from Forrest City to Springdale, we added about two hours to our trip in order to experience the wonder, the magic, and the hilarity of Flippin, Arkansas.
After flippin' in Flippin to our flippin' heart's content, we made our way toward Springdale, but not before we skirted through other insanely named Arkansas towns like Alabam, Accident, and Marble. We've seen quite a bit of America in the last two weeks, but Pennsylvania and Arkansas are the best two states for absurd city names and it's not particularly close. Not sure who we'd give the number one spot to, but the distance between Arkansas/Pennsylvania and number three is substantial.
The Cespedes Family pie eating contest
July 4th, America's birthday. A time to celebrate the country we're lucky enough to call home. It's also a time to sit down with close friends and family and enjoy some homemade apple pie. Unfortunately we are on the road so we didn't have any other friends or family to enjoy our apple pie with. Instead we settled for two pitchers and extremely entertaining gentlemen on the Rangers' Double-A Frisco Roughriders: Ryne Slack and Joe Filomeno.
Rather than simply enjoying our slice of Americana, we turned this thang into a competition -- just as America has done throughout its entire history. Jake claimed he could eat a whole apple pie in the time it took Slack and Filomeno to name all 50 states. They were allowed to work together, Jake was allowed a jug of water. Decked out in patriotic attire Jake seemed outgunned, outmanned, and simply out America'd. Check out how he did:
You can say a lot about Jake Mintz, but holy lord the kid can throw down a pie like a champ. Dejected, Slack and Filomeno returned to their monotonous lives as professional baseball players (dang that sounds fun). And once Jake was finished wiping globs of apple goop off his trousers, we made our way to the Northwest Arkansas dugout to discuss "The Sandlot."
"The Sandlot" is the best baseball movie. Or at least it's the one that the most people have watched. It also contains the most patriotic baseball scene in movie history; the Fourth of July fireworks game.
Though watching that scene still gives us goosebumps to this day (Side note: That Ray Charles version of America the Beautiful should be our national anthem), the logistical difficulties of actually playing a game under fireworks are never really addressed in the film. So we addressed them ... with the help of Naturals pitchers Kyle Bartsch, Mark Peterson, and Eric Stout.
A baseball game appeared
After two weeks of watching nothing but Minor League baseball players (who in their own right are super good compared to us dopey people), Yu Darvish looked like a video game Monday night. Even though he labored through the first after walking his first two guys, his stuff looked far above anything we'd seen since launching on our journey. Though the Japanese ace only went two-plus innings, we were treated to an extra special show at his postgame presser.
Unlike big league parks that have an entire room designated for press conferences, the Northwest Arkansas Naturals understandably lacked such facilities. As a result, Darvish held his postgame interview session in what was essentially a storage closet. This room consisted primarily of the props used for Minor League in-game shenanigans/promotions including oversized tricycles, inflatable bouncy horses, and full-body pizza costumes.
On the field, Darvish already stood out in comparison to his Minor League counterparts, but the juxtaposition of one of the planet's most talented pitchers in a room literally full of Minor League props was an incredible sight that we'll never forget.
Where We Woke Up: Forrest City, AR
Where We Slept: Tulsa, OK
Miles Driven: 391
Miles Driven To-Date: 3700
Time in Car: 7:32
Time in Car To-Date: 64:01
Tuesday's Plan: We'll wake up in Tulsa and head southwest towards OKC, home of the Oklahoma City Dodgers and the Oklahoma City Thunder. We haven't been following any of the NBA free agency craziness, but we plan on checking up on it Tuesday. We're sure nothing too crazy is happening. (Side note: Kevin Durant is a grown man. Don't get mad online because he wants to live in San Francisco). Baseball!