Eight players to watch at this week's Caribbean Series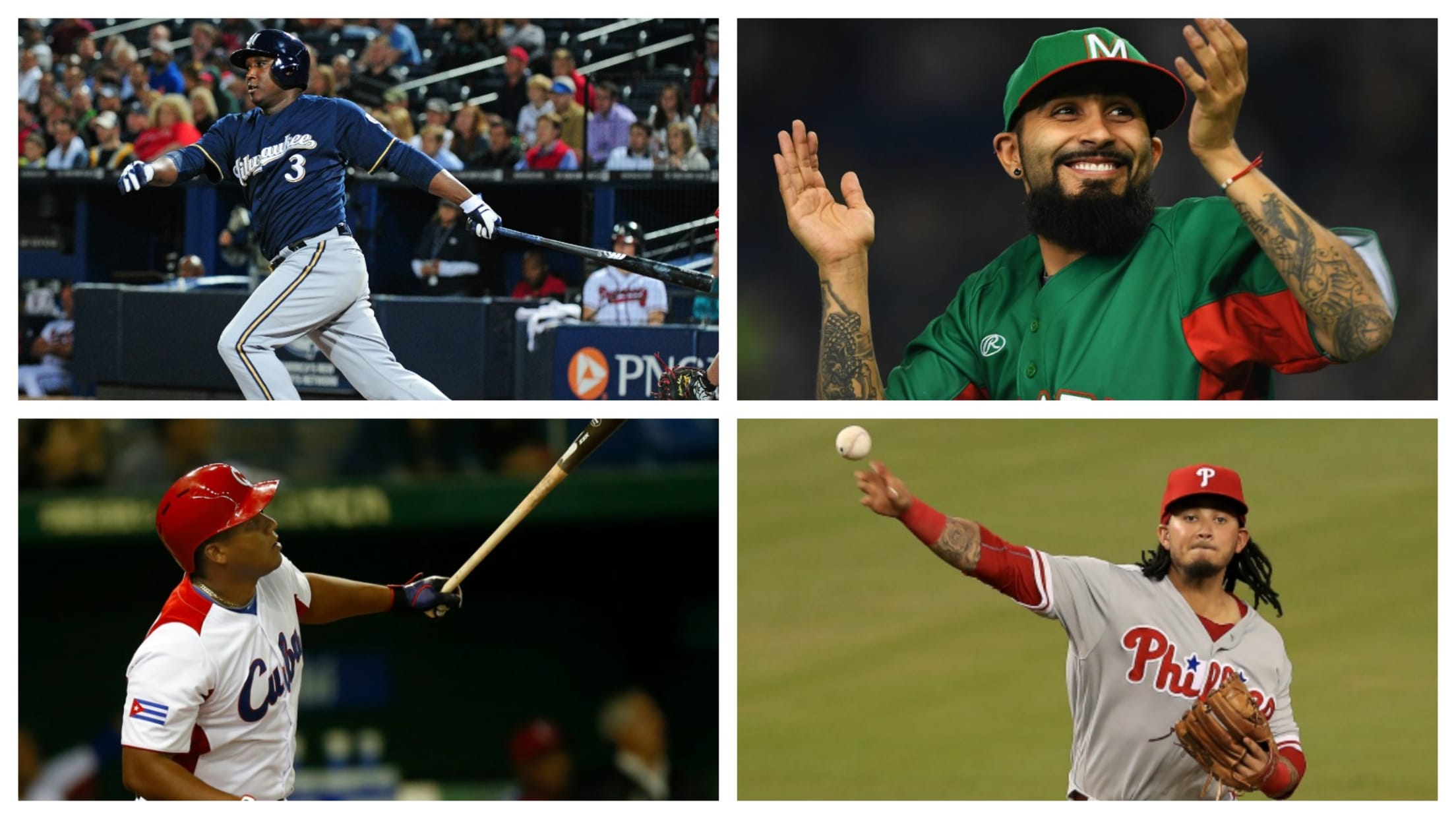 If you were tired of watching every season of "Gilmore Girls" for the fourth time this winter, you're in luck: The Caribbean Series is underway. With Cuba, the Dominican Republic, Puerto Rico, Mexico and Venezuela all squaring off for the title, which players should you be watching?
Listos los 5 invitados a la #SDC2017:

🇨🇺 Alazanes de Granma
🇻🇪 @aguilasdelzulia
🇵🇷 @CriollosCaguas
🇩🇴 @TigresdelLicey
🇲🇽 @AguilasDeMxli pic.twitter.com/FQIDmXv60v

— Serie del Caribe (@Culiacan2017) January 29, 2017
Here's eight that we think are worth keeping an eye on this week:
Freddy Galvis - Venezuela
Galvis has always been known for his defense, with his smooth as silk glovework making the sublime seem easy and in the realm of human achievement. The numbers back that up as, according to FanGraphs, he was the third-most valuable defensive shortstop last year, behind only Brandon Crawford and Francisco Lindor.
But Galvis was also a part of the offensive explosion across the Majors last season, as he more than doubled his previous career high with 20 long balls. Defense and dingers? That's the best combo since a burger and fries.
Jose Castillo - Venezuela
The 35-year-old Castillo hasn't played in the Majors since 2008, but he's kept active in the Mexican League and Venezuelan ball. While his age means he may no longer turn acrobatic plays like he did in his prime, he still crushed the ball to the tune of a .332/.383/.439 line this winter.
Be like Castillo: Don't let your dreams be dreams.
Rusney Castillo - Puerto Rico
Castillo may not have become the player that the Red Sox hoped for when they signed him to a $72.5 million contract in 2014, but there's always a hope that a breakout could come. Perhaps the Caribbean Series will be that moment when all the impressive tools that once impressed scouts emerge again.
After posting just a .664 OPS in Triple-A in 2016, Castillo has done much better in winter ball with a .392 average. Granted, it's just 51 at-bats, but hey, if you can do this once, you can do it 100 times, right?
Leury García - Dominican Republic
While Garcia is a useful player, he's hardly the kind of big-name star that the Dominican Republic usually features. Last year, the team had a dynamite bullpen with Joel Peralta, Francisco Rodney and Rafael Soriano just some of the big leaguers on the roster.
Of course, maybe that's part of the plan. Garcia has also played every position other than first base and catcher in the Majors, so perhaps he'll become the on-field relief ace.
He also managed to hit an inside-the-park home run during last year's Series:
Yoelkis Cespedes Maceo - Cuba
Yes, that's right: The man with the goldenrod arm has a brother. Only 19 years old, there is plenty of reason to be excited by the outfielder.
Playing for Granma in the Cuban league, Yoelkis hit .297/.361/.460 with six home runs this year. While it's not the 23 home runs that his older brother hit with the team at that age, the Caribbean Series and upcoming World Baseball Classic will be his first real international exposure.
Given those family ties, you'll want to watch closely. And if he hits a home run, it will be a great excuse to yell, "Getting yoked!"
Alfredo Despaigne - Cuba
You want dingers? This 30-year-old is your man. He destroyed the baseball at the 2013 World Baseball Classic -- winning MVP of Pool A as he blasted three home runs and drove in eight runs in the group stage:
Currently playing for Chiba Lotte in the Japanese NPB, Despaigne led the team with 24 home runs -- more than doubling Yamaico Navarro's total of 10.
If you want to see a mighty hack, this is a mighty hack:
Yuniesky Betancourt - Mexico
Surprised to see Betancourt on here? Don't be. While he no longer plays in the middle of the infield, he's grown into his power and now holds down first base. Just look at this grand slam he hit in the final playoff game of the Mexican Winter League:
Sergio Romo - Mexico
While the Nationals' Oliver Pérez is also on the team, we'll be watching Romo closely for two reasons.
1. He's currently a free agent, so Major League teams and fantasy players hungry for possible closers will be paying close attention. While an elbow injury pushed him to the 60-day DL last year, he returned to post a 2.64 ERA. That includes a 1.86 mark with an 11/1 K/BB ratio over the last month of the season.
2. This slider. This gorgeous, glorious slider. Batters have managed only a .161 average against the pitch since Romo entered the Majors in 2008.
With the start of the Caribbean Series, airing on ESPN Deportes and WatchESPN, winter is almost over. Baseball is back.