All the ups, downs and drama of NLDS Game 4 as told by a series of Cubs reaction GIFs
There are plenty of ways to illustrate just how insane Chicago's 6-5 win over the Giants in NLDS Game 4 truly was. You could take a quick glance at the box score -- where you would see that, despite eight strong innings and 10 K's from San Francisco starter Matt Moore and a 4-for-4 night from new folk hero Conor Gillaspie, the Cubs used a wild four-run ninth to steal the win. Or you could take a look at the win probability graph, which roughly resembles Wile E. Coyote running off a cliff: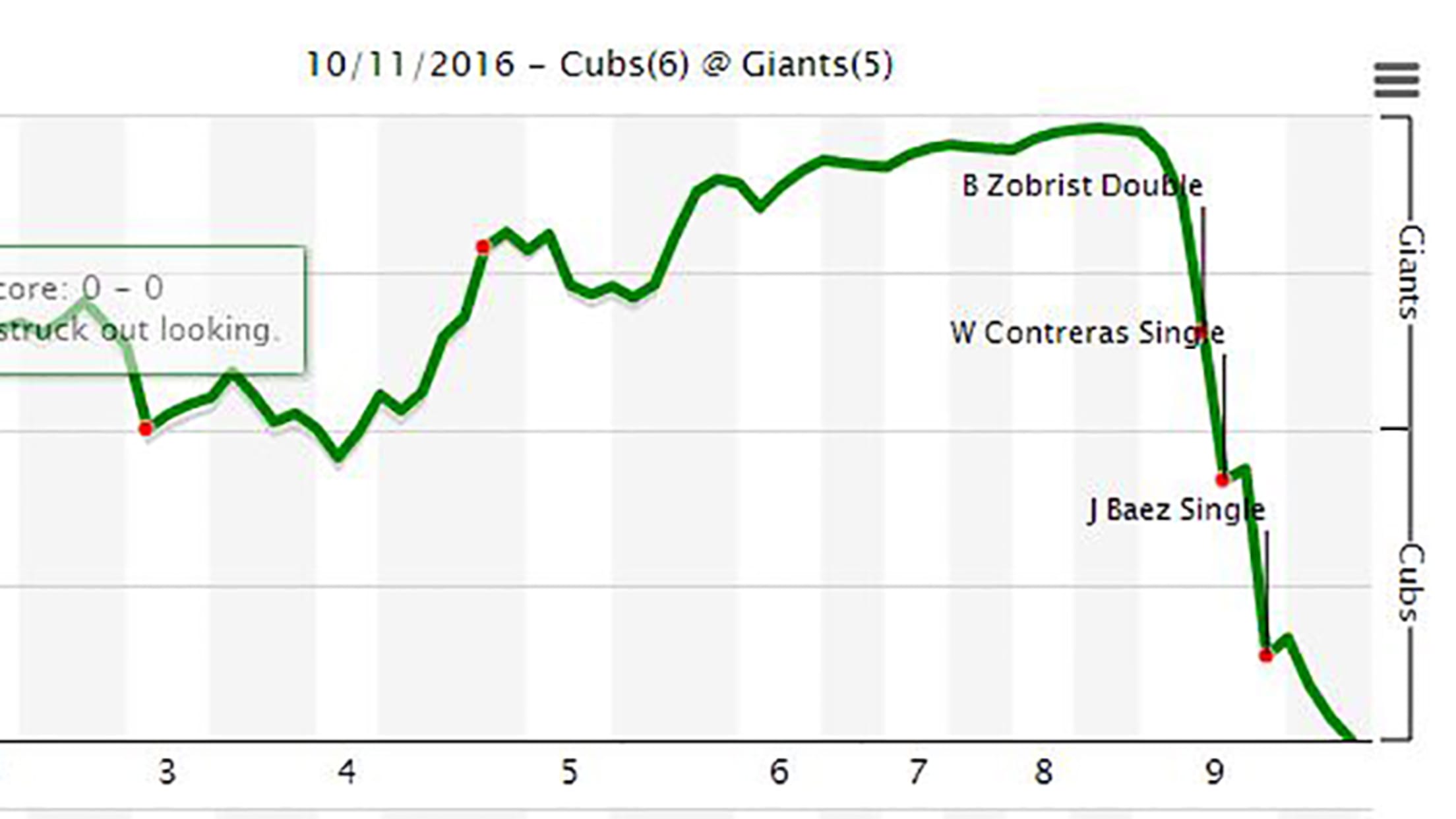 But while all of the above will tell you exactly what happened, they can't capture just how it felt to watch all of that sheer madness unfold. Luckily, for every twist, turn and unbearably tense moment, there was a deeply appropriate Cubs reaction GIF.
The Cubs fall behind
Things weren't looking good for the North Siders -- despite a big home run from Grandpa Rossy, Chicago found itself trailing, 3-1, and then, 5-2, after five innings. A do-or-die Game 5 against Johnny Cueto loomed. Theo Epstein was not amused:
The offense stalls
Moore kept the Cubs off-balance all night with his fastball-slider combination, and he retired his final nine batters in a row. By the end of the eighth, all Chicago fans could do was smile:
And then, the rally
After 120 pitches, Moore was pulled in favor of Derek Law to start the ninth. After a Kris Bryant single and an Anthony Rizzo walk, Ben Zobrist stepped up against closer Sergio Romo with a chance to get the Cubs right back in the game. And that's exactly what he did, lacing a double down the right-field line that scored Bryant and put the tying run in scoring position. As you might imagine, he was pumped:
We're all tied up
The very next batter was Willson Contreras, who greeted new pitcher Will Smith with a ground ball back up the middle to even the score at 5. Theo was feeling much better:
Then came the lead
After a throwing error put Jason Heyward on second as the go-ahead run, defensive gum wizardJavier Báez hit another grounder through the middle -- and just like that, the Cubs had their first lead of the night. There was much rejoicing:
Victory
From there, it was mostly academic: Joe Maddon called on Aroldis Chapman, who summarily struck out the side in the ninth to end the game. The party was on:
Fly the W
While the Nationals and Dodgers still have a Game 5 on Thursday to determine who Chicago will meet in the NLCS, we know one thing for sure: We'll see you at Wrigley Field for Game 1 on Saturday on FOX/FS1.