Listen to Ford C. Frick Award-winner Bill King call the 2002 A's capping off their historic win streak
As far as Bay Area sports are concerned, few individuals stood as tall off the field as Bill King.
For decades, the man worked behind the microphone for the Warriors (from 1962 to 1983), Raiders (1966 to 1992) and A's (1981 until his death in 2005) -- and on Wednesday he was recognized as the 2017 Ford C. Frick Award recipient for his tireless work in the booth.
Bill King, Hall of Famer. Holy Toledo! #KingOfTheMic 🎙 pic.twitter.com/wEQZQsIdeR

— Oakland A's (@Athletics) December 7, 2016
Over the years, King called many a landmark moment for these teams in the Bay -- including much of the A's miraculous (and still rather unbelievable) 20-game winning streak in 2002.
And he had an impeccable facial hair situation, too:
Legendary @Athletics voice Bill King named 2017 Ford C. #FrickAward winner. https://t.co/BKvCiqEBU9 pic.twitter.com/2DohrIVooN

— National Baseball Hall of Fame and Museum ⚾ (@baseballhall) December 7, 2016
As seen atop this post, he and broadcast partner Ken Korach had quite an evening on Sept. 4 of that year, when Art Howe's club (riding a 19-game streak and gunning for a place in American League history) saw an 11-0 lead disappear ... circumstances that set the stage for Scott Hatteberg's pinch-hit heroics.
In fact, King's call of Hatteberg's walk-off homer against Jason Grimsley and the Royals was so strong it led to its own bobblehead tribute when the A's celebrated the moment's tenth anniversary:
That moment was as storybook as they come for an A's team that soared to unfathomable heights during the regular season.
The run also inspired Michael Lewis' now famous baseball book "Moneyball," which had its own Oscar-nominated film adaptation in 2011 -- and the movie's version of Hatteberg's moment included King's original call for authenticity's sake:
And a few years later, King's longtime radio partner Ken Korach (still the A's radio announcer) penned a biography of his friend, colleague and mentor:
The cinematic treatment of that A's club (and the one of the final few seasons of King's career) came after he passed away in 2005. After his death, the A's honored his legacy with a poignant pregame tribute on Opening Day 2006 against the Yankees: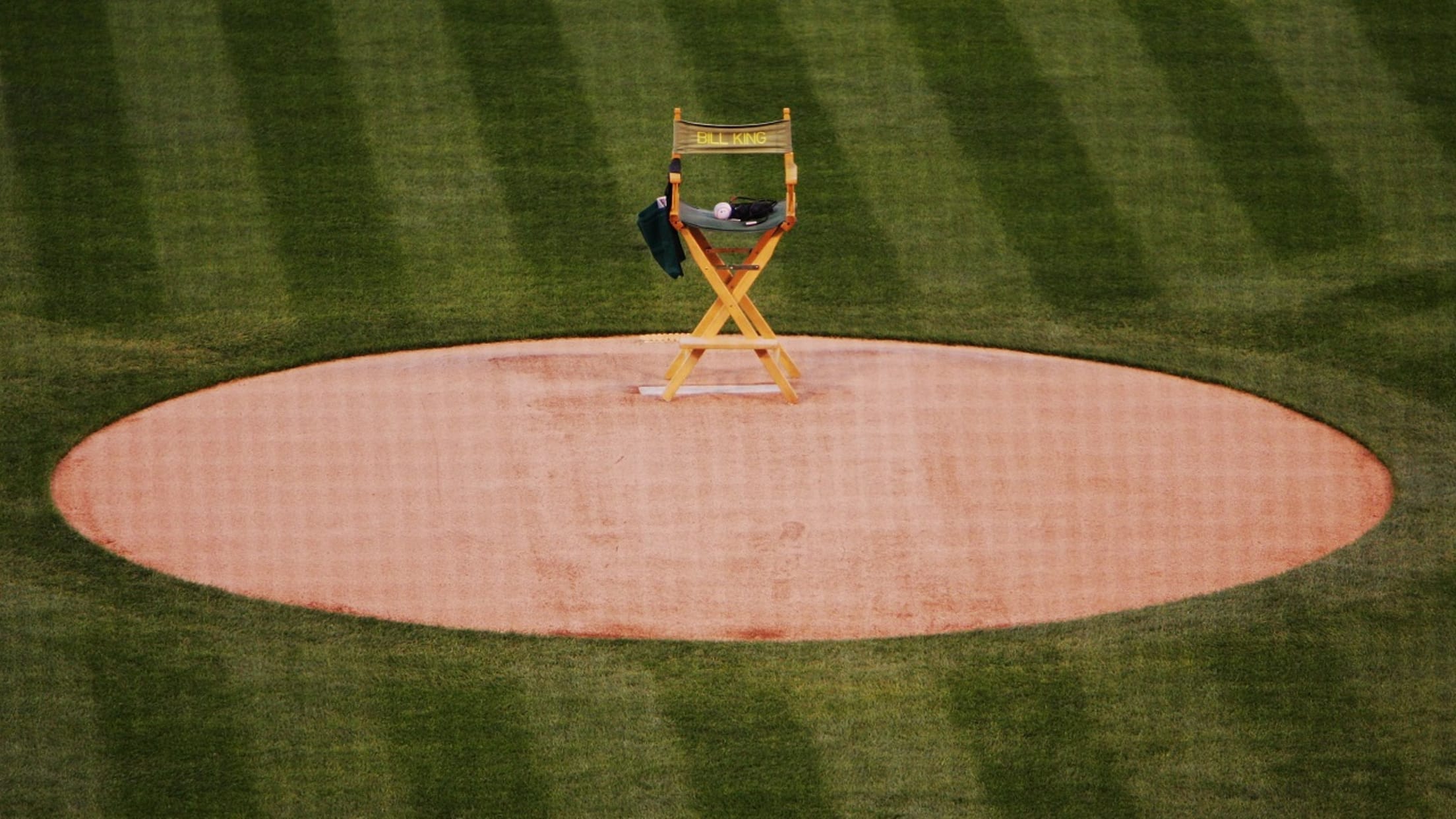 All of this -- the book, the universal acclaim, the reverence -- is a fitting honor for a figure as central to the concept of being a Bay Area sports fan as King was, so congratulations to him and his family.
Thrilled Bill King is the Ford C. Frick winner! Many fond memories. #HOF #athletics @athletics

— Dennis Eckersley (@Eck43) December 7, 2016