Bryce Harper helped a woman surprise her husband with news he's becoming a first-time father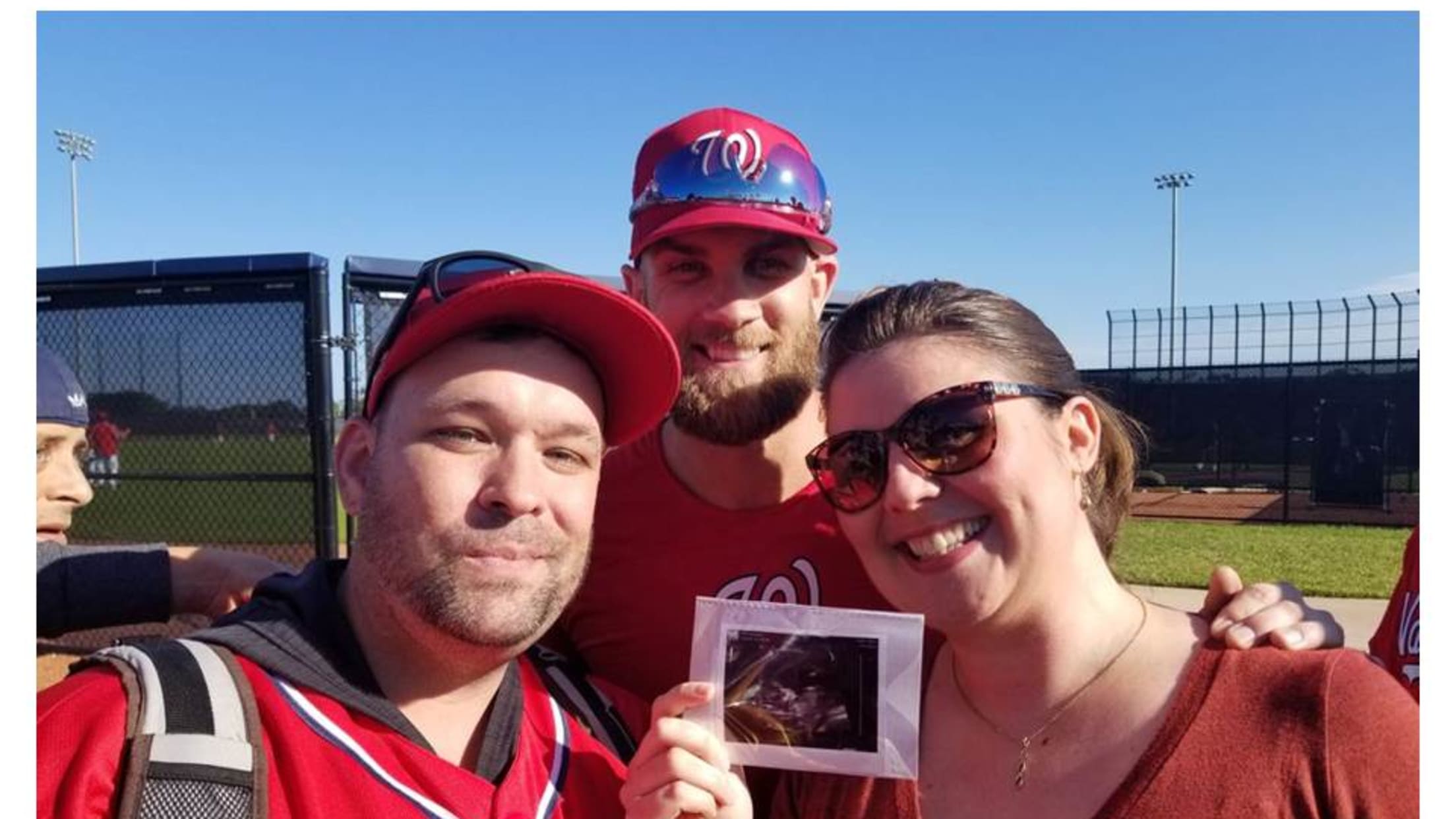 Before games -- even in Spring Training -- MLB players are usually locked in and focused on the task at hand. They're listening to music, getting worked on in the trainer's room or eating plates upon plates of chicken.
These rituals probably aren't any different for one of the best players in baseball, Bryce Harper. But on Tuesday night, before the Nats' spring tilt against the Mets, the five-time All-Star found time to help a woman surprise her husband with a very special announcement: The news that he would be a first-time father:
Biggest thank you to @Bharper3407 today with helping my wife tell me she's pregnant with our first child on our anniversary, at that. I am beyond words with happiness! @Nationals

(@masnKolko @chelsea_janes) pic.twitter.com/TlxeqNimK9

— William H. (@EmbersToAsh) March 13, 2018
MLB.com reached out to Will's wife, Lauren, who hatched the scheme. Lauren had just recently found out she was pregnant and was trying to figure out a fun way to tell her husband. When they decided to come down from their home in Orlando to Spring Training for their two-year anniversary, she knew it would be the perfect place to tie it in.
"So, here's how it happened," Lauren told us. "Today while Will was distracted and watching the team warm up, I caught a glimpse of manager Dave Martinez and I knew this was my chance. I managed to sneak away and caught up with [him]. I called him over and said I had a kind of strange, and probably far-reaching scheme in mind."
She went on to tell Martinez how her husband was the biggest Bryce Harper fan alive and wondered if the outfielder could somehow help her break the baby news to him.
"Coach, of course, was incredibly nice and congratulated me and said he would see what he could do. I was so excited and hopeful, but I had to try and contain myself so Will wouldn't get suspicious."
Then, as the team was heading back to the locker room, Martinez and Harper came walking directly toward Lauren and Will. Lauren says her heart was "beating through her chest" as Harper reached over the fence to sign Will's custom Harper bat. That's when she made her move.
"While [Will's] distracted by this, [Martinez] reaches over the fence to me where I secretly hand him a sonogram picture of our baby so he can hand it off to Bryce. After signing [the bat], Bryce looks at Will and says, 'Happy Anniversary and congratulations by the way,' and hands Will the picture. Will was just caught up in the moment and couldn't process what was happening. Then it hits him, Will turns to me and with the most confused and excited look on his face says, 'Really??!'"
Safe to say Will was a tad excited, yes.
TodYbis the best day of my life.

— William H. (@EmbersToAsh) March 13, 2018
On Wednesday morning, Bryce issued another congrats on Twitter -- along with a helpful suggestion for the child's name:
Congrats again! That was one of the cooler things I've ever done🙌🏻 So happy for you! Heard Harper is a great name haha https://t.co/aLGhXKv7ws

— Bryce Harper (@bryceharper3) March 14, 2018
Amazing job by everyone involved. Harper also put on a show in the Nats' 7-4 win, reaching base four times and playing right out of his helmet. Quite a day for all involved.
Teams in this article:
Players in this article: