A's prospect Kyler Murray could become the third Heisman Trophy winner to play in MLB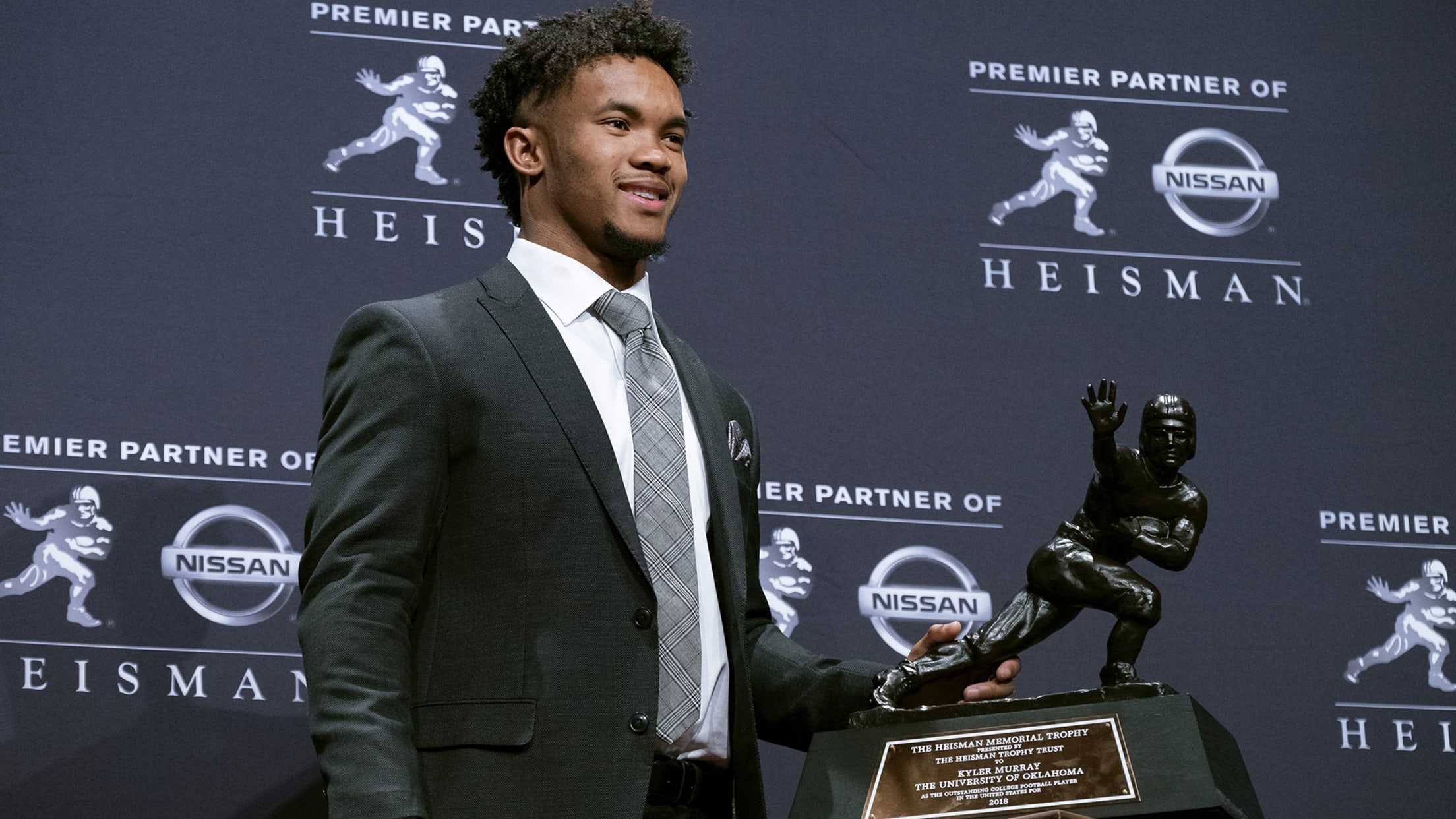 Oklahoma quarterback Kyler Murray holds the Heisman Trophy after winning the award Saturday, Dec. 8, 2018, in New York. (AP Photo/Craig Ruttle) (Craig Ruttle/AP)
On Saturday night, Oklahoma quarterback Kyler Murray was announced as the 2018 Heisman Trophy winner as the best player in college football after throwing for 4,053 yards and 40 touchdowns and adding 892 yards and 11 touchdowns on the ground.
Congrats, Kyler!

We made some small alterations to your new hardware. pic.twitter.com/Xti9vYAmYY

— Cut4 (@Cut4) December 9, 2018
He gets the award just months after the Oakland A's made him the No. 9 overall pick in the 2018 MLB Draft after hitting .296 with 10 home runs for the Oklahoma baseball team in the spring. He is currently ranked as the A's No. 4 prospect, according to MLB Pipeline.
M3 | Kyler Murray gets all of it for his 10th home run of the season.

OU 5, Kansas 0 pic.twitter.com/nUKEJcFLRF

— Oklahoma Baseball (@OU_Baseball) May 18, 2018
If Murray continues to pursue baseball, he could be on track to become the third Heisman winner to play in the Majors, following in the footsteps of 1985 Heisman winner Bo Jackson and 1952 winner Vic Janowicz. Janowicz played in 83 games for the Pirates in 1953 and 1954 while Jackson played eight seasons in the Majors for the Royals, White Sox and Angels. He even represented the Royals in the 1989 MLB All-Star Game.
Clearly, Murray has visions of following in Jackson's footsteps:
you vs. the guy she told you not to worry about pic.twitter.com/C1gr3Zg4v1

— Drew Silva (@drewsilv) November 16, 2018
Contending with Murray for the chance to become the third Heisman winner to play in an MLB game, of course, is 2007 Heisman winner Tim Tebow, who hit .273/.336/.399 in 298 plate appearances at the Double-A level in the Mets system in 2018. Either way, Murray has a chance to be part of a select and special group of athletes.