30 days until Spring Training: Once again, the Phillies will build around a flashy young shortstop
(Jason Wise)
Spring Training is less than a month away! Let us keep you company until the first pitcher-and-catcher workouts on Feb. 18 with a team-by-team countdown of reasons to get excited for the 2016 MLB season. Today: The Philadelphia Phillies.
Right off the bat, you might not think that Jimmy Rollins and J.P. Crawford have much in common. The former is a 5-foot-7, 37-year-old veteran with 16 years of MLB experience, a World Series title, an NL MVP Award, four Gold Glove Award, three All-Star appearances and a cameo in an MC Hammer video under his belt. The latter is a 6-foot-2 prospect with MLB dreams who was born four years after that MC Hammer video debuted.
The Phillies recently announced that the 21-year-old Crawford -- the No. 1 overall prospect in the organization and a top 10 prospect in all of baseball -- has earned himself an invite to MLB Spring Training this season, which means that youse better get ready to see if he can fill J-Roll's shoes in Philly. And those shoes are bigger than J-Roll's modest frame might suggest, considering that he's the Phillies' all-time leader in hits.
But if you think that "greatest shortstop in franchise history" or "all-time franchise hits leader" is too lofty a bar to ask Crawford to hurdle, just take the words straight from the horse's mouth:
Is the sky blue? RT @JohnC0leman: @Phillies #ProspectChat JP are you ready to fill the shoes of Jimmy in the upcoming years?

— Philadelphia Phillies (@Phillies) January 14, 2015
The thing is, that question came from a place that made a lot of sense:
- They're both shortstops (duh)
- They're both from California
- They both signed with the Phillies after getting drafted out of high school even though they had committed to play ball at Pac-12 schools (Rollins at Arizona State and Crawford at USC)
But here's where it gets really weird: They both have cousins who played Major League Baseball.
J-Roll's cousin, Tony Tarasco, played in eight MLB seasons for six different teams, maintained a .240 career average and hit 34 homers in 457 games. While those numbers might not leap off the page, you'll probably still recognize Tarasco ... because he was the guy who might have caught Derek Jeter's 1996 ALCS home run were it not for Jeffrey Maier.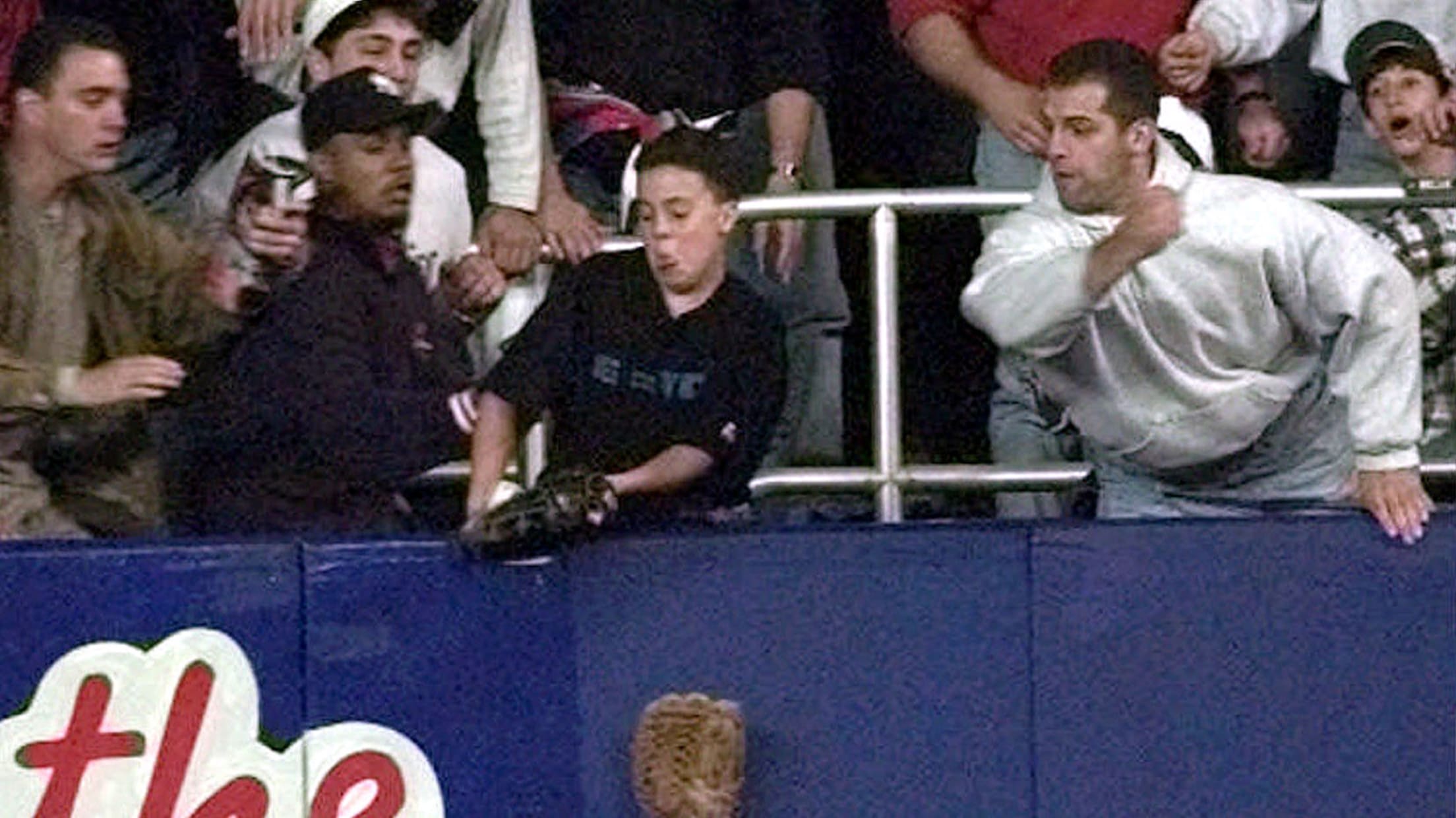 On the other hand, you've definitely heard of J.P. Crawford's MLB cousin. His name is Carl Crawford:
He's the active MLB leader in career triples and, as it so happens, a teammate of J-Roll's on the Dodgers. It all comes full circle ...
And, on top of all of that, there's the fact that they were both honored as the top Phillies Minor Leaguer when they won the Paul Owens Award in 1997 and 2014, respectively.
"@Phillies: The 2014 Paul Owens Award winners, RHP Luis Garcia and infielder @jp_crawford. #awardseason pic.twitter.com/t2DehPQMPH"

— jp crawford (@jp_crawford) September 13, 2014
Their on-field makeups might be a little different, seeing as how Rollins is seven inches shorter than Crawford and packs a little more speed and pop, both at the plate and on the bases. But -- even with the chasm between their statures and styles of play -- both play dazzling defense:
Both make you pay if you let them get on base:
And both pack enough punch at the plate to hit for double-digit home run tallies, which helped Rollins win the 2007 NL MVP Award and could help propel Crawford into similar conversations if all goes according to plan:
And it looks like they'll both make their MLB debuts at the age of 21. On Sept. 17, 2000, a 21-year-old Rollins made his debut for the Phillies. He went 2-for-4 with a triple, a walk and an RBI in a 6-5 Phils win over the Marlins. Crawford turned 21 on Jan. 11, so he'll have the entire 2016 season to try and match Rollins' sparkling big league entrance.
Crawford is just one of many bright spots with high upside for the new-look Phillies. They have a new GM in 35-year-old Dartmouth grad Matt Klentak. They turned Cole Hamels into a gaggle of potential stars including top catching prospect Jorge Alfaro last July, and recently traded closer Ken Giles to the Astros for a hault that included right-handed pitcher Mark Appel, who was the No. 1 overall pick in the 2013 Draft.
So there's plenty of help on the way for a club that finished 63-99 last season. But this reload all begins with J.P. Crawford.
Teams in this article:
Players in this article: