According to legend, Joe Mauer once had a secret rap studio in his house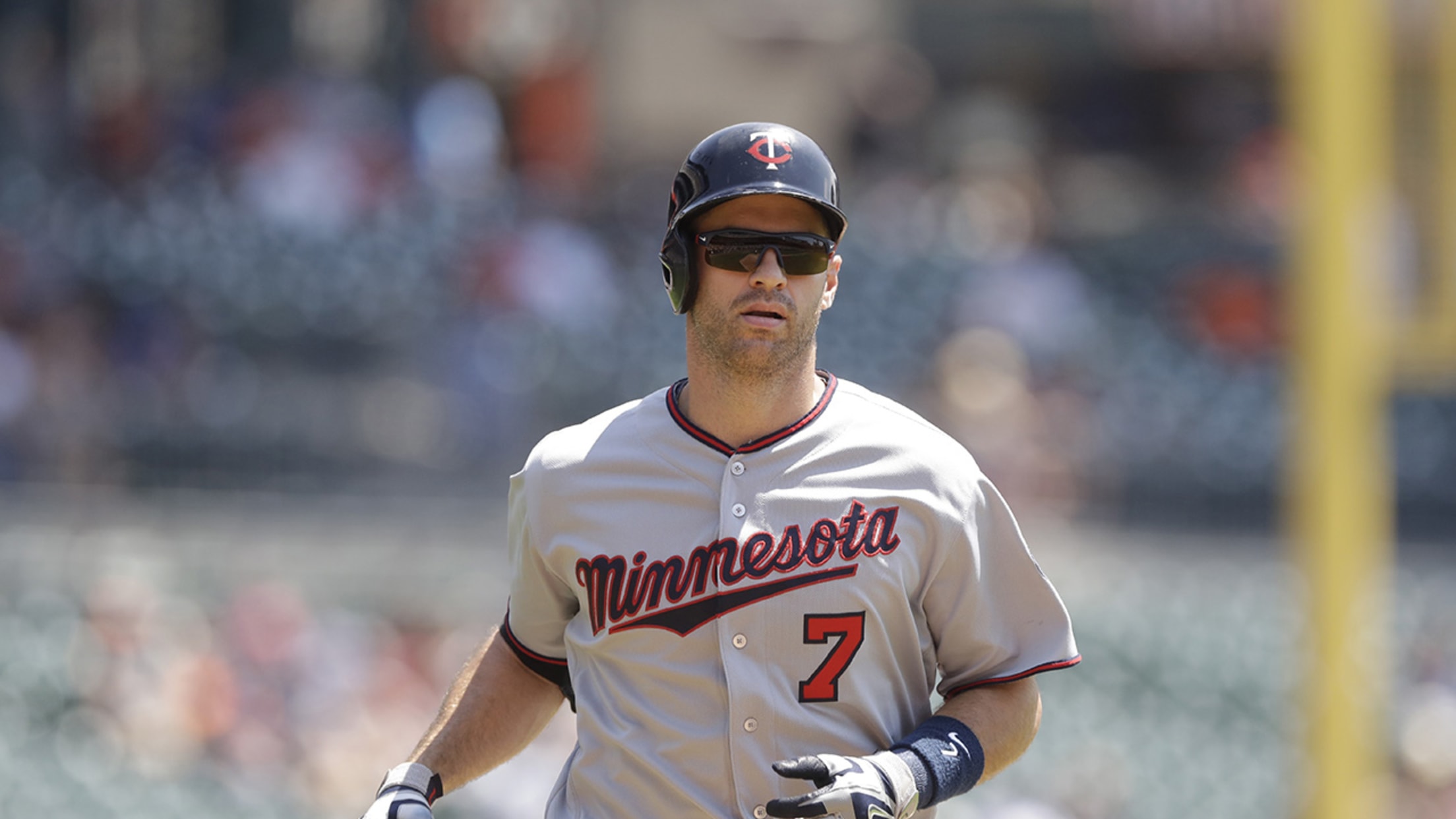 Minnesota Twins' Joe Mauer heads home after his solo home run during the first inning of a baseball game against the Detroit Tigers, Wednesday, July 20, 2016 in Detroit. (AP Photo/Carlos Osorio) (Carlos Osorio/AP)
The following is a transcript of a segment from this week's episode of the Cut4Cast podcast. To hear more of the Cut4 staff's weekly banterings about which position player is the best at pitching or how baseball would work in outer space, subscribe to the Cut4Cast by clicking here.
In this week's edition, Twins beat reporter Rhett Bollinger joined Gemma Kaneko to discuss team bonding, dance moves and Joe Mauer's deepest, most delightful secrets.
Gemma Kaneko: Is there any particular song that gets played a lot? Do the Twins have a specific song that they all like?
Rhett Bollinger: That's a good question. This year I haven't noticed one sticking out as much. In the past, I know they were big Prince fans, which was obviously fitting, because we're Minnesotans and we love our Prince.
So a lot of "Little Red Corvette" -- because that was [Torii Hunter's] favorite song. When Torii was on the Twins, that was always kind of the theme song, and they were always playing that. And Torii, even when he was on the Twins a couple of years ago, would make a different player sing the lyrics to it on the bus ride to the game every day. So whenever they were on the road, they'd have to sing "Little Red Corvette." Sometimes they would record it, and you could see the video of it.
Little Red Corvette

This is a Twins clubhouse ritual. Veterans make sure rookies know the words to "Little Red Corvette."

Posted by Minnesota Twins on Thursday, April 21, 2016
This camp, I haven't heard a consistent song as much. Guys kind of take over, because the music system in the clubhouse, at least, can be controlled by an iPhone. If Trevor May's doing it, it's going to be more like trance or dance kind of music. But if it's Brian Dozier, you're going to get country music. Torii, you might get a little bit more of Michael Jackson or hip-hop or R&B. It depends on the guy's tastes. But I do know in the past that "Little Red Corvette" was kind of the theme song on the Twins.
Gemma: I love that choice. I'm a big Prince fan, and I'm also very pro-team bonding by having to sing the same song a lot. Good for Torii. Are the other Twins good dancers?
Rhett: That's a good question. I know a couple of years ago, Torii did the awards show where he actually gave guys awards for their dance skills.
#TheToriiAwards were a hit. #TwinsDanceParty pic.twitter.com/fxraT5NOTu

— Dustin Morse (@morsecode) September 23, 2015
From what I've heard, I know that Brian Dozier's got some moves, Byron Buxton's obviously got some moves, he's so athletic. I've heard Kyle Gibson, being 6-foot-6 and kind of lanky, doesn't really have the moves. He just kind of awkwardly moves his body and his limbs a little bit, and players kind of make fun of him for it. Glen Perkins, the closer, he's obviously had a little injury now, but in general I heard he wasn't exactly the best dancer -- he was more apt to just watch and be like, "What are these guys doing?" as a veteran.
For the record: I won creepiest dance party watcher NOT creepiest dancer (not sure if that's better or worse). #ToriiAwards

— Glen Perkins (@glenperkins) September 24, 2015
But you know what's funny? I've heard Joe Mauer has got surprisingly good moves.
Gemma: Really?
Rhett: Yeah. I've heard Joe can actually dance out there. And Joe's an interesting guy, because he's so quiet and he's so hard to get to know in some ways, but Joe's really into music. At one point, the big story was he had his own rap studio in his house. So Joe's into the music.
I've heard they've put on the dance music, and he's come in and surprised everybody with his moves. It makes sense -- Joe's a great athlete, too. It's always those quiet guys you've got to watch out for. And sure enough, Joe is the quiet one who comes in and has got the moves.
Gemma: You just told me the greatest piece of Twins trivia that I've ever heard in my life, which is that Joe Mauer has a rap studio in his house.
Rhett: I don't know if he still does, but that was the rumor for a long time: At least in his old place, he had a rap studio in his home. That would be the greatest story of all time, to actually get audio of Joe rapping. And I don't know how much he did that himself, or if he'd go in and do his own beats, or what exactly he would do with that. But the fact that that existed, and the fact that there could be audio of Joe Mauer rapping in a studio -- that's really something that the world needs to hear.
Gemma: You have just given me two new life goals. One is to find this audio and give it to the world, and the other is to get Joe Mauer to come on the podcast and freestyle.
Rhett: Yes. That would be awesome. That would be something the fans would definitely enjoy hearing that out of Joe Mauer, that'd be for sure.
To hear more about the Twins (and Phil Hughes' deep and enduring dedication to "The Bachelor"), listen to the Cut4Cast here.
Teams in this article:
Players in this article: