Jordan Hicks can't believe what he looked like in high school ... even though it wasn't that long ago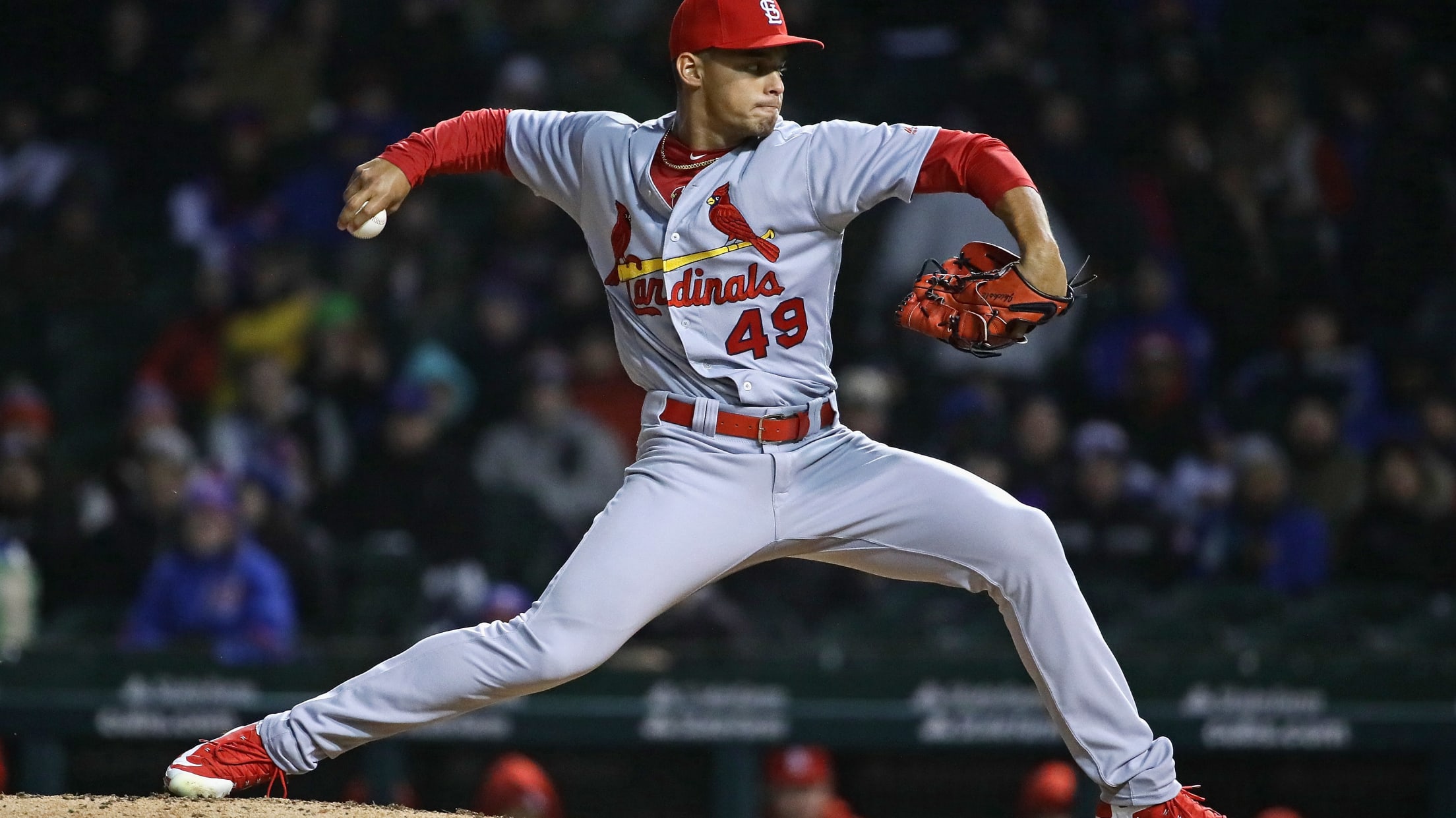 CHICAGO, IL - APRIL 17: at Wrigley Field on April 17, 2018 in Chicago, Illinois. The Cardinals defeated the Cubs 5-3. (Photo by Jonathan Daniel/Getty Images) (Jonathan Daniel/Getty Images)
Cardinals rookie reliever Jordan Hicks has gotten a lot of attention this season for two primary reasons: 1. Born on Sept. 6, 1996, Hicks is one of the youngest players in MLB, and 2. He throws harder than almost any pitcher we have ever seen.
Everything has happened pretty quickly for the young right-hander -- he skipped Double and Triple-A on his fast track to the big leagues, and he's now a key part of the Cardinals bullpen. It was just a few years ago that Hicks was a high school pitcher from Texas looking to get drafted.
When video resurfaced of Hicks pitching at a high school showcase, he couldn't believe how different he looked:
How about Jordan Hicks throwing 105 mph for the @Cardinals yesterday?!?! Video from fall of his senior year in HS (2014) where he pitched at 86-89 mph and touched 90 at our South Qualifier. Was up to 93.6 mph in Jupiter a month later https://t.co/kGldWgz4Sf pic.twitter.com/11N3PGTl1x

— Perfect Game USA (@PerfectGameUSA) May 21, 2018
I was so small👀😳 https://t.co/uFQvY4mnzx

— Jordan Hicks (@Jhicks007) May 22, 2018
Hicks' fellow reliever Sam Tuivailala begged to differ:
Here are some other highlights from the baseball world of social media from over the last week:
Aaron Judge and the Yankees are off to a great start in 2018. But could a position switch be in store for the 6-foot-7 outfielder?
👀😂 @TheJudge44 #Toe pic.twitter.com/caCuVrUYv0

— Gleyber Torres (@TorresGleyber) May 22, 2018
Practice makes perfect! 😂 https://t.co/43lokmrVuE

— Aaron Judge (@TheJudge44) May 22, 2018
Phillies pitching prospect Connor Seabold has been having a solid year for the Class A Advanced Clearwater Threshers, but he had yet to get credit for a win until Tuesday ... in his eighth start of the season. He was happy to get the monkey off his back:
FINAL (7): Threshers 11, Mets 1
W - Seabold (1-3)
L - Cornish (1-3)

— Clearwater Threshers Baseball (@Threshers) May 23, 2018
Braves center fielder Ender Inciarte had a scary moment in Sunday's game against the Marlins when he crashed into the wall trying to catch a Justin Bour fly ball.
One of Inciarte's youngest fans was a bit concerned about his favorite outfielder:
He was worried.. can I get a retweet @enderinciartem pic.twitter.com/zIeADbM2Kz

— John Dennison (@john_dennison10) May 22, 2018
Inciarte assured him that he was OK:
Little buddy was worried (Oh no!) but glad it wasn't anything bad. Thank you guys! https://t.co/XQDTj8CwKH

— Ender Inciarte (@enderinciartem) May 22, 2018
Teams in this article:
Players in this article: