Look back at the some of the best Rule 5 Draft picks of the last decade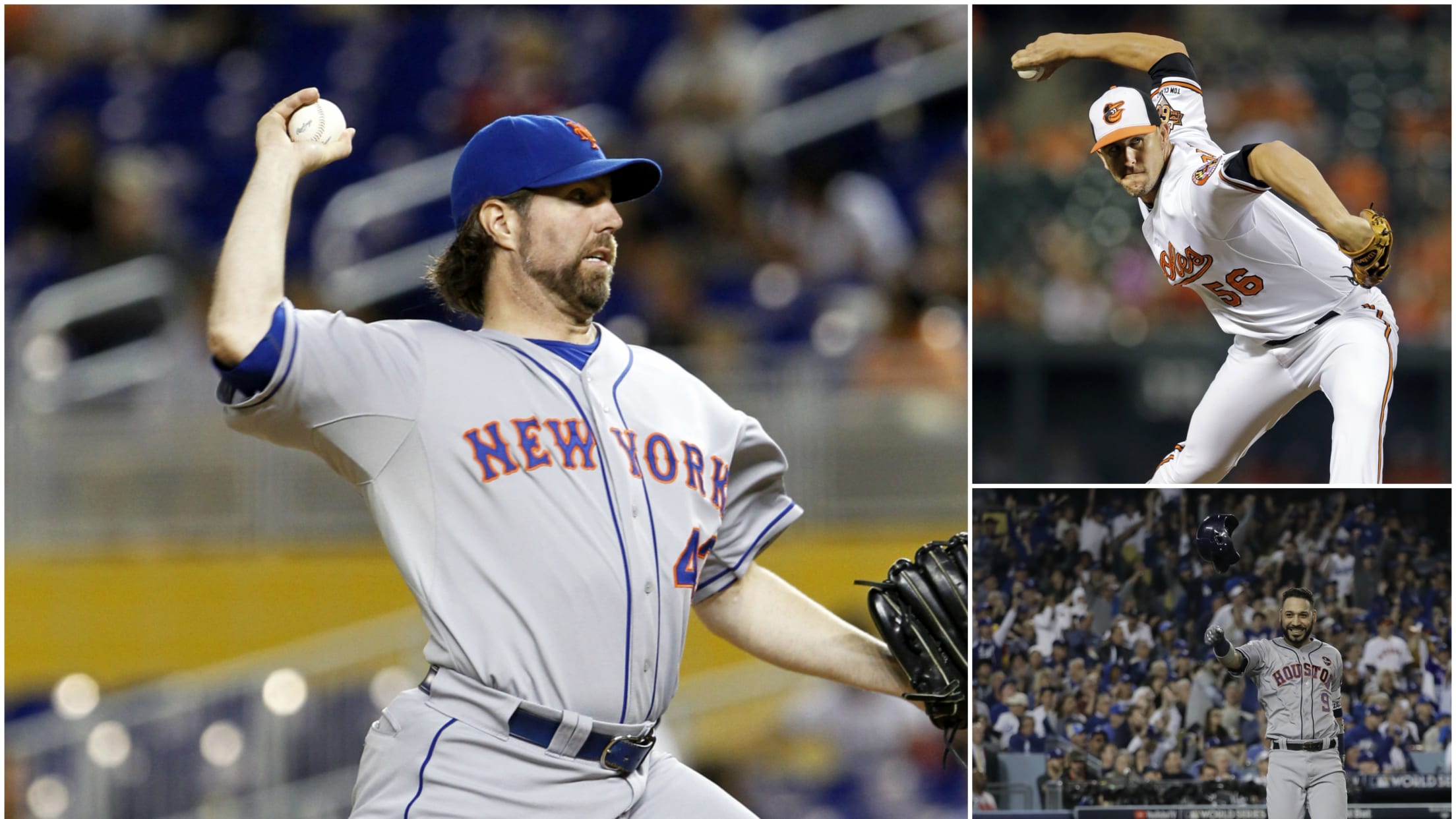 Each year, the Winter Meetings conclude with the Rule 5 Draft, in which select players who are not on their teams' 40-man rosters are eligible for selection. In order for a drafting team to retain a Rule 5 draftee, though, that player must remain on their 25-man roster for the entirety of the first season after being drafted.
Though many of the players selected do not go on to long Major League careers, the draft's history is filled with Hall of Famers -- such as Roberto Clemente and Grover Cleveland Alexander -- and All-Stars, such as Johan Santana (1999), José Bautista (2003) and Josh Hamilton (2006).
In preparation for Thursday's Rule 5 Draft, let's look at some of the best players to come out of it in the last decade.
R.A. Dickey (Mariners, 2007)
After years of toiling away with a mid-80's fastball, Dickey was in the midst of transforming into a knuckleballer when the Mariners selected him in the 2007 Rule 5 Draft. The knuckleball, though, was clearly a work in progress:
Practice, however, made perfect. Two Minor League deals later -- Twins in 2009 and Mets in 2010 -- Dickey had mastered the pitch and transformed himself into an All-Star and Cy Young-caliber pitcher. While the Mariners didn't reap the rewards, their selection of Dickey in the Rule 5 Draft began a chain of events that led to that pitch becoming truly nasty.
Everth Cabrera (Padres, 2008)
As a young, light-hitting middle infielder, Cabrera is an archetypal Rule 5 draftee. Unlike some others on this list, however, Cabrera's success wasn't the result of a real change in profile. When the Padres drafted him in 2008, he had never played above Class A but could run and play solid defense at a difficult position. Thanks to those skills, Cabrera was the Padres' primary starter at shortstop for five of his six seasons in San Diego, which culminated in him taking home the NL stolen base crown in 2012 with 44 steals.
Darren O'Day (Mets, 2008)
After selecting O'Day in the 2008 Rule 5 Draft, the Mets designated the submariner for assignment just four appearances into his career in Queens, despite putting him on their Opening Day roster in 2009.
The Rangers claimed him and stuck him in a game so quickly that he had to wear a teammate's jersey.
From that moment on, O'Day was one of the most reliable relievers in the game, with 55+ innings pitched and a sub-2.30 ERA in six of the next seven seasons, culminating in an All-Star selection in 2015 with the Orioles.
Marwin Gonzalez (Red Sox, 2011)
Following the 2011 season, the Astros were very clearly playing the long game in developing a championship team. So, when the Red Sox drafted Gonzalez -- a 22-year-old middle infielder who had already reached Triple-A in the Cubs' system - the Astros pounced, trading for him on the very same day.
Despite, hitting .227 over his first two seasons in Houston, the Astros stuck with him. Gonzalez rewarded them not only by becoming an above-average hitter from 2014 on and leading the Astros in RBIs in 2017, but with a home run in Game 2 of the World Series to force extra innings in an eventual Astros win:
Hector Rondon (Cubs, 2012)
Injuries limited Rondon to 40 2/3 innings pitched from 2010 - 2012. When the Cubs grabbed him in the Rule 5 Draft, they placed the former starter in their bullpen. They stuck with him as he struggled with command in 2013, and it paid off. By 2014, Rondon was their closer and picked up 77 saves over the next two-and-a-half years. Only the arrivals of Aroldis Chapman and Wade Davis removed him from that role.
Tommy Kahnle (Rockies, 2013)
Kahnle is proof that, with Rule 5 picks, a little patience can pay big dividends. The Rockies took him out of the Yankees' farm system in 2013 and threw him in their Major League bullpen. In his two years with the Rockies, he performed well away from Coors Field -- 3.46 ERA in 54 2/3 innings -- but was felled by the Rocky Mountain air -- 5.51 ERA in 47 1/3 innings.
Prior to 2016, the White Sox traded for him and Kahnle took off. Fast-forward one-and-a-half years and the Rule 5 pick -- since traded back to the Yankees -- was on the mound to close out an elimination game in the postseason.
Justin Bour (Marlins, 2013)
If the Major League portion of the Rule 5 Draft is a low-odds gamble, the Minor League portion is a true shot in the dark. Despite that, the Marlins didn't miss when they selected Bour, a 25-year-old first baseman, out of the Cubs system. From April through the beginning of June, he tore up Triple-A to the tune of a .330/.407/.562 batting line. He bounced between Miami and Triple-A for the rest of the season.
By late-April 2015, Bour earned another call to the Majors and made it stick. He hit 23 home runs with an .800 OPS to earn him a fifth-place finish in the National League Rookie of the Year race.
By 2017, Bour found himself hitting mammoth home runs in the Home Run Derby in front of his home fans:
Odubel Herrera (Phillies, 2014)
Despite winning a Texas League batting title, the Rangers weren't able to protect Herrera due to a glut of prospects. The Phillies swooped in and immediately moved the second baseman to center field in Spring Training.
He finished his rookie season tied for the team lead in hits and -- true to his name -- also led the Phillies in doubles.
The next season, he was named an All-Star and, perhaps more importantly, established himself as one of the top bat flippers in the game, launching his bat for everything from home runs to sacrifice flies:
The next Rule 5 superstar may well be lurking in this year's crop of talent. Which team will find the next Dickey or Herrera? If history is any guide, it may be a couple years until we know for sure.