Mike Piazza's Hall of Fame career might never have begun if not for Tommy Lasorda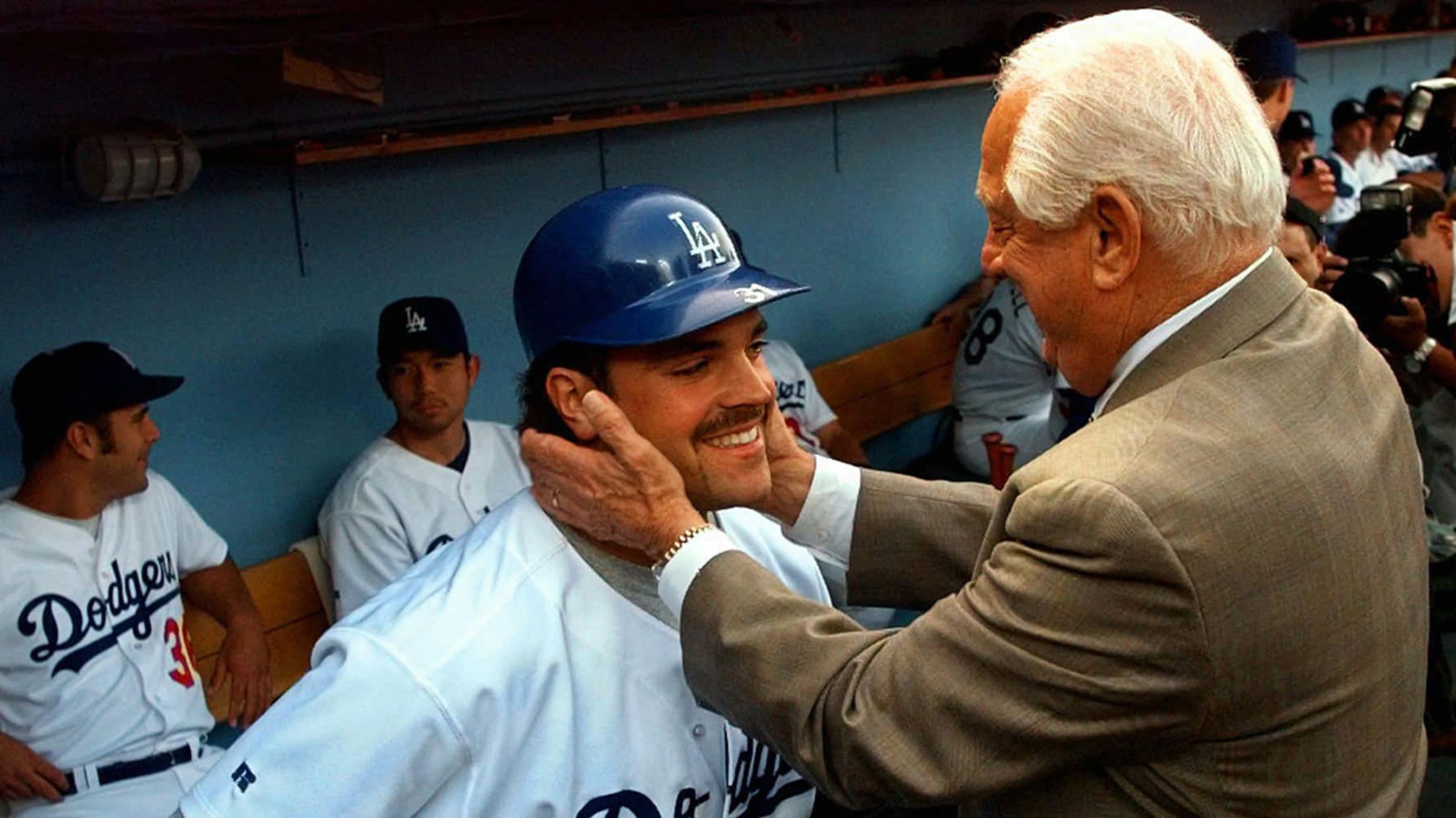 Former Los Angeles Dodgers' manager and Baseball Hall of Fame member Tommy Lasorda shares a moment with his godson, Mike Piazza, prior to a ceremony to retire his jersey Friday, Aug. 15, 1997, in Los Angeles. (AP Photo/Mark J. Terrill) (MARK J. TERRILL/AP)
Mike Piazza will be bringing his fantastic facial hair to Cooperstown this summer, and with good reason -- between his 427 career home runs and .308/.377/.545 slash line, he's arguably the greatest hitting catcher in baseball history. But the baseball world was dangerously close to missing out on all those dingers entirely. Luckily, one inspirational dental patient was there to save the day: Tommy Lasorda.
Piazza's father Vince grew up with the Dodgers legend in Pennsylvania, eventually even asking him to serve as godfather to Mike's younger brother Tommy. As the 1988 Draft approached, Piazza -- then a first baseman -- was largely ignored by scouts at Miami-Dade Community College, so his dad asked that Lasorda draft him if no other team would:
Lasorda agreed, finally convincing Dodgers scouts to take Piazza in the 62nd round, 1,027th overall. But that was just the beginning of an uphill battle -- L.A. still didn't want to sign the rookie, unsure if his bat would play at his current position. So Lasorda hatched an idea, as he told the San Francisco Chronicle:
I had him work out for our scouting director and after a while, I finally said, "I tell you what, if we brought a shortstop in here and he swung the bat like that, wouldn't you sign him?" He said, "Yeah, if he was a shortstop" I said, "What if he was a catcher?" He said, "I'd sign him if he was a catcher."

I said, "OK, he's a catcher." He said, "He's not a catcher." I said, "He's a catcher now. Sign him. All he wants is a chance."
The team eventually caved, signing Piazza for a mere $15,000. Lasorda had gotten him his chance, but it was Piazza who made the most of it. Without speaking any Spanish, he played winter league ball in Mexico and even trained at the Dodgers' baseball academy in the Dominican Republic, determined to get the hang of his new position.
It's safe to say things worked out: Piazza won NL Rookie of the Year after hitting 35 homers in 1993, quickly becoming one of the best players in the league. And when Lasorda decided to retire after a heart attack in July 1996, Piazza made sure to send him off a winner in his final game:
Given all that history, we can only hope Piazza's induction speech this summer will just be five uninterrupted minutes of Lasorda turning down for what.