Minor League Road Trip, Day 2: Let's talk Minor League mascot names with some Minor Leaguers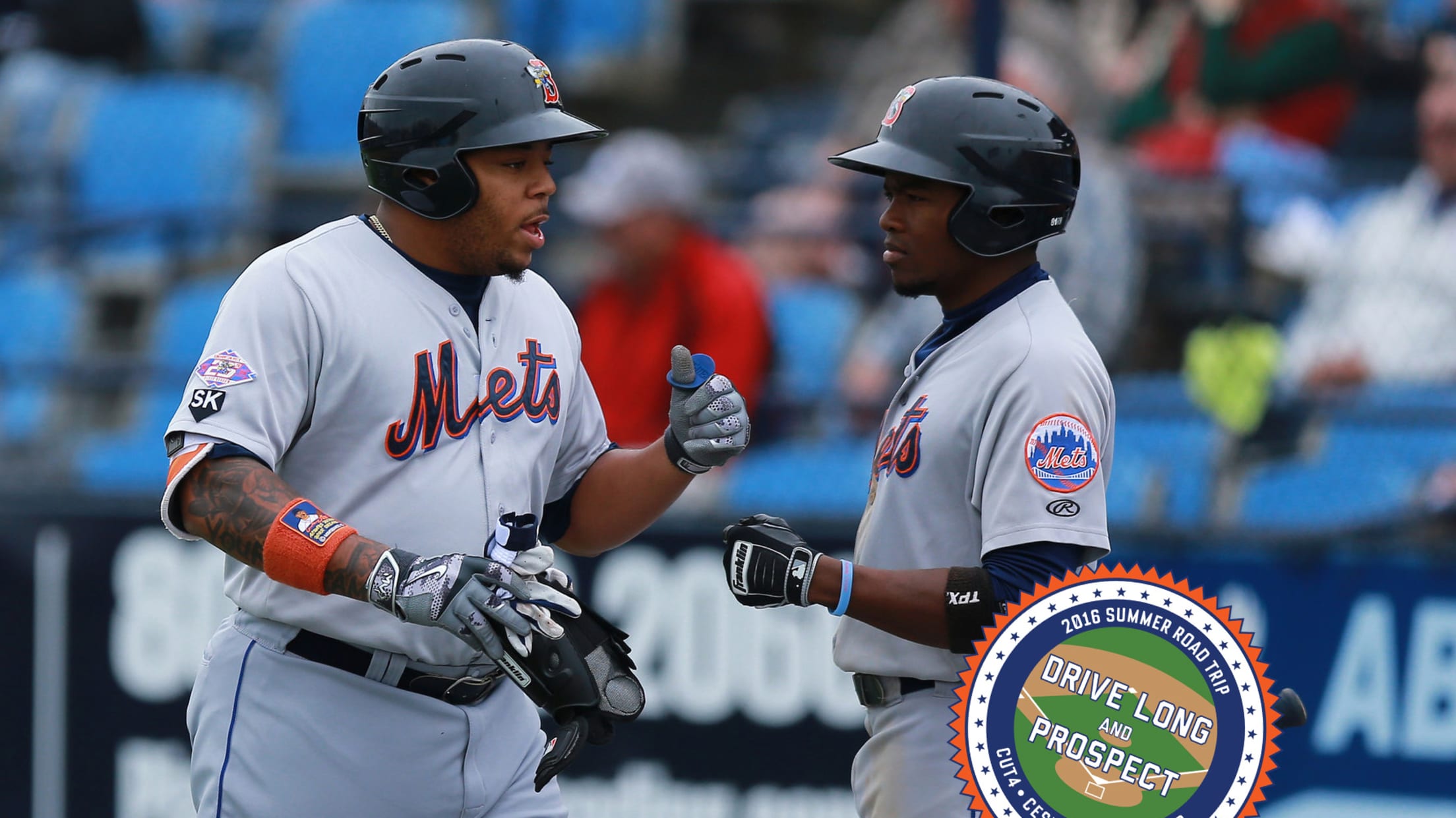 The guys behind Cespedes Family BBQ have embarked on a cross-country road trip to see as many Top-100 MLB prospects as possible. You can find an introduction to the trip and the full schedule by clicking here, and a recap of their travels to date right here.
This July, Ken Griffey Jr. and Mike Piazza will be inducted into the Baseball Hall of Fame. Their induction will be the culmination of decades of hard work, blood, sweat and tears. These legendary players have waited years to see their names on a plaque on the Hall's walls, forever etched into baseball history. It was dedication and persistence that got Griffey and Piazza into the Hall. Us? We picked up some tickets and walked right in.
Despite our immense lack of baseball talent, they let us in the Hall of Fame. Then, they showed us a bunch of super dope old stuff including Mo Berg's cup.
After grabbing a quick bite with the Mayor of Cooperstown, Jeff Katz (who is shockingly a huge baseball fan and scholar), we motored our way back down south to Binghamton, home of the B-Mets. The new ownership in Binghamton recently announced that the team would be changing its name from the Mets to ... something new.
The finalists for the new team name aren't exactly what you'd call traditional -- they sound more like Urban Dictionary searches than Minor League baseball teams. Whether they become the Bullheads, the Gobblers, the Timber Jockies, the Stud Muffins or the Rumble Ponies (no, actually), the new team name is sure to turn some heads once it gets announced later this year.
So, we sat down with a few Binghamton players to find out their thoughts on the possible new team names.
After getting our creative suggestions blasted out of thin air by a gaggle of professional baseball players, we had a challenge for MLB Pipeline's No. 1 Mets prospect, Dominic Smith: How well does he know the lyrics of his fellow Compton native Kendrick Lamar? We went head-to-head to find out:
Hey Kendrick, if you're watching, I'll do better next time.
We also did a Facebook Live chat with Mr. (but not Mrs.) Smith:
The Game, haiku recap:
Dominic Smith Bomb
The BBQ bump is real
Ray Black Throws Ball Hard
B-Mets 7, Flying Squirrels 6: After talking to us for too long, Dominic Smith blasted a big fly, thus proving that any prospect we talk to will immediately dominate thereafter. We also caught No. 2 Mets prospect Amed Rosario making his first Double-A start of the year after being promoted from the Class A St. Lucie Mets earlier this week. Rosario and Smith both impressed us, especially considering they're the two youngest players on the B-Mets by about two years. They're better than us -- at baseball. We're better at tweeting. We also saw Richmond pitcher Ray Black, who throws harder than just about everyone in the world except for Aroldis Chapman ... and Sidd Finch, of course. His appearance in the eigth inning featured a lot of 98's, some 99's, and yes, even a 100-mph pitch.
The baseball in Binghamton was good, but the people over there were even better. Definitely one of the nicer, more helpful and entertaining Minor League staffs we've come across. 10/10, would interact with again.
Random Stuff
- PABLO SANCHEZ ACTUALLY MADE THE HALL OF FAME
- Jake got a dope tattoo
- We listened to a lot of Justin Timberlake in the car. Remember when he played a Minor Leaguer the 2009 film "The Open Road?" We don't! But here's proof it happened:
Where We Woke Up: Binghamton, N.Y.
Where We Slept: Albany, N.Y.
Miles Driven: 297
Miles Driven to date: 600
Time in Car: 4:53
Time in Car to date: 10:20
Song of the Day: "What Goes Around" by Justin Timberlake. We're pretty sure it was written about waking up in Binghamton and driving 90 minutes to Cooperstown only to turn right back around and return to Binghamton in time for a baseball game. 'Cause that's what we did.
Tomorrow's Plan
Our trip to San Diego resumes tomorrow as we continue driving further away from San Diego! Google Maps might be messing with us or something. We'll be heading up to Manchester to see the New Hampshire FisherCats take on the Harrisburg Senators.