The six most remarkable deals of Brian Cashman's 20 years leading the Yankees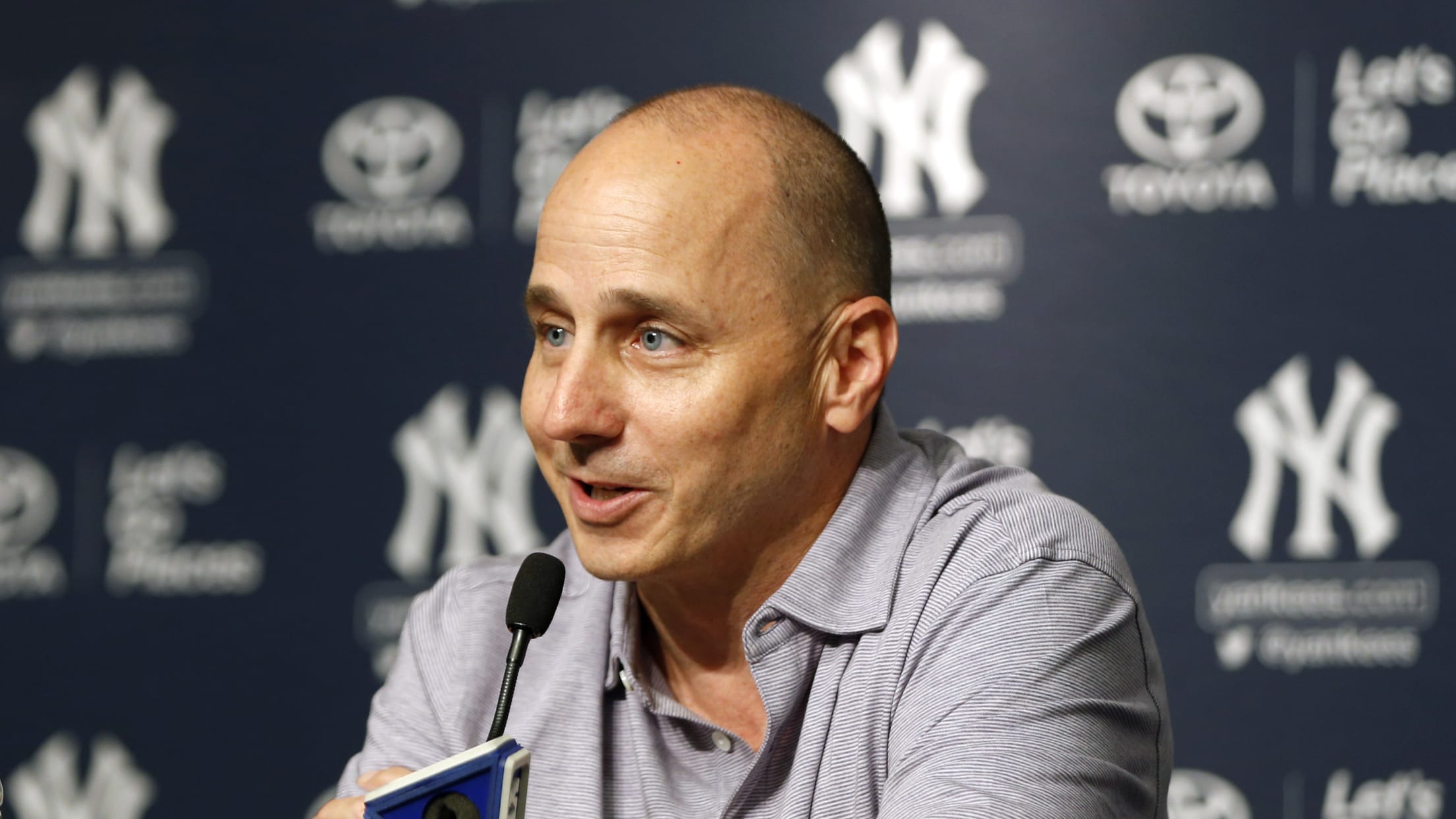 New York Yankees general manager Brian Cashman speaks to reporters during a press conference in which he addressed the Yankees trades and acquisitions at Yankee Stadium in New York, Monday, July 31, 2017. (AP Photo/Kathy Willens) (Kathy Willens/AP)
This Saturday might seem like just another quiet day in February as fans prepare for Spring Training to start, but it marks a big milestone for Brian Cashman. That's because on Feb. 3, 1998, the Yankees made Cashman their general manager -- at age 30, the second-youngest in MLB history at the time.
It was a tremendous match from the start, as the Yankees won 114 games and a World Series title in Cashman's first year on the job, and his excitement was on display at the Fall Classic:
Cashman has added three more World Series rings to his collection since then, not to mention five pennants and 15 postseason appearances.
Such success requires some big moves, and Cashman has rarely hesitated to pull the trigger on a big deal. So, for his 20th anniversary, here's a look back at a few of his most famous trades.
David Wells for Roger Clemens
Even after one of baseball's all-time great seasons in 1998, Cashman wasn't content to rest on his laurels. On Feb. 18, 1999, he sent ace David Wells as well as Graeme Lloyd and Homer Bush to the Blue Jays in exchange for a former Yankees nemesis -- two-time defending American League Cy Young Award winner Roger Clemens.
It wasn't a slam-dunk decision: Wells was incredibly popular, coming off a season in which he threw a perfect game and helped New York to a title by winning ALCS MVP honors. Cashman wanted Clemens, though, so the trade was made.
Clemens wasn't his normal Cy Young self in 1999, but he did throw 7 2/3 brilliant innings in the World Series Game 4 clincher against the Braves. He would go on to lead the Yankees to another title in 2000 before winning his sixth Cy Young Award in 2001 as the leader of the Yankees' pitching staff.
Ricky Ledee for David Justice
The Yankees were in a bind in June 2000, trailing the Blue Jays in the AL East with an offense that had sagged to the lower half of the league in runs scored. To give the lineup a boost, Cashman swung a trade with the Indians on June 29, sending left fielder Ricky Ledee and pitching prospects Jake Westbrook and Zach Day to Cleveland in exchange for veteran slugger David Justice.
Ledee would have some fine seasons with the Phillies and Westbrook became a staple in the Indians' rotation for the rest of the decade, but there's no way that Cashman regretted this deal for a moment. Justice immediately stepped in to provide some pop, bashing 20 homers in 78 games the rest of the way as the Yankees overtook the Blue Jays for the division title.
Then, in the ALCS against the Mariners, Justice earned MVP honors thanks to this crushing blow in the decisive Game 6:
Without Justice, the Yankees would have had a hard time capturing their third straight championship under Cashman.
Alfonso Soriano for Alex Rodriguez
More than a decade before Cashman sent shockwaves through the baseball world by acquiring a reigning MVP, he did the same thing just before Spring Training began in 2004. The Yankees GM acquired 2003 AL MVP Alex Rodriguez from the Rangers for All-Star second baseman Alfonso Soriano and a player to be named later (Joaquin Arias, though it was nearly future superstar Robinson Cano).
It had been a long offseason of rumors surrounding A-Rod, as the rival Red Sox had nearly traded for him themselves. No one really expected Cashman to get involved since he already had his own icon at shortstop in Derek Jeter. When A-Rod agreed to move to third base, though, a deal came together.
All A-Rod did with the Yankees was earn seven All-Star selections, win two AL MVPs and club six homers in the 2009 postseason as the Yankees won their 27th championship.
C.J. Henry for Bobby Abreu
Approaching the 2006 Trade Deadline, Cashman's Yankees were in a situation similar to 2000. They were stuck in second place, and injuries to Gary Sheffield and Hideki Matsui had taken their toll on the outfield's offensive production. And just as he did in 2000, Cashman swung a trade to jolt the lineup, sending a prospect package led by the Yankees' top pick in the 2005 MLB Draft, C.J. Henry, to the Phillies for starter Cory Lidle -- and more importantly, Bobby Abreu.
Abreu had become an All-Star right fielder in Philadelphia for his power and plate discipline, and he brought plenty of that to the Bronx:
None of the Minor Leaguers ever panned out for the Phillies, but Abreu hit .330/.419/.507 in 58 games down the stretch as the Yankees surged past the Red Sox for their ninth consecutive AL East title.
Wilson Betemit for Nick Swisher
The 2008 campaign was the first time that the Yankees failed to make the playoffs since 1993. Cashman responded by signing CC Sabathia, Mark Teixeira and A.J. Burnett to big free agent contracts, but he probably reaped the most value from an under-the-radar trade he made with the White Sox very early on. Back in mid-November, the Yankees traded infielder Wilson Betemit and a pair of Minor League pitchers to Chicago for Nick Swisher.
After a promising start to his career in Oakland, Swisher's career had taken a stumble during his one year on the South Side of Chicago. He surged back to prominence with the Yankees by slugging 105 homers over the next four seasons, which included a World Series title and four straight postseason appearances.
And all it cost the Yankees was a bench player.
Shane Greene for Didi Gregorius
At the end of the 2014 season, Cashman faced a tall task: Find the man to replace Jeter at shortstop. His answer? Didi Gregorius.
Some people were perplexed by Cashman's move. Gregorius was considered a nice defender with the D-backs, but he had only managed to hit .243/.313/.366 across parts of three seasons. He had even spent 57 games back in Triple-A Reno in 2014. Moreover, the starting pitcher he surrendered to the Tigers in the three-team trade for Gregorius, Shane Greene, had notched a solid 3.78 ERA with the Yankees in his rookie season.
So, what was Cashman thinking? Well ...
... as it turned out, Gregorius' bat just hadn't fully developed yet. His defense was excellent as expected, but his lefty swing was well-suited to Yankee Stadium, too. While Greene became a reliever, Gregorius hit 45 homers between the 2016-17 seasons, even breaking Jeter's franchise record for homers by a shortstop in a single season.
Who knows what Cashman will think of next?
Teams in this article:
Players in this article: