This #NationalHotDogDay, let's celebrate 10 of the wildest hot dog creations from around MLB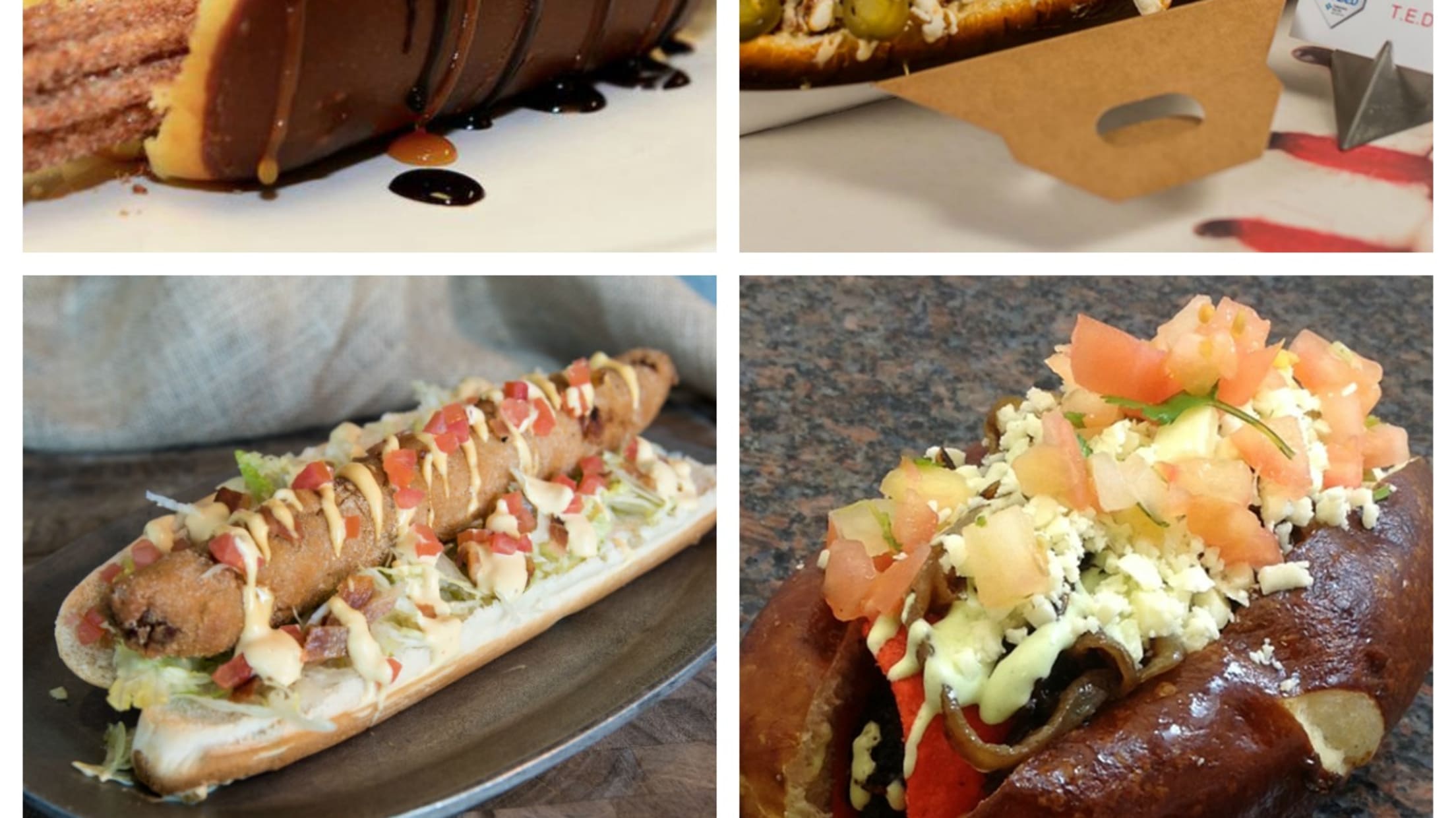 It's true, every dog does have its day. No, not those dogs -- man's other best friend, the hot dog. Once a year, we pause to celebrate baseball's most iconic foodstuff, and that time has come again: Happy National Hot Dog Day, everybody!
Everyone's favorite sandwich (that's right, we said it) has caused a lot of conflict in recent years. But on this most sacred holiday, let us instead come together in celebration of some of the craziest hot dog creations from MLB ballparks all across the country. (Note: The below list is by no means inclusive, so if you don't see your favorite, let us know in the comments.)
The Boomstick (Globe Life Park)
Nelson Cruz may no longer be a Ranger, but the hot dog that bears his nickname is alive, well and still deeply delicious: $26 and two full feet worth of chili, cheese and grilled onions (jalapenos optional). But even that description undersells just how monumental the Boomstick is up close:
The Churro Dog (and other Chase Field creations)
From the mad hot dog scientists who brought you the D-bat and the Cheeseburger Dog comes the Churro Dog: For those who prefer their dogs on the very, very sweet side. Like, "cinnamon churro sitting inside a chocolate donut topped with frozen yogurt, whipped cream and caramel sauce" sweet.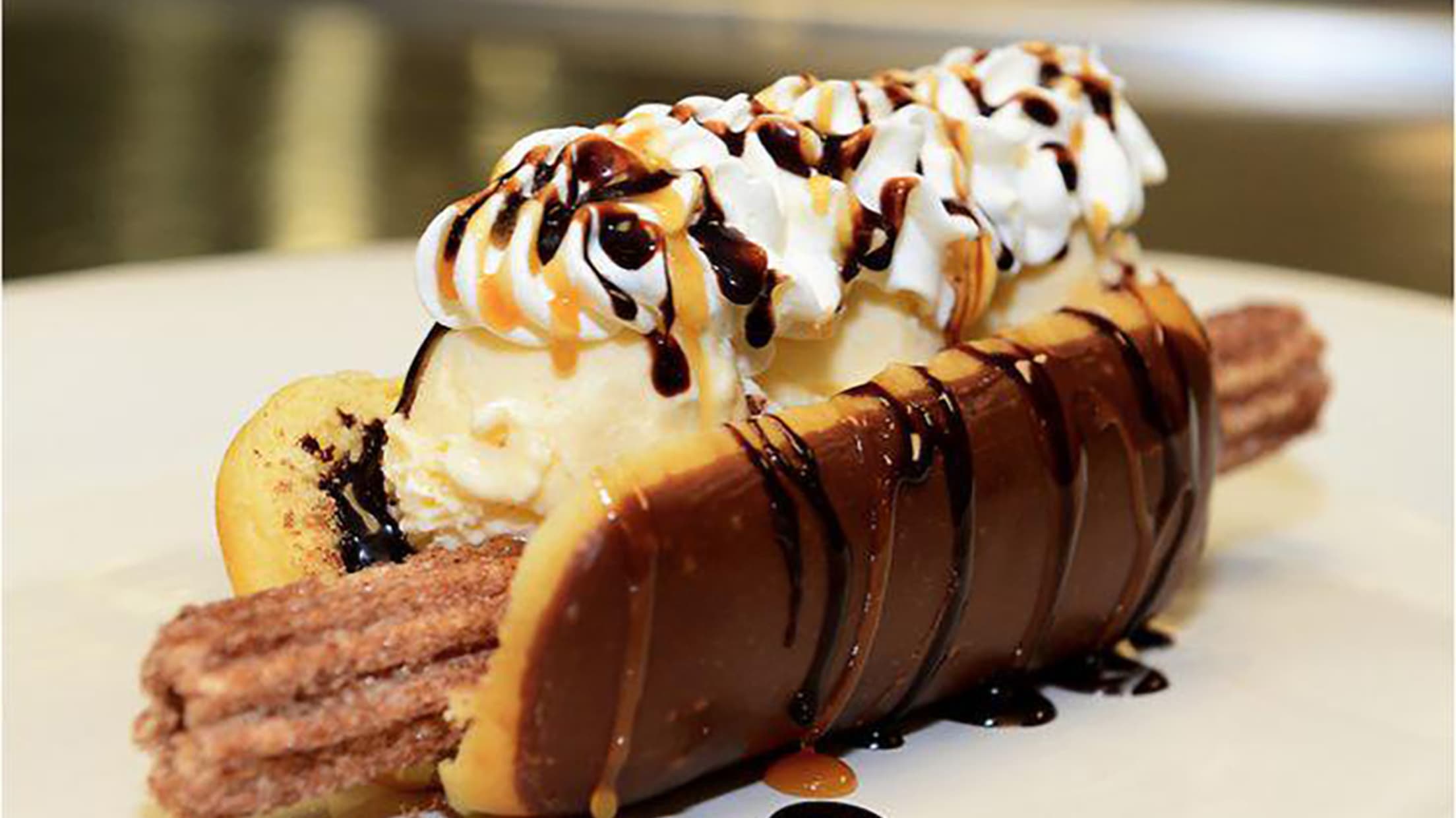 Crab Mac N' Cheese Dog (Camden Yards)
When designing your ideal ballpark hot dog, it helps to have some regional flavor to really put it over the top. Which brings us to the Orioles' signature creation -- a hot dog covered in mac and cheese, then topped with crab meat and Old Bay to make it truly Baltimore.
Cracker Jack and Mac Dog (PNC Park)
Ah, "Take Me Out to the Ball Game," one of America's cultural touchstones. Who can forget that famous lyric: "Buy me some peanuts and Cracker Jack, but only if it comes with a hot dog topped with mac and cheese, salted caramel sauce and deep-fried pickled jalapenos." Oh, and did we mention it's wrapped in naan, too?
T.E.D. Dog (Turner Field)
For those wondering, T.E.D. stands for "The Everything Dog," and the Braves really weren't kidding. We'll let the official description take it from here: "a foot-long hot dog layered with fries, chili, nacho chips, beer cheese and jalapenos, topped with popcorn, then drizzled with Coca-Cola-infused BBQ sauce." Yeah.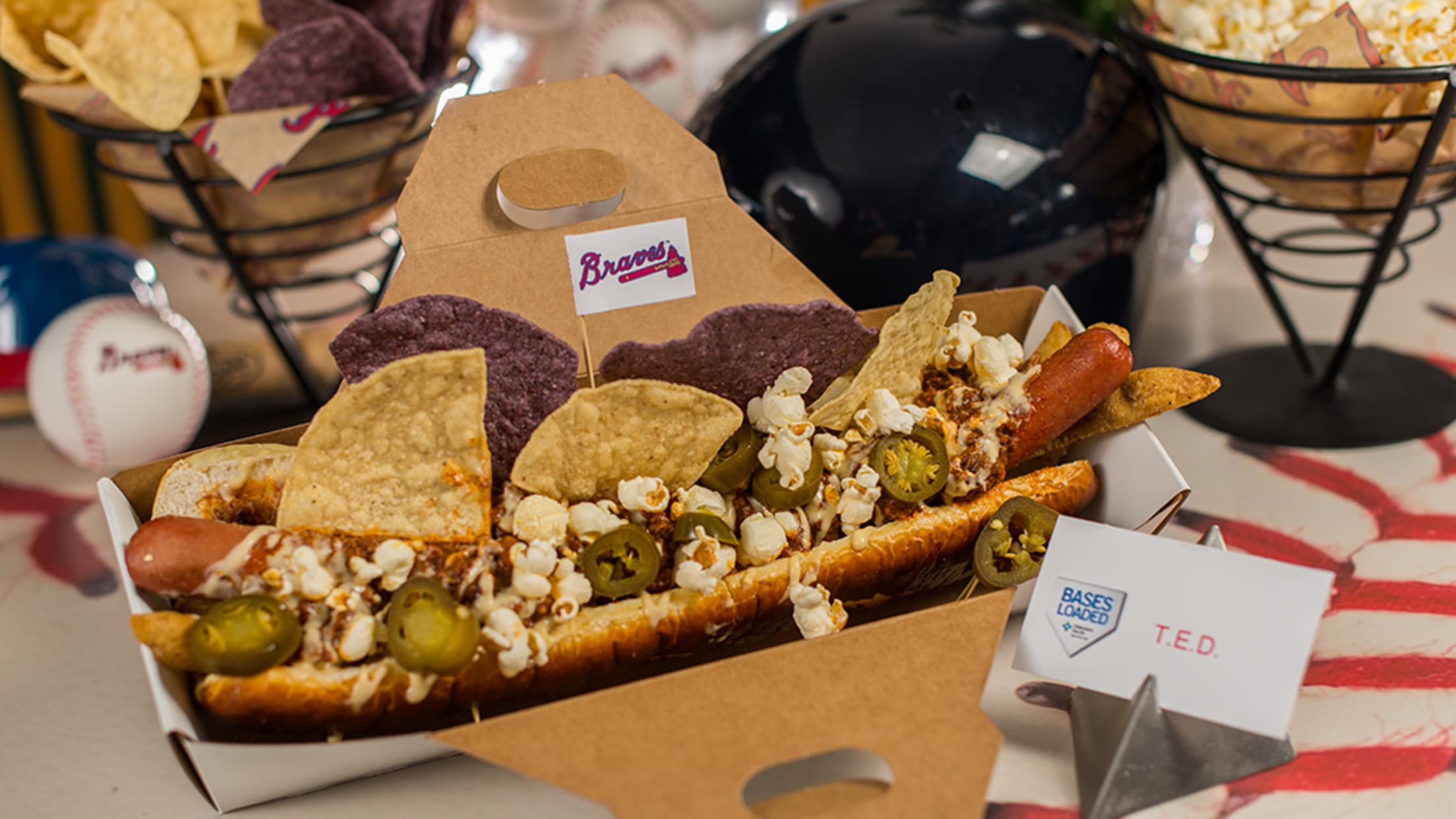 The Freddy Fender (Minute Maid Park)
The Freddy Fender was named in honor of, well, Freddy Fender, a legendary rockabilly guitarist from Texas. And what could be a more profound honor than a chorizo sausage, encased in a deep-fried tortilla, topped with onions, pico de gallo and cotija cheese and nestled in a pretzel bun? Nothing, that's what.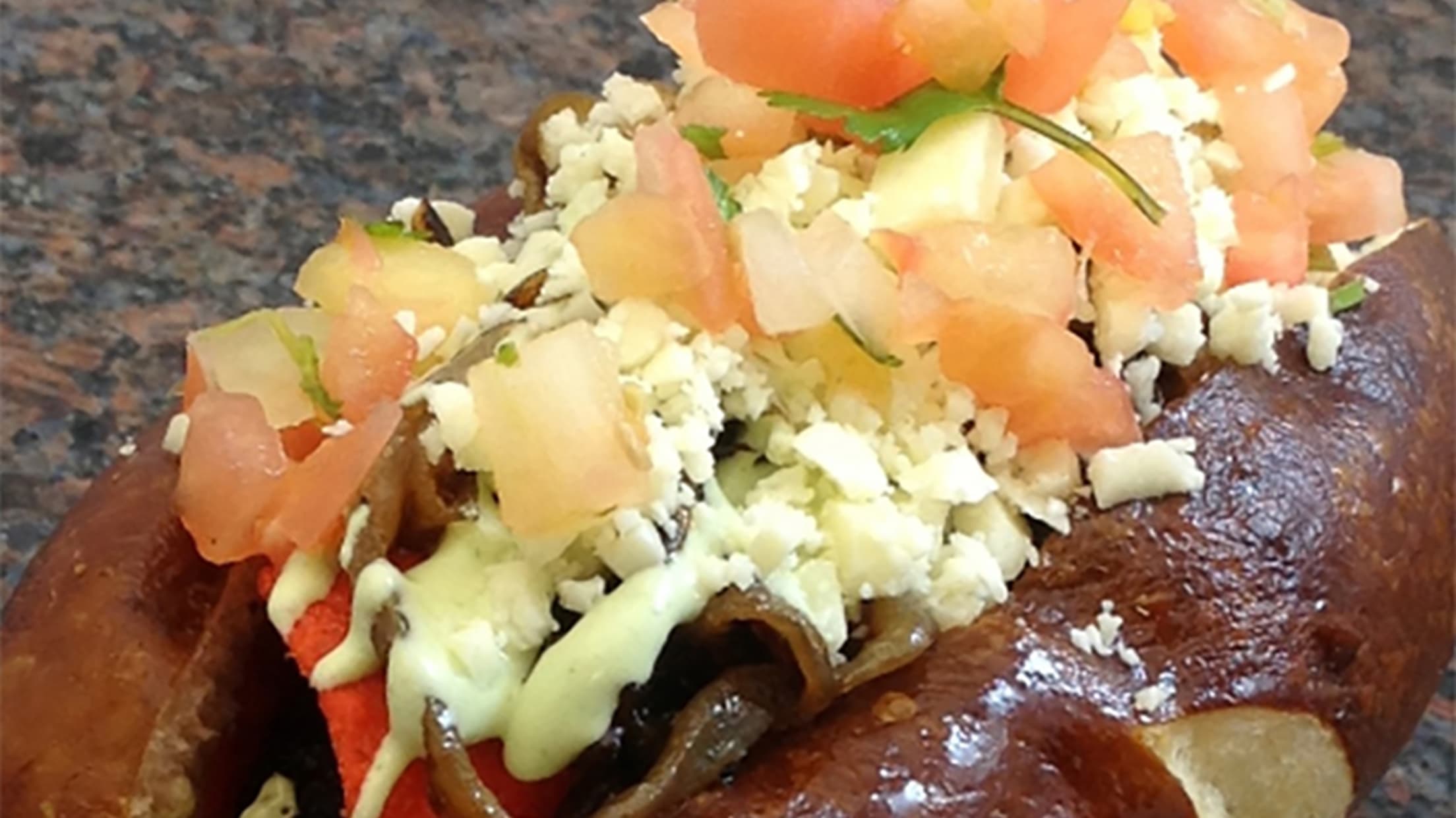 The Slider Dog (Progressive Field)
Have you ever looked at a hot dog topped with mac and cheese and bacon and thought, "You know, I really wish this had some Froot Loops on top"? If so, the Indians are the team for you.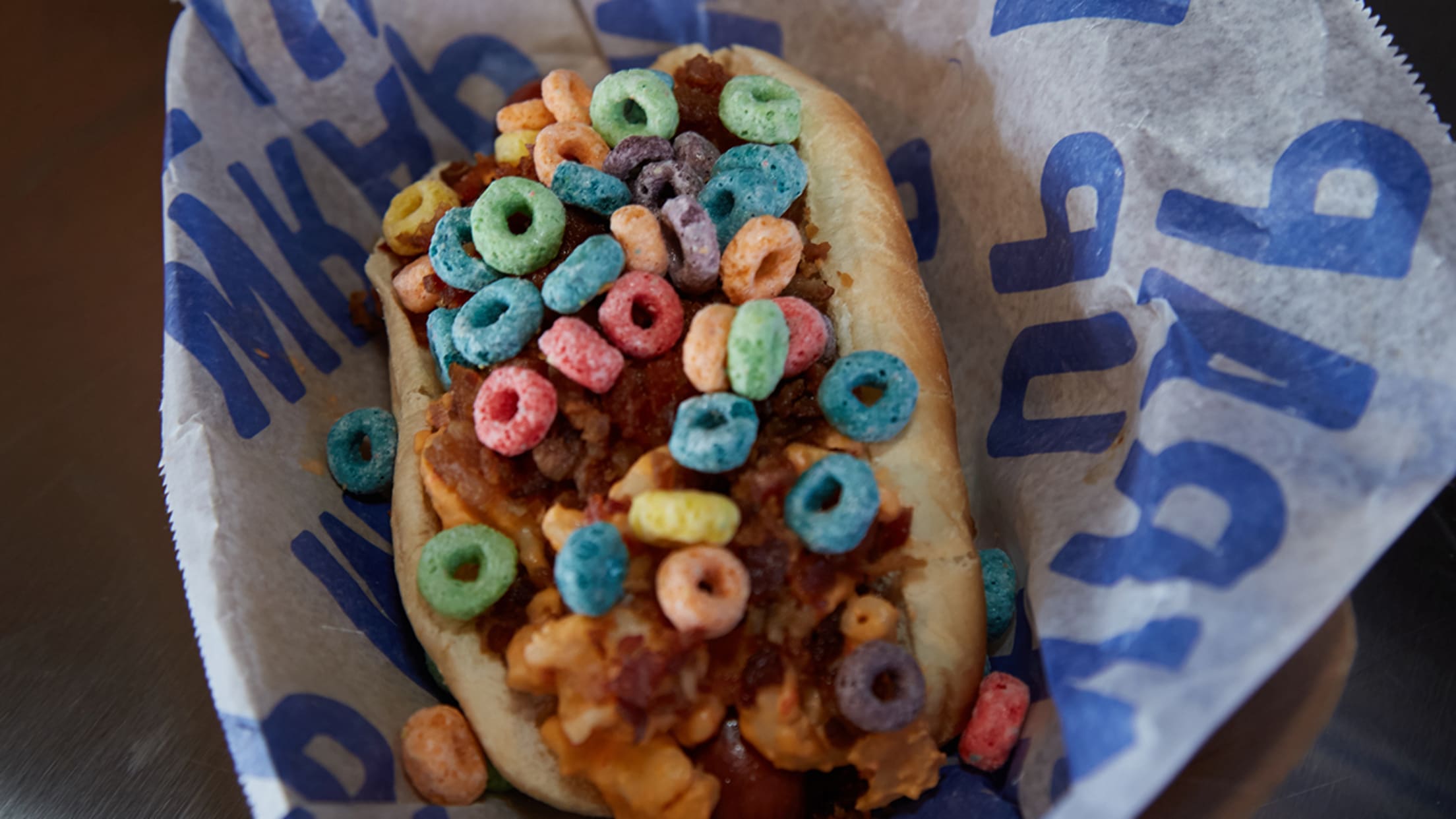 The Miami Mex Taco Dog (Marlins Park)
We've seen some pretty adventurous hot dogs so far -- mac and cheese, infused BBQ sauces and even breakfast cereals have been redefined as viable toppings. But only one team went so far as to think quite literally outside the bun: the Marlins, whose Taco Dog comes topped with chili, pickled red onions, jack cheese and jalapeno lime crema ... all wrapped inside a flour tortilla.
The Brat Pop (Comerica Park)
Yes, the Brat Pop is exactly what you're thinking: an entire brat, stuck on a stick and deep fried to perfection. Is a brat a hot dog? Technically, maybe not. But when you deep fry a brat on a stick, you've more than earned your place.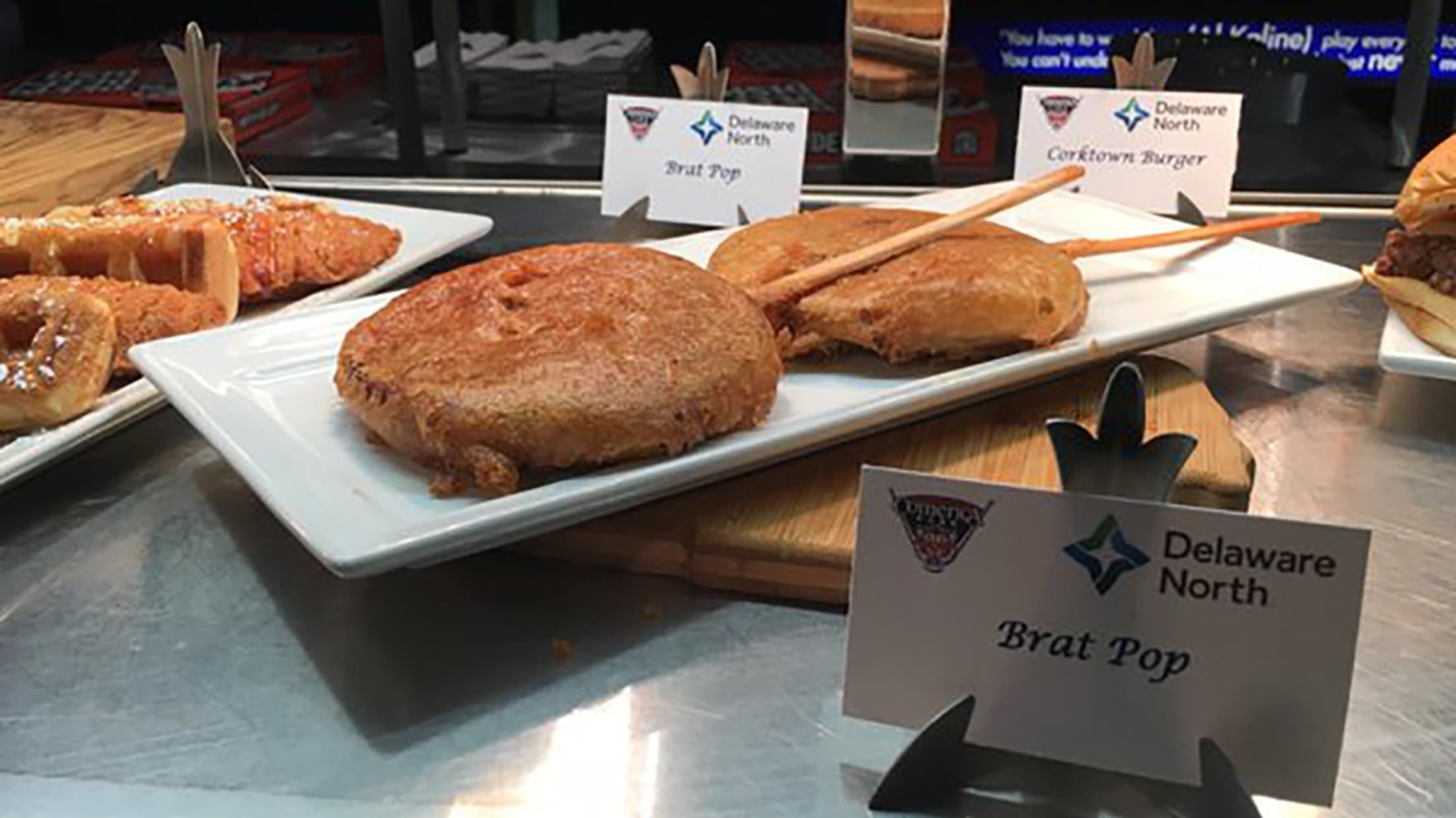 The Skyline Cheese Coney (Great American Ball Park)
Cincinnati has given many wonderful things to the world -- including the Mr. Redlegs/Star Wars crossover of your wildest dreams -- but perhaps nothing quite so wonderful as Skyline Chili. So it's only fitting that the Reds' signature frank doesn't mess around: a hot dog, covered in a whole bunch of chili and a whole bunch of cheese. If it ain't broke, etc etc.