Nick Foles' surprise touchdown catch has an eerie precedent from the 2008 Phillies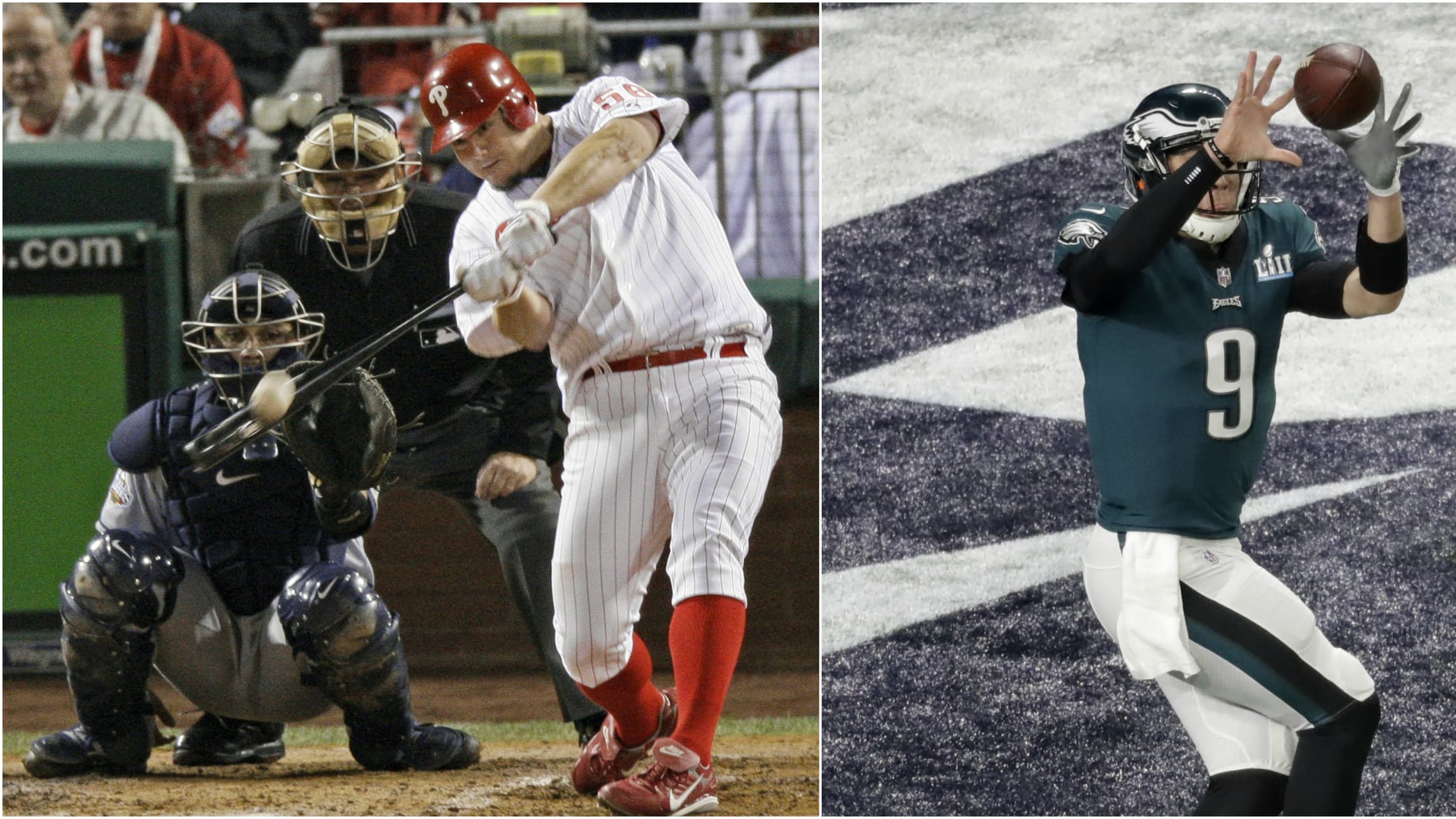 Winning a championship in a major sport is a rare occurrence in any city, but in Philadelphia that's especially true. The Sixers haven't won an NBA title since 1983. The Flyers haven't won a Stanley Cup since 1975. Prior to Sunday night, the Eagles had never won a Super Bowl. When the Phillies won the World Series in 2008, they hadn't won one since 1980.
Statistically, then, a team from Philadelphia winning a championship is itself weird, so it's not surprising that the two Philadelphia championships in the last 20 years were fueled by weirdness.
One of the most memorable plays of Sunday's Super Bowl was a weird one. Nick Foles -- the second-string quarterback -- making a touchdown catch on a fourth-down play:
YUP. Nick Foles is catching TD passes.

In the @superbowl.

Unbelievable. #SBLII #FlyEaglesFly pic.twitter.com/NGNpIrrshO

— NFL (@NFL) February 5, 2018
There was plenty of weirdness in 2008 when the Phillies won the World Series over the Rays, including a Game 5 that was suspended on a Monday evening and didn't resume until Wednesday. But, nothing was weirder than what Joe Blanton did in Game 4 of that Series.
The Phillies acquired Blanton from the A's at the Trade Deadline. As a pitcher who spent his entire career in the American League until three months before the World Series, Blanton was an unlikely hero with the stick -- he only had two hits in his entire career when he stepped up to the plate against Edwin Jackson in the fifth inning. So, of course he swatted the ball over the fence:
It's clear that weirdness and Philadelphia championships go hand in hand. The Eagles don't win a Super Bowl if their quarterback doesn't haul in a touchdown catch. The Phillies needed a home run from a career American League pitcher to win a World Series. Let's relive that weirdness.
Teams in this article:
Players in this article: