Yankee Stadium transformed into a football stadium to host Notre Dame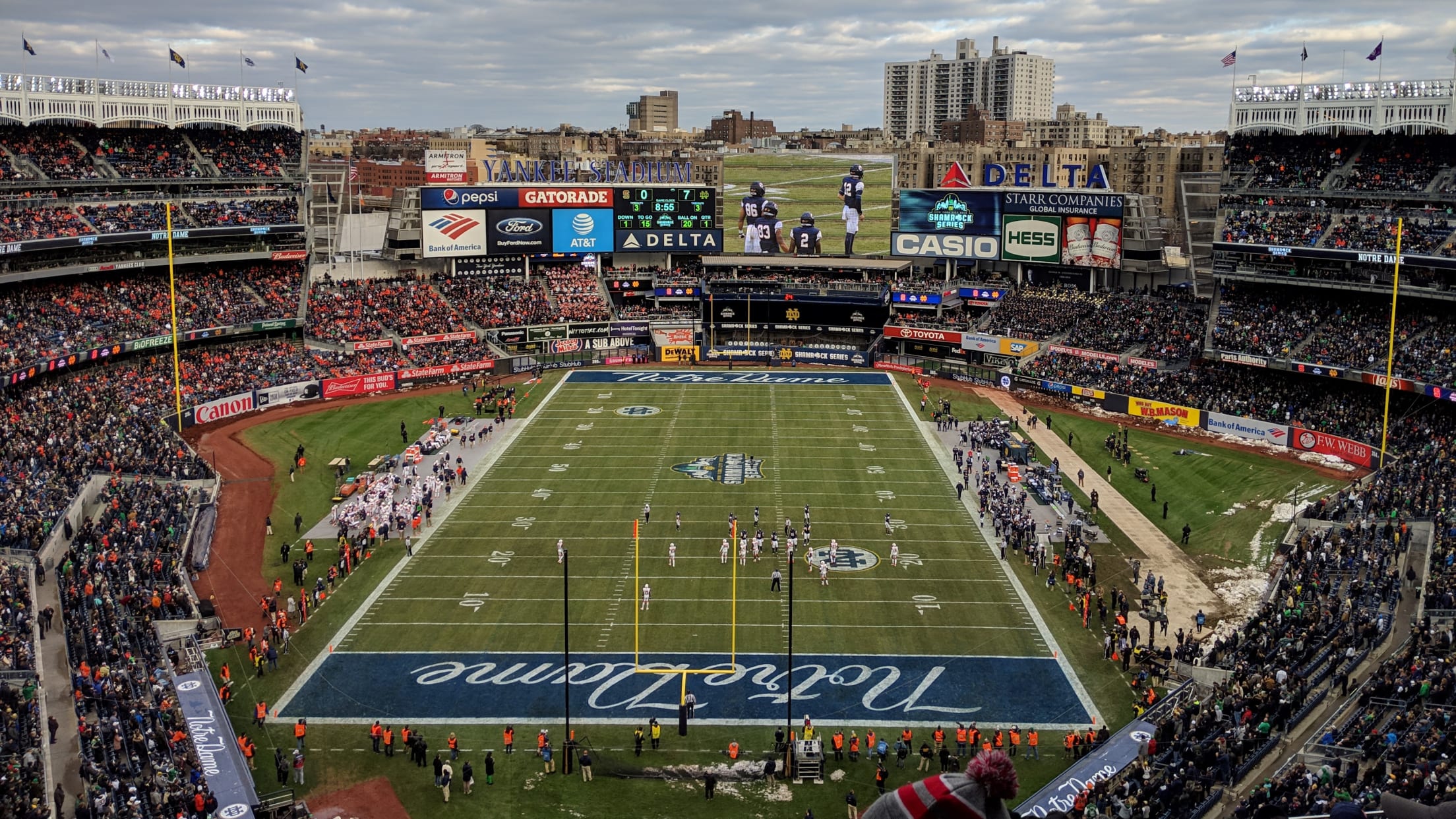 What is Yankee Stadium to do in the offseason? While it could sit cold and empty, waiting for spring and starting nines to take the field again, that's less fun than playing host to Notre Dame football. That's exactly what took place on Saturday when the Fighting Irish played Syracuse in the Shamrock Series.
Notre Dame showed up in special Yankees-themed uniforms, with pinstriped sleeves and pants and a special helmet:
One. More. Sleep.#GoIrish ☘️ #BeatOrange pic.twitter.com/XNVbVElhyJ

— Notre Dame Football (@NDFootball) November 17, 2018
Pinstripes will hit the gridiron for the first time in college football history. @NDFootball pays homage to the real home team with @Yankees inspired uniforms for this weekend's Shamrock Series game. ☘️ #WEWILL pic.twitter.com/DBC9Qjb612

— Under Armour (@UnderArmour) November 15, 2018
The end zones were spelled out using the Yankees font:
Gorgeous. pic.twitter.com/6xqaGL6e0m

— Marty Smith (@MartySmithESPN) November 17, 2018
The marching bands made sure to play some place-appropriate music -- though it should be noted that they did not play the Aaron Judge-approved "New York, New York."
#StartSpreadingTheNews, @NDFootball!#ShamrockSeries pic.twitter.com/xh90XhxORU

— New York Yankees (@Yankees) November 17, 2018
While it's a little strange for the team from Indiana, and not the team from New York, to wear the pintstripes, it did give us this moment:
The first man to wear number 7 in pinstripes since the great Mickey Mantle is feeling great.

That's a 35-yard gain for @WimbushB7.

#3 ND 29 - #12 SU 0 [4:45 4Q]#GoIrish☘️ #SUvsND pic.twitter.com/HhJWcEnhQC

— Notre Dame Football (@NDFootball) November 17, 2018
There was even one baseball player in pinstripes, with pitcher/tight end Cole Kmet recording one catch for 17 yards in the game:
We've had a number of dual-sport athletes who have played for @NDBaseball including @ShowtimeTate, @toriihunter48 and Jeff Samardzija.

On Saturday, TE/Pitcher @ColeKmet hits the diamond at @yankeestadium...to play football.#GoIrish ☘️ #BeatOrange pic.twitter.com/uUWKdfIcGa

— Notre Dame Football (@NDFootball) November 15, 2018
In the end, Notre Dame won by the very un-baseball score of 36-3.