On Vin Scully's 90th birthday, let's celebrate a great moment from every one of his decades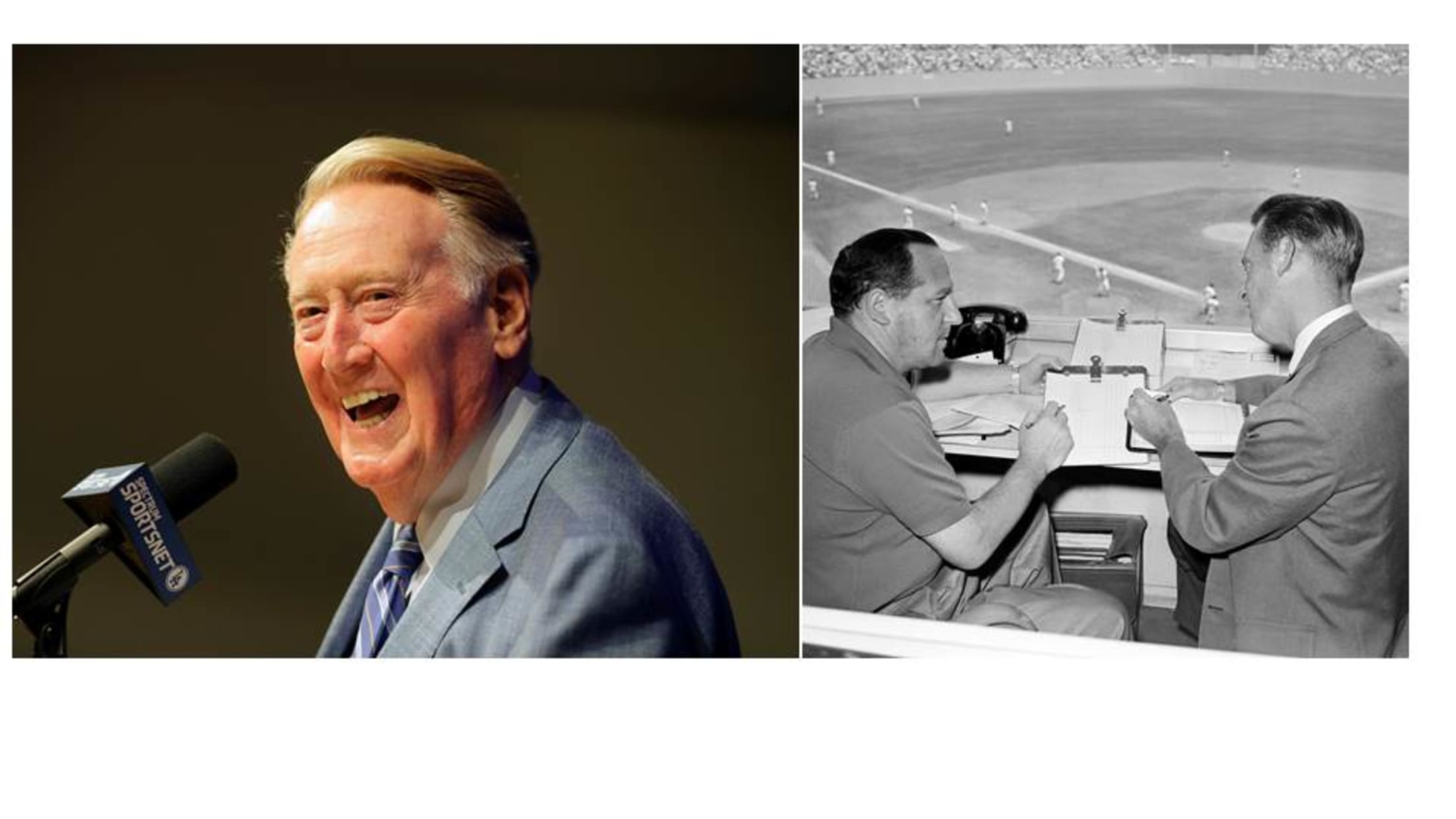 The inimitable Vin Scully turns 90 years old today. That may seem old to you, but Vin was just broadcasting Dodgers games two seasons ago. And judging from a recent trip to the World Series in 2017, the legendary broadcaster still has the chops and charm to jump right back into the booth.
Alas, that's not happening. Still, we have the memories, and on his 90th birthday, we'd like to celebrate him decade by decade. Let's dive right in.
0-13 years old: Vin meets the Bambino
We'll cheat a little on this one because it's too good a story. Back in 2014, Vin told the story of getting Babe Ruth's autograph at the Polo Grounds when he was 13. Only, The Babe didn't sign anything, he just handed teenage Vin one of his business cards.
13-23 years old: His first broadcast
Vin played baseball for Fordham Preparatory School and then at Fordham University -- where he faced off against future president and Yale first baseman George H.W. Bush. See if you can spot Scully in this Prep picture:
Throwback Thursday, Vin Scully with his High school Baseball team. #FordhamPrep 1944 pic.twitter.com/s6SGydEjMr

— Vin Scully (@VinScullyTweet) September 16, 2016

In 1950, at the tender age of 22, he also began broadcasting Brooklyn Dodgers games alongside the legendary Red Barber. Scully told Sports Illustrated, "I was young or younger as most of the players. So as long as I kept my mouth shut, I fit in." He, of course, went on to fit in for the next 67 years.
20-30 years old: Racing Jackie Robinson on ice skates
We'll go back to normal decade-by-decade counts because it's easier. Somewhere during this time period, Scully did something straight out of a baseball tall tale book: He raced Jackie Robinson on ice skates. Listen to the story here and take a look at the photo evidence below:
Vin Scully once raced Jackie Robinson on ice skates. Vin is one of a small group who ever beat Jackie in any race. pic.twitter.com/bbMAS8Ft38

— Dodgers History (@Dodgers_History) December 19, 2013

30-40 years old: Koufax's perfecto
At the age of 38, Scully called Sandy Koufax's perfect game against the Cubs in 1965. The Dodgers broadcaster already had his characteristic flair for setting the scene -- "29,000 in attendance and a million butterflies." Listen to the entire ninth inning below:
40-50 years old: No. 715
Now we're getting to the really good stuff. Nearly 50 years after meeting home-run king Babe Ruth in person, Scully called Hank Aaron's record-breaking 715th homer in 1974. Cue the goosebumps.
50-60 years old: "Behind the bag!"
Maybe his most famous call. The full Mookie Wilson at-bat is below, but for the key moment, scroll to the 4:15 mark.
60-70 years old: "And look who's comin' up ..."
Sorry, this may be his most famous call (it's very hard to choose).
70-80 years old: 9/11
It was hard for the nation to return to normalcy after the attacks of Sept. 11, 2001. But baseball helped us get there, and Vin was a big reason why.
80-90 years old: The final send-off
We could've gone with Scully talking about Madison Bumgarnerfreeing a rabbit from a snake's digestive tract or callingYasiel Puig the "Maestro of bat flips," but we'll just leave you with his simple, final send-off to the world. Happy 90th, Vin.