A pitch-by-pitch breakdown of one dominant inning from Cy Young winner Max Scherzer
On Wednesday night, it was announced that Max Scherzer had won his second Cy Young Award. It's not hard to see why -- the heterochromatic pitcher used his blazing fastball to lead the NL in wins (20), innings (228 1/3), strikeouts (284) and WHIP (0.97). He also had a singular day of dominance when he struck out 20 Tigers to become just the fourth pitcher to pull off the feat in a nine-inning performance.
That makes it the perfect game to investigate when looking at just how he was able to decimate lineups across the full season. Let's jump to the seventh inning on May 11, when, after 77 pitches, Scherzer may have begun showing signs of fatigue. Plus, with his team having just taken a 2-1 lead, the Nats' ace would have to be careful to protect that lead while facing the heart of the Tigers lineup for a third time.
Miguel Cabrera: 0 on, 0 out
Pitch one: 94-mph four-seam fastball, ball. 1-0.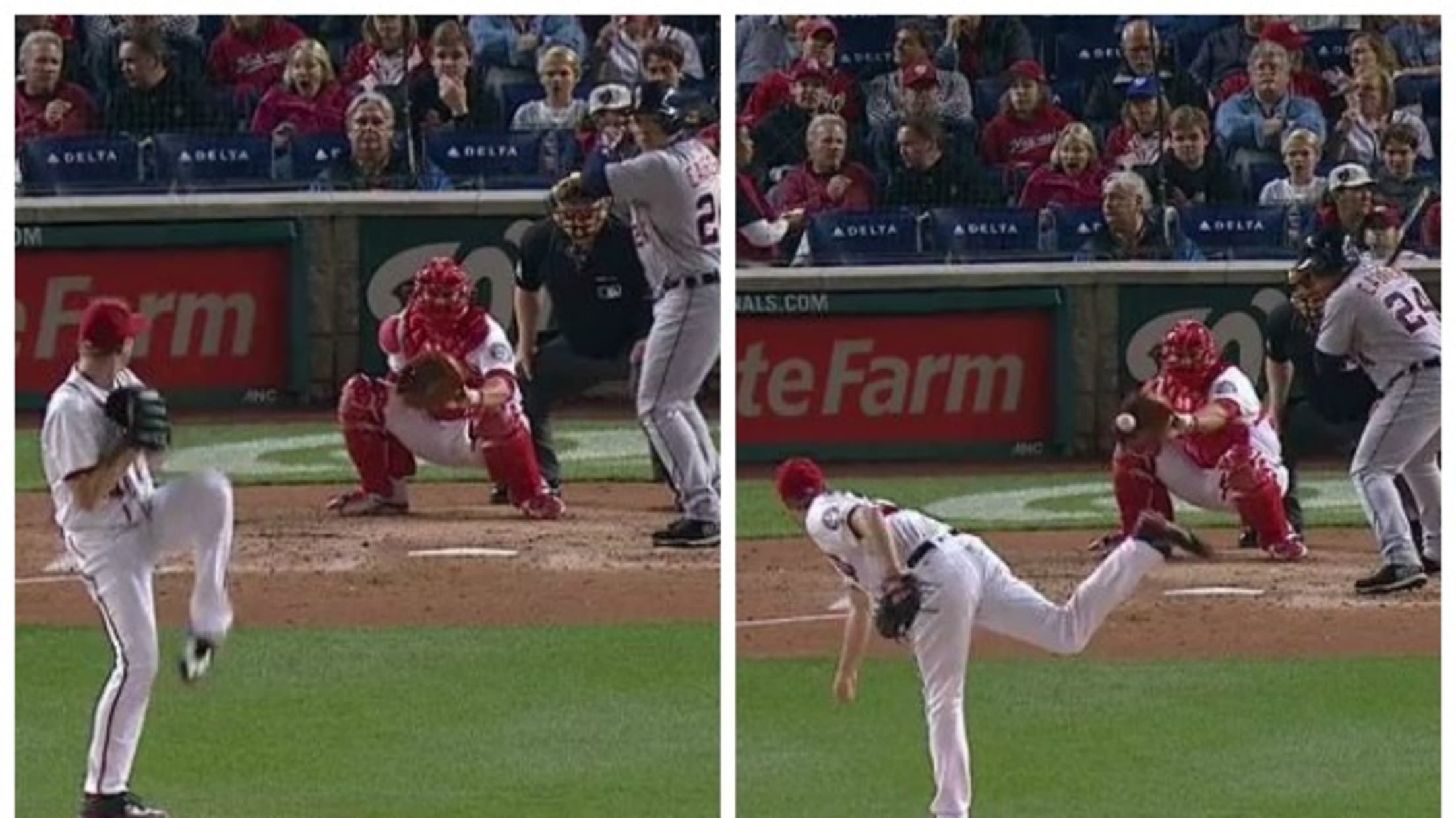 After striking out Cabrera on fastballs in the first and fourth, getting him to whiff on high heat each time, how would Scherzer approach the likely future Hall of Famer? By doing what you'll see plenty of times: throwing a fastball on the outer half of the plate, Scherzer places it well, but it tails outside.
Pitch two: 85-mph slider, fly out to left field. One out.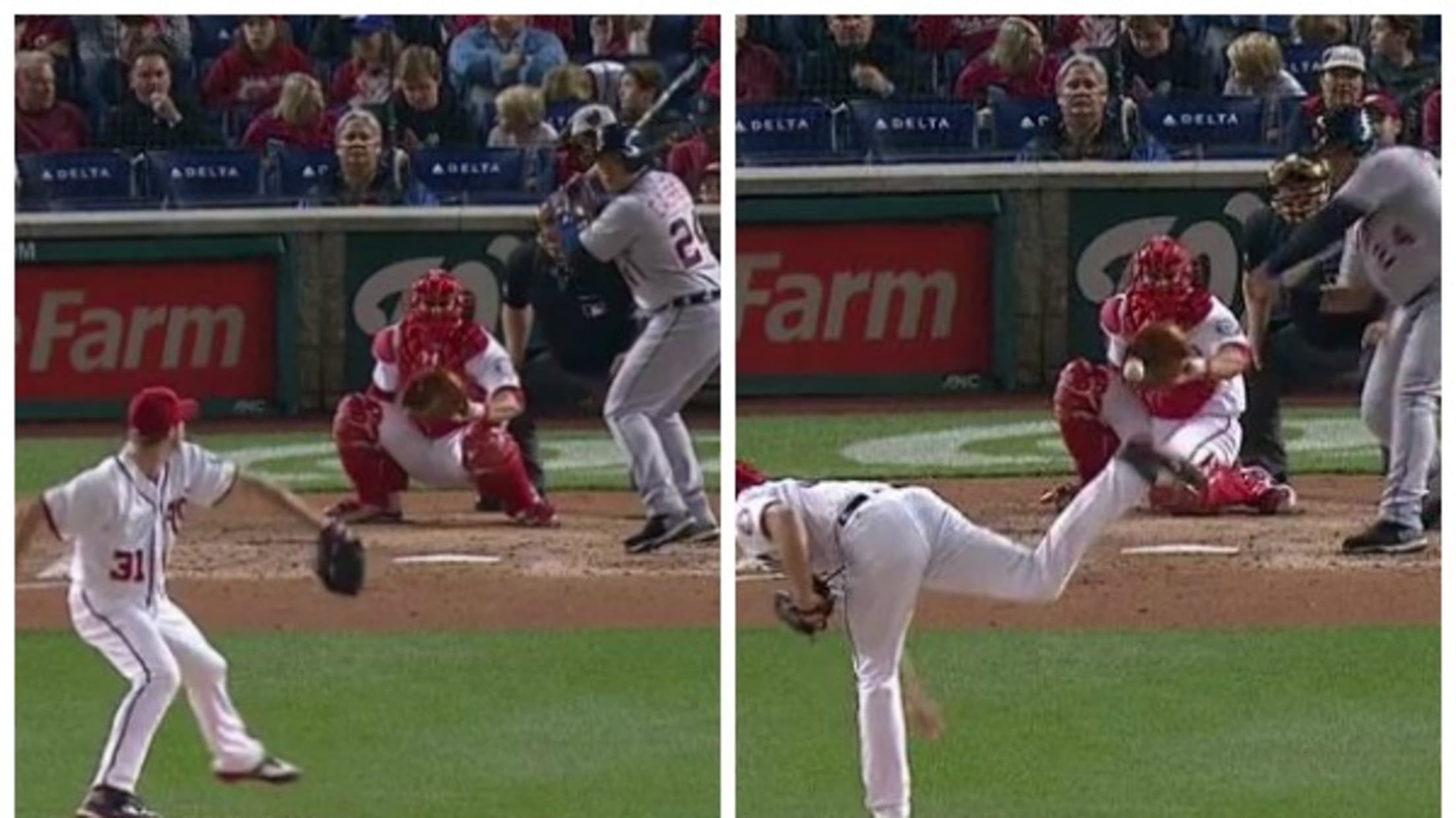 Despite Scherzer placing his slider well, Cabrera shows off the tools that make him a fearsome slugger by making good contact on the pitch. Perhaps because his bat has been sped up by the Hades-like heat that Scherzer showed previously, Cabrera is in front and the ball floats into Jayson Werth's glove for the first out.
Victor Martinez: 1 out, 0 on.
Pitch one: 92-mph four-seam fastball, called strike. 0-1.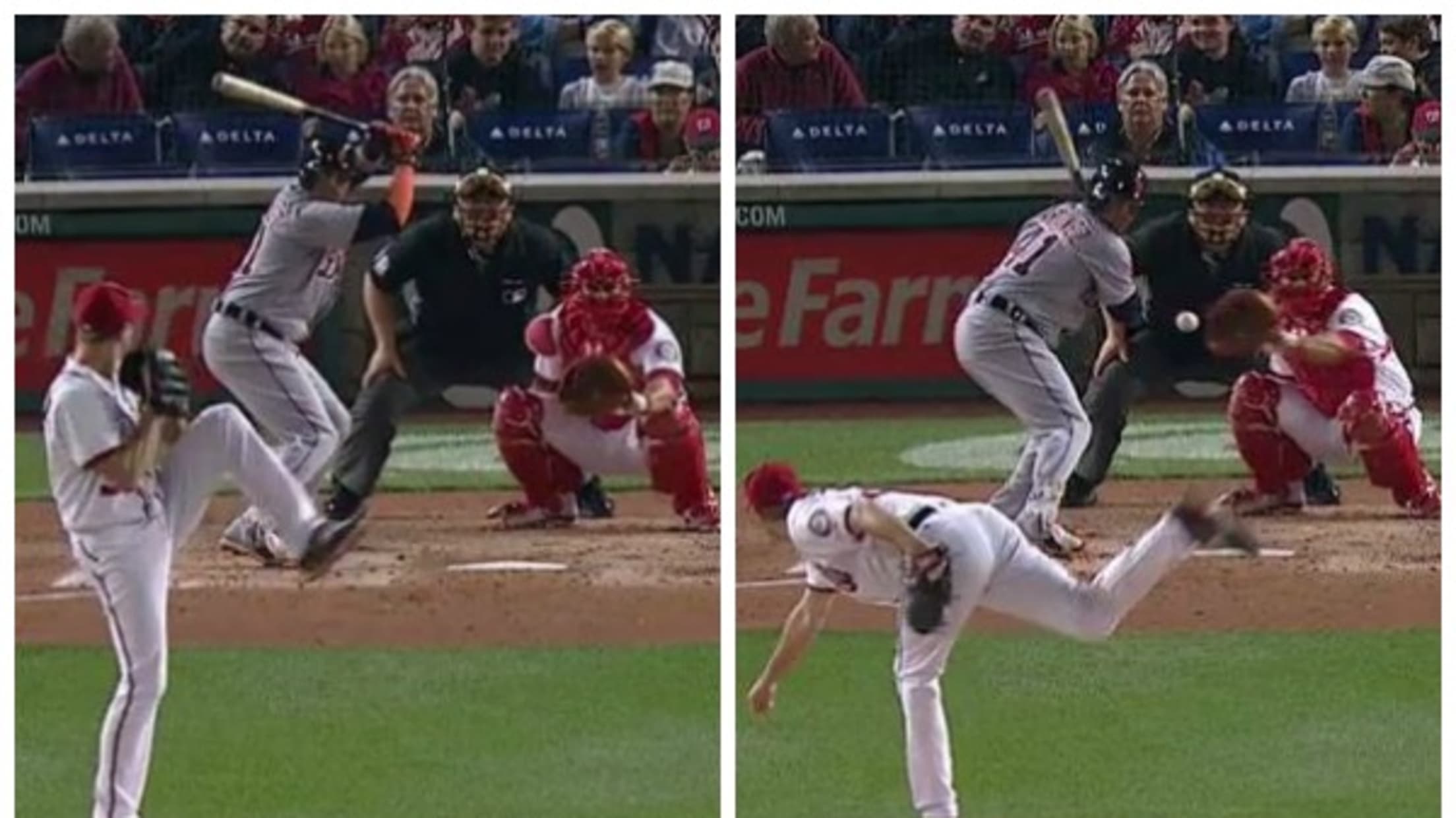 Here's the thing about Martinez: He doesn't strike out. In 2016, at the age of 37, Martinez struck out 90 times -- by far a career-high and perhaps the surest sign that even V-Mart's bat has to slow down at some point. Still, among qualified batters, Martinez ranked 111th in strikeouts in the Majors. Suffice to say, it would be tough for Scherzer to keep racking up K's against this batter, who was 1-for-2 entering the AB.
Perhaps because of this, Scherzer had thrown a variety of pitches to Martinez in previous at-bats, with the gameplan apparently being "confuse him." This time though, he started him off with a fastball that missed the glove by plenty -- going over the heart of the plate -- but Martinez was merely playing spectator.
Pitch two: 94-mph four-seam fastball, soft single to center field.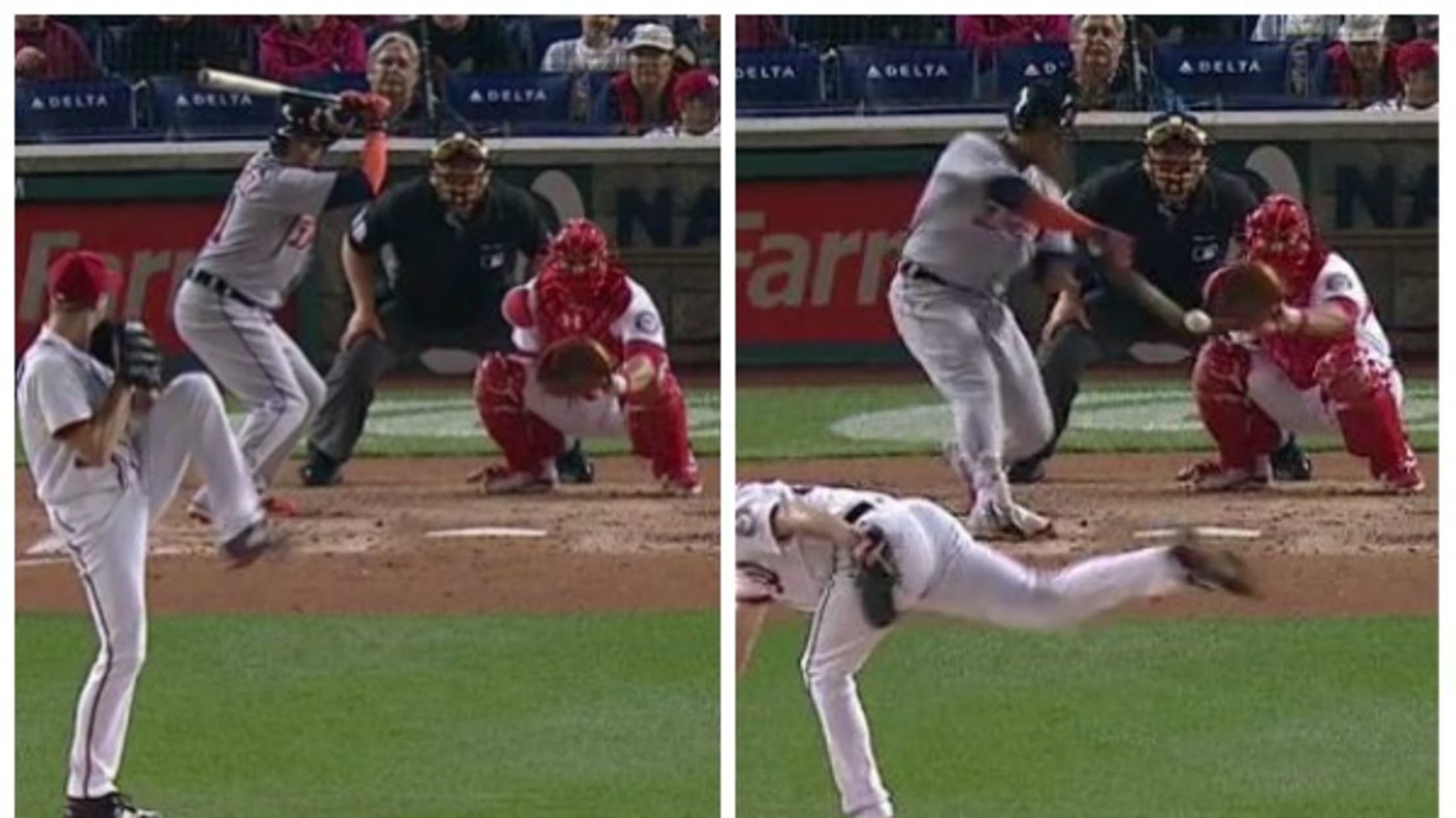 Another mistake from Scherzer. While he got some more heat on this offering, he missed his mark, leaving the pitch over the center of the plate, and Martinez wasn't going to miss it. The single ended a streak of 13 consecutive batters retired at that point. Spoiler alert for a game that happened six months ago: Martinez was the only starter who didn't strike out.
Justin Upton: Runner on first, 1 out.
Pitch one: 94-mph fastball, called strike. 0-1.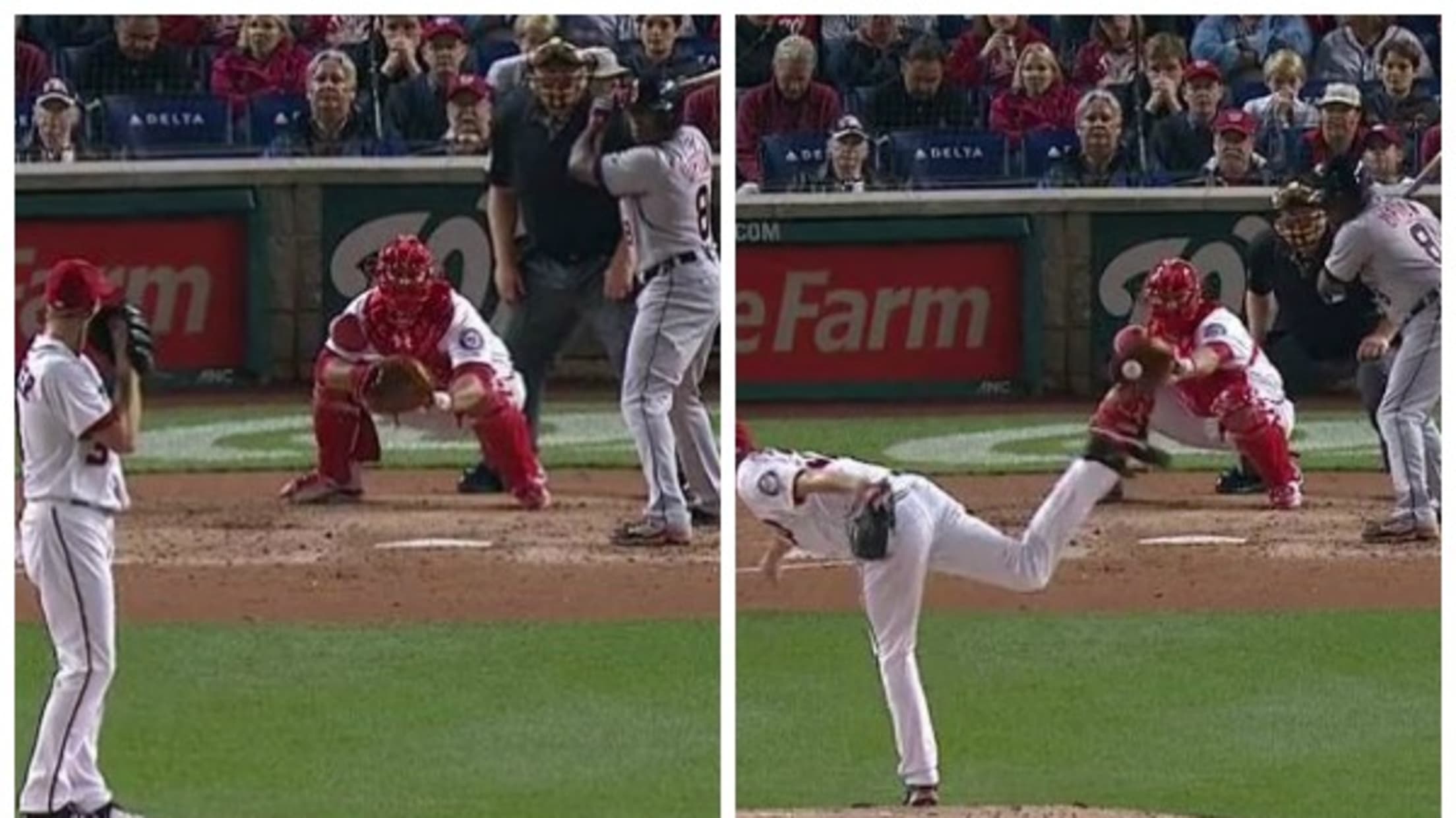 After striking out on all sliders in the second and flying out on a full-count fastball in the fourth, would Scherzer go away from a combo of fastballs and sliders away? Not really.
Pitch two: 93-mph fastball, foul. 1-1.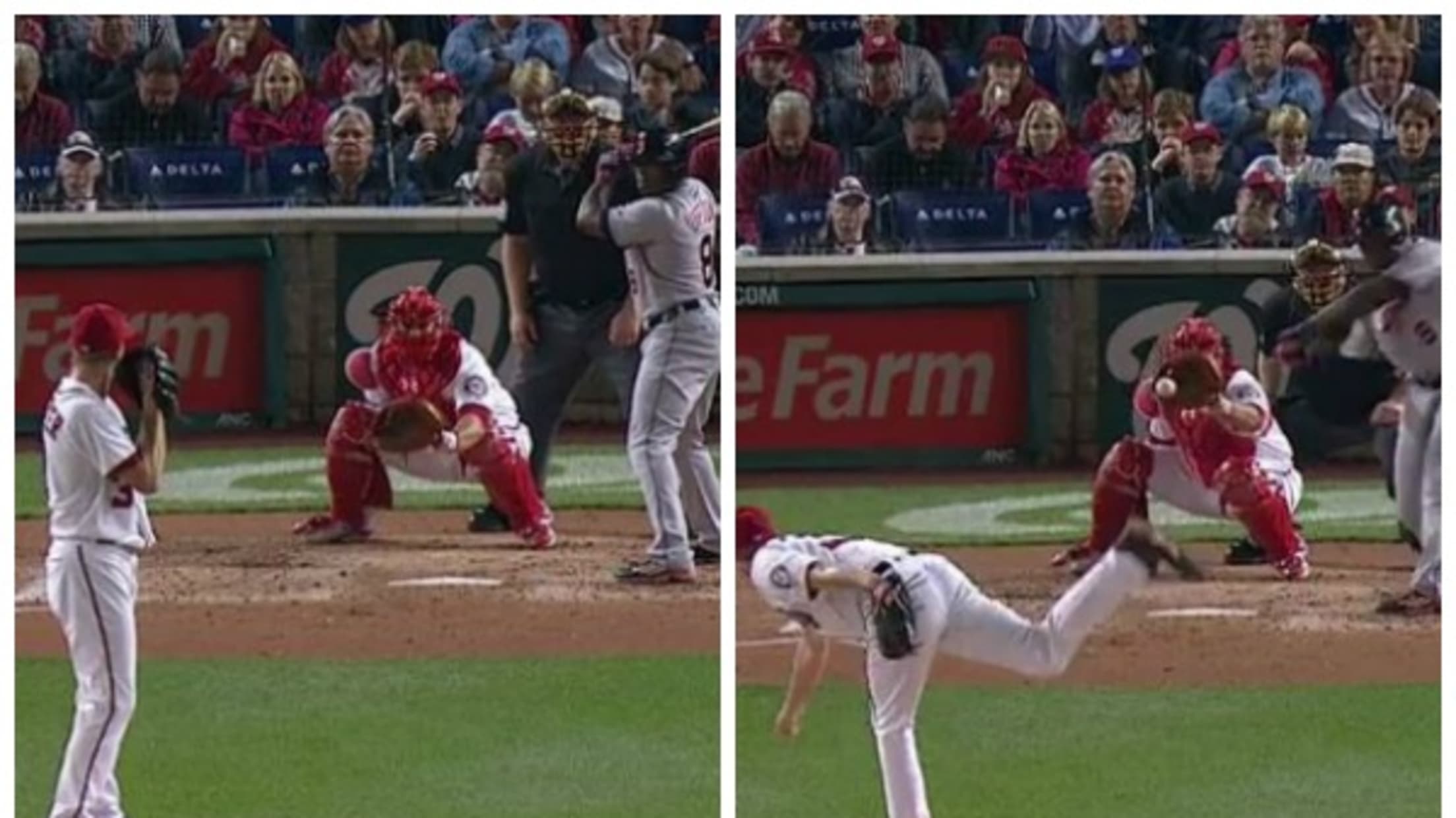 Another mistake this inning from Scherzer. While his overpowering stuff and late-break on his fastball usually keeps him out of trouble -- and is perhaps why Upton could do nothing more than foul this one back -- another day and this could be one driven a long, long way.
Pitch three: 87-mph slider hit off the center-field wall for a double. Martinez to third base.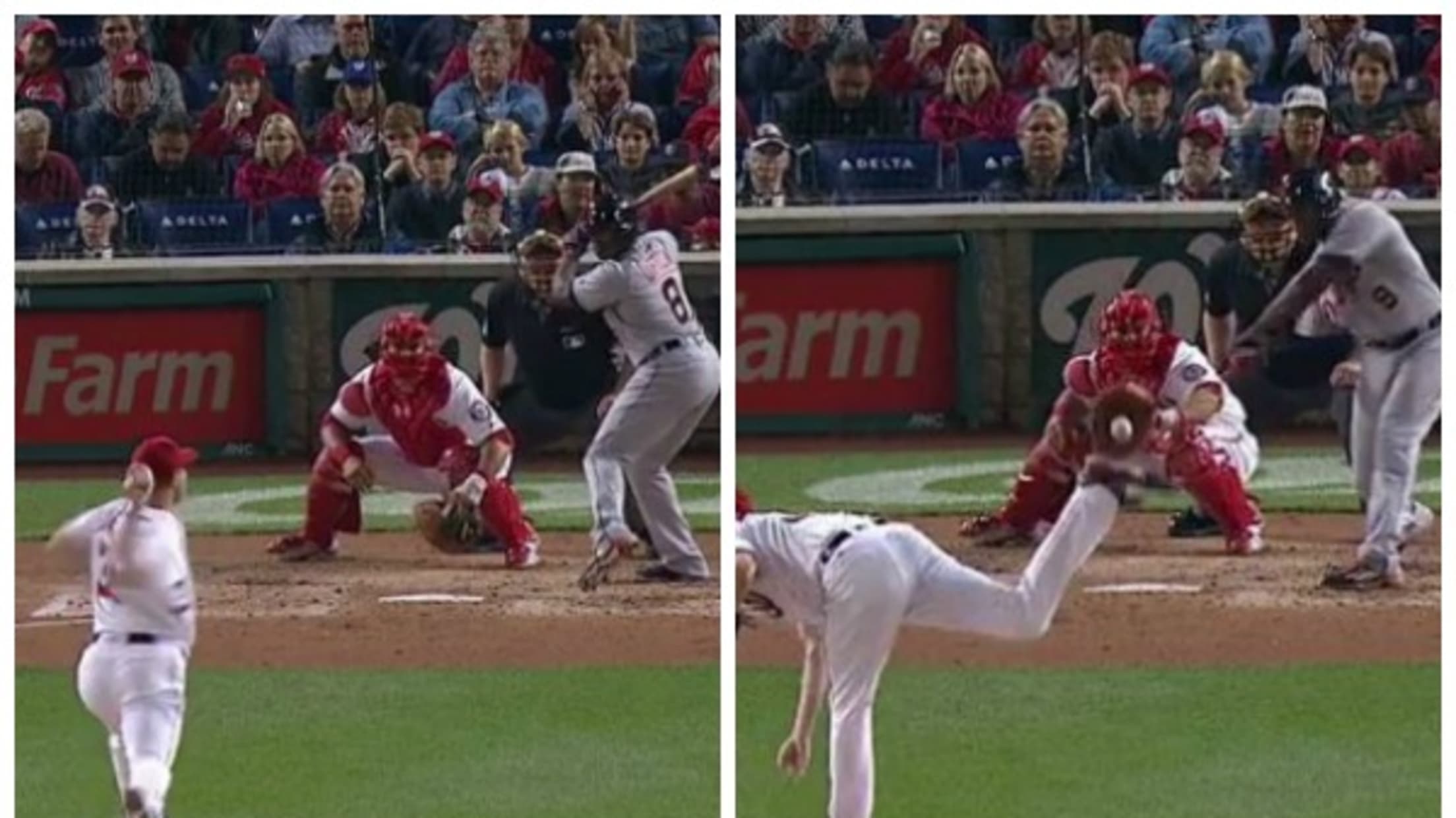 Of course, baseball is a fickle beast. Scherzer buried his slider down and out of the zone on an 0-2 pitch -- locating it well. In fact, as the pitch was coming in, the Nationals broadcasters were discussing how Upton was currently cheating on the fastball, so he would struggle to even make contact on a slider.
Whoops.
Instead, the outfielder hit the ball off the wall in center -- just a few feet to the left and it might have been a home run -- though, thanks to Martinez's speed, no run scored
James McCann: Runners on second and third, 1 out.
Pitch one: 87-mph slider, swinging strike. 0-1.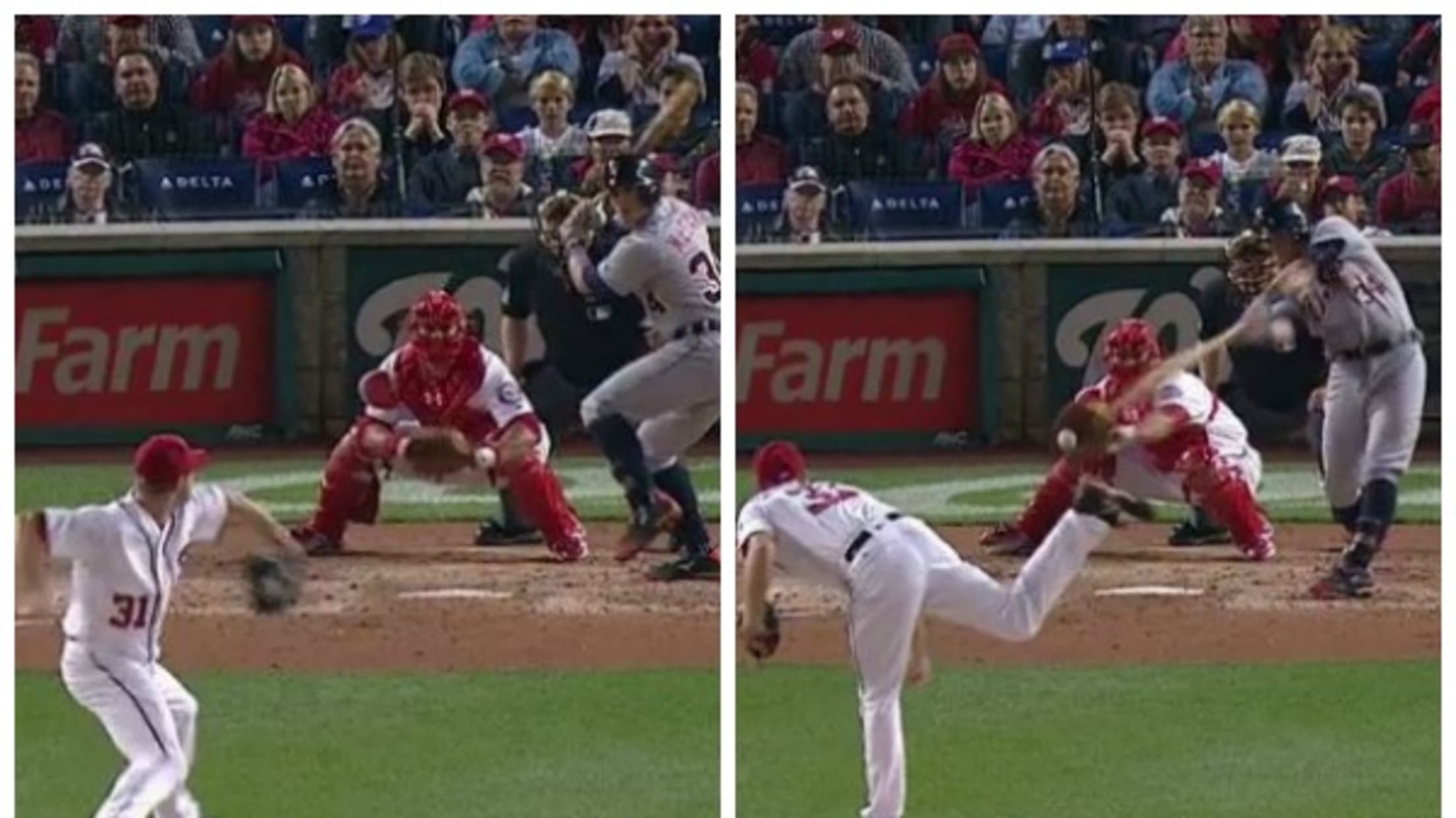 With the tying and go-ahead runs on base, Scherzer was gifted with McCann at the plate. The Tigers catcher had struck out on three pitches in his first at-bat and went down looking in his second. This time, the right-hander threw a dream slider, getting it to break just off the plate and beyond McCann's bat.
Pitch two: 87-mph slider, swinging strike. 0-2.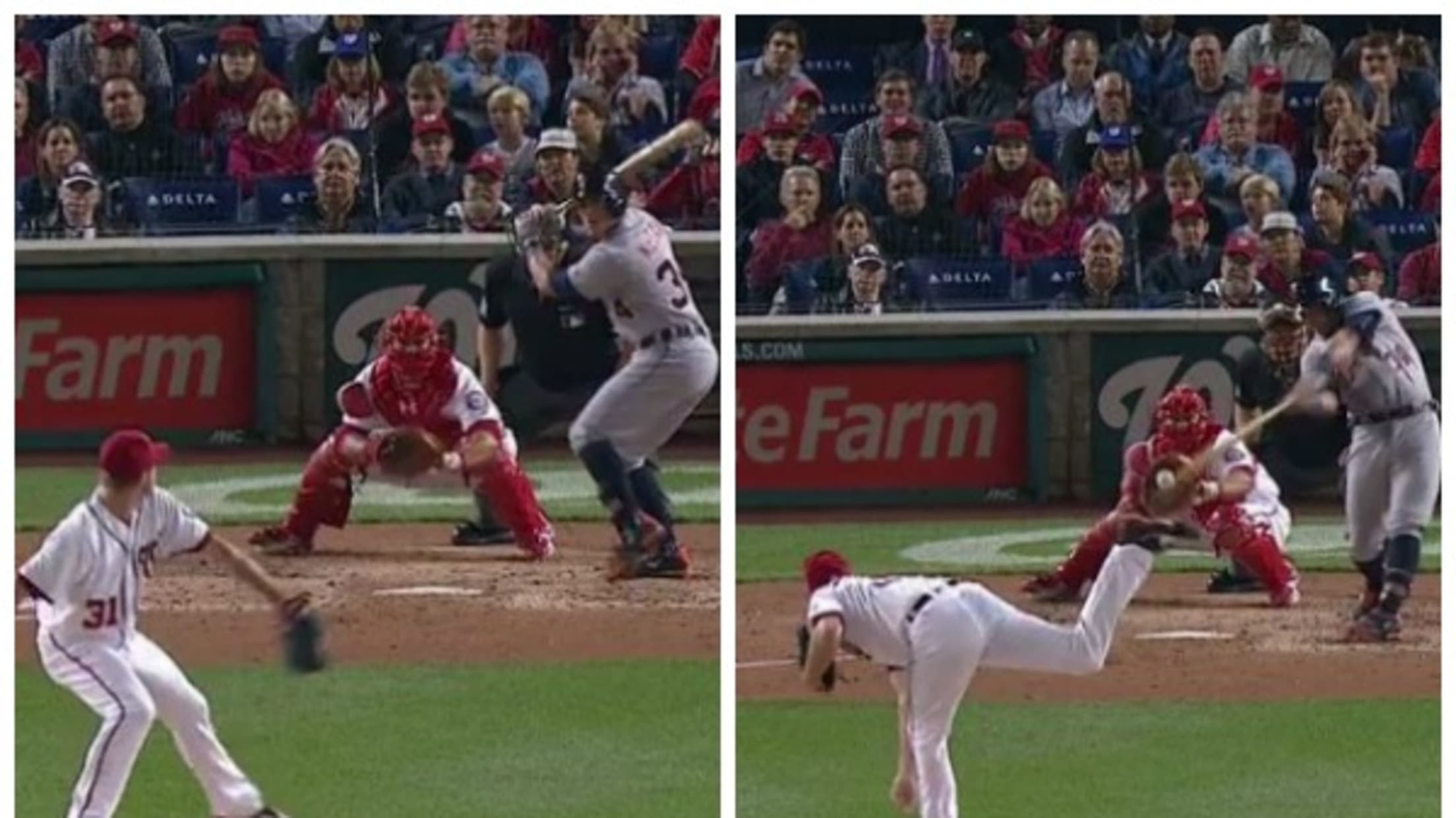 At this point, I could probably just reuse the same image of Nationals catcher Wilson Ramos as every pitch seems to be called down and away, down and away. This time, Scherzer misses back across the plate, but gets enough movement on the pitch to avoid McCann's bat again.
Pitch three: 95-mph fastball, called strike. Two outs.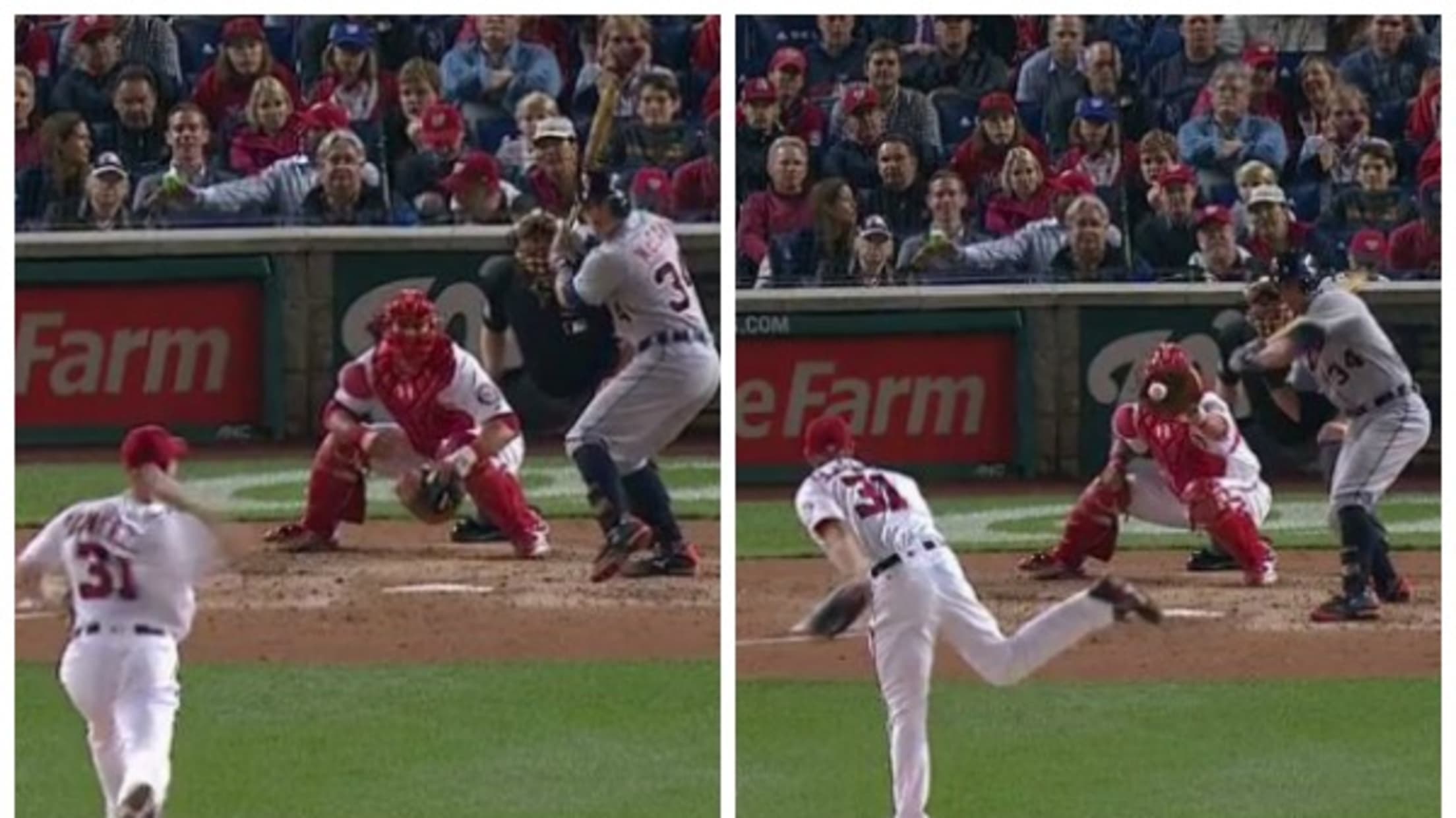 Ramos again doesn't show a target, but he certainly seems to be looking for the bottom of the zone again. Going with heat, Scherzer absolutely freezes McCann at the top of the zone. A perfect showcase of setting someone up through pitch location.
Anthony Gose: Runners on second and third, 2 outs.
Pitch one: 89-mph cutter, fouled off. 0-1.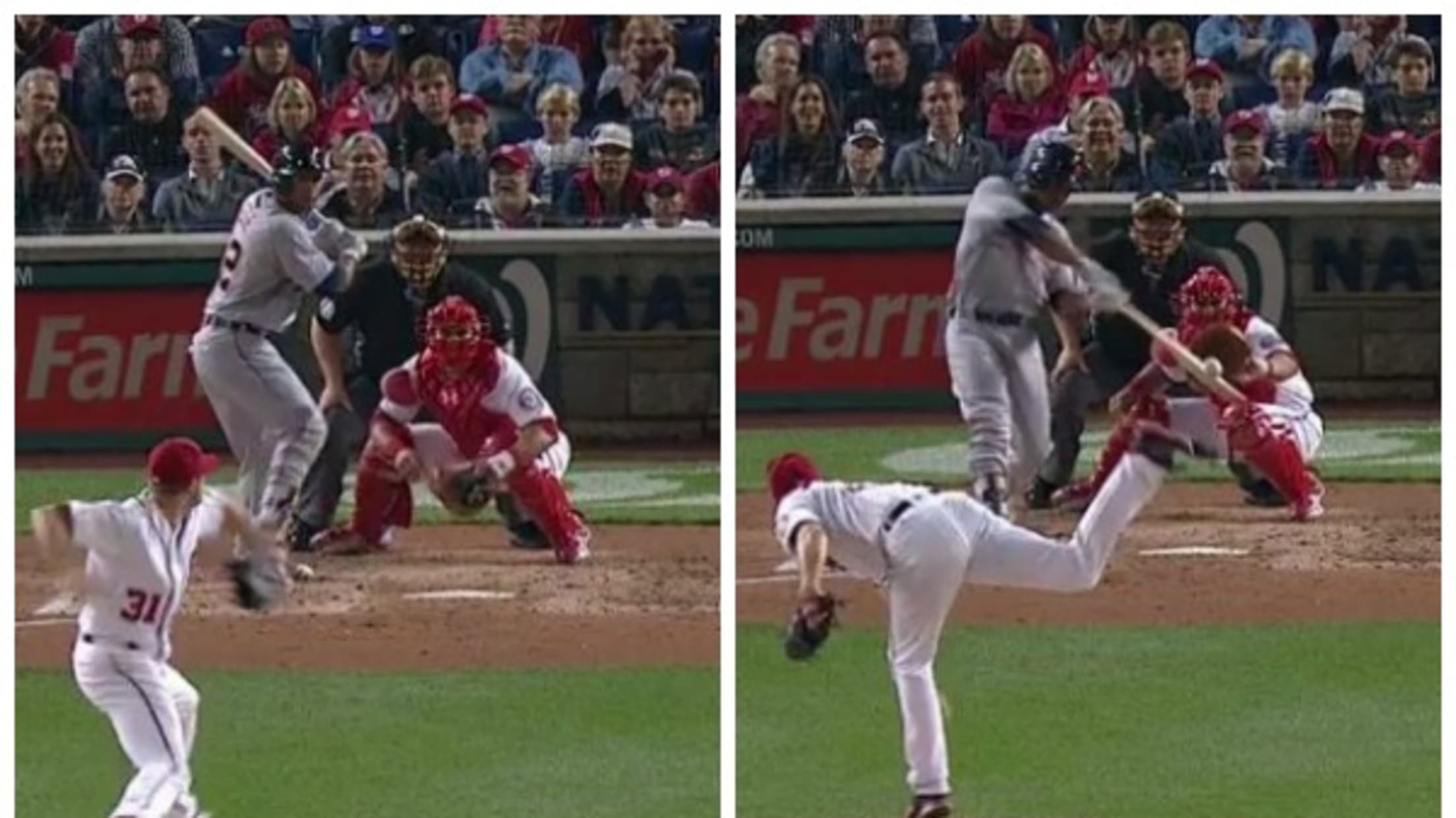 Coming up for the third time in the order, the light-hitting Gose would seem to be the perfect foil for Scherzer to escape. After all, there was little chance of him hitting a home run and he had already struck out twice. But the gameplan for the left-handed Gose meant a few changes. Instead of relying on fastballs, Scherzer needed to dig a little deeper.
Pitch two: 95-mph fastball, ball. 1-1.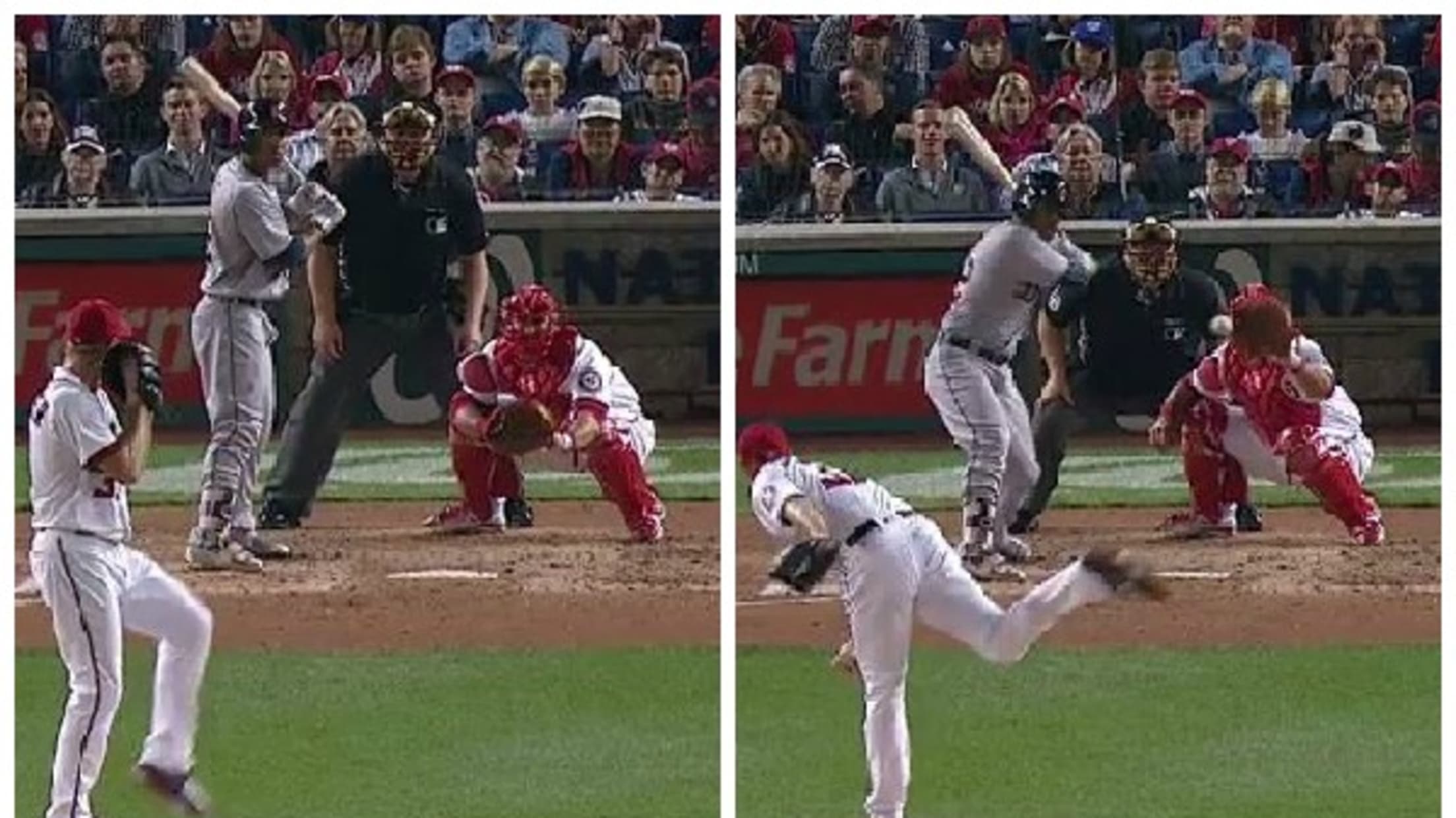 What's this? Another pitch called down and away? While Scherzer missed, it was a good miss. Up and away, with his fastball tailing off the plate. Had Gose tried to swing, it wouldn't have been pretty.
Pitch three: 87-mph slider, ball. 2-1.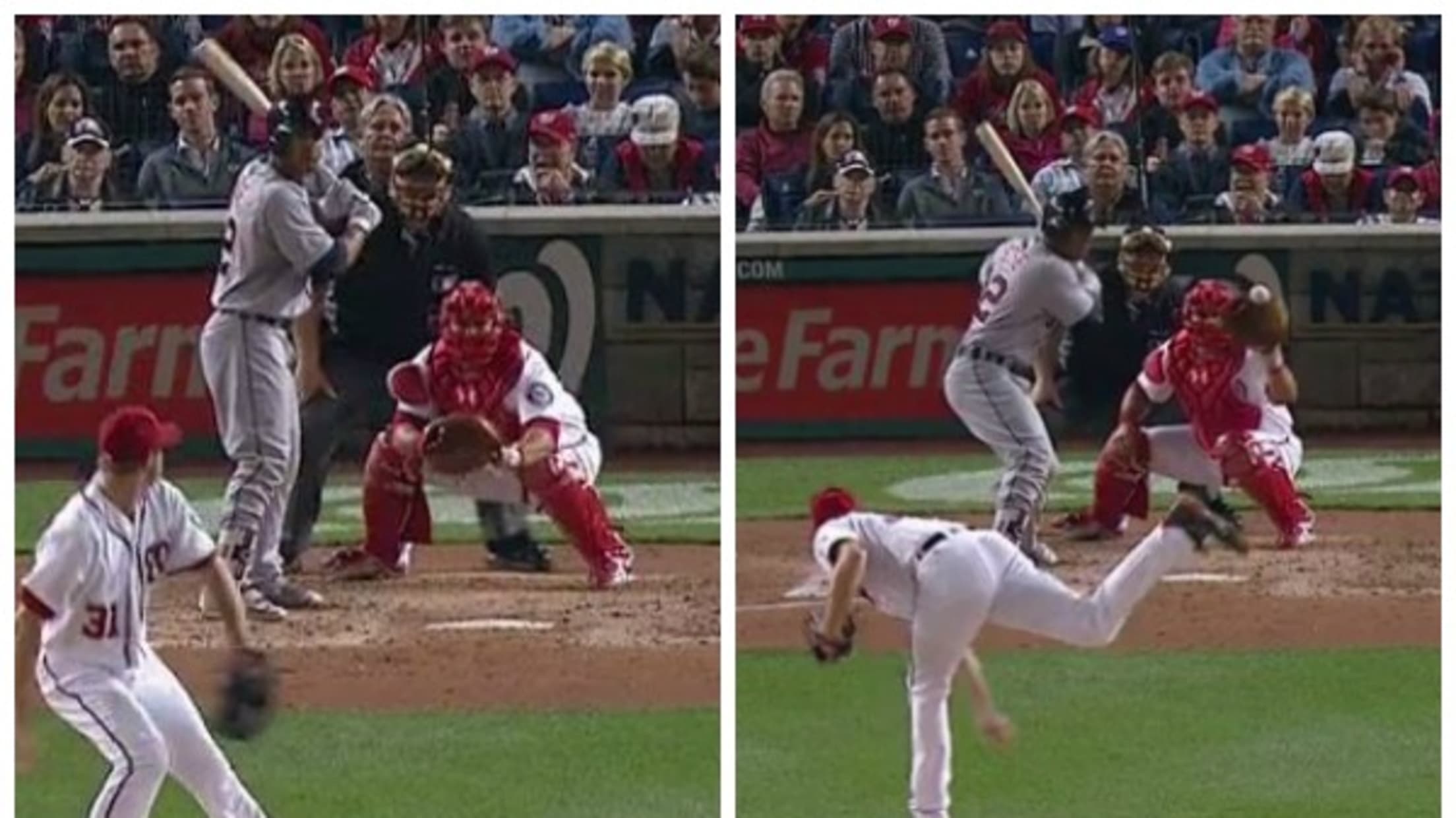 His catcher calling for the pitch down and in this time, Scherzer loses the handle on his slider and it floats high and away. Again, a miss, but not a dangerous one. With José Iglesias on deck, a walk here wouldn't be the worst of outcomes.
Pitch four: 84-mph changeup, swinging strike. 2-2.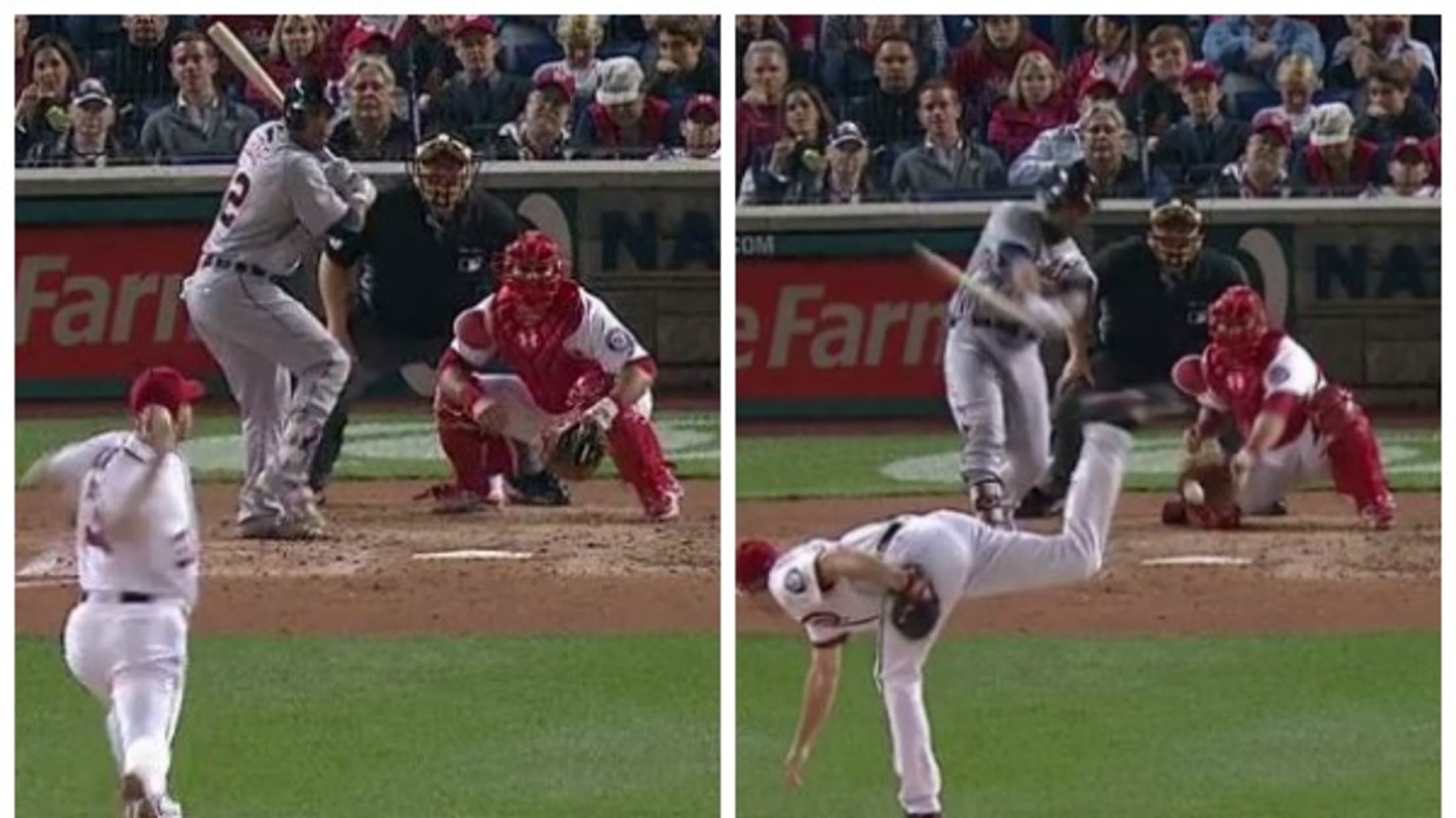 While the rest of the inning saw Scherzer simply switching between fastballs and sliders -- barely even changing locations -- Gose got the full arsenal. The changeup completely fooled Gose as the pitch dove down and the outfielder was way in front of it, even going down to an Adrian Beltre-like knee.
Pitch 5: 94-mph fastball, fouled off. 2-2.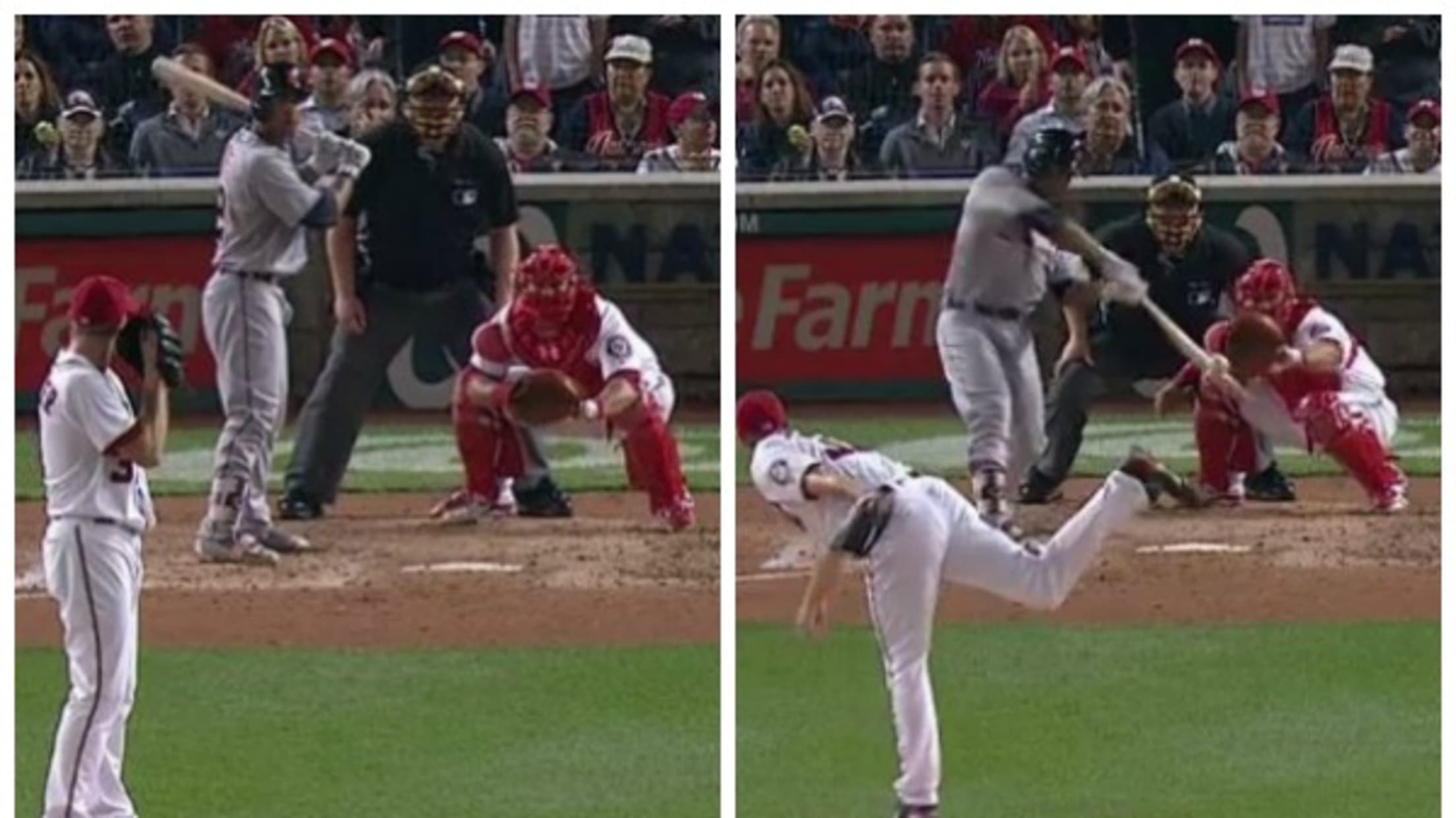 While Ramos was often late putting up a target or often skipping one entirely, especially once runners reached scoring position, he seemed not to care on this pitch. Perhaps it was because he was feeding off the energy of the crowd, daring Upton -- standing on second -- to give away pitch location.
While Scherzer didn't miss by much, he caught just enough of the plate that Gose was able to foul the pitch away. A bit of an odd choice given how far in front of the changeup he was, though perhaps Scherzer and Ramos were actually thinking a step ahead as ...
Pitch six: 83-mph changeup, swinging strike. Three out.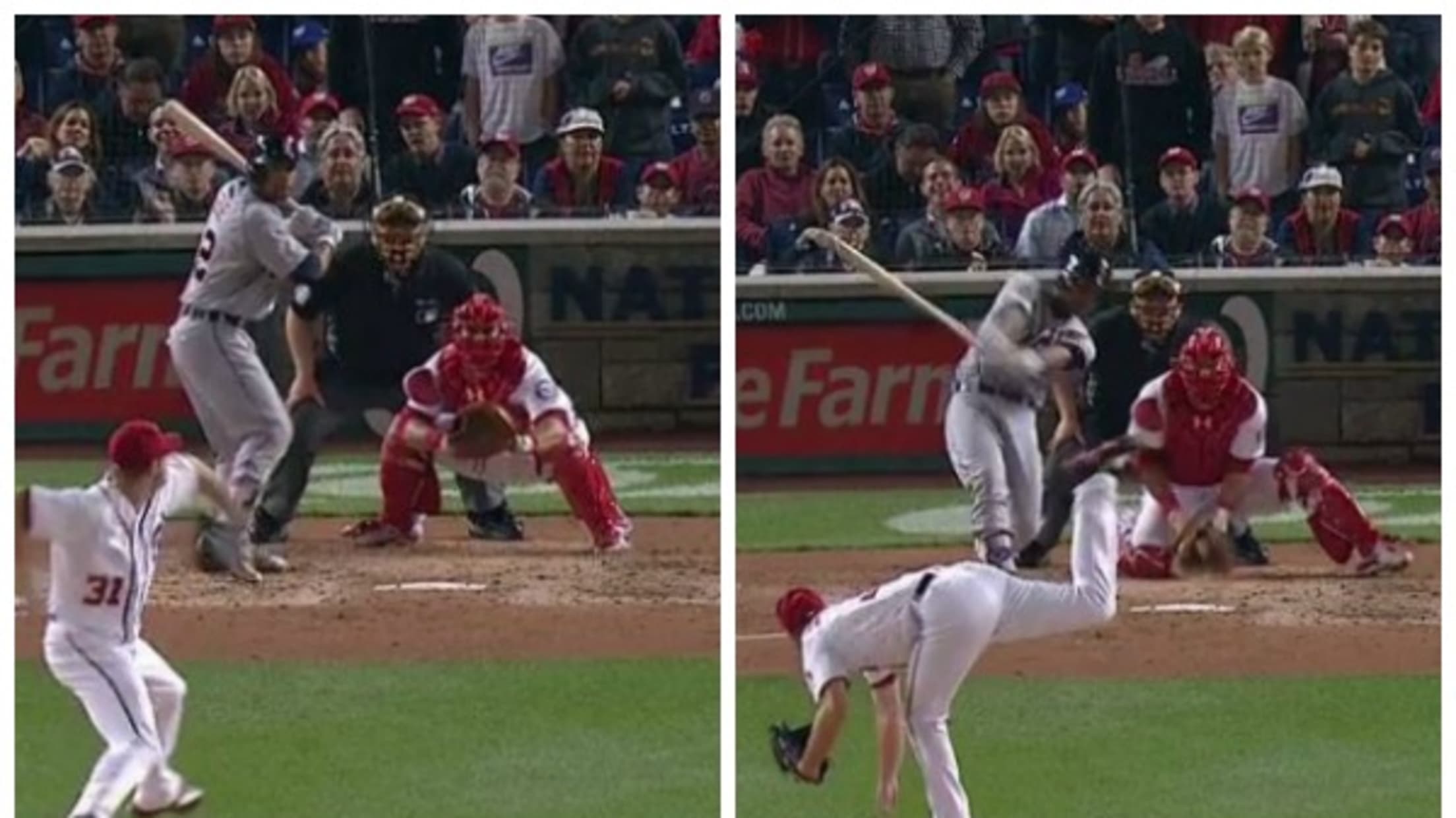 Yep, maybe the previous fastball was simply to get Gose's bat sped up again, so Scherzer could return to the tumbling change for the strikeout.
Just look at the crazy amount of arm-side run this pitch makes on its way into the dirt. I don't care what the previous pitch was, this is impossible to hit.
In all: 16 pitches, 13 strikes, two hits, two strikeouts and about one million intense stares en route to a 20-K day. If you want to know how Scherzer won a Cy Young award, you don't have to look beyond this game.
Teams in this article:
Players in this article: