The Cubs debuted the wildest formal wear styles to kick off their 'minimalist zany suit' road trip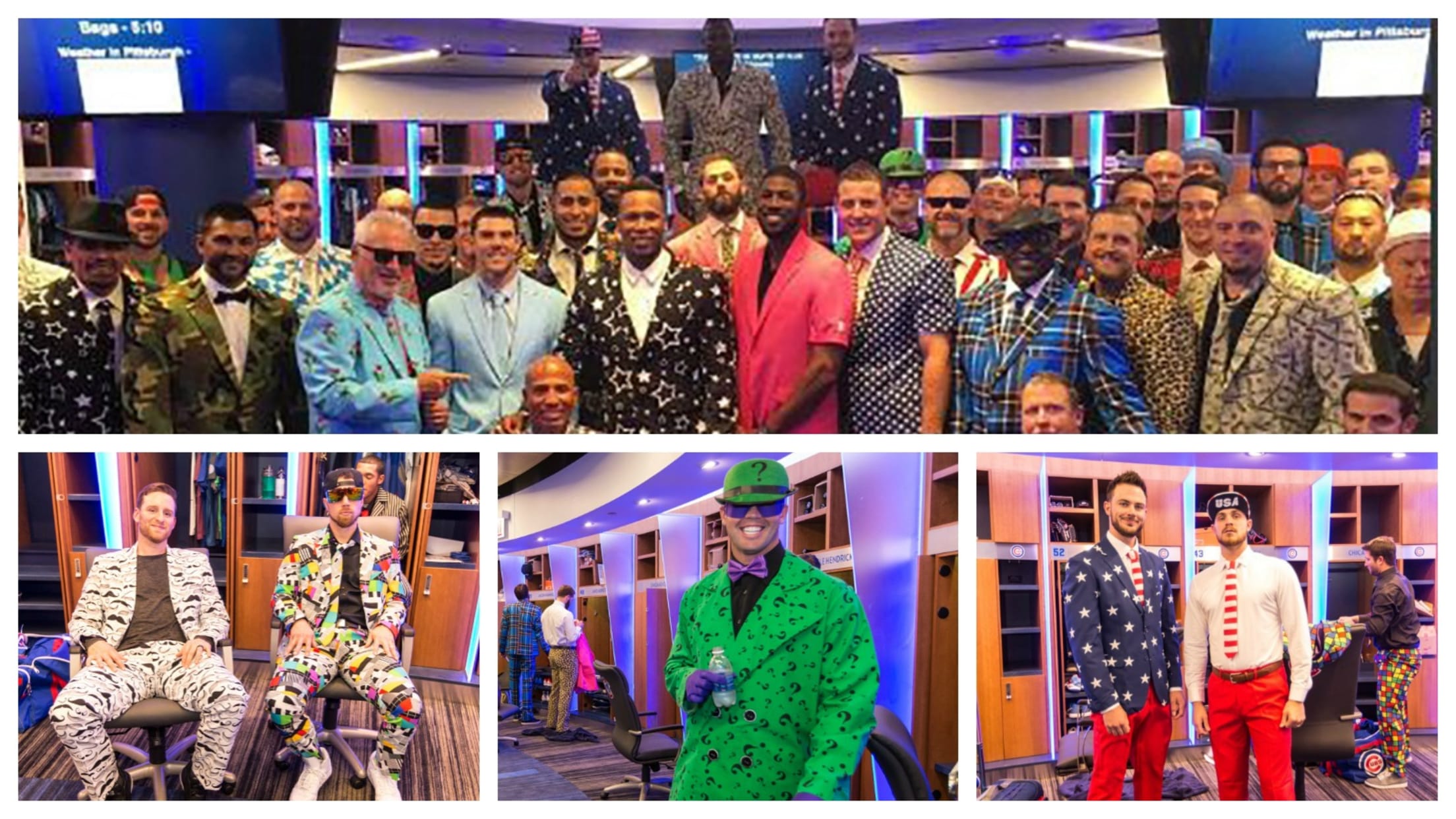 Things have been going very well for the Cubs this season. Though they lost in extra innings to the Braves on Sunday, the team still has the best record in baseball and have shown why they were everyone's World Series favorite heading into the season. They can hit. They can field. They can pitch.
But how do they dress up?
With a 10-game road trip to Washington, San Diego and Pittsburgh coming up, Joe Maddon's squad embarked on their first theme trip of 2016 - a "minimalist zany suit trip," to be precise.
Just what does a minimalist-yet-zany suit look like? I'm glad you asked. Basically, something that breaks the color wheel.
If you look hot, you wear it. pic.twitter.com/vhDqEr3A9X

— Chicago Cubs (@Cubs) May 1, 2016
Fail to wear a suit and the player would have been faced with a $100 fine. Which is likely two-to-three times the value of any one of these pieces of clothing wonder. David Ross, Kris Bryant and Justin Grimm's barbershop trio was rudely crashed by Anthony Rizzo's "Extra from 'Fast Times at Ridgemont High' meets Independence Day."
Merica! #Roadtrip @Cubs pic.twitter.com/viYE5n4DsX

— David Ross (@D_Ross3) May 1, 2016
As Grimm told MLB.com's Carrie Muskat: "I'm going to wear the full shebang to the field every day."
While Maddon went with a positively understated (by this challenge, at least), bright blue floral suit, Clayton Richard was ready to challenge Batman.
Looking fresh for the flight to Pittsburgh. #LetsGo pic.twitter.com/1zVHRfiKgT

— Chicago Cubs (@Cubs) May 1, 2016
John Lackey went with an option that was ready for both formal events and weekend hunting trips.
John Lackey camo: pic.twitter.com/H9fJnIyTuJ

— Tony Andracki (@TonyAndracki23) May 1, 2016
Ben Zobrist decided to pull off went new wave, while Neil Ramirez honored the glory of the mustache.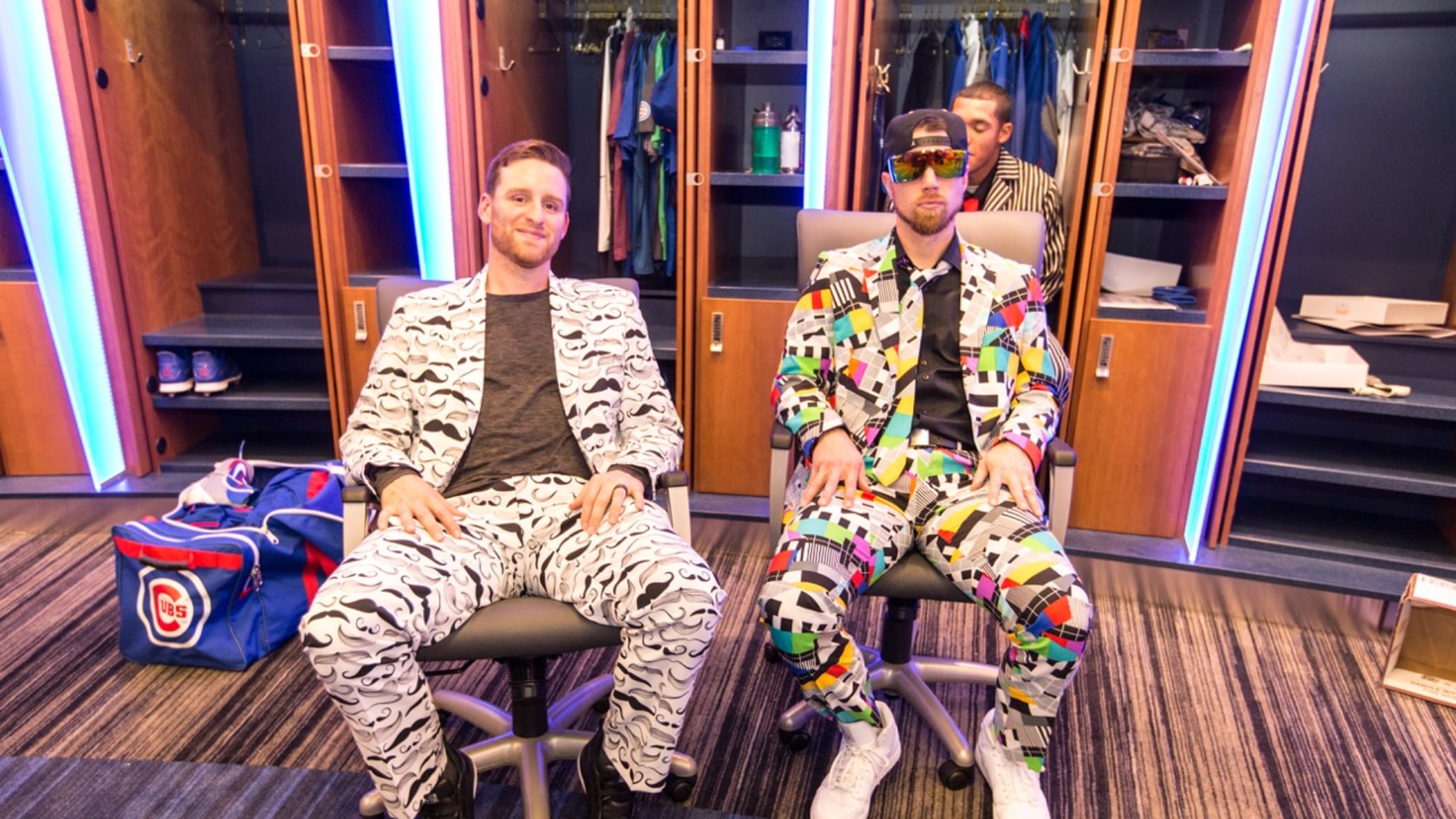 (Photo by Steve Green)
Pedro Strop let the world know that he's a star:
"Minimalist-zany" suit week for @Cubs. Pedro Strop Rocking it. pic.twitter.com/8JOwwTpnp1

— Mark Grote (@markgrotesports) May 1, 2016
Javier Baez transformed into a walking work of art:
And Kyle Hendricks looks like he was about to go into vacuum cleaner sales:
Put it all together and it's a wonderful kaleidoscope of fashion and color and pure fun.
Suits you well, @Cubs. pic.twitter.com/ugO91En4RU

— MLB (@MLB) May 2, 2016
While we've yet to have a sabermetric study to confirm it, when you look good, you feel good. Suffice to say, everyone's looking good -- kind of.
Teams in this article:
Players in this article: