8 days until Spring Training: Yasiel Puig and Hyun-Jin Ryu return with baseball's best buddy comedy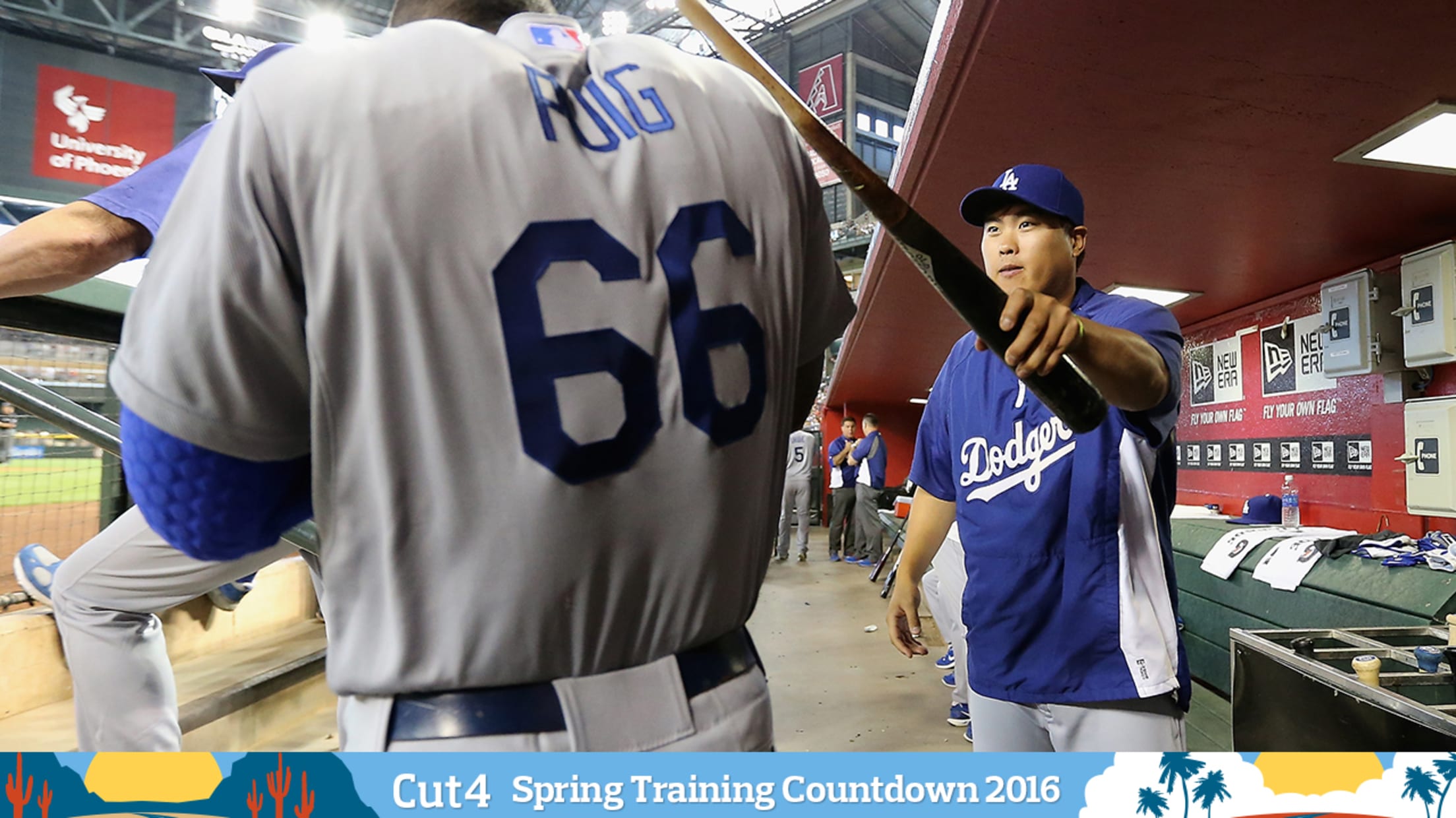 PHOENIX, AZ - APRIL 13: Yasiel Puig #66 and Hyun-Jin Ryu #99 of the Los Angeles Dodgers joke around in the dugout before the MLB game against the Los Angeles Dodgers at Chase Field on April 13, 2014 in Phoenix, Arizona. (Photo by Christian Petersen/Getty Images) (Christian Petersen/Getty Images)
"Blues Brothers." "Stir Crazy." "Rush Hour." "The Puig and Ryu Show."
It's time to rejoice, America, because baseball's best buddy comedy will return for another season when Dodgers players report to camp for Spring Traing (even if a catchy name for Yasiel Puig and Hyun-Jin Ryu's nightly antics is still pending. Mad About Ryu? Puigs and Ryu-creation? We'll keep working on that).
The comedy series went on hiatus last year as Ryu missed the entire 2015 season while recovering from shoulder surgery. Puig was also limited to just 79 games due to a variety of injuries and inconsistency while on the field.
But with both players expected to be ready for Spring Training, 2016 should see the return of dance:
Noogies:
And delightful bits of banter:
It's why noted film critic A.O. Scott would have written (if he covered things like this): "These two are so charming, so wonderful and so full of life, it makes me wonder why I ever bothered watching anything else."
Of course, the Dodgers will also count on Puig and Ry for more than just daily bursts of levity. L.A. signed Scott Kazmir and Kenta Maeda to help compensate for Zack Greinke's departure, but there are more powerful arms in the NL West than in that weird Sylvester Stallone movie. Shelby Miller joined Greinke in Arizona, and the Giants added Johnny Cueto and Jeff Samardzija behind Madison Bumgarner.
The return of a healthy Ryu would help the Dodgers' rotation keep pace in their campaign for a fourth straight NL West title. When last seen in action, the left-hander posted a 3.17 ERA across in 344 IP in 2013-14, good for 22nd best among qualified starters in that span. And there's strong evidence that number underrates his true talents.
Greinke will be slinging changeups for the D-backs this season, but Ryu provides an almost equally nasty replacement:
Meanwhile, the Dodgers' offense has a few question marks.
Joc Pederson and Yasmani Grandal faded in last season's second half, Adrian Gonzalez turns 34 in May and Corey Seager has only 113 Major League plate appearances to his name.
All those concerns could be mitigated if Puig returns as the player who hit .305/.386/.502 from 2013-14 -- you know, back when he was tickling Ryu and bat-flipping his way into our hearts. Whether his .255/.322/.436 line last year was a direct result of his BFF's absence and an agreement to hold back on the joyful anti-gravitational bat tosses, well, that's up for debate.
But a return to health and productivity for both Puig and Ryu this season might result in a few more scenes like this come fall 2016: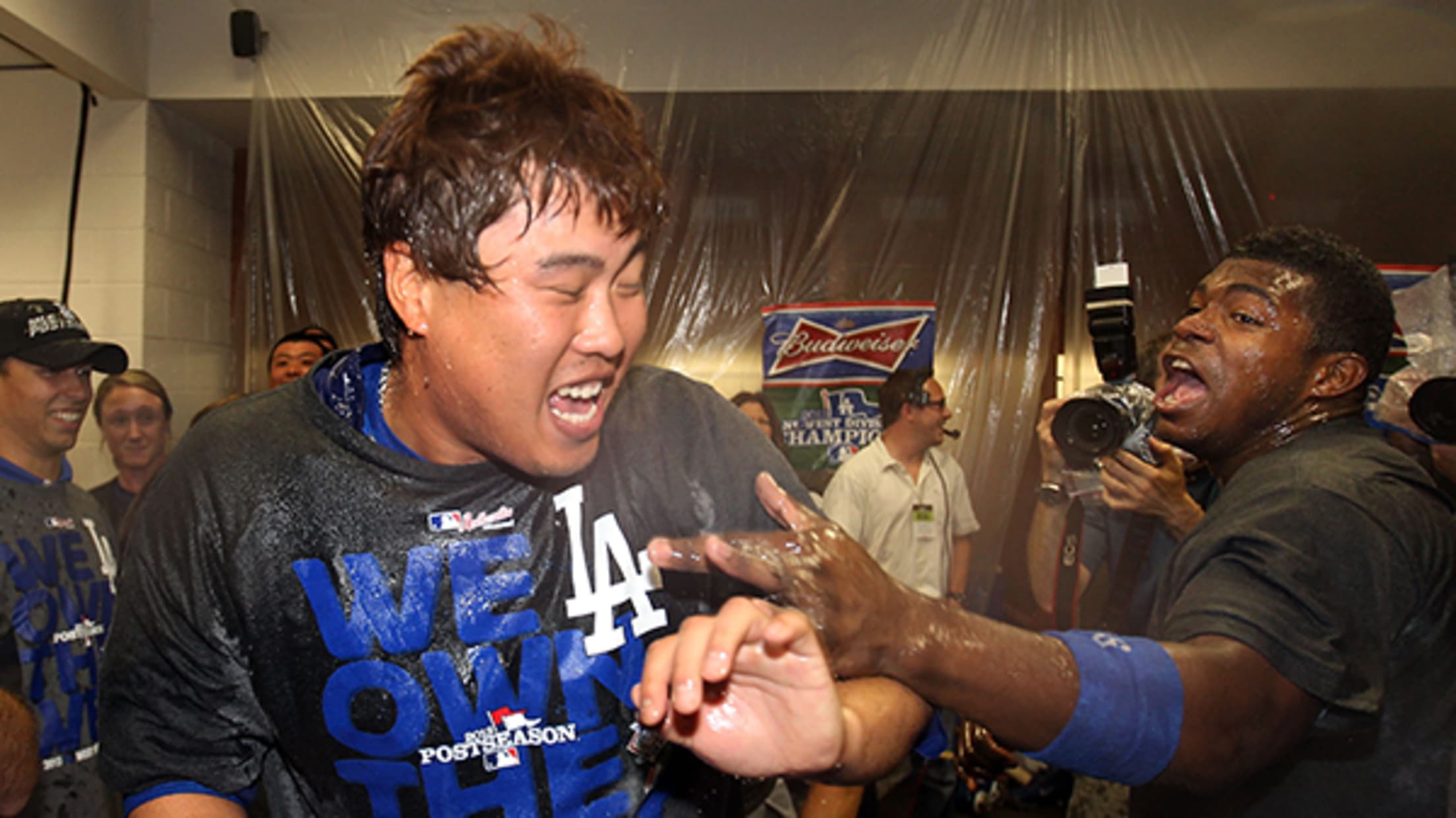 Teams in this article:
Players in this article: