Do you know your favorite Cubs player's walk-up music?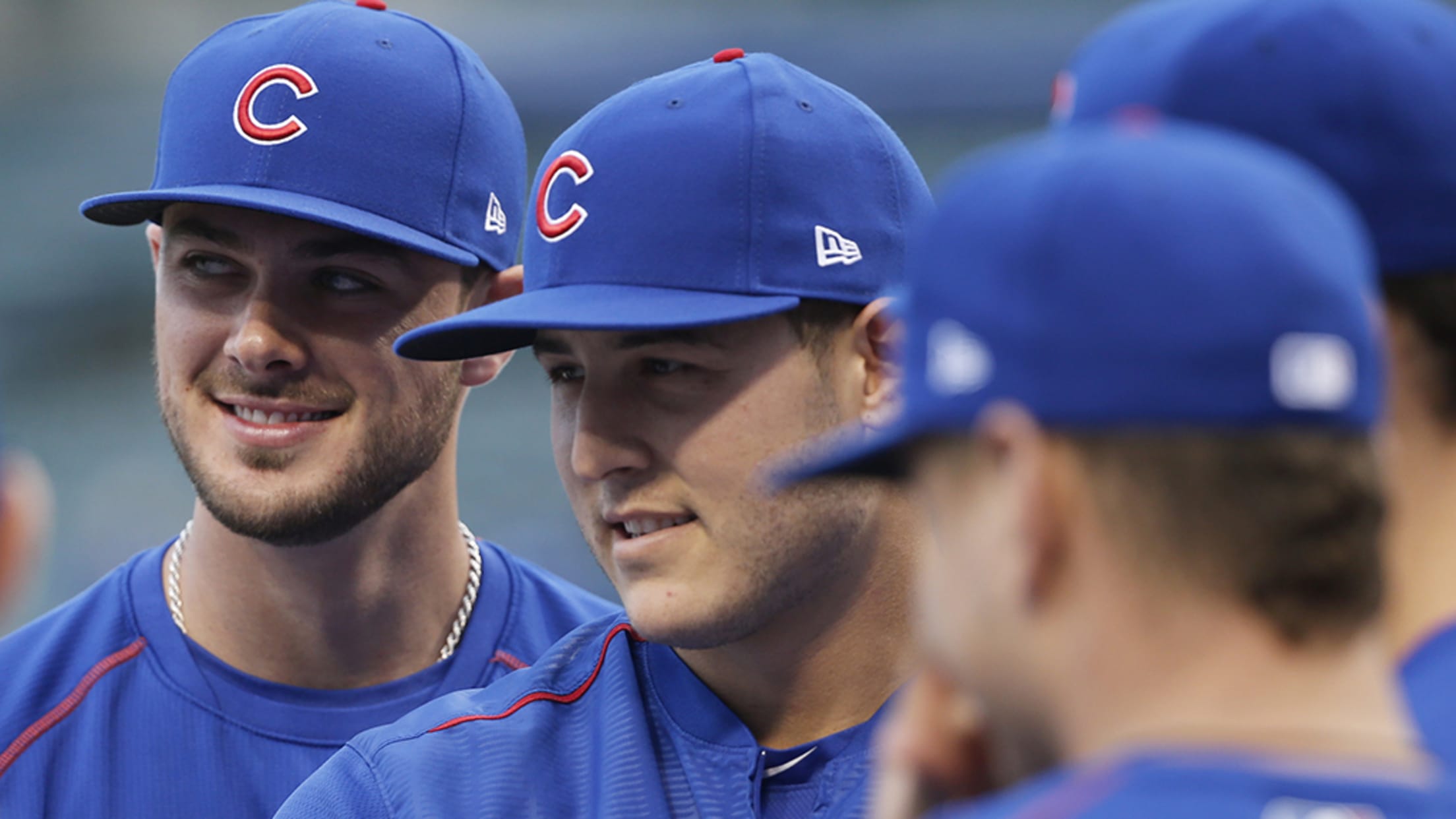 Chicago Cubs' Kris Bryant, left, and Anthony Rizzo smile as they gather for a team meeting before a warm up before Game 1 of baseball's National League Division Series against the San Francisco Giants, Friday, Oct. 7, 2016, in Chicago. (AP Photo/Charles Rex Arbogast) (Charles Rex Arbogast/AP)
A walk-up song says a lot about the player as he strides to the plate. It reflects his personality, establishes his presence at the plate and, maybe, even inspires some baseball heroics. In other words, walk-up songs are not chosen lightly.
As the Cubs hunker down for their postseason run, we've curated a Spotify playlist of the music they've chosen to soundtrack their October. You can jam out just like you're there with them on the North Side:
But Chicago's not the only team searching for a championship title. To listen to other postseason teams' walk-up music, follow MLB on Spotify here:
And you can test yourself: How well do you know the Cubs' tunes? The players have carefully chosen their walk-up songs (or, in some cases, the pitchers have chosen their mound music). But have you been carefully listening?
Check out the full list of Cubs' walk-up music below:
Jake Arrieta: Super Duper - "Angela" (Mound), Slightly Stoopid - "2 AM" (Plate), Major Lazer - "Lean On" (Bullpen)
Albert Almora Jr.: Jacob Forever - "Hasta que se Seque Malecon", "Classic Man" - Jidenna, "So Fresh, So Clean" - Outkast
Javier Báez: Snow - "Informer", Farruko - "Visionary"
Kris Bryant: Kris Kross - "Warm It Up"
Trevor Cahill: Limp Bizkit - "N 2 Gether Now"
Aroldis Chapman: Rage Against the Machine - "Wake Up"
Chris Coghlan: "Stone Cold Steve Austin Entrance Song", "Hulk Hogan Entrance", "Break the Walls Down (Chris Jericho Entrance)"
Willson Contreras: Victor Manuelle - "Que Suenen Los Tambores", Omega - "Chambonea", Tambor Urbano - "Leo Leo Lee"
Carl Edwards, Jr.: Notorious B.I.G. - "Big Poppa"
Dexter Fowler: Drake - "Jumpman", James Brown - "Doing It to Death (Gonna Have a Funky Good Time)", Kanye West - "Fade"
Tim Federowicz: The Notorious B.I.G. ft. Ja Rule - "Old Thing Back", 50 Cent - "If I Can't", Drake - "6 Man"
Justin Grimm: Brantley Gilbert - "Take It Outside", The Who - "Baba O'Riley", Flo Rida - "GDFR"
Jason Hammel: Pearl Jam - "Alive"
Kyle Hendricks: Aerosmith - "Sweet Emotion"
Jason Heyward: Kungs vs, Cookin' On 3 Burners - "This Girl", Travis Scott - "Through the Late Night", Rick Ross ft. Kanye West - "Sanctified"
Munenori Kawasaki: Crazy Design - "El Teke Teke"
Tommy La Stella: Frankie Valli & the Four Seasons - "December, 1963 (Oh What a Night!)"
John Lackey: Garth Brooks - "Friends in Low Places"
Jon Lester: Jason Aldean - "We Were Here" (Mound), Jake Owen - "Barefoot Blue Jean Night" (Plate), Justin Moore - "Rebel Kids" (Plate)
Miguel Montero: Ricky Martin - "La Mordidita"
Mike Montgomery: Lupe Fiasco - "The Show Goes On", The White Stripes - "Seven Nation Army"
Anthony Rizzo: Martin Solveig, GTA - "Intoxicated", Brett Eldredge - "Drunk on Your Love", Taylor Swift - "Bad Blood"
Héctor Rondón: Chino y Nacho - "Tu Me Quemas"
David Ross: Jay-Z ft. Mr Hudson - "Forever Young", Tone Loc - "Funky Cold Medina"
Addison Russell: Chance the Rapper - "No Problem", Joey Bada$ - "Devastated", Audio Push, Lil Wayne - "Space Jam"
Jorge Soler: Snap! - "The Power", Future - "Wicked"
Pedro Strop: Dioli - "Penelope (Ella Me Dice)", Secreto 'El Famoso Biberon' - "De Amor Nadie Se Muere", El Alfa - "No Hay Forma"
Travis Wood: Justin Moore - "How I Got to Be This Way"
Ben Zobrist: Julianna Zobrist - "Alive"