Every single Wild Card Game, ranked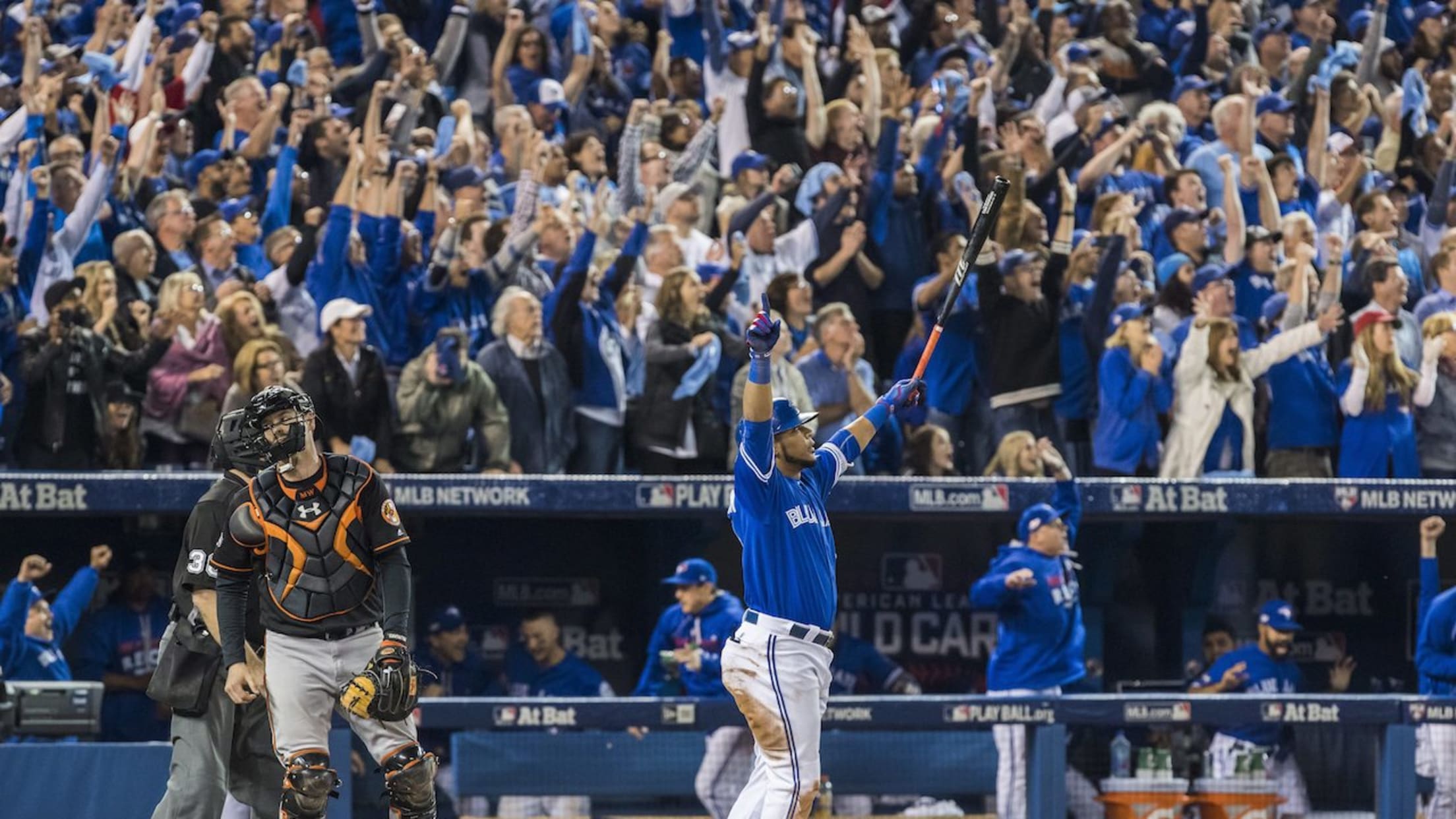 Toronto Blue Jays' Edwin Encarnacion raises his arms after hitting a walk-off three-run home run as the Baltimore Orioles catcher looks on during the 11th inning of an American League wild-card baseball game in Toronto, Tuesday, Oct. 4, 2016. (Mark Blinch/The Canadian Press via AP) (Mark Blinch/AP)
Just seven short years ago, Major League Baseball introduced an idea that would change October forever: the Wild Card Game, compressing all the nail-biting, jaw-dropping, puppy-adopting drama of the postseason into nine bonkers innings.
Anything can happen. Anything definitely has. So, in preparation for this year's edition of win-or-go-home madness, we've assembled the ultimate Wild Card ranking: all 13 games, ranked in ascending order of awesomeness and backed by infallible science.
13. 2013: Rays defeat Indians, 4-0
Tampa Bay had to scratch and claw just to get to the postseason -- the Rays and Rangers both finished the year with 91-71 records, tied for the second Wild Card spot. We needed a Game 163 to settle things, where an Evan Longoria homer helped send the Rays on to the postseason.
And once the team officially got to October, Alex Cobb made sure all that work wouldn't go to waste. The righty silenced a raucous Progressive Field with 6 2/3 shutout innings and five K's, providing the Rays offense all the help they needed in a 4-0 win.
12. 2015: Astros defeat Yankees, 3-0
What's the perfect way to cap a regular season in which you posted a 2.48 ERA, went undefeated at home and won the AL Cy Young Award? How about six shutout innings at Yankee Stadium in October:
Dallas Keuchel was phenomenal in Houston's first postseason appearance since 2005, while Colby Rasmus and Colby Rasmus' bat flips propelled the Astros to victory.
11. 2015: Cubs defeat Pirates, 4-0
Speaking of breakout Cy Young Award winners catching fire on the biggest stage, the 2015 NL Wild Card game served as the cherry on top of Jake Arrieta's historic regular season. After going 13-1 with a 1.60 ERA (!) in the second half, Arrieta was even better against the Pirates in his first postseason start: a shutout, five hits and 11 K's. Oh, and Kyle Schwarber hit a baseball into low orbit:
10. 2014: Giants defeat Pirates, 8-0
Before the eight strong innings to send the Giants to the World Series; before the shutout in a pivotal Game 5 in Kansas City; before five dominant innings of relief on two days' rest in Game 7; before Madison Bumgarner had completed one of the greatest postseasons for any pitcher ever, there was his overwhelming performance at PNC Park: nine innings, 10 strikeouts and just four total baserunners. The only thing missing was a bat flip:
9. 2017: Yankees defeat Twins, 8-4
2017 was Luis Severino's year: After being relegated to the bullpen the season prior, came back with a vengeance, posting a 2.98 ERA with 230 strikeouts in 193 1/3 innings. He'd emerged as a true ace, and the AL Wild Card Game -- at home, in the Bronx, against the Twins -- would be his coming-out party. That is, until he gave up three runs on four hits while recording exactly one out.
It was a stunning turn, a season's worth of good vibes and great performances wiped out in about 15 minutes. But as quickly as Minnesota took the air out of Yankee Stadium, Didi Gregorius brought it right back:
New York's bullpen gave up just one run on five hits over the next 8 2/3 innings, while Aaron Judge and Co. pulled away.
8. 2012: Orioles defeat Rangers, 5-1
Baltimore hadn't made the postseason since 1997, but took the American League by storm en route to a 93-69 finish and a date with the Rangers in the Wild Card Game. And that's when Joe Saunders outdueled Yu Darvish:
Saunders -- traded to the O's in late August with a career 4.37 ERA -- put up 5 2/3 innings of one-run ball, while an Adam Jones sac fly in the sixth put Baltimore up for good.
8. 2018: Yankees defeat Athletics, 7-2
The Yankees set a single-season record for homers in a season with 267. The A's weren't far behind, placing third in MLB with 227 despite playing their home games in a pitcher's park. It did not take long for the baseballs to start flying -- and Yankee Stadium to start rocking:
Aaron Judge staked New York to an early lead, and despite a game effort from the A's, the Legend of Luke Voit put the game away for good with a two-run triple in the sixth.
7. 2012: Cardinals defeat Braves, 6-3
This game was a fan's dream on paper: Kris Medlen, back from injury and boasting a 0.97 ERA in 12 starts, against Kyle Lohse, owner of a 16-3 record and 2.86 ERA. The Cardinals, known as one of the league's best offenses, against the Braves, arguably the best top-to-bottom pitching staff in baseball. Of course, it wouldn't be remembered for any of that.
Atlanta got on the board first thanks to a two-run homer by David Ross, but St. Louis roared back, ripping off six unanswered runs behind Matt Holliday and Co. The Braves were six outs away from elimination, trailing, 6-3, when it looked like they had the makings of a rally. Andrelton Simmons stepped to the plate with two men on and just one out.
Simmons lifted a sky-high popup to shallow left. Cardinals shortstop Pete Kozma drifted back ... and back ... and back, until he was in shallow left field. Then, suddenly, he backed off, thinking that Holliday had called him off. But Holliday thought Kozma had it, and the ball fell in. Bases loaded, one out, pinch-hitter Brian McCann at plate -- the Braves were in business ... until they weren't:
The umpiring crew had called the infield fly rule, meaning that Simmons had been called automatically out while the ball was still in the air. The Braves' rally fizzled, and they wouldn't threaten again.
6. 2017: D-backs defeat Rockies, 11-8
Arizona jumped on Rockies starter Jon Gray, building a 6-0 lead in the first three innings with Zack Greinke on the hill. It seemed like we were in for a nice, calm cruise into the NLDS -- at which point, naturally, things went completely haywire.
Colorado knocked out Greinke with a four-run fourth, and the D-backs' lead was down to just one by the bottom of the seventh. With two on and two outs, Arizona was on the verge having to face the heart of the Rockies lineup with the game in the balance. Even worse: Managerial shenanigans forced D-backs skipper Torey Lovullo to let Archie Bradley -- 6-for-66 lifetime, late-inning reliever Archie Bradley -- step to the plate.
Bradley came through with a two-run triple, the first extra-base hit of his career and the first triple by a reliever in postseason history. And his team would need it: Nolan Arenado and Trevor Story hit back-to-back homers in the eighth before the D-backs eventually held on.
5. 2016: Giants defeat Mets, 3-0
Two years after his record-breaking October, Bumgarner put together the best season of his career, striking out 251 batters over 226 2/3 innings and posting the fourth-lowest ERA in the Majors. The man who posted the third-lowest, though, just happened to be his opponent in the 2016 NL Wild Card Game: Noah Syndergaard.
On paper, it was the sort of matchup dreams are made of -- the grizzled postseason veteran, already with two World Series rings to his name, against the 24-year-old upstart with the hair of a god and a powerful fastball. And the game itself didn't disappoint: Bumgarner didn't allow a hit until the sixth and Syndergaard struck out 10 over seven shutout innings. The teams went to the ninth tied, 0-0.
With Thor out of the game, the Giants looked to break through against Mets closer Jeurys Familia. Brandon Crawford got things started with a leadoff double, and after a strikeout of Ángel Pagán and a walk to Joe Panik, outfielder Conor Gillaspie -- a lifetime .256/.309/.397 hitter -- stepped to the plate.
Naturally, he went yard:
Gillaspie's homer gave San Francisco all the offense it would need, as Bumgarner came back out for the ninth to finish what he started -- and send the Giants to the NLDS.
4. 2013: Pirates defeat Reds, 6-2
Twenty-one years. It had been 21 years since Pittsburgh experienced postseason baseball. So, when the Reds rolled into town for a do-or-die showdown, the crowd at PNC Park was ready. Like, really ready.
Poor Johnny Cueto didn't even get a chance to settle in before it started. First, he gave up a solo homer to Marlon Byrd. Then, facing Russell Martin two batters later, he started to hear a noise -- a bit distant at first, but soon, it was unmistakable: "Cueeeeto, Cueeeeto."
Maybe it was coincidence. Maybe a 40,000+ blackout rattles even the coolest pitchers. All we know is that, just a few moments later, Cueto dropped the ball -- literally:
Then, on the very next pitch, this happened:
Martin's homer and "The Drop Heard 'Round the World" sent the Steel City into delirium, and behind seven strong innings from Francisco Liriano, the Pirates never looked back.
3. 2018: Rockies defeat Cubs, 2-1
After a season that saw two Game 163's to decided the NL Central and NL West, the losers of those division races had to turn around and play a winner-takes-all Wild Card game the very next day. When a ball disappeared into the Wrigley Field ivy in the first inning, it was a hint of what was to come.
Rockies starter Kyle Freeland pitched 6 2/3 shutout innings and Cubs starter Jon Lester nearly matched him with six innings of one-run, nine-strikeout ball. But, then the teams went to the bullpen ... and the game got weird. It started with a catcher's interference to load the bases in the seventh inning, but reached its weirdest in the 11th when Nolan Arenado and Javier Báez met in a warm embrace.
And as the game carried on into extra innings -- and the teams slowly depleted their benches -- they had to turn to unexpected places of offense. That led to baserunning specialist Terrance Gore getting two at-bats for the Cubs and third-string catcher Tony Wolters driving in the game-winning run in the 13th inning for the Rockies:
2. 2016: Blue Jays defeat Orioles, 5-2
Zach Britton's 2016 season was among the greatest by a reliever ever. The lefty converted all 47 of his save opportunities, striking out 74 over 67 innings with a tidy 0.54 ERA. But when Baltimore's season came to an end in the AL Wild Card Game, Britton was still in the bullpen.
The game was electric from the jump. José Bautista put the Jays in front early with a huge homer. Mark Trumbo answered with a two-run blast of his own in the fifth. Marcus Stroman was dealing, surrendering just those two runs over six strong innings while striking out six, as only Marcus Stroman can:
Toronto scratched across a run to tie the game at 2, and that's when things got weird. The two bullpens went back and forth into extra innings, escaping jams and putting up zeroes as the tension ratcheted up. Baltimore, boasting one of the very best 'pens in baseball, provided manager Buck Showalter with plenty of quality options -- and he used just about all of them.
All of them, that is, except for Britton. Since the Orioles were on the road, Showalter wanted to have his closer available in case Baltimore took the lead. So, after Brian Duensing got the first out of the 11th -- and with Britton warm in the bullpen -- it was Ubaldo Jiménez who got the call. Three batters later, Edwin Encarnacion sent everybody home:
1. 2014: Royals defeat Athletics, 9-8
Everything was going so well for the A's. After going all in at the non-waiver Trade Deadline with deals to acquire Jon Lester and Jeff Samardzija, Oakland got two homers from Brandon Moss to build a 7-3 lead with just six outs to go until the ALDS. And then the eighth inning happened.
Alcides Escobar singled, then promptly stole second -- one of seven (!) steals for Kansas City on the night. Lorenzo Cain singled to score Escobar. Then he stole second, then Eric Hosmer walked, then Billy Butler singled, then a pitch went to the backstop and all of a sudden, the lead had been cut to one.
Oakland still headed to the ninth with a lead, just three outs away from survival. Alas, a one-run lead is nothing when no man alive could possibly catch Jarrod Dyson stealing:
Dyson almost single-handedly manufactured the tying run: After coming on as a pinch-runner for Josh Willingham, he swiped second and third, then came home to score on a Nori Aoki sac fly. The game would head to extra innings -- and that's when Brandon Finnegan would make himself a household name.
Just three months before the Wild Card Game, Finnegan wasn't even in the Majors -- he was in college at TCU, pitching in the College World Series. But Ned Yost gave him the ball to start the 10th, and he did not disappoint. The lefty tossed 2 1/3 strong innings of work to keep the Royals in the game, all while demonstrating an 80-grade fist pump:
Somehow, though, the A's still would not go away. After Jason Frasor replaced Finnegan, Alberto Callaspo came up with a huge, pinch-hit RBI single to put Oakland back on top -- and bring the A's three outs away for a second time.
That number was sliced to two after Cain led off with a groundout in the bottom of the 12th. But Hosmer followed with a triple off the left-field wall, and a Christian Colón single brought him home to tie the game. Colon stole second, and two batters later, Salvador Perez sent everybody home:
The party was on in Kansas City, and there was much rejoicing -- including from George Brett, who also happened to provide a neat summation of every Wild Card Game emotion:
A version of this post originally ran on Oct. 3, 2016.