Reds Minor Leaguer Bryson Smith uses player status to pull off perfect on-field proposal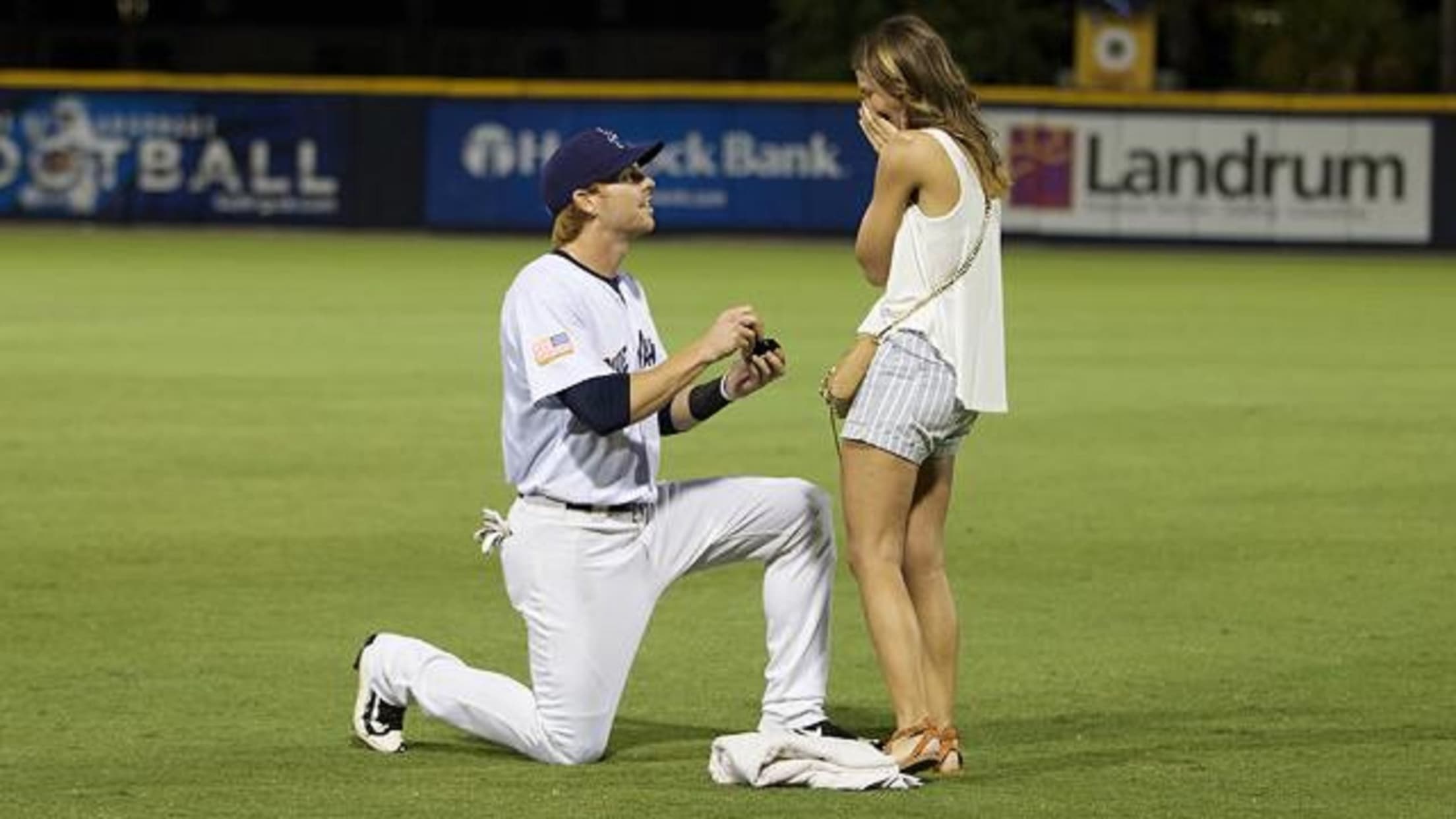 Ah, the ballpark proposal.
You've no doubt seen an in-stadium proposal at some point in your baseball-watching life, and your opinion of such a spectacle can range from full support to rolling your eyes. It tends to elicit strong opinions from folks.
Enter Reds Minor League outfielder Bryson Smith. After months of meticulous planning, Smith waited for the final out of the Pensacola Blue Wahoos' win on Saturday night for his moment -- despite a wave of butterflies in his stomach.
When asked by MiLB.com's Tyler Maun about how long he's been waiting to make his move, Smith's answer was … pretty perfect:
"I've had the ring since February, so, dude, I've been feeling like the Lord of the Rings guy trying to get rid of the ring and everything," Smith said while trying to avoid covering a Wahoos staff member's phone with shaving cream, courtesy of the clubhouse smash in the face he got from teammate Ray Chang. "I just don't want to lose it. The panic set in about mid-February when I got it."
You see, his plan involved inviting his longtime girlfriend Raphaelle onto the field after the game … something that didn't go as planned at first.
As Smith explained:
"I walked over to her and tried to get her on the field and she was like, 'No, I'm not getting on the field. What's wrong? Why do I need to get on the field?' I'm like, 'Oh, God, nothing's panning out,'" he said. "Finally, I got her out on the field and that whole speech I had prepared, I couldn't tell you if I said one word of it. I went with the flow of it. Thank God, I wasn't mic'd up because there's no telling what I said."
Here's some great eyewitness video of the proposal, courtesy of Eric Wallace of the Pensacola News Journal:
Wahoos CF Bryson Smith proposed to his girlfriend in right field after the game. She said yes! #pnjsports pic.twitter.com/A3ybvvVlvQ

— Eric Wallace (@EWall14) May 29, 2016
As you might imagine, Smith was consumed with his task at hand for much of the evening:
"She's my dream girl, so I'm lucky to land her," he said. "That whole speech had me going. From the second inning on, I was freaking out, just ready to spit it out and get it over with. Now I'm happy we're in the next stage. I've been dating her for six years and holding on to this freaking ring for six months, so this is Day One."
Despite his understandable distraction from the game itself, Smith managed to walk in addition to an 0-for-2 night at the plate. Given the circumstances, that's impressive.